Video Poker Apps
An app is a computer program downloaded to a mobile device for a particular function. So a "video poker app" is a means for you to play video poker on your phone or other device (maybe a tablet). You can find all kinds of apps for this purpose, especially free apps.
Most of the free video poker apps you'll find make money because they serve advertising. It's not an unusual business model at all. If you've ever played Trivia Crack, you've seen plenty of advertising served up inside of an app.
You can read more about free video poker online at our page devoted exclusively to that subject.
Which apps are available depend on which device you're using. Apps that are available for an Android device are often not available for an iPad or iPhone, for example.
Some online casinos offer their software via app, too. This is just the modern version of the software client that online casino gamblers used to download to their laptops or PCs.
Below we take a look at some of the apps available for the various devices and their different functions.
Android
The Google Play store is probably the best place to search for Android video poker apps. When we did a search there, we got over 200 different results. Many of them had generic names like "video poker", but some of them were more specific, like Jacks or Better or Deuces Wild.
We were unable to find any Android video poker apps that carried a cost with them. All of these video poker apps were free. We suspect that many of them serve advertising, but also some of them are marketing tools for actual online casinos. We're not sure what Google's policies are for those kinds of apps in their Play Store, but the online gambling industry is notoriously good at getting around these kinds of restrictions.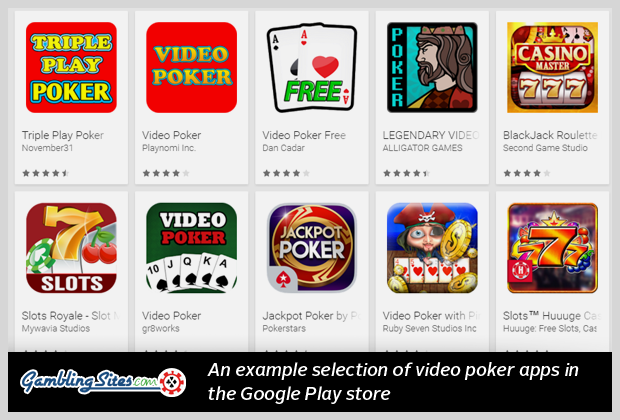 These games fall into the "simulated gambling" category in the app store. There's a huge market for such games. We've always been puzzled at people who were interested in simulated gambling, as we think having money on the line is the point.
We looked at screenshots of a lot of these video poker apps, and they do indeed look just like the machines you'd find in a traditional casino. In fact, we were impressed with the graphics for most of the Android apps we tried.
iPad or iPhone
VideoPoker.com seems to be hard at work putting together apps for specific games for iPad and iPhone devices. Their site is advertising supported, too. They don't offer any real money games to play. As such, you can expect that their apps are also free-play versions of these games.
At the time we wrote this page, the only iPad game available was one that analyzed various pay tables so that you can choose which game you want to play in the casino. This is much more useful than just free play versions of video poker games, so props to VideoPoker.com for offering something cool and useful.
They have a couple more options available for the iPhone. One of these is called "Best Hold". It's basically a video poker strategy card that's part of your phone. The other option is called "Video Poker Pocket". It makes several free play versions of video poker available for you to play on your phone.
That's an interesting site which seems to have a goal of just increasing the popularity of video poker as it's played in the casinos. Every time we expect to be bombarded with an ad for an online casino, we're pleasantly surprised that no hard sell is coming at all.
Of course, those VideoPoker.com apps aren't the only ones available for Apple users. You can search the iTunes store for more video poker apps that are available with those products.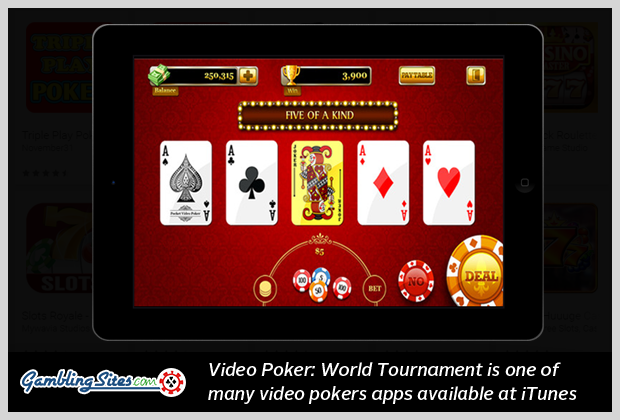 Many of the apps available there include strategy and instruction functionality, too, in addition to the free play games.
Kindle Fire
The Kindle Fire doesn't get nearly as much press as Android or iPhone/iPad. That's probably because the Kindle line started off as an ebook reader rather than as a cell phone. At any rate, you can find plenty of video poker apps available for the Kindle Fire, too. All you have to do is visit Amazon to see what's available.
We were disappointed to see that the video poker apps available for the Kindle Fire seemed less authentic than the apps we saw for the other operating systems we've discussed. They have several options available, and they look fun, they just don't seem to capture the spirit of the game as it's actually played in the casinos.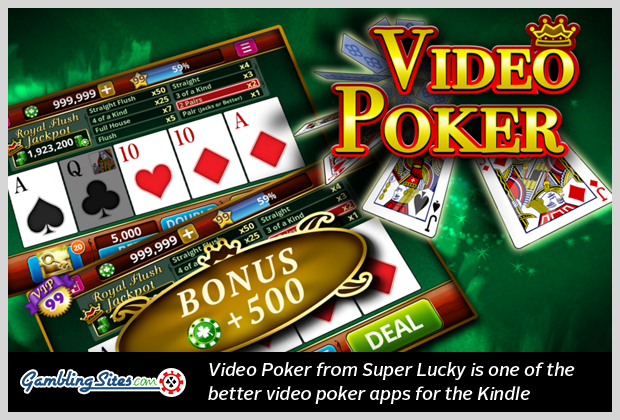 Most Online Casinos
Most online casinos make their games and software available via an app these days. If that functionality in an online casino is important to you, then you should double-check before signing up for and downloading that online casino.
These apps usually provide a more limited selection of games than you'll see at the full software version of each casino. But if you like to get your video poker for real money fix while you're on the road, you probably won't mind a little bit less variety.
Strategy Trainer Apps
We were surprised, when searching for video poker apps, at the large number of free games which seemed to have minimal functionality. We were hoping for lots of strategy trainers, but they were few and far between.
We felt like the best strategy trainer apps were available on the iPhone and the iPad. Android seems to be completely overrun with free games. Kindle Fire has a limited selection altogether as it relates to video poker.
Summary
Video poker apps are easy enough to find, but a lot of your success depends on what you're looking for in an app. Free games or just for fun apps are ubiquitous. But you'll also find plenty of online casinos which offer their games via an app for your mobile device, too.
We especially like video poker tools and trainer/strategy apps. We wish there are more of these available. In fact, we guarantee that if there were more of them available, they'd see a lot of use.

Sign up Bonus
250% Up To $5,000
READ REVIEW
Visit Site
X