A Guide to Playing Blackjack Switch
Blackjack Switch is a variant that requires the player to bet on two hands. The switch part of this permits the player to trade cards between these hands. This generous deal has a couple of major differences to offset it.
This blackjack variant is spread at both live and online casinos. There are 18 Las Vegas casinos that offer it. Playtech online casinos also have it. Players on the east coast will find it at Bally's in Atlantic City.
The game originated at Casino Royale. It is still there to this day and is in fact the best blackjack game to play at this venue.
Differences Between Blackjack Switch and the Traditional Game
There are several differences between Blackjack Switch and the traditional version of the game.
For one, players must make two wagers to start the hand. The player may take the second card dealt from one hand and switch it with the other.
Blackjack pays even money. A switched hand that creates an ace and a 10-value card counts as 21 and is not paid as a blackjack.
If the dealer makes a 22, all players still in the hand push. The dealer can only bust on 23 and higher.
How to Play Blackjack Switch
Once you find a Blackjack Switch table, it is easy to get started.
At a live casino, put two equal chip stacks into the circles in front of you.
Each bet must meet the posted minimum at the table. If the minimum bet is $10, BOTH hands must be at least $10.
Online Blackjack Switch games typically have a minimum bet of $1.
At a Playtech online casino, click the denomination that you would like to play. Click one of the betting circles. The software will place the second bet simultaneously. Click deal to receive cards.
Each player receives two hands of two cards. The dealer receives one hand. The dealer gets one card up and the other down.
If the dealer has a 10-value card or an ace showing, the other card is peeked at. If the dealer has blackjack, the hand ends. Player hands of blackjack push. All others lose. Insurance is not offered in Blackjack Switch.
If the dealer does not have blackjack, it is time for the players to act. A player that is dealt blackjack receives even money. Players have the option to switch cards at this point. Notify the dealer at a live game on your turn if you would like to do this. At an online casino, click the switch button.
Hands then have the typical options of hit, stand, and double down. Split is offered if a hand has a pair. At online casinos, each action has a specific button on the table if it is available at the time.
To draw a card at a live table, tap the table in front of the hand that you would like to hit. You may draw until you bust or stand.
To stand, which means not draw any more cards, wave your hand over the bet. To double down, place an equal wager next to the existing one.
If you have a pair, you may split. Place an equal bet next to the hand that you would like to split. You may double down after splitting.
Once all players have acted, it is the dealer's turn.
The dealer hits on 16 and lower
The dealer hits on soft 17 (an ace and other cards that equal 6)
The dealer stands on hard 17 and 18 and higher
The dealer busts on 23 or higher
If the dealer makes 22, it pushes all bets still in the hand. If the dealer makes 17 to 21, it is compared to each hand still alive.
If the dealer beats a player's hand, the house wins the associated bets. If the player beats the dealer, even money is paid. If the dealer and player have the same value, the hand pushes and bets are returned.
Each hand and split are graded separately. It is possible to push one hand and win the other. You can also win both, lose both, and everything in between.
At an online casino, click the re-bet button to start a new hand with the same bet. If you would like to change your bet, you may add it before hitting deal.
Blackjack Switch Strategy
There are two strategies to learn for Blackjack Switch. One is related to how to set the hands. The other is how to play them once they are set.
Here is a list of hand rankings for Blackjack Switch.
21
20
19
Pair of aces
11
10
9
8 or 18
Pair of 8s against a 2 through 8
Using the above rankings, play the hand according to the following rules.
Against a 7 or 8, make the weaker hand as high as possible on the list above
Against all other dealer cards, make the higher hand as strong as possible
If none of the above applies, play for a 7 or 17, any split hand, 12 or 13
Keep a pair of aces together if unable to make a 20 or 21
Once the hands are set, follow the strategy below for how to play it out.
Hard Hands
A hard hand is one that either does not contain an ace, or if it does, one that can bust.
4 to 8: Always hit
4 to 8: Always hit
10: Double down against 2 through 8; otherwise, hit
11: Double down against 2 through 9; otherwise, hit
12: Stand against 5 and 6; otherwise, hit
13: Stand against 3 through 6; otherwise, hit
14 through 16: Stand against 2 through 6; otherwise, hit
17 and higher: Always stand
Soft Hands
A soft hand is one with an ace that cannot bust.
Soft 13 through 15: Always hit
Soft 16: Double down against 6; otherwise, hit
Soft 17: Double down against 5 or 6; otherwise, hit
Soft 18: Double down against 5 and 6, hit against 9, 10 and ace; otherwise, stand
Soft 19 and higher: Always stand
Splits
Split is offered when dealt a pair. Play pairs according to the following list.
2s and 3s: Split against 5, 6 and 7; otherwise, hit
4s: Always hit
5s: Double down against 2 through 8; otherwise, hit
6s: Split against 4, 5, and 6; otherwise, hit
7s: Split against 2 through 7; otherwise, hit
8s: Split against 2 through 9; otherwise, hit
9s: Split against 4, 5, 6, 8, and 9; otherwise, stand
10s: Always stand
Aces: Always split
The below chart summarizes all the above information on how to play your hands once they are set.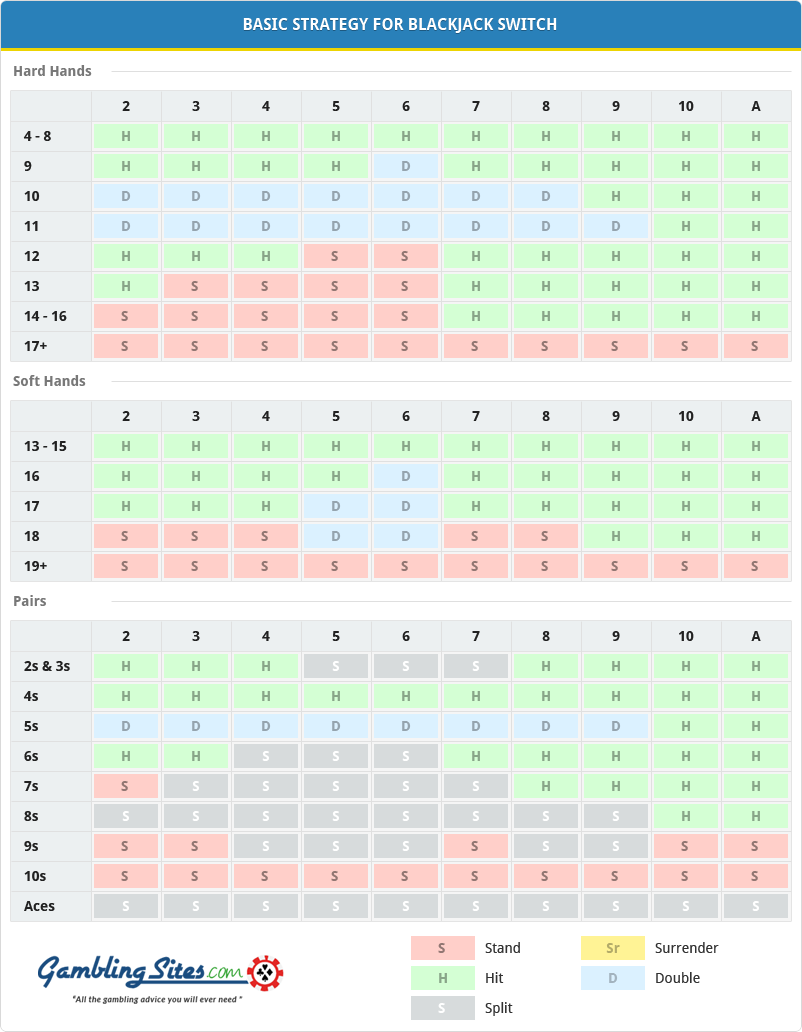 Where to Play Blackjack Switch
There are 18 Las Vegas casinos that spread Blackjack Switch. The locations are as follows.
4 Queens
Aria
Bellagio
Casino Royale
Encore
Excalibur
Luxor
Mandalay Bay
MGM Grand
Mirage
Monte Carlo
New York New York
Palazzo
Palms
Paris
SLS Las Vegas
Venetian
Wynn
Blackjack Switch is also spread in Atlantic City at Bally's, and Playtech online casinos spread the game.
Our Picks
For low rollers, our picks for Blackjack Switch are 4 Queens and Casino Royale. Both casinos spread the game with a $5 minimum bet. 4 Queens is on Fremont Street in Downtown Las Vegas. Casino Royale is where Blackjack Switch originated. It is between Harrah's and Venetian on the Strip.
Players looking for a luxury experience will want to move up to $15 and play it at Wynn on the Las Vegas Strip.
Playtech is the only option for Blackjack Switch at online casinos. We recommend Bet 365 because of its long history of taking care of players in terms of customer service and withdrawals.
Summary
Blackjack Switch is a great change of pace with a low house edge of about 0.65%, depending on the level of effort that you are willing to put into learning strategy.
The advanced strategy may be impossible to learn for some people as there are some exceptions beyond the basic one. This complex strategy may be a turnoff to some players. For online ones, it is easy enough to have the list handy, though.
For those willing to learn the game, we feel this is a good way to take a break from traditional blackjack tables.
September
Casino of the Month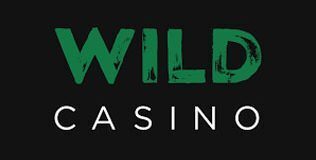 Welcome Bonus
250% up to $5,000