Top South Africa Casino Sites and Apps in 2022
You can play casino games online for real money from pretty much anywhere in the world. Not all online gambling sites accept players from every country, though, so you need to shop around a bit when looking for a site to join.
We've made that easy with our list of the best South Africa online casinos in 2022.
Rank
Online Casino
Exclusive Bonus
Get Started

#1

Bovada Casino

100% Up To

$3,000

Visit Site

Visit Site

#2

Las Atlantis

280% Up To

$14,000

Visit Site

Visit Site

#3

Wild Casino

250% Up To

$5,000

Visit Site

Visit Site

#4

Red Dog Casino

225% Up To

$12,250

Visit Site

Visit Site

#5

Ducky Luck

500% Up To

$2,500

Visit Site

Visit Site

#6

Super Slots

250% Up To

$6,000

Visit Site

Visit Site

#7

BetUS Casino

200% Up To

$5,000

Visit Site

Visit Site

#8

Ignition Casino

150% Up To

$1,500

Visit Site

Visit Site
We do our research and thoroughly test many casino sites and real money gambling apps before we make our recommendations. You can be sure that the above online casinos for SA are safe and legitimate.
It is easy to start casino gambling in South Africa for real money. Simply choose one (or more!) of the sites above and create your account. Then make a deposit, activate a bonus offer, and start playing.
If you are new to playing casino games online in South Africa, you might want a little more info before you get started. That's why we created this guide.
Here's what we cover.
Mobile usage in South Africa and why it might make more sense to play your favorite casino games on your phone or tablet instead of your PC.
The online casino laws in SA, and a bill the country has been trying to pass since 2008 that would regulate online gaming.
Our predictions for the future of South Africa casinos online.
Details of some land-based casinos in South Africa for whenever you'd like to play casino games in person.
We start with what you need to look for and compare when deciding which South Africa online casino sites you should join.
Finding the Best Online Casinos for South Africa
The first thing you need to know is how to find the best South African online casinos. This doesn't have to be hard. You just need to know what to look for.
There are some features that every legitimate online casino needs. What we're going to do now is highlight the two factors we think are most crucial for SA casino gamblers.
Accepted currencies and banking methods
Variety of gambling options
Here's why each of the above is important.
Accepted Currencies and Banking Methods at SA Casinos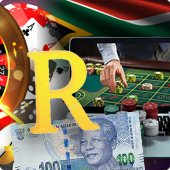 When you're comparing South African online casino sites, you need to think about how you will fund your account and cash out your winnings.
You will most likely have several banking methods to choose from. These include credit cards, electronic wallets, and bank transfers.
Some banking options are better than others. What's important is finding a casino that accepts the banking methods that work best for you.
What's even more important is finding online casinos that accept Rand deposits.
Not all SA online casinos accept Rand. Some exchange your currency when you deposit, and this can complicate things.
You will (probably) get less money since the Rand is weaker compared to the currencies most online casinos use.
Most currency exchanges include fees. This will come out of your bankroll.
You won't be able to play in Rand, which can make it harder to track how much you're winning or losing.
The currency exchange situation can put a major damper on your experience.
This is why we recommend you only join South Africa casino sites online that accept the banking options that allow you to deposit and withdraw in Rand. Gambling online will be much simpler for you that way.
You can also avoid the hassle of exchanging your Rand by gambling with Bitcoin or another cryptocurrency instead. There are many benefits to playing online casino games with cryptocurrencies.
One benefit is that several of the best online casinos in South Africa accept Bitcoin deposits, including the ones we recommend.
So, if you don't want to research which online casinos accept Rand, you might consider using Bitcoin instead.
Variety of Gambling Options at Online Casinos in SA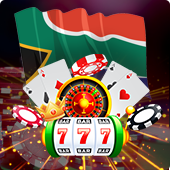 The National Gambling Board of South Africa monitors trends in gambling habits throughout the country.
In the 2018/2019 fiscal year, 60.5% of the country's gross gambling revenue came from casinos. 23.5% of their revenue came from sports betting.
What surprised us was the country's bingo revenue.
While bingo games only generated 5.1% of the total gambling revenue, that demonstrated a 26.6% growth increase from the year before.
That means bingo is gaining popularity much faster than any of the other gambling sectors.
Interesting, but what does this mean for you?
Many online casinos accepting SA players stick to slot machines and table games. But that's not good enough because the data shows that South African gamblers also want other forms of gambling.
The top South Africa online casino websites we recommend offer sports betting, bingo, and arcade games in addition to traditional casino games.
If having access to a wide variety of gambling options is valuable to you, you'll want to make sure you join one of our recommended South African casino apps or sites.
You can double-check whether a site has the gambling options you want by reading our South Africa online casino reviews.
Our reviews also cover information about banking methods, so you can find out if a casino you are considering accepts transactions in South African Rand or not.
The best casino sites for South Africans tick the right boxes when it comes to these important features.
South Africa Casino Apps and Mobile Online Casinos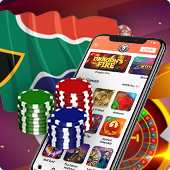 If banking and game variety are the two most important features for online South Africa casinos to have, mobile compatibility is a close third.
As of 2019, 99.7% of the South African population had access to 3G mobile networks. 92.8% had access to 4G or LTE mobile coverage.
Chances are, you have faster internet speeds on your mobile network than on your PC (if you even own a PC.) This means it'll probably be more enjoyable to gamble on your mobile device.
And if you do play real money mobile casino games in South Africa, the good news is that you won't have to deal with loading times. Or low-quality graphics. That's because many casinos take a mobile-first mentality to game development.
But what about game selection? Banking? Customer service?
You have nothing to worry about. The mobile South African online casinos we recommend have the same casino games, sports bets, and other gambling options available to PC users.
The banking options are the same too, and you won't have any problems reaching customer service.
We test the mobile casino apps at all the online casino sites for SA that we endorse.
You don't necessarily have to download actual apps. The top South Africa mobile casinos are typically accessible through your internet browser. If you have Safari or Google Chrome, you're good to go.
Mobile casino sites in South Africa are essentially the same as those on PC. Between that and the rising mobile usage and speeds, it just makes sense to embrace mobile gambling.
We enjoy it, and we think you will too.
Online Casino Laws in South Africa
With all this talk about casino games and mobile gambling, you might be wondering if real money online casinos are legal in South Africa in the first place. We're going to answer that for you now.
We covered South Africa gambling laws in detail elsewhere on our site, so we just going to focus on the SA casino laws here.
The National Gambling Amendment Act of 2008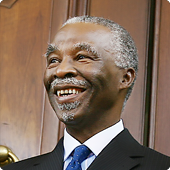 Before you can understand South Africa's online casino laws today, you need to understand what happened a few years ago.
In 2008, South Africa's National Assembly passed the National Gambling Amendment. It was a solid gambling regulation bill that would have created a process for licensing real money casino sites.
President Thabo Mbeki signed the law, but he included a statement that it would not be implemented "until a date chosen by the President."
Unfortunately, President Mbeki resigned as a result of a corruption scandal a few months later.
He never ratified the National Gambling Amendment Act. Neither did his successor, President Kgalema Motlanthe.
The National Gambling Amendment Act has been in limbo ever since. It cannot be fully enacted until a President chooses to implement it.
Because the 2008 law never went into effect, South Africa continues to be governed by the National Gambling Act of 2004.
The 2004 law legalized online sports betting, but it did not address South Africa's stance on casino gambling online.
Many political leaders and land-based casinos have expressed a desire to revisit the National Gambling Amendment Act of 2008.
But until it gets ratified, casino gambling online in South Africa is not regulated within the country.
The Future of Online Casinos in South Africa
Despite the bill in limbo, we think it's only a matter of time before regulated online South Africa casinos are open for gambling with real money.
Here are a few reasons why.
South African political leaders have shown they support regulated online casinos by passing the National Gambling Amendment Act of 2008.
It is legal to bet on sports online in South Africa.
Land-based casinos support legalized online casino gambling in SA because it gives them another revenue source.
The recent pandemic devastated the land-based gambling market in South Africa. That significantly affects the country's budget because the taxes that casinos pay are based on their revenue. Political leaders are more motivated to consider new revenue sources, including online South African casino sites.
The National Gambling Board recognizes that many people use overseas online casinos accepting South African players. Regulation in the country is more manageable than enforcing laws against something that is already happening.
There is no way of knowing for certain when you'll be able to enjoy playing at South African casinos online that are regulated within the country. There are so many factors that impact the outcome.
But, it seems like that is the direction that the country is moving toward.
Until that happens, you can continue enjoying the South Africa online casino gambling sites we recommend for all your gaming needs.
Land-Based Casinos in South Africa
In addition to gambling at South Africa casinos online, you can also visit a land-based casino.
South Africa is home to more casinos and gambling facilities than any other country in Africa. There are 39 casinos spread throughout all nine provinces.
We won't bore you with information about all 39 casinos, but we will give you a brief introduction to a few casinos so that you can get an idea of what to expect.
Sun City Casino Resort in Rustenburg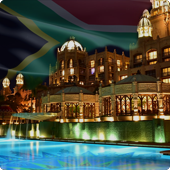 One of the best casinos in South Africa is the Sun City Casino Resort. It is a five-star resort destination with five hotels and dozens of entertainment options.
The Sun City Casino has hundreds of slot machines and 40 table games available for gamblers.
In addition to the fabulous casino, the Sun City Resort also has a plethora of entertainment options.
You can enjoy a safari, get lost in the Maze of the Lost City, splash around the water park, or relax on their two golf courses.
Sun City is only two hours outside of Johannesburg, so you can explore the city while you are visiting.
This fantastic casino resort is perfect for gamblers looking for a vacation destination in South Africa with everything all in one place.
Grandwest Casino and Entertainment World in Cape Town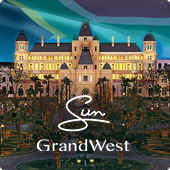 The largest casino in South Africa is the Grandwest Casino in Capetown. This magnificent casino has more than 2,500 slot machines and 80 table games spread across 120,000 square feet of gaming space!
One feature that sets Grandwest Casino apart from the other casinos in South Africa is its high-limit slot machines area, where you can play slots for up to R100.
When you choose to visit a land-based casino, you probably expect to have several entertainment options available. That is one reason that people enjoy visiting brick-and-mortar casinos.
Grandwest Casino and Entertainment World will not disappoint your desire for entertainment options. They have a bowling alley, arcade, a movie theater, and the largest indoor ice skating rink in Cape Town.
The combination of entertainment options and the largest gambling floor in South Africa make Grandwest Casino the perfect casino destination for anyone looking to find a Las Vegas-style casino in South Africa.
The Boardwalk Casino in Port Elizabeth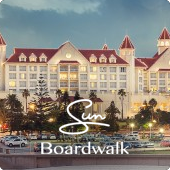 Another excellent casino to visit in South Africa is the Boardwalk Casino. It is located near Nelson Mandela's Bay Beach, right on the Indian Ocean.
This moderately-sized casino features 900 slot machines and 24 table games on an 80,000 square-foot gaming floor.
In addition to the standard table games, like roulette, baccarat, and blackjack, the Boardwalk Casino also offers a local favorite – AmaDice. AmaDice is a dice game that is popular with local street gamblers.
The Boardwalk Casino offers a beachfront gambling experience perfect for vacationers who want to get away from their PC screens and enjoy some blackjack games at the beach.
Join a Real Money South Africa Online Casino Now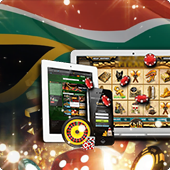 Are you ready to join an online casino in South Africa?
Well, the good news is that many online casino sites for South Africa, as well as real money casino apps. But they're not all created equally. Remember what we talked about earlier.
There are two big features to look for.
Online casinos that accept South African Rand. They should also accept banking methods that work for you.
The best online casinos in South Africa have a wide variety of gambling options. Not just casino games, but sports betting and bingo, too.
There is also the third thing we talked about, playing real money casino games on your mobile device.
The good news is that all of the best South Africa online casinos are mobile casinos. One account will get you access to both the mobile and PC versions.
All you have to do now is find the casino that will work for you.
But you don't even have to do that, because we've done the hard work for you. We've spent a lot of time and resources researching and testing a wide range of real money South Africa online casinos.
Here's a reminder of our recommendations. These are the safest online casinos for South Africa players, with many other benefits.

Sign up Bonus
250% Up To $5,000
READ REVIEW
Visit Site
X