Why Paddy Pimblett is Overrated and Won't Succeed in the UFC

Paddy "The Baddy" Pimblett wowed fans with a first-round knockout of Luigi Vendramini on his UFC debut on September 4.
Now that the dust has settled, it's time to ask a few questions. The most obvious being, was his performance that impressive?
The Liverpool native is operating at lightweight, which is undoubtedly the most stacked division in the UFC. For him to make waves at 155, we're going to have to see much more going forward. Does he have what it takes?
Is Paddy Pimblett another UFC hype job heading for the scrapyard, or a genuine prospect that can light up the UFC? I'll be providing answers to all of the above in order to predict how far Pimblett goes in the promotion, and if he's just another over-bloated hype job.
Let's start by taking a look at his strengths and weaknesses.
Just How Good is Paddy Pimblett?
A fresh face on the global scene, Pimblett was an unknown quantity for many UFC fans.
European fight nuts will have a better idea of the Scouser's accomplishments, especially as he was the Cage Warriors featherweight champion from 2016 to 2017.
However, Pimblett managed just one defense of that title.
Paddy Pimblett Stats and Profile
Cage Name
The Baddy
Weight Class
Lightweight
Age
26
Record
17-3 (5 KOs; 8 Sub)
Height
5'10"
Reach
71"
Stance
Orthodox
Current Streak
3 Wins (1 UFC)
Since being beaten by Soren Bak in a Cage Warriors lightweight title bout in 2019, Pimblett has come along. Instead of relying on his explosive striking and opportunistic submission game, he has bulked up and tried to iron out the creases in his style.
A top prospect at European level, Pimblett was seen as a future UFC champion when he burst onto the scene as an 18-year-old in 2013. But there have been a few poor performances among the highlights.
Touted by some as the next major fighter to emerge from Europe, I have my reservations that Pimblett will cut it in the UFC.
We have seen some exceptional mixed martial artists and UFC champions emerge from Cage Warriors over the years, with Gegard Mousasi, Conor McGregor, Michael Bisping, and Joanna Jedrzejczyk among the best of them.
Put simply, I don't see The Baddy enjoying the same success that the aforementioned alumni have achieved in the UFC and other major promotions.
Strengths and Weaknesses of Paddy Pimblett
Here's a breakdown of the strengths and weaknesses of Pimblett.
| | |
| --- | --- |
| Key Strengths | Main Weaknesses |
| Strong Submission Game | Poor Striking Defense |
| Toughness | No Feints/Setups |
| Conditioning | Weak Wrestling Defense |
| Unpredictable Striking | Inability to Handle Pressure |
As you can see, Pimblett's submission game is strong. In fact, it's regarded as the strongest weapon in his arsenal.
He is very creative on the mat but can be quite reckless at times. This will be a major problem when he faces a strong grappler that can expose his scrambles and slowly and steadily work him over in the transitions.
Although he has decent power, his striking defense would likely see him clipped by most of the top guys at 155. He has zero head movement, poor footwork, and a dangerous tendency to leave his chin in the air while swinging wildly.
A strong wrestler with good feints and a decent overhand right, such as Justin Gaethje or Michael Chandler, would likely expose him in little to no time.
Fortunately for Pimblett, I don't think he's going to get that far. Still, some believe this guy is the real deal, and comparisons with another (super famous) European are already being made…
Is Pimblett the Next Conor McGregor?
Comparisons between Paddy Pimblett and Conor McGregor were always inevitable.
But the fact of the matter is that the UFC's media machine is mostly responsible for pushing the similitudes connecting its greatest superstar with the Liverpudlian.
Some might say that this is a sign that they are trying to fill the void that the Dubliner will soon leave. But they have been preparing to plug that hole for a long time. With McGregor more likely to join the WWE than capture another title in the promotion, they ought to be.
But I digress. Which McGregor are we talking about here?
If it's the all-conquering knockout artist with razor-sharp wit and global appeal, then no.
There is absolutely no way that Pimblett will come close to being a straight swap for the biggest name in combat sports history.
Although Pimblett is an exciting fighter to watch and is good with the old self-promotion, he's clearly a different fighter to what "The Notorious" was when he arrived on the scene. He's certainly nowhere near as dynamic, as evident by a win over Vendramini that was not as impressive as the promotion would like you to believe.
Pimblett is unlikely to generate the hype that the former "Champ-Champ" attained at the beginning of his career in the promotion, either.
Remember, the Irishman arrived in the UFC as a two-weight champion of Cage Warriors with a 12-2 record. Pimblett lost his title in the same promotion in 2017 before heading to the States with a 2-3 record from his last five fights.
While McGregor knocked out Marcus Brimmage in just over a minute, sealing a "Knockout of the Night" before his now-famous "50 Gs, baby" post-fight cage interview. The buzz was tangible and he looked like the real deal.
He was also perhaps the best trash talker in the business.
By comparison, Pimblett scraped to a first-round win against a guy that could have taken him out with a well-timed shot.
Comparing Pimblett and McGregor's Commerical Appeal
Although an excellent fighter by his own right, much of McGregor's commercial success came down to his huge Irish following.
That includes the many Americans of Irish extraction. The old "Fighting Irish" tag resonates with both the Irish diaspora and the tens of millions who proudly claim ancestry to the "Emerald Isle."
Earlier this year, the United States Census Bureau stated that almost ten percent of Americans claim Irish heritage. You can find a person of Irish extraction in all 3,142 counties in the US, which is crazy.
McGregor's popularity was certainly helped by Irish Americans, but also others in the United States that appreciate the culture of the old country.
Pimblett simply won't have the same support. Although Liverpudlians are about as Irish you can get in England, the Scouser is no McGregor.
The bottom line is, The Baddy doesn't have the one-punch knockout power, the trash talk, or the commercial appeal necessary to come anywhere near The Notorious.
It might be early days yet, but I can guarantee you that the chances of him coming close are incredibly low.
As for the fortune amassed by McGregor? Pfft. Forget about it.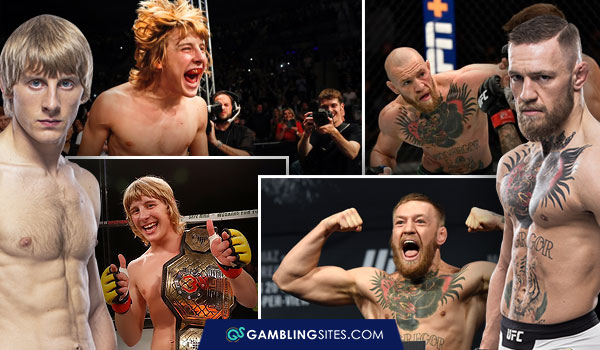 Is Pimblett the Real Deal?
Let's forget the comparisons between McGregor and Pimblett, as they are, well pointless.
Instead, let's try to ascertain if Paddy The Baddy is the real deal. Or, if he is just another hype train that will invariably fall off track in spectacular fashion.
First things first, is Pimblett UFC caliber? Can he mix it with the best in the promotion?
While we all know that colorful characters that can fight a little tend to get their fair share of coverage, courtesy of Dana White and the promotion's PR team, they need to be special to make it. But without the skills necessary to put it up to the best in his weight class, the Scouser could find himself in the UFC knacker's yard before long.
It just so happens that Pimblett fights in the most stacked department there is in the UFC. I am, of course, talking about the lightweight division.
Bummer.
If Pimblett is a hype train, it won't take long for him to meet his end. Just take a look at the official rankings at 155-pounds as of September 15, 2021.
| | | |
| --- | --- | --- |
| Ranking | Name | Nationality |
| Champion | Charles Oliveira | Brazil |
| 1 | Dustin Poirier | United States |
| 2 | Justin Gaethje | United States |
| 3 | Beneil Dariush | United States |
| 4 | Michael Chandler | United States |
| 5 | Islam Makhachev | Russia |
| 6 | Tony Ferguson | United States |
| 7 | Rafael Dos Anjos | Brazil |
| 8 | Dan Hooker | New Zealand |
| 9 | Conor McGregor | Ireland |
| 10 | Gregor Gillespie | United States |
| 11 | Diego Ferreira | Brazil |
| 12 | Brad Riddell | New Zealand |
| 13 | Rafael Fiziev | Kazakhstan/Kyrgyzstan |
| 14 | Arman Tsarukyan | Russia |
| 15 | Thiago Moises | Brazil |
Is there a fighter on the list above that Pimblett can beat? I would likely bet against the floppy-haired fighter if he were to fight any of the men above.
That's not to say that Pimblett would lose every time, of course. Anything is possible in MMA. But the point stands that he's not good enough to beat even a fraction of the men on the list.
Could that change? Of course, it could. But fundamentally, Pimblett lacks the skillset necessary to take on the crème de la crème of the UFC's elite lightweights.
Breaking the top-15 would be an accomplishment in itself, and that speaks volumes for what you can expect from Pimblett at 155.
Most impressive debut since ____? ?

[ @PaddyTheBaddy | @DC_MMA | @Bisping | @Jon_Anik ] pic.twitter.com/jk71tVxnr5

— UFC (@ufc) September 8, 2021
How About Pimblett at Featherweight?
Before Pimblett has any chance of cracking the top-15 in the UFC lightweight division, he will need to get past some seriously talented fighters.
There are guys like Damir Ismagulov, Mateusz Gamrot, Joe Solecki, Al Iaquinta, and Mark O. Madsen that are on the cusp of the top-15. All four would likely beat Pimblett, and there are at least another four or five you can add to the list.
It seems inevitable that The Baddy will drop back down to 145-pounds, unless the promotion wants to keep him in the mix at 155. For example, if a fight between McGregor vs. Pimblett is on the cards, it makes sense to feed him guys that he should be able to beat.
But as we saw with Vendramini, there are no easy fights in this division.
Could Pimblett look to take on the best fighters at featherweight? Although he will have an advantage over some of the smaller fighters, you could argue that the top-15 at 145 is also a murderer's row.
For Pimblett to push himself into title contention at featherweight, he would have to beat some very dangerous fighters. Edson Barboza, Bryce Mitchell, Sodiq Yusuff, Movsar Evloev, Shane Burgos, and Ilia Topuria are all very dangerous mixed martial artists.
If he somehow made his way past those guys, he's looking at the following before he could hypothetically challenge for the title currently held by Alexander Volkanovski.
Max Holloway
Brian Ortega
Yair Rodriguez
Chan Sung Jung
Calvin Kattar
Now, even the most optimistic of Paddy Pimblett fans will shudder at the thought of him taking on any of these guys.
Will Pimblett be a champion at featherweight? It's highly unlikely.
Is Pimblett Overrated?
I've been following Pimblett since the mid-2010s when he was emerging as a force in Cage Warriors.
So, I'm not giving you some vacuous opinion on a guy that has just appeared on my radar. I've been watching his fights for some time now.
Although there is room for improvement, there is also time to improve. But the only problem here is, that on the elite level, chances are few and far between, meaning time is of the essence.
We see hype jobs in the UFC crash and burn on the regular, and I feel Pimblett's skillset and scope for progression are not in line with some folks' expectations of the lad.
Naturally, a guy with his unique look, talent for smack talk, and European appeal is something that the promotion will want to monetize. It's a business, after all. However, living up to the pressure and dealing with the fast-track exposure can often backfire spectacularly.
The simple fact of the matter is that the PR machine is pushing the idea that the 25-year-old is much better than his skillset suggests. His striking is decent but is far from refined. Defensively, he's very open. And when it comes to facing accomplished grapplers, he does tend to struggle.
Pimblett's size has always been favorable against smaller guys. But some of the top-tier fighters at 145, never mind 155, are 5'10" plus.
Pimblett seems destined to join some of the other derailed UFC hype trains because his balance sheet is not accurately reflective of his skills inside the cage.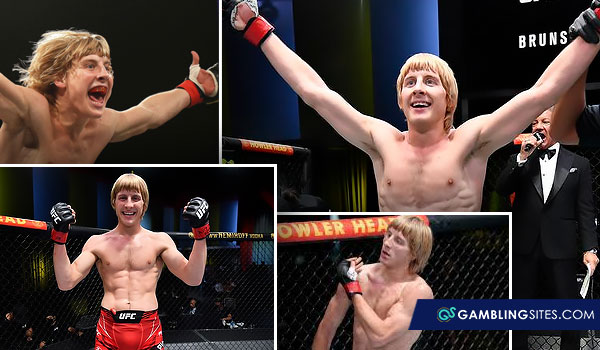 Other UFC Hype Trains that Were Derailed
We've seen plenty of UFC hype jobs like Pimblett exposed in the past. The unsettling part, at least for The Baddy's fans, is that many of them are better fighters than he is.
You have to feel sorry for then-youngsters like Sage Northcutt and Paige Van Zant who were sold as the new breed of fighters. A lot of that was down to their looks and clean-cut profiles.
Both fighters left the promotion having achieved zilch. Northcutt moved to Singapore, but he is nowhere near among the top fighters in ONE FC. Van Zant is currently trying her hands at bare-knuckle boxing.
Uriah Hall was billed as "The Next Anderson Silva," only to have a topsy-turvy career that has, at the age of 37, yet to yield a title shot. Hall, undoubtedly a tremendous striker, might have bought into his own hype and suffered as a result.
Although he eventually got back on course, Francis Ngannou was spectacularly outclassed by Stipe Miocic in 2018. His subsequent loss to Derrick Lewis was a lesson in self-indulgence and an overblown ego.
But Ngannou's monstrous knockout power is an X-factor that allowed him to come back stronger and eventually win the UFC heavyweight title.
When approaching why Paddy Pimblett is a hype train just waiting to be derailed, it's hard to look past the most obvious comparison. Darren Till, anyone?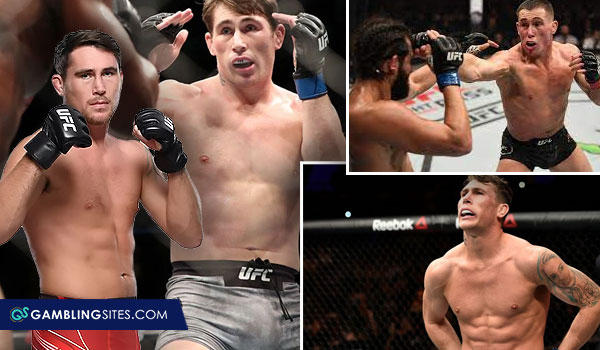 First off, Till is a solid fighter. There is no doubt that he is a top-10 guy at middleweight that could still become good one day. With that said, he's 1-4 from his last five fights and needs to show something very soon.
Having arrived in the UFC with a record of 12-0, Liverpool's main man was pushed as the biggest thing since Conor McGregor. Sound familiar?
A Liverpudlian like Pimblett, the promise of fight-mad Scousers rallying behind their man, was dollar signs to Dana White and Co.
With three wins and a draw from his first four fights, Till went on to smash a lethargic and fading Donald Cerrone in his first main event in the promotion.
A highly questionable win over Stephen Thompson pushed the hype to deafening levels, with soundbites of Till trashing all and sundry heavily circulated via the promotion's social media channels.
Till was the next big thing. He was the real deal. But when he faced Tyron Woodley for the welterweight championship at UFC 228, he was mauled, and the hype train was ultimately de-railed.
A follow-up fight against Jorge Masvidal saw the Scouser knocked out cold, which inadvertently transformed Masvidal from a fan-favorite gatekeeper to a bona fide headliner. It also spelled the end for Till as the next, great European hope.
Till moved up to middleweight where he would scrape a win over Kelvin Gastelum at UFC 244 before suffering back-to-back losses against Robert Whittaker and Derek Brunson.
How Far Will Pimblett Go in the UFC?
I wish him the best, but let's be real here: Paddy Pimblett is a UFC hype-job that will never be champion in the promotion.
That might sound very unfair to the lad, but he is simply not good enough when compared against the current crop of stars at lightweight.
On merit, I can't see him cracking the top-15 at lightweight. But I would not be surprised if the promotion finds a way to manufacture a pathway into the rankings. After all, he will attract pay-per-view buys from across the pond, and that's a good thing to have in your back pocket.
But there is no way that he will stay for long. Making the top-10 is out of the question, in my opinion, given the depth of quality in the division.
It's nailed on that Pimblett will have a crack at featherweight. But it's not going to be much of a crack either, that's for sure.
If he gets toasted a couple of times at 155, he'll inevitably dropdown. And while his chances of beating some of the smaller featherweights are better, he would be eaten up by any of the top guys.
Simply put, Pimblett is overrated, but that's not his fault.
It's not the fans' fault either, as the UFC media machine is less than tactful when it comes to blurring the line between cotton-candy fantasy and cold, harsh reality.
The Scouser is the latest hype train in a long series of men and women that have been slapped with similar tags.
His fans should enjoy it while they can, however, as it's just a matter of time before the hype hits the wall.