Top 5 Shooting Guards in the NBA in 2021-22

Over the years, we've seen the elite players shift away from the shooting guard position. In the early 2000s, we had guys like Michael Jordan, Kobe Bryant, and Vince Carter dominating the NBA from the position.
We have elite shooting guards now, but they aren't on the same level as those guys.
It's a pretty top-heavy position with four or five guys separating themselves from the pack. So, let's check out my top shooting guards in the NBA for 2021-22.
5. Zach LaVine (Chicago Bulls)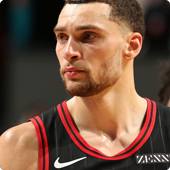 Early in his career, I felt that Zach LaVine was one of the more underrated players in the league. He was putting up solid numbers, but everyone thought he was just a dunker. Over time, we've seen him evolve into a superstar.
LaVine began his career with the Minnesota Timberwolves in 2014. He had decent numbers in his first two seasons, but he improved with 18.9 points per game in 2016-17.
The following season, the Chicago Bulls acquired LaVine in a deal that sent Jimmy Butler to Minnesota. The move didn't do much for LaVine at first, but he really took off over the next two seasons.
He averaged 23.7 and 25.5 points, respectively, in those two seasons. That was his first season averaging over 19.0 points.
Last season, LaVine set career highs in virtually every stat. Let's check out those career numbers.
27.4 points
5.0 rebounds
4.9 assists
50.7 field goal percentage
41.9 three-point percentage
LaVine made the all-star team for the first time in his career.
Going into his eighth season, LaVine has his best chance to make his first playoff appearance.
This offseason, the Bulls were one of the most improved teams in the NBA because they signed DeMar DeRozan and Lonzo Ball. They missed the play-in tournament by two games. They made some great additions, but LaVine is still the star of the Bulls.
What makes LaVine such a great player is his slashing and shooting ability.
At the start of his career, everyone said he was just a dunker. Well, he is still an amazing dunker but he does so much more. He can get to the basket and finish through contact and isn't afraid to be physical.
He has shot over 37 percent from three-point range in each of the last three seasons.
LaVine continues to improve as a player. A playoff appearance could help him gain recognition.
4. Donovan Mitchell (Utah Jazz)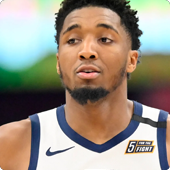 For years, the Utah Jazz lived in the middle of the Western Conference playoffs. They finished either fifth or sixth in the Conference for four straight seasons. Last season, Donovan Mitchell led them to the best record in the NBA.
Mitchell set career highs last season in points per game (26.4), assists per game (5.2), and three-point percentage (38.6). He was the driving force behind their 52-20 record.
In his rookie season (2017-18), Mitchell had a great chance to win rookie of the year. However, there was some controversy.
Ben Simmons missed his entire rookie season with a foot injury. His first playing season came in Mitchell's rookie season. Simmons ultimately won the award.
The following season, Mitchell increased his scoring average to 23.8.
Over the last two seasons, we've seen Mitchell have a huge postseason. Check out his elite numbers.
| | | |
| --- | --- | --- |
| Stat | 2020 (7 games) | 2021 (10 games) |
| Points | 36.3 | 32.3 |
| Assists | 4.9 | 5.5 |
| Rebounds | 5.0 | 4.2 |
| Field Goal Percentage | 52.9 | 44.7 |
| Three-Point Percentage | 51.6 | 43.5 |
That 2020 playoff performance was a sight to see. Mitchell opened up the postseason with a 57-point game against the Denver Nuggets. He backed that up with 51 points in Game 4 of that series.
Last season was impressive because he missed the final month of the regular season with an ankle injury. He returned at the start of the playoffs and looked 100 percent. He had a 45-point performance in Game 1 of the Conference Semifinals.
When he is on, Mitchell is one of the best scorers in the league.
I love that he plays his best ball when it matters most. There's a reason he is one of the best young stars in the NBA.
Utah took a big step forward with Mitchell leading their offense. If Mitchell leads them on a deep playoff run, we may be talking about him as a top-three shooting guard next season.
3. Devin Booker (Phoenix Suns)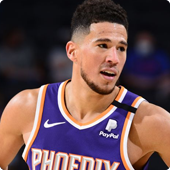 We just talked about how Donovan Mitchell can help his case with a deep playoff run. Well, Devin Booker just accomplished that.
The Phoenix Suns drafted Booker in the first round of the 2015 NBA draft. Booker was the lone bright spot in the Phoenix's turmoil in the late 2010s.
In Booker's first four seasons, the Suns never won more than 24 games. But it wasn't through any fault of Booker.
From his second to fourth season, Booker's scoring average went from 22.1 to 24.9 to 26.6. Despite the great seasons, he didn't make the all-star team. It probably had a lot to do with him playing on a bad Phoenix team.
Booker made the all-star team in both 2020 and 2021. It's interesting because his numbers aren't much better than 2019 but the Suns improved as a team. In turn, Booker receives more recognition.
Last season, the Suns emerged as a championship contender. Booker's 25.6 points per game led the Suns to finish with the second-best record in the league.
In the postseason, Booker and Chris Paul led the Suns all the way to the NBA Finals. Phoenix did ultimately lose but Booker had a pair of big games in the series.
| | | |
| --- | --- | --- |
| Stat | Game 4 | Game 5 |
| Points | 42 | 40 |
| Field Goals | 17/28 | 17/33 |
Of course, we can't forget about his legendary 47-point performance in Game 6 of their first-round series against the defending champion Los Angeles Lakers. He went 8-10 from three-point range and had 11 rebounds.
It took a while but Phoenix finally built a team around Booker. They have the talent to make another Finals run. That's only going to make Booker more motivated to improve his game.
And to think, this guy was a bench player in college. Now, he is a top-three shooting guard.
2. Bradley Beal (Washington Wizards)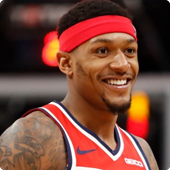 Bradley Beal is basically in the same situation Devin Booker was early in his career. The Washington Wizards did make the playoffs last season but no one was taking them seriously.
When Beal came out of college, people viewed him as a shooter. And to be fair, he lived up to that hype early in his career.
He shot over 40 percent from three-point range in three of his first five seasons. Beal operated as the second star alongside John Wall. In 2016-17, we began to see a changing of the guard.
Beal averaged 23.1 points on 40.4 shooting from three-point range. His scoring average matched Wall and marked the first time he averaged over 17.4 points in a season. This was the final time Wall played more than 41 games in a season.
Over the next two seasons, Beal made the all-star team. With Wall missing time, Beal became the focal point of the Wizards offense. Wall missed the entire 2019-20 season. This is where Beal truly became one of the best scorers in the NBA.
Here are his numbers from the 2019-20 season.
30.5 points
6.1 assists
4.2 rebounds
45.5 field goal percentage
35.3 three-point percentage
Do you want to know how disrespected Beal is? He didn't even make the all-star team that season.
Last season, he averaged 31.3 points and only made the All-NBA third team.
Beal just doesn't receive the respect he deserves. I truly believe that if he played for a playoff team like the Utah Jazz or Denver Nuggets, he'd be an MVP contender year in and year out.
Even with all the criticism surrounding him, Beal remains committed to the Wizards. He wants to help them build a championship team.
One day, Beal will receive the respect that he deserves.
1. James Harden (Brooklyn Nets)
Last season, we saw James Harden back off from his elite scoring pace and take on more of a distributor role. However, that doesn't change his status as the best shooting guard in the league.
Harden was nothing more than a sixth man with the Oklahoma City Thunder. Once the Houston Rockets acquired him in 2012, Harden became a superstar.
He made the all-star team in all nine of his seasons with the Rockets. He also made the All-NBA first team six times.
In 2016-17, Harden primarily played the point guard position. That season, he led the NBA with 11.2 assists per game. The role didn't affect his scoring, as he averaged a then career-high 29.1 points.
The following season, Harden returned to shooting guard. That led to an unbelievable three-year run of scoring.
2017-18: 30.4 points per game
2018-19: 36.1 points per game
2019-20: 34.3 points per game
Harden captured his first career MVP award in 2017-18.
We mentioned earlier how Harden transitioned to a distributor last season. His points per game dropped to 24.6 but his 10.8 assists per game marked the second time in his career he averaged over nine assists.
Right now, Harden is one of the best players to never win an NBA championship. He made it to the NBA Finals with the Thunder back in 2012 but they fell in five games to the Miami Heat.
Harden had a golden chance to make it back to the Finals in 2018 but they lost games 6 and 7 of the Western Conference Finals.
This season is no doubt his best opportunity to win his first championship. Brooklyn enters the season as the favorite and Harden will play a big role in their championship run.
Either way, Harden will likely remain the best shooting guard in the league.
Other Top NBA Shooting Guards for 2021-22
Jaylen Brown (Boston Celtics)
Klay Thompson (Golden State Warriors)
No one talks about Jaylen Brown but he is coming off an all-star season that saw him average 24.7 points on 39.7 percent three-point shooting.
Klay Thompson returns after missing the last two seasons. The five-time all-star averaged over 20 points in each of his last five seasons.
The shooting guard position isn't as strong as point guard or small forward position but they have their top-tier guys. We have a lot of young players who have plenty of time to work on their game.
For more NBA news, check out the articles below.