Ranking the Top 5 Small Forwards in the NBA in 2021-22

The small forward position is the cream of the crop in the NBA. This is where you find the truly elite players.
There are a lot of great players that won't even make this top-five. That's how competitive it is.
As we look ahead to the 2021-22 NBA season, let's check out the top five small forwards.
5. Paul George (Los Angeles Clippers)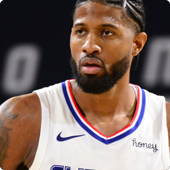 It wasn't long ago that Paul George was an MVP contender with the Oklahoma City Thunder. He took a lot of flak for his performance in the 2020 playoffs, but I still believe George is one of the elite players in the game.
George steadily improved over the first four years of his career. He averaged 21.7 points and 6.8 rebounds in the 2013-14 season. Coming off his second straight all-star game appearance, it looked like George was ready to take the next step.
Unfortunately, he suffered a major leg injury in the 2014 offseason. The injury forced him to miss nearly the entire 2014-15 season. After the injury, George came back better than ever.
He made the all-star team over the following three seasons. His scoring average hovered right around 23 points in 2015-16 and 2016-17.
In the 2017 offseason, the Indiana Pacers traded George to Oklahoma City.
George's second season with the Thunder marked the best of his career.
28.0 points
8.2 rebounds
4.1 assists
2.2 steals
Following that season, the Thunder traded him to the Los Angeles Clippers. His numbers have dropped over the last two seasons, as he has played a supporting role to Kawhi Leonard. George has averaged 22.5 points on 41.2 percent, three-point shooting.
This season, we may see George have another MVP caliber season.
Leonard partially tore his ACL in the playoffs last season. He will miss the majority of the 2021-22 season. That means George will take over as the number one option in Los Angeles.
For someone who has faced a lot of criticism lately, this is a big opportunity for George to show everyone he can be an MVP-caliber player.
Even without Leonard, the Clippers have the pieces to make a championship run. It'll all come down to George's success.
4. Jayson Tatum (Boston Celtics)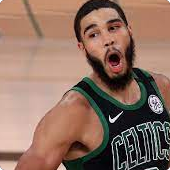 It has not taken long for Jayson Tatum to establish himself as one of the best young stars in the NBA. Tatum is only 23 years old but he has a pair of all-star game appearances and made the All-NBA third-team last season.
The Boston Celtics selected Tatum third overall in the 2017 NBA Draft.
Tatum averaged 13.9 points on 43.4 percent three-point shooting his rookie season. He increased his scoring average to 18.5 in the postseason as the Celtics nearly advanced to the NBA Finals.
He showed slight improvement in his second season. Over the last two seasons, we've seen Tatum elevate his game to superstar status.
In the 2019-20 season, he averaged 23.4 points, 7.0 rebounds, and shot 40.3 percent from three-point range. Boston made another run to the Eastern Conference Finals, but they once again fell short.
Last season, Tatum made his first appearance on the All-NBA team. He averaged 26.4 points and 7.4 rebounds.
We saw a lot of young stars step up in the 2021 playoffs. Tatum may have not made it as far as other stars, but he showed out with three stellar performances.
| | | | |
| --- | --- | --- | --- |
| Stat | Play-In Tournament | Game 3 | Game 4 |
| Points | 50 | 50 | 40 |
| Rebounds | 8 | 6 | 7 |
| Assists | 4 | 7 | 5 |
| Field Goal/Attempts | 14/32 | 15/30 | 10/22 |
| Three-Pointers/Attempts | 5/12 | 5/11 | 3/7 |
Boston underwhelmed last season but I like their chances to bounce back this season.
Tatum's right-hand man, Jaylen Brown, missed 14 games last season, including the playoffs. Having him back in the lineup will take some attention off Tatum.
It's crazy that Tatum is only 23 years old. He may not reach his prime for another three or four years. That's why a lot of people believe he can win MVP someday.
With Tatum leading the charge, I think Boston can make a deep playoff run this season.
3. Kawhi Leonard (Los Angeles Clippers)
There was a time when Kawhi Leonard was just an exceptional defender. Over his career, he has evolved his game to become one of the best players in the league.
The San Antonio Spurs acquired Leonard's draft rights during the 2011 NBA Draft.
Leonard didn't make a huge impact his first two seasons but he really picked up his play in 2013-14.
He made the All-Defensive Second Team with 1.7 steals per game. He also won his first championship that season, winning Finals MVP.
Check out his numbers from the series.
17.8 points
6.4 rebounds
1.6 steals
61.2 field goal percentage
57.9 three-point percentage
Over the following two seasons, we saw Leonard become a more complete player. He won defensive player of the year in 2015 and 2016. His first all-star game appearance came in 2016 with 21.2 points per game.
Leonard missed most of the 2017-18 season with a quadriceps injury. After a disagreement over rehabilitation, Leonard requested a trade.
The Toronto Raptors acquired him for the 2018-19 season. He won his second NBA title and Finals MVP. Leonard had a team-high 28.5 points per game, 9.8 rebounds per game, and 2.0 steals per game.
Following the championship, Leonard signed with the Los Angeles Clippers. In his two seasons with the team, he has averaged 26.8 points, 6.8 rebounds, 5.0 assists, and 1.7 steals.
Unfortunately, we likely won't see much of Leonard this season, if at all, He partially tore his ACL in the 2021 playoffs.
Kawhi Leonard underwent successful surgery today to repair a partial right ACL tear, the Clippers announced. pic.twitter.com/qUTbsChm1u

— SportsCenter (@SportsCenter) July 14, 2021
It's been impressive to watch Leonard become an all-around superstar. He is still elite on the defensive end with three straight appearances on the All-Defensive Second Team. But he is also a five-time all-star and has made the All-NBA first team three times.
He may miss this season but he has plenty of time to win his third title.
2. Kevin Durant (Brooklyn Nets)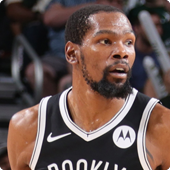 Kevin Durant did play more power forward than small forward last season, but everyone considers him a small forward, so that's what I'm going with.
People have long considered Durant the second-best active player in the NBA. It's hard to find a weakness in his game.
I mean, he is a seven-footer who is a career 38.4 percent three-point shooter. And he's no slouch when he drives to the bucket.
Durant has been an elite scorer in this league from day one. He averaged 20.3 points on his way to winning rookie of the year in 2008.
Following his sophomore season, Durant led the NBA in scoring in four of the ensuing five seasons. That stretch included his lone MVP season in 2013-14.
Check out his numbers.
32.0 points
7.4 rebounds
5.5 assists
1.3 steals
50.3 field goal percentage
39.1 three-point percentage
After years of playoff disappointment, Durant made a very controversial move to sign with the Golden State Warriors in 2016. The Warriors were coming off the greatest regular season in NBA history with a 73-9 record.
Golden State went on to win back-to-back titles with Durant winning Finals MVP both times. In the 2017 finals, he averaged 35.2 points on 47.4 percent three-point shooting.
Durant suffered a torn Achilles in the 2019 NBA Finals. He signed with the Brooklyn Nets that offseason but he missed the entire 2019-20 season.
Last season, Durant averaged 34.3 points in the playoffs but the Nets lost in the Conference Semifinals.
He may have taken a lot of heat for his move to the Warriors but it helped submit his legacy.
Love him or hate him, there's no denying that Durant is one of the best players of this generation.
The two-time champion has an excellent chance to add to his legacy this season.
1. LeBron James (Los Angeles Lakers)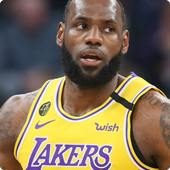 Many have tried to dethrone him, but LeBron James remains the best small forward and best overall player in the NBA.
What more can you say about James? The four-time champion has made the all-star game in every season except his rookie season. He has also made the All-NBA first team 13 times.
At 21 years old, James averaged 27.2 points, 7.4 rebounds, and 7.2 assists. He made his first finals appearance two seasons later, falling to the San Antonio Spurs.
From 2009-2013, James won four MVPs in five seasons. The 2012 season represented his first championship and Finals MVP. After four finals appearances and two championships with the Miami Heat, James returned to the Cleveland Cavaliers in 2014.
In 2016, James delivered on his promise and brought a championship to the city of Cleveland.
Facing a 3-1 deficit to the 73-9 Golden State Warriors, James went on a three-game run that made people reconsider the GOAT of the NBA.
| | | | |
| --- | --- | --- | --- |
| Stat | Game 5 | Game 6 | Game 7 |
| Points | 41 | 41 | 27 |
| Rebounds | 16 | 8 | 11 |
| Assists | 7 | 11 | 11 |
| Steals | 3 | 4 | 2 |
| Blocks | 3 | 3 | 3 |
His effort was easily one of the best NBA Finals performances ever.
Following back-to-back losses in the finals, James joined the Los Angeles Lakers in 2018. He won his fourth championship and finals MVP in 2020. In that series, he averaged 29.8 points, 11.8 rebounds, and 8.5 assists.
At 36 years old, James remains the best player in the NBA. No one that can take over a game like him. The best part about his game is he steps up when it matters most. We've seen him have some historical moments in the playoffs.
This season, he has a great chance to win his fifth title with Anthony Davis and Russell Westbrook in Los Angeles.
Other Top NBA Small Forwards for 2021-22
Jimmy Butler (Miami Heat)
Brandon Ingram (New Orleans Pelicans)
Jimmy Butler isn't flashy and doesn't put up big numbers, but he has been one of the best two-way players for years. He is a five-time all-star and five-time member of the All-Defensive Second Team.
Brandon Ingram is coming off back-to-back seasons of averaging 23.8 points. I feel like he doesn't receive the recognition he deserves because he plays for the New Orleans Pelicans. If they were a playoff team, people would talk about him more.
The small forward position is the elite of the elites. At full strength, I'd say the top three players on this list are top five overall players.
With so many veterans on the list, it'll be interesting to see who joins the list in a few years.
Love the NBA? Check out more content below.