Ranking the Top 5 NBA Point Guards for the 2021-22 Season

Point guards may be the most important player on the floor in the NBA. They are usually the player bringing the ball down the court and calling the plays. The offense typically runs through them.
There are so many great point guards in the NBA right now. It's hard to narrow it down to the top five, but I feel pretty confident with my rankings.
Here are my top five point guards going into the 2021-22 NBA season.
5. Russell Westbrook (Los Angeles Lakers)
The biggest move of the 2021-22 offseason involved Russell Westbrook.
Just before the NBA draft, the Los Angeles Lakers acquired Westbrook this offseason in a trade that sent Kyle Kuzma, Montrezl Harrell, and Kentavious Caldwell-Pope to the Washington Wizards.
Westbrook joins a Lakers squad that has championship aspirations with LeBron James and Anthony Davis.
Westbrook may not be the most efficient player, but it's like everyone forgot how great of a player he has been in his 12-year career.
He played second fiddle to Kevin Durant for years, but Westbrook began to showcase his superstar potential in 2014-15.
Durant only played 27 games that season, opening the door for Westbrook to operate as the main guy. Westbrook went on to lead the NBA with 28.1 points per game.
Two years later, Westbrook became the guy full-time when Durant left the Oklahoma City Thunder. That season, Westbrook won MVP after becoming the second player in NBA history to average a triple-double. He also broke the record for most triple-doubles in a season.
Since then, Westbrook has been a triple-double machine.
2017-18: 25
2018-19: 34
2019-20: 8
2020-21: 38
Last season, Westbrook broke Oscar Robertson's record for most career triple-doubles. The mark now stands at 184.
Everyone knows Westbrook is a future Hall of Famer. In addition to the MVP, he is a nine-time all-star, two-time All-NBA first team, three-time scoring champion, and more. However, the big drawback is his lack of playoff success.
He made it to the NBA Finals in 2012 but fell short to James and the Miami Heat. Westbrook hasn't made it past the first round of the playoffs since 2016. This season, he has his best opportunity to earn his first ring.
Achieving a triple-double was once looked at as a rarity. Westbrook has made it a normal occurrence. I think that right there, is his legacy.
4. Kyrie Irving (Brooklyn Nets)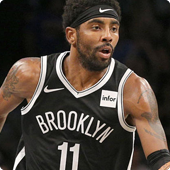 Kyrie Irving may not have a lot of fans, but no one can deny that he is an elite point guard.
Irving came into the NBA as the number one overall pick in the 2011 NBA draft. He made the all-star team in two of his first three seasons, but the Cleveland Cavaliers were nowhere close to competing. That all changed in 2014.
Following four years with the Miami Heat, LeBron James returned to the Cavaliers in 2014. With James, Irving, and new acquisition Kevin Love, the Cavaliers went to three consecutive NBA Finals.
In 2016, Irving won his first championship after hitting the game-winning three with just under a minute remaining in Game 7.
Overall, Irving had a great Finals series.
27.1 points
3.9 assists
3.9 rebounds
2.1 steals
40.5 three-point percentage
After the 2017 season, Irving requested a trade because he wanted to be the focal point of an offense. The Cavalier's agreed to trade him to the Boston Celtics.
Boston made the Conference Finals in his first season, but Irving didn't play in the postseason because of a knee injury. He lasted just one more season before signing with the Brooklyn Nets.
Irving only played 20 games in his first season in Brooklyn. He did average a career-high 27.4 points. Last season, he averaged 26.9 points but missed time in the playoffs with an ankle injury.
His career accomplishments include seven-time all-star, rookie of the year, and All-NBA second team (2019).
There have been a lot of questions about Irving's commitment to the game. He has missed over 15 games in each of the last four seasons. Injuries are the primary reason but there are other issues.
Even with that, Irving remains one of the best point guards in the game.
He has a great opportunity to win his second NBA championship this season.
3. Damian Lillard (Portland Trail Blazers)
Damian Lillard has been the subject of trade talks this offseason. However, he remains committed to the Portland Trail Blazers as they look to win their first championship since 1977.
Portland drafted Lillard in 2012 and he quickly made a name for himself. He won rookie of the year after averaging 19.0 points and 6.5 assists. He made the all-star team the following two seasons, but we didn't see a big jump in his game until the 2015-16 season.
Lillard went from averaging 21.0 points to 25.1. He made his first appearance on the All-NBA second team that season.
He has made the all-star team in each of the last four seasons. However, Portland has only made it past the first round of the playoffs once in that span. Lillard did struggle in the 2018 postseason but check out his numbers from the last three postseasons.
| | | | |
| --- | --- | --- | --- |
| Stat | 2019 (16 games) | 2020 (4 games) | 2021 (6 games) |
| Points | 26.9 | 24.3 | 34.3 |
| Assists | 6.6 | 4.3 | 10.2 |
| Rebounds | 4.8 | 3.5 | 4.3 |
| Three-Point % | 37.3 | 39.4 | 44.9 |
We've seen Lillard up his three-point attempts over the last two seasons. He averaged 10.2 and 10.5 attempts per game in the two seasons, respectively. For reference, he hadn't averaged over 8.6 in a season before that.
His increase in attempts has led to him averaging over 28.0 points and shooting over 39 percent from three-point range.
Lillard has been nothing short of amazing in his nine-year career. He has six, all-star game appearances, but surprisingly only one appearance on the All-NBA first team.
Everyone knows Lillard will ball out again this season. It's all about whether the rest of the players on the Trail Blazers can step up. Lillard wants to stay with Portland, but another playoff disappointment will only make the critics louder.
It'll be a fun storyline to follow.
2. Luka Doncic (Dallas Mavericks)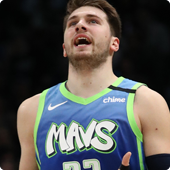 The battle for the No. 2 spot was so close. I ultimately went with Luka Doncic over Damian Lillard because I believe the former is a better all-around player.
Doncic had a lot of hype coming into the NBA. At 19 years old, he won MVP and a championship in the EuroLeague. The accomplishments are impressive but no one knows how an international player will adjust to the NBA.
Well, let's just say it was an easy adjustment.
He won rookie of the year following the 2018-19 season. That season, he averaged 21.2 points, 7.8 rebounds, 6.0 assists, and 1.1 steals. The only downside was the Dallas Mavericks finished with a 33-49 record.
Dallas has made the playoffs in the last two seasons, but they've lost in the first round to the Los Angeles Clippers both times.
Despite being so early in his career, Doncic has already established himself as a top 10 player in the NBA.
| | | |
| --- | --- | --- |
| Stat | 2019-20 | 2020-21 |
| Points | 28.8 | 27.7 |
| Rebounds | 9.4 | 8.0 |
| Assists | 8.8 | 8.6 |
| Three-Point % | 31.6 | 35.0 |
The Mavericks may not have won a playoff series in the Doncic era but it's through no fault of his own.
In 13 career playoffs, Doncic is averaging 33.5 points, 9.5 assists, and 8.8 rebounds. I think it's fair to say that he plays his best when the lights are brightest.
It's impressive to see Doncic have so much success at such a young age. Playing professionally in Spain helped his development and allowed him to have a better sense of his future competition.
Going into the 2021-22 season, Doncic is the MVP favorite. When you look at his all-around numbers, they aren't far off defending MVP Nikola Jokic, Doncic just needs to be a little more efficient to capture the award.
Be on the lookout for another great season from the 22-year-old phenom.
1. Stephen Curry (Golden State Warriors)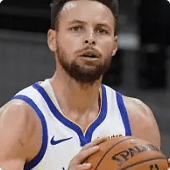 A few players have made a run at the top spot, but Stephen Curry continues to hold the crown.
Curry had a lot of hype coming into the NBA. In his final season at Davidson, he led them to the Elite 8 as a No. 10 seed. Curry led the country with 28.6 points per game. The Golden State Warriors drafted him seventh overall in the 2009 NBA draft.
His shooting carried over to the NBA, but Curry didn't make an all-star game in his first four seasons. He made his first of six consecutive all-star game appearances in 2014.
In 2015, the Warriors hired head coach Steve Kerr. The move unlocked the team's potential, with Curry leading the way. He won MVP that season after leading the Warriors to a then franchise-record 67 wins.
The Warriors went on to win their first championship in franchise history. Curry averaged 28.3 points on 42.2 percent three-point shooting in the postseason.
Curry became the first player in NBA history to unanimously win MVP. Check out his numbers from the 2015-16 season.
30.1 points
6.7 assists
5.4 rebounds
2.1 steals
50.4 field goal percentage
45.4 three-point percentage
Golden State won an NBA record 73 games that season. They did lose to the Cleveland Cavaliers but they responded with back-to-back titles.
Since winning his second MVP, Curry has averaged at least 25 points four times. The only exception was the 2019-20 season where he played in just five games. Last season, Curry won the scoring title with a career-high 32.0 points per game.
There are a lot of great shooters in the NBA but none are like Curry. He is 142 three-pointers away from breaking Ray Allen's record for most in a career.
That's undeniably among the NBA records that could be broken this season.
The Warriors have the roster to win their fourth title in eight seasons. If so, Curry may finally claim his first Finals MVP.
Other Top NBA Point Guards for 2021-22
Chris Paul (Phoenix Suns)
Trae Young (Atlanta Hawks)
Chris Paul finally shed the label of best player to never make the NBA Finals.
His stats aren't up there with Stephen Curry or Luka Doncic, but his impact goes well beyond the stat sheet. There's a reason he finished top-five in MVP voting last season.
Trae Young has emerged as one of the best young players in the league. He averaged 29.6 points in 2019-20 and led the Atlanta Hawks to the Conference Finals last season.
It's no coincidence that every player on this list made the playoffs last season. A great point guard is key to a successful team.
Most of these guys are veterans but the future is bright with Luka Doncic and Trae Young.
Want to read more about the NBA? Check out these posts going into the 2021-22 season.