Ranking the Top 10 Worst NFL Contracts Right Now

There have been several big name players getting huge extensions on their contracts, and rightfully so.
Some players are worth big money and should be paid lucrative amounts, but sometimes it doesn't work out that way.
It is probably nice as a player to be paid more than you are worth and they should give a lot of credit to their agent or whoever helped them negotiate the deal, but it is terrible from a team perspective.
You never want to overpay for players because they won't always live up to the contract and it tightens your flexibility with your salary cap. It could prevent other big name players from joining the team and helping win games and ultimately a Super Bowl.
Let's look at which players have the worst contracts in the NFL right now.
10. Robert Quinn, OLB, Bears
Contract: 5 year, $70 million, $14.7 million cap hit for 2021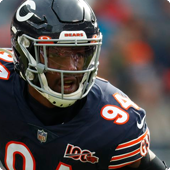 Robert Quinn got a hefty contract to join the Bears in 2020 and rush the quarterback opposite Khalil Mack. The pass rushing duo had potential to be one of the best in the NFL, but the truth is, it isn't anywhere close.
The Bears struggle to get to the quarterback because Khalil Mack is often double, or triple teamed and the other pass rushers aren't getting to the quarterback.
Chicago tends to sit in coverage with a 4 man rush, which would be good if Quinn could capitalize on one-on-one blocking, but he hasn't. He played 15 games in 2020, registering just 2.0 sacks for the entire season.
Normally when you have a great pass rusher like Khalil Mack or Aaron Donald, the other pass rushers often have boosted numbers due to the focus on Mack or Donald.
He got half a sack in their season opener against the Rams, but they were blown out by 20 points, so he wasn't that effective. He also had zero tackles for loss in 2020, so he's not a dominant presence in the run game, either.
Any Bears contract this bad is going to be a little bit worse if they can't extend WR Allen Robinson because of it.
Robinson has been the lone bright spot in the Bears' passing game and they have a chance to be one of the worst offensive teams in the league if they lose him.
9. Taysom Hill, QB/Utility, Saints
Contract: 1 year, $10.5 million, $7.25 million cap hit for 2021
Now, Hill's contract is weird. He basically signed an extension through the 2025 season, but all the years after 2021 are voidable.
It will be interesting to see if the Saints let him go after this season if the starting quarterback job is fully Jameis Winston's. Winston made a strong case for himself in Week 1, throwing five touchdowns and helping blow out the Packers.
Since Hill isn't the starting quarterback, he moves back to his role as a utility player who can play tight end, wide receiver, or running back.
So, for someone who isn't a huge part of the offense and is sort of a fill in guy now, he shouldn't be considered worth his contract.
As for the Saints, they have themselves tied up money wise with a lot of their players under contract for the next couple years. This Hill contract could technically be just this year, but it could be holding them back from signing a solid player in free agency.
It is also hard to tell if this team can win a Super Bowl with Jameis Winston at quarterback.
8. Brandin Cooks, WR, Houston Texans
Contract: 5 years, $81 million, $5.58 million cap hit in 2021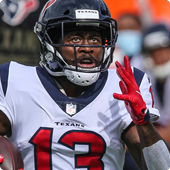 Now when you think of the top five wide receivers in the NFL, is Brandin Cooks one of those players? Probably not, but that's what his contract indicates.
I know the Texans are in shambles, so they are probably just keeping him around for trade bait maybe, but it is still a ton of money.
He's a solid receiver, gaining over 1,000 yards receiving in five of his eight of his seasons in the NFL. He also averages more than five touchdowns per season.
When you look at the numbers, you can see that he is a solid receiver, but is he worth this contract? I don't think so.
He never has made it past 1,205 yards or nine touchdowns in a season and his speed is his main seller.
Being a deep threat is a nice part of anyone's offense, but at what cost? I'll be interested to see if he gets traded towards the deadline and how much the Texans will be paying on his contract for the next couple seasons.
7. Odell Beckham Jr., WR, Browns
Contract: 5 years, $90 million, $15.75 cap hit in 2021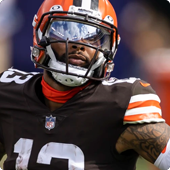 Now take the name out of the picture, and just look at the stats by themselves.
This specific player had his best three seasons from 2014 to 2016, but has been injured a lot in recent years (coming off a torn ACL this year).
He also has had 77 and 74 catches for just over 1,000 yards in his most recent healthy seasons (2018 and 2019).
Beckham was once one of the most exciting players to watch in the league and was on his way to being arguably the best wide receiver in the NFL.
Now he has had injury problems and a lack of motivation, which could be linked to his contract. He must not feel a passion for the game as he once did and just sticks around because he gets paid a bunch.
He's the third highest paid wide receiver, but isn't producing like one.
6. Kirk Cousins, QB, Vikings
Contract: 2 year, $66 million, $31 million cap hit in 2021
Now Kirk Cousins is a quarterback where you can look at his stats and think, "Hey, maybe he isn't a bad quarterback," but you would be wrong.
Cousins' stats are hardly his, as he benefits greatly from a very strong running game and solid wide receivers.
Cousins doesn't bring a ton to the table other than being a mediocre quarterback. Sure, he might be good for fantasy football leagues, but that doesn't make him a top end quarterback.
If Cousins was as good as his numbers try to say, then the Vikings would be among the highest scoring teams in the NFL, and they are not. The Vikings scored the 11th most points in the league last season, but weren't able to even finish second in the NFC North with a record of 7-9.
Cousins is a big reason why the Vikings can't take it to the next level, and why he is not worth the huge contract that he has.
5. Jared Goff, QB, Lions
Contract: 4 year, $134 million, $10.65 million cap hit in 2021
Why do you think the Rams traded this guy for Stafford? It's because he isn't as good as he is paid.
The Rams had one of the best rosters in the NFL when Goff was there and they did make it to the Super Bowl, but they lost badly and only put up three points on the Patriots.
The Rams' offense was top tier in McVay's early years, but eventually the league adjusted, and Goff had to step it up. He didn't and the Rams gave up on their number one overall draft pick from 2016.
You know it is bad when your team gives up on you when you were the highest pick in the entire draft.
Now the Lions probably entrenched themselves into last place in the NFC North for a while, as they have a terrible defense and mediocre at best offense with Goff at the helm. They are in the rebuilding phase because Goff just isn't that guy.
4. Carson Wentz, QB, Colts
Contract: 4 year, $128 million, $21+ million cap hit in 2021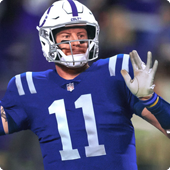 Wentz is very similar to Goff. In fact, he was taken just one draft slot lower than him in 2016 at second overall.
He had one amazing year, which probably is the reason why he has this mega contract at the moment. He led the Eagles to a great year in 2017 before getting injured and Nick Foles taking them to a Super Bowl win.
He made his way to the Colts who made a trade for him and his first game was decent (251 yards and two touchdowns), but he isn't that player who is going to lead the Colts to a bunch of victories against tough opponents.
He is being paid way too much for someone who isn't the main source of wins on your team.
To make matters worse, he's hurt once again.
3. Michael Thomas, WR, Saints
Contract: 5 year, $96.25 million, $10.1 million cap hit in 2021
Michael Thomas has had many issues in the past two years.
He won Offensive Player of the Year just a couple years ago, and he still probably has a lot of talent. He had issues with commitment to the Saints and he has been injured the past two years.
He was in trade rumors, as well, but apparently is staying put for now.
The Saints would be smart to try and deal him ASAP, because his base salaries and cap hits are huge in the back half of his contract. He would have to make a couple of big plays and have some big games before another team would consider trading for him, though.
2. Jimmy Garoppolo, QB, 49ers
Contract: 5 year, $137.5 million, $26+ million cap hit in 2021
The 49ers took Trey Lance third overall in the 2021 Draft, indicating that he's the face of the franchise moving forward. The bad part is that Jimmy G is being paid like that guy right now.
Trey Lance has already taken some snaps in Week 1 this year, so Garoppolo's starting job is nowhere near safe.
The 49ers know that Jimmy G is not the great player that he is paid to be, and that is why they took Lance so high. It stings a little more when you know they have to pay Garoppolo next year too, when Lance is probably going to be the starter.
1. Deshaun Watson, QB, Texans
Contract: 4 year, $156 million, $15.94 cap hit in 2021
Now this contract is probably fine if he wasn't in legal trouble. If he were to play and have no off the field issues, he would be one of the best quarterbacks in the league right now.
He is talented and is a game changing quarterback, but his off the field problems could be credited to the Texans downfall all together.
They have fully entered a rebuild and don't have DeAndre Hopkins or J.J Watt anymore, as they both are on the Cardinals.
The Texans are full of misfit veterans and probably won't be winning a lot of games following Week 1.
This franchise is in deep trouble and with the contract they gave to Watson, it puts them even farther behind.
This is a mega contract and he isn't even playing, probably for the rest of this season. With the Texans refusing to lower their trade costs for him too, he is going to be paid a ton for nothing.
Love reading about the NFL? Check out the posts below.