Ranking the 10 Most Explosive College Football Offensive Players for 2021

The 2021 college football season has a bevy of explosive offensive players that have fans coming back for more.
The top 2021 Heisman Trophy contenders will get featured on all the premier programs in the country, but there are plenty of other viable options that will be playing on three, four, and five loss teams.
I enjoy targeting players from outside the Power Five conferences because many of them are just as talented. The electricity in the air with fans coming back to watch their favorite players and teams has added more hype to the season.
Without further ado, here are my top 10 most explosive offensive players entering the 2021 college football season.
10. Desmond Ridder, Cincinnati QB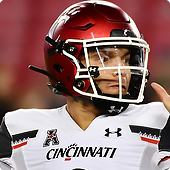 How can you not kick off this breakdown of college football's most explosive offensive players with Desmond Ridder? In fact, some may argue for a better spot than 10th.
One of the more experienced signal-callers in the country is returning for his final collegiate season. The hopes for the Bearcats will be to win every game this season and make a push for the College Football Playoff.
The dual-threat ability of Ridder makes him impossible to defend.
Ridder nearly upset Georgia in the Peach Bowl, and there are plenty of opportunities for Ridder to show the nation he is a lethal weapon.
Traveling to Indiana and Notre Dame in the non-conference will be a treat, and he could become a clear-cut first-round pick if he performs well in those premier matchups.
9. Jalen Tolbert, WR, South Alabama
This Jaguar stands tall and athletic at 6-3. Averaging 17-plus yards per catch throughout his career is tough to match.
Jalen Tolbert is the best receiver in the state of Alabama. Yes, you heard that right.
While South Alabama may not reach a bowl game this season, Tolbert will be a future stud at the next level. Consider him a star that has been productive the past two seasons in Mobile.
The best is yet to come, and most have circled the final three games of the season to see what he does against top competition (Appalachian State, Tennessee, Coastal Carolina).
8. Tank Bigsby, RB, Auburn
The Auburn running backs over the years have been some of the best in the history of the sport.
He's undeniably one of the most explosive players in college football. Auburn will need him this year, seeing as they're #1 in our look at the top 20 toughest college football schedules for 2021.
Bo Jackson, Cadillac Williams, Ronnie Brown, and James Brooks are just a few they have seen on campus. Recently, the backfield has lacked the punch and production that is needed to build a Top 25 program.
Auburn hasn't produced any 1,000-yard rushers since 2017, but that could change in 2021.
Tank Bigsby is one of the better home-run threats in the country after he rushed for 834 yards despite only starting four games.
He expects to stay healthy and start in every game this season, giving him a chance to run for well over 1,500 yards in his sophomore campaign.
7. Sincere McCormick, RB, UTSA
This Roadrunner will have an opportunity to rush for 2,000 yards on the season due to quick acceleration. UTSA brings back the entire offensive line, and they should be one of the better units in Conference USA.
McCormick is fully capable of going bonkers after ranking second in the FBS in rushing yards (1,467) a year ago.
The ability to control the line of scrimmage and dominate the opposition will get UTSA back to a bowl game. They nearly upset a Top 25 opponent in Louisiana last year in the First Responder Bowl.
Quarterback Frank Harris is a fine runner, and the threat of his legs will continue to keep defenses honest. The backfield in San Antonio will be one to pay close attention to since records will likely continue to shatter in their favor.
6. Garrett Wilson, WR, Ohio State
The Buckeyes have one of the 10 best coaches in college football. They also have loaded up with star talents thanks to an experienced group of offensive linemen and receivers. The wide receivers are first-round talents, and that includes Wilson.
Wilson is a human pogo stick that can cut on a dime, and his explosiveness was on fully display in his second season with Ohio State last year.
Check out his 2020 stats.
43 receptions
723 receiving yards
6 touchdowns
8 YPC
Wilson even added 67 yards on two carries as a runner (33.5 YPA!), and did all of this in just eight games.
The talent level in the quarterback room is insane for the Buckeyes, meaning the skill players will eat regardless of who is back there. Bank on Wilson having his best season and making a run at another College Football Playoff in the process.
5. Deuce Vaughn, RB, Kansas State
The Deuce will be loose in Manhattan this upcoming season with Darren Sproles-like clone production.
Vaughn can do so much out of the backfield despite being listed at 5-6, 172-pounds. Vaughn was consistent in the wins and losses. However, he only managed 15-20 touches in games, which must increase if they expect to go bowling like 2019.
The good news? He was just as productive in losses and he was in wins.
| | | |
| --- | --- | --- |
| Stat | In Wins (4 Games) | In Losses (6 Games) |
| Rush Yards Per Game | 65.5 | 63.3 |
| Total TD | 4 | 5 |
| Combined Carries/Receptions | 15.25 | 14.5 |
A true home-run hitter can take it to the house in all facets of the game. He can catch it and tote it with the best of them, but he also brings back kicks and punts if needed.
The future Wildcat star will carry this offense in the backfield next to quarterback Skylar Thompson.
4. Treylon Burks, WR, Arkansas
The Razorbacks are going to be one of the more underrated teams in the country this upcoming season. The perimeter play of their skill players will make it more difficult in the SEC West.
Burks is a freak of an athlete that can take the top off the defense and use his monster frame to come down with his fair share of big plays.
He's ascended when you look at his production over the past two years.
| | | |
| --- | --- | --- |
| Stat | Freshman Season | Sophomore Season |
| Catches | 29 | 51 |
| Yards | 475 | 820 |
| TD | 0 | 7 |
In 2021, he could be ready for a true breakout.
Arkansas will have several options at wide receiver to allow Burks to grow throughout the season since he is coming off only two seasons played.
Burks is a sure-fire future NFL Draft pick due to his size and athleticism. The leap he has made after each season has been impressive. Many are expecting another increase in production after his third season in Fayetteville.
3. Chris Olave, WR, Ohio State
The Buckeyes have one of their more explosive offenses on paper entering a season. Ohio State has a touchdown machine on their hands with Olave. He has been one of the more productive players in the history of the program.
We saw a touchdown for every four grabs in his 2019 campaign, and last year he picked up right where he left off. Out of the 50 receptions in 2020, Olave hauled in seven of them for scores.
The 22 receiving touchdowns are only 13 away from breaking David Boston's record that has stood tall since he departed Columbus in 1998.
2. Matt Corral, QB, Ole Miss
The Rebels have one of the more explosive offenses heading into the season, and Corral could be the biggest reason why.
Lane Kiffin is a terrific play-caller, but all coaches admit that talented players are the ones who make the difference.
Corral can flat out scoot and matriculate the ball with the best players in America. Just look at where he ranked in 2020.
| | | |
| --- | --- | --- |
| Superstar QB Play | Matt Corral | Malik Willis |
| Total Offensive YPG | 384.3 | 320.4 |
| FBS Rank | First | Ninth |
The fast-paced, up-tempo offense will be tough to limit. Alabama, LSU, and Texas A&M are the trio that could pressure Corral into difficult decisions as a passer.
Luckily, the legs of the Ole Miss signal-caller have bailed him out on many occasions before.
Reaching nearly 4,000 yards of total offense in only ten games last season was great, but the best has yet to come for Corral and the Rebels.
1. Malik Willis, Liberty QB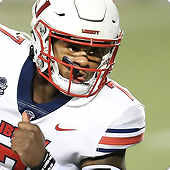 If you're looking for the most explosive college football offensive players in 2021, you've found the top dog. The most explosive offensive player in college football hails from Lynchburg, Virginia.
The former Auburn Tiger transferred to Liberty to see extended playing time, which has increased his NFL chances. Now, Willis has transformed his game into a potential first-round quarterback.
The passing skills will need to improve, but the rushing ability is bonkers.
Willis torched the undefeated Chanticleers of Coastal Carolina for 357 yards of offense and four scores in an epic Cure Bowl.
The game to have circled will be on Saturday, November 6, 2021. The Rebels host the Flames of Liberty in Oxford. To have arguably the two most explosive playmakers in the nation on the same field will be fun. The total points scored in that matchup may reach triple digits.
Willis is a dark horse pick to be the first player taken in the NFL Draft, and his upside will allow him to go bonkers in 2021-22.
Other Explosive Offensive Players in 2021 College Football
D'Eriq King (Miami QB)
Kayshon Boutte (LSU WR)
Chris Rodriguez (Kentucky RB)
Marvin Mims (Oklahoma WR)
Zay Flowers (Boston College WR)
Breece Hall (Iowa State RB)
Justyn Ross (Clemson WR)
Bijan Robinson (Texas RB)
There is a plethora of impressive offensive college football players to choose from. The above just missed the cut.
The amount of talent and speed has been improving at the college level. The number of studs we have had over the years in the NFL Draft has shown how vital the skill position players have become.
Quarterbacks need help around them, and many running backs have shared a committee-like approach.
There are dozens of stars out there ready to shine, and this upcoming season should be one of the more exciting ones in a while. Sit back, relax, and enjoy the season ahead.