10 Bold Predictions for the 2021 College Football Season

Saturdays in the fall are my favorite time of year, and this season's full schedule of college football games will not disappoint.
Besides watching the games, the next best part is what happens before Saturday football. Message boards and social media are full of predictions before the season even begins.
While I'm a bit late to the game with the season technically already underway, there is still time for some lofty guess for how the year may play out.
Let's see how crazy things can get with my 10 bold predictions for the 2021-22 college football season.
Alabama and Clemson Miss the National Championship
How's this for starting off my college football bold predictions? Alabama and Clemson aren't winning the College Football Playoff.
We are entering the eighth season of the College Football Playoff, and it is earth-shattering to state both will miss the title game.
Only once have we not seen either in the title game (2014, Oregon-Ohio State), and the pair have already played each other for the national title three times thus far in the CFP era.
Both programs are strong on defense, but they have young quarterbacks with inexperience at running back and wide receiver.
They will both be top 5-10 teams come January, but neither will play for the national title this season.
I foresee Georgia, LSU, and Texas A&M all having a great opportunity of getting past the Crimson Tide. Clemson could also lose its season opener against Georgia and get left out of the CFP.
I believe one will get to the CFP, but this will be a season without either in the title. For a closer look at how I see bowl season taking form, check out my New Year's 6 Bowl predictions.
The College Football Playoff Has 3 Undefeated Teams
I believe the power conferences will all have elite teams. We have seen a few before, but three would be a bit bold when you study the schedules.
I firmly believe the Big Ten and SEC champions will be undefeated.
It might not be easy for the ACC and the Pac-12 to pull this off, but the Big 12 has a team in Oklahoma that may not come close to losing any games this season.
Notre Dame Finishes Unranked
Here is a fun nugget that many are unaware of.
There have been one or more preseason AP/Coaches Top 10 teams that have finished unranked since the 2002-03 season (except in 2019 when Texas finished No. 25).
Both the AP and Coaches rankings have the same ten this year.
Notre Dame is my choice to be the top 10 team that underwhelms.
They are coming off a sensational season that saw Brian Kelly take the Irish to the College Football Playoff.
This season they are going up against three of the best quarterbacks in the country. Desmond Ridder, Sam Howell, and Kedon Slovis are gamers. They could become future first-round picks, but the Irish offense must replace its former star under center (Ian Book).
Plus, it has gone unnoticed that the Irish are playing several teams coming off a bye week. Losses will be coming against the likes of Wisconsin, North Carolina, and USC. Cincinnati is a Top 10 squad entering the year, and Florida State could be a challenge in the opener.
Getting to 7-5 or 8-4 could be realistic for the Golden Domers this regular season.
Jim Harbaugh Coaches His Final Season in Ann Arbor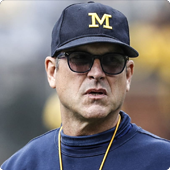 The 2021-22 will be the final season for Michigan and Harbaugh.
It is time to win double-digit games, or else the program has to look at new leadership. The program nearly played in the CFP in 2015-16 had they been able to get by the Buckeyes in the regular-season finale.
Michigan and its quarterback quandary have been a mystery unsolved.
Harbaugh is 0-11 at Michigan against AP Top 15 teams on the road/neutral. He has never won a game as an underdog (0-11).
When will the madness stop? If they lose to Washington at home in Week 2 and continue losing four-plus games a year, it would be the beginning of the end.
Malik Willis Finishes Top Five in the Heisman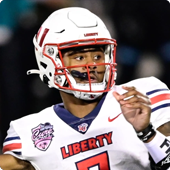 The numbers are going to be insane for Malik Willis this year. He can win the Heisman, and even if he doesn't, he's undeniably one of the most explosive offensive players in college football.
Liberty under Hugh Freeze has been excelling on offense, and they should springboard their bowl victory over Coast Carolina towards another Top 25 finish. A reunion bowl on the sixth of November in Oxford should be a fun matchup.
If Willis were to go 12-0, he is a lock for a top-five Heisman finish. Even if they lose in an entertaining game to Ole Miss, an 11-1 season and a likely Top 25 year would still put Willis towards the top of the Heisman leaderboard.
South Carolina Gamecocks Crack the Top 25
South Carolina has a sensational defensive line. Being in the Top 25 could be the boldest of my 2021 college football predictions because the schedule is one of the more challenging gauntlets in the nation.
Cocky must go to ECU in Week 2 and then play in Athens in Week 3. They may lose both of those games, and this bold prediction would get axed.
Hosting Eastern Illinois, Kentucky, Troy, and Vanderbilt in the first seven games is where this team brings upside.
Going on the road to Tennessee won't be mission impossible, either. While I could see this team falling apart and losing their final games, they really should start 6-1. That would put them firmly in the Top 25 before a trip to College Station, but a bowl trip in Shane Beamer's first season in Columbia would feel pretty amazing.
Rutgers Goes Bowling, Indiana Wins a Bowl
The Hoosiers have not won a bowl game since the 1991 Copper Bowl!
Playing in the postseason has been troublesome for this program because posting winning seasons is a remarkable achievement.
Look at these droughts they recently broke or will break by Tom Allen and the Hoosiers.
Last Nine-Win Season: 1967
Consecutive B1G Winning Seasons for the first time since 1987-88
Last Bowl Win: 1991
Previous Top 10 ranking in a season before 2020: 1969
Michael Penix Jr. is the real deal, and the program will get back to a bowl and finally win one with a talented group of wideouts.
Rutgers is going to stun the nation and play in a bowl for the first time since 2014.
The program has gone 16-53 since playing in the Quick Lane Bowl, and the hope is Greg Schiano's second tenure with the program will get them back to relevance.
Washington Wins the Pac-12
Jimmy Lake will get the job done for the Huskies this season, and people will jump on board after they handle Michigan at the Big House.
Everybody is picking Oregon, USC, and Utah, but the Huskies have the most favorable schedule of them all.
The ability they bring to the table on defense this season will be fun to watch.
UW has several players that announcers will likely mispronounce this season, but their secondary is vital. Lake is known for his ability to coach up defensive backs, and Trent McDuffie and Kyler Gordon could be the next tandem to shine in Seattle.
Every SEC West Squad Goes Bowling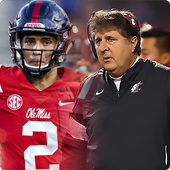 We have not seen this since the 2015 season. Every team that year ended up posting a winning record. I love the chances, yet again due to stellar quarterback play. Ole Miss signal-caller Matt Corral looks to be the best of the bunch this season.
Mike Leach and Mississippi State might seem the least likely to go bowling, but the schedule sets up nicely for a potential 3-0 start. Arkansas has arguably the top slate in America, but they may also start 3-0 to reach the postseason.
To see where the Razorbacks schedule ranks compared to the rest of the nation, check out my breakdown of the toughest college football schedules in 2021.
The team that could be in the most jeopardy is Auburn.
They have to travel to four of the most challenging venues in America this season. They go to Happy Valley (Penn State), Death Valley (LSU), and Kyle Field (Texas A&M). Trips to Columbia (SC) and Fayetteville (AR) won't be cakewalks, either.
Georgia Wins the College Football Playoff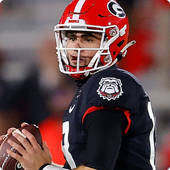 Yes, the Bulldogs will finally capture their first national championship since 1980.
Herschel Walker was a freshman, and times have since changed. Georgia has a stable of backs and an offensive line that should propel them towards national prominence.
They have lacked the passing attack, and it even showed last year until JT Daniels started.
If Daniels can become the program's best pocket passer since Matthew Stafford, they won't come up short. The defense they have at their disposal is the best one in the country. Until they accomplish the task, nothing seems like a lock.
This program has been trying to get over the title hump since Kirby Smart turned them into a top-10 program years ago. They are primed and ready to have their best season as a program in nearly half a century.
Looking Ahead in College Football in 2021
Some of these are undeniably bold college football predictions. A few may not happen, and heck, maybe some don't really have a shot.
I think a couple of them definitely could, however, and if even one or two do, the 2021 season could be positively wild.
The college football season ahead is going to be thrilling. The pageantry of the fans with all the pregame tailgating being back will add to the excitement.
There will be plenty of excellent matchups early on in the season, and it will be great to see the leaves change color during a fall, crisp Saturday afternoon. Cheers to another tremendous season ahead.
Love bold predictions? Check out these 7 bold predictions for the 2021 NFL season.