Power Rankings for the 2021 Ryder Cup – Counting Down From 24 to 1

Let me preface this Ryder Cup power rankings post by stating that all 24 competitors are world-class golfers.
There are no weak links to speak of on either squad – this is the cream of the crop when it comes to professional golf.
Having said that, the expectations range for each individual. Some guys will be counted on to play in all five sessions, others are in line to play just two or three matches.
With that in mind, I've grouped the 24 players into three separate tiers to offer some framework as to what to expect.
The Bottom Tier
No disrespect to anybody categorized in the bottom tier. A line had to be drawn somewhere and someone's got to bring up the rear.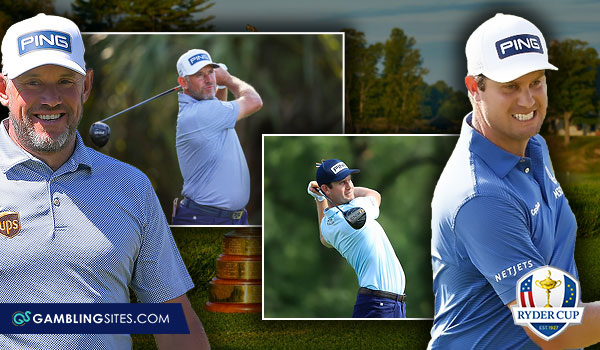 24 – Lee Westwood
Westy got up to #19 in the world after back-to-back second place finishes at Bay Hill and TPC Sawgrass, respectively. That was back in March.
In the six months that have passed, Lee has failed to register a single top-20 finish in 13 stroke-play starts.
The 48-year-old finished the season ranked outside of the top 75 in all six of the major strokes-gained (SG) statistics.
23 – Tyrrell Hatton
This feisty Englishman was on fire early in the season. Unfortunately, and just like fellow countryman Lee Westwood, Hatton has tapered off dramatically.
Dating back to the US Open, Tyrrell has missed four of six cuts around the world. Hatton went 1-2-0 at his Ryder Cup debut in 2018.
22 – Bernd Wiesberger
Shane Lowry technically got the last captain's pick, but we all know that Bernd Wiesberger was the last man on the European team.
Had Wiesberger not automatically qualified, Harrington would have almost certainly picked Justin Rose instead. Perhaps Bernd can use this as motivation and rack up a few points.
21 – Harris English
English is about as steady as they come from tee-to-green, and he's normally a reliable putter. My only hang-up with English is his ability to close.
Harris struggled down the stretch at Congaree when he had a chance to win; and it happened again two months later when he faltered late in Memphis.
20 – Shane Lowry
Some are going to say that Shane Lowry got picked because he's Irish and one of captain Harrington's best mates.
So, maybe that played a part, but Shane is more than deserving of being at Whistling Straits.
The 2019 Open Champion has finished 27th or better in seven straight starts and hasn't missed a cut in more than six months.
19 – Brooks Koepka
No top-20s since the British Open, he's got a sore wrist, and he's beefing with Bryson.
And oh yeah, we learned in a recent interview with Golf Digest that he's not all that amped up to play in the team format.
Figuring out who to pair with Brooks could turn out to be a conundrum.
18 – Ian Poulter
Slotting Ian Poulter 18th in my power rankings for the Ryder Cup might seem ill-informed.
I'm well aware of his prowess on the greens and understand the clutch factor he brings to the table. At the same time, "The Postman" is 45 years old and he's the shortest guy (off the tee) in this competition.
17 – Daniel Berger
This Ryder Cup rookie won't be afraid of the situation. Berger went 2-1 at the 2017 Presidents Cup and has been ultra-dependable going on more than two years.
Case in point – Daniel finished the 2020-21 PGA Tour season ranked 4th in par-3 scoring average, 3rd in par-3 scoring average, and 13th in par-5 scoring average.
The Middle Tier
Now we transition into the middle tier of my 2021 Ryder Cup power rankings.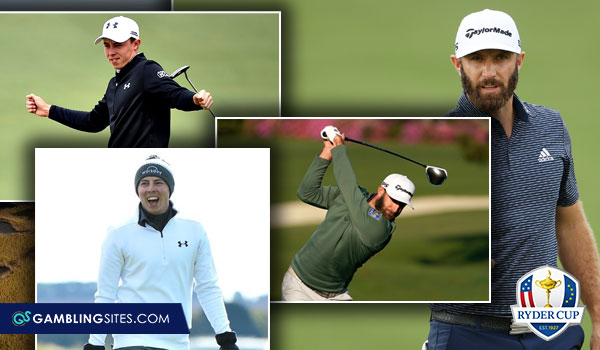 16 – Scottie Scheffler
He's never played in a Ryder Cup or a Presidents Cup and he's yet to win on the PGA Tour. Nevertheless, Scottie hits it high, he hits it far, and he's a tremendous putter.
Scheffler has continually shown up in the biggest events and he's been playing beautifully all summer long. Going back to the Memorial, Scheffler has connected on nine consecutive cuts and has six top-17 finishes.
15 – Bryson DeChambeau
Assuming the calluses on his hands can heal in time, Bryson should be a major asset to team USA. His advantages off the tee will go a long, long way at Whistling Straits.
The only reason I'm not positioning him higher on my Ryder Cup rankings is because I anticipate him sitting out in the foursomes sessions.
14 – Matt Fitzpatrick
In terms of accuracy off the tee and savviness around the greens, Matt Fitzpatrick is as trustworthy as it gets.
After not closing out his PGA Tour season as cleanly as he would have liked, Fitzpatrick will be on a mission to contribute at the Ryder Cup.
Especially considering he missed out on the action in 2018 after being on the losing end in '16.
13 – Tony Finau
Securing a victory at THE NORTHERN TRUST in a pressure-packed environment could do wonders for Tony Finau at Whistling Straits.
Tony hits it a mile and is easy to get along with – I could see Stricker play Finau in either team format and being paired with a number of different players.
12 – Viktor Hovland
This Norwegian standout is set to debut in what's likely to be an extensive Ryder Cup career.
He's won twice on the PGA Tour and won a biggie on the European circuit (BMW International Open).
The accolades are obviously impressive, but it's his consistency across the board that makes him so special.
Don't be surprised if captain Harrington leans on this rookie for four or five matches.
11 – Dustin Johnson
A less-than-stellar 7-9 record at the Ryder Cup looms over Dustin's head as he saunters into Sheboygan.
Johnson has caught some grief for not winning since the November Masters, but I'll shed some light on his recent play to ease some of your concerns.
Over the last three months, DJ ranks 7th among all professional golfers in SG: Total. That's ahead of names like Xander, Justin, and Jordan.
10 – Paul Casey
Making his fifth appearance at the Ryder Cup, Paul Casey played some of the best golf of his career in 2021. The happy-go-lucky Englishman notched 10 top-10s in 19 starts.
Among his highlights – a win in Dubai and a boatload of high finishes in the most prestigious events.
9 – Collin Morikawa
One of the Ryder Cup players to watch, it'll be interesting to see which version of Collin Morikawa shows up at Whistling Straits.
Will it be the one who was lights-out in the middle of the year, or will it be the one who's had a stiff back since getting back from the Olympics?
Collin answered that question for us.
"There's no excuses there for a bad back, so everyone can put that aside. My back is fine now. I'm moving fine."
The Top Tier
We've arrived at the upper echelon of Ryder Cup participants in 2021. These are the respective leaders of the teams both on the course and in the team room.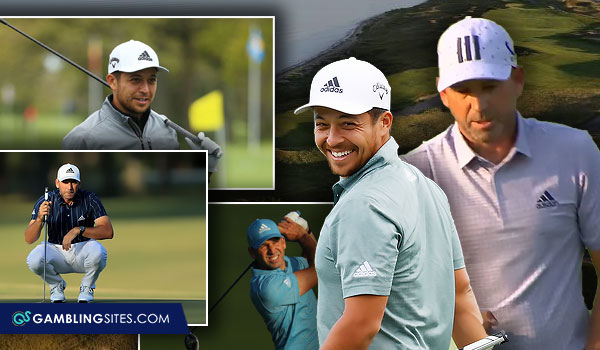 8 – Sergio Garcia
Ranked third on the PGA Tour in SG: Off-the-Tee, behind only Bryson and Rahm, Sergio's exquisite ball-striking cannot be denied.
Although his flat stick routinely disobeys, Sergio has historically been a fantastic putter at the Ryder Cup.
He's also trending in the right direction.
T6 at BMW Championship
T10 at TOUR Championship
With his recent success, Garcia most definitely belongs in the top tier.
7 – Tommy Fleetwood
No Francesco Molinari – no problem. Tommy Fleetwood will be just fine at Whistling Straits.
Tommy's piercing ball flight lets him thrive in windy conditions, and when push comes to shove, this man is an assassin in match-play format.
Fleetwood made a deep run at the WGC-Match Play this season (T5) and arrives on a T2-T12 burst.
6 – Jordan Spieth
A member of each of the United States' last three Ryder Cup teams, Jordan Spieth is locked and loaded for a big performance.
Few have a short game as elite, and Jordan's iron game has finally come around.
Despite not closing out the TOUR Championship in style, Spieth's five top-3 finishes and 14 top-25s confirm that he's back on the prowl.
5 – Justin Thomas
Forget all that talk that Justin Thomas had a down year. Per Rick Gehman, JT gained strokes on the field in every single event he played in this season save for the Genesis Invitational.
Justin pocketed more than $6.5 million – not including a $3 million bonus for finishing 4th at the FedEx Cup, and he finished 3rd in SG: Tee-to-Green. Safe to say that Thomas will be ready to roll.
4 – Rory McIlroy
Will Rory play in all five sessions for the fifth straight Ryder Cup? I don't see why he wouldn't, specifically given this layout and his brilliance off the tee.
McIlroy tinkered with his swing and went back-and-forth between a few putters – it wasn't the most streamlined season for one of the world's most talented players.
Then again, Rory ended the year 7th in SG: Total and has landed inside the top-14 in four of his last five starts.
3 – Xander Schauffele
Xander has no weaknesses to speak of. He's calm and collected on the course and seems to be at his best when the lights shine brightest.
Working under the assumption that he'll play the four team sessions with Patrick Cantlay, I was quick to lock Schauffele in as the top American point-scorer (+750).
2 – Patrick Cantlay
What more can you say about Patrick Cantlay? He was crowned as the PGA Tour Player of the Year after winning the final two events of the FedEx Cup Playoffs.
Top-ranked amateur turned Player of the Year. @Patrick_Cantlay endured heartbreaking lows in his climb to the top. pic.twitter.com/2399wo8hft

— PGA TOUR (@PGATOUR) September 14, 2021
He set a record for the most strokes-gained: putting in a 72-hole event and executed every single tee shot when he needed to down the stretch. And he's even more unwavering than Schauffele.
1 – Jon Rahm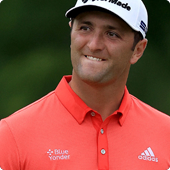 I'd be a fool if I didn't peg Jon Rahm atop my Ryder Cup power rankings in 2021. There are lots of ways to extol Rahm's season accomplishments – from his myriad of top-10s to his video-game-like stats.
Thanks to the information provided by datagolf.com, I can sum up Rahm's dominance with a simple sentence.
Whether you compile the last two years, the last year, the last six months, or the last three months, Jon Rahm ranks 1st on the planet in SG: Total.
And he's clutch as nails and can hit every short game shot in the book. Jon' simply the best player in the sport.