Patriots' Expectations With Mac Jones After Releasing Cam Newton

Cam Newton's time in New England has officially come to an end. The Patriots officially cut ties with the veteran passer this week, releasing Newton and moving forward with rookie Mac Jones.
The former MVP and ex-Panther had struggled to get back to his dominant form. The Patriots were hoping to get a little of what he had left, but in the end, he was cut.
With the move to release Newton before his second season in a Patriots uniform officially began, the Patriots will move to their 15th overall draft pick in the 2021 NFL draft, Mac Jones.
To digest this move, let's take a look at Cam Newton's NFL future, as well as Jones' impact as New England's new starting quarterback.
Is Cam Newton Done in the NFL?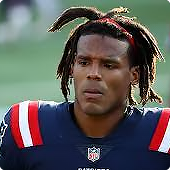 We have come a long way since Newton's 2015 MVP season. He hasn't been able to repeat his success at the same level since then and now he is without a job.
It is unknown if another team wants to take a chance on him, but the Patriots did opt to cut him instead of trading him.
He has dealt with some big injuries recently and we have seen his play decline with it. There is definitely a chance that Newton decides to opt for an early retirement if his frustrations in the NFL have pushed him to his limit.
If not, some teams that could look at giving Newton another chance could include the Washington Football Team or maybe Houston Texans.
Cam Newton's play style never really meshed well with the Patriots. The Patriots offense, ran by Josh McDaniel, was very successful when Tom Brady was quarterback. Brady fit well in the offense because he was excellent in the short pass and play-action.
The Patriots style of offense is built around a good run game, great short pass game, and great play action scheme.
The best type of fit in this offense, quarterback-wise, is a smart, accurate passer who can take care of the football like Brady did. That figures to be Jones, not Newton.
Newton has struggled with accuracy and taking care of the football as a quarterback, so it wasn't a huge surprise that the Patriots scored the 27th fewest points in the 2020 regular season.
The reason why the Patriots made the decision they did, is because they think Mac Jones will be successful in the Patriots' offense right now. They at the very least think he will be better than Newton was in 2020.
Overall, Newton has a decision to make on his career and he could be making a decision here very soon.
What to Expect in the Mac Jones Era
If you watch Mac Jones' preseason highlights, you'll see he makes a lot of his nice plays and exhibited some of the attributes I broke down above.
He looked so good that NFL analysts were pining for him to win the job, long before Cam Newton was released.
The Patriots were in a lot of heavy formations, which means formations that have two or more tight ends or two or more running backs in them. They set up the run and the play action right off it.
This is going to be a really nice look at what the Patriots' offense is going to be moving forward.
The Patriots look to have finally found their perfect replacement for Tom Brady and they could be on their way to another decade of dominance if they can get back to their winning ways.
Can the Patriots Win with Mac Jones?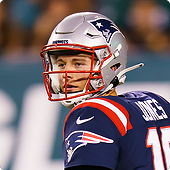 The answer is simply, yes.
The Patriots have struggled since Tom Brady left for Tampa Bay and they look to have their long-term replacement.
You could say Mac Jones is one of the few young quarterbacks who doesn't have a ton of mobility. Jones is going to look similar to the way Brady did in New England.
It is just a matter of time to see if he is the next Brady or not.
It will be extremely difficult to repeat the Patriots success with Brady, but if Mac Jones can prove to be a solid quarterback, then they will be happy.
Mac Jones was a fit for New England ever since he arrived at Alabama. Alabama Head Coach Nick Saban and Patriots' Head Coach Bill Belichick have a nice relationship. It is not a surprise to see Belichick draft and give the starting quarterback reins over to a former Alabama quarterback.
The Patriots' defense was good enough to win seven games last season with an abysmal offense, so they should be able to win more than that this season. The Patriots might be back from their time off dominating the NFL sooner rather than later.
New England Patriots 2021 NFL Season Outlook
The Patriots are going to be underrated coming into the 2021 NFL season.
Their defense has been a big part of their success and will continue to be. The offense behind Mac Jones should be better than what most people think.
They are going to have a great run game and capitalize on play action. How far can Mac Jones take them? That's open for debate, but as weird as it sounds, the franchise made the right move by cutting ties with Newton.
Be sure to check out our recent NFL articles below.