NFL Stars That Could Make Super Bowl 56 Their First Title

Dan Marino made nine Pro Bowls and won a league MVP. He tossed 420 touchdowns and threw for more than 61,000 yards. And yet he never won A Super Bowl.
Jim Kelly played in four Super Bowls but walked away empty-handed each time. Barry Sanders, Randy Moss, Bruce Smith, Tony Gonzalez, the list goes on and on. What all these players have in common is they never got to hoist the Vince Lombardi Trophy.
With several active superstars on the verge of joining this notorious list, I started snooping around. Who are the notable NFL players that could win their first Super Bowl this year?
Seven names came to mind. With that, here are the best NFL players that could win their first Super Bowl this season, if all goes just right.
Matthew Stafford, QB, Rams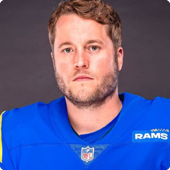 The obvious one is Matthew Stafford.
Sean McVay hand-picked this guy to be his starting quarterback, going as far as setting up a secret rendezvous in Mexico to pull it off.
LA boasts one of the leading defenses in the NFL and they're loaded with speed on the offensive perimeter.
It's up to the former Lions QB to orchestrate the final product, and it appears that he's up for the task.
Stafford was outstanding in his Rams debut posting a near-perfect 156.1 passer rating. He led his troops into Indianapolis and picked up a road win in week 2. As things stand, Matthew's on pace to throw for 5,091 yards and 42 touchdowns.
This team's ceiling is yet to be determined, but a high-profile matchup against the Buccaneers in week 3 serves as an early indication.
J.J. Watt, DE, Cardinals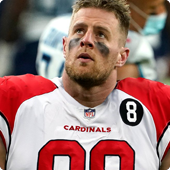 One of the most decorated defenders in the history of the sport, J.J. Watt didn't want out of Houston because he didn't like the city. The 32-year-old defensive end wanted out because he wanted a genuine opportunity to compete for a Super Bowl.
A couple of games into his stint in Arizona and that dream is more than alive.
The Cardinals bludgeoned the Titans in Nashville in their opener and held off a hard-charging Vikings squad in week 2. Just how well-rounded is Kliff Kingsbury's group?
Kyler Murray is a sincere MVP candidate. Chandler Jones could very well win the Defensive Player of the Year, and Rondale Moore's going to contend for the Offensive Rookie of the Year. No wonder J.J. is so reinvigorated.
Davante Adams, WR, Packers
Aaron Rodgers won Super Bowl 35 throwing to the likes of Jordy Nelson, Greg Jennings, Donald Driver, and James Jones.
Adams was drafted a few years later and has never played in a Super Bowl. However, Davante's arguably the league's top wideout and he's got plenty of playoff experience.
Davante Adams – Career Numbers in the Playoffs
Games Played
Receptions
Receiving Yards
Receiving Touchdowns
10
63
820
8
In the four postseason games Adams has played in since 2019, #17 in Green Bay has racked up 35 catches for 431 yards and four touchdowns.
After getting back on track with a week 2 blowout on MNF, the Pack are back in the conversation of Super Bowl contenders.
Derrick Henry, RB, Titans
"The Big Dog" led the NFL in rushing in 2019 and 2020. To nobody's surprise, Derrick Henry is once again leading the league in rushing.
Tennessee got embarrassed in week 1 and Henry was held in check. The population who faded Henry in their season-long fantasy drafts were even starting to celebrate.
That's when the Titans stud RB shoved 237 yards and three touchdowns in their face in week 2.
TITANS WIN IN OT ?

Derrick Henry: 35 carries, 237 total YDS, 3 TDs pic.twitter.com/5IDRY0VfhO

— Bleacher Report (@BleacherReport) September 19, 2021
The AFC South looks like it could be the weakest division in football, especially if the Colts are forced to roll with Jacob Eason.
Tennessee gets Indy at Nissan Stadium in week 3 before back-to-back dates with the hapless Jets and Jaguars. Don't look now, but the Titans could have a red carpet rolled out to host a playoff game in January.
Derek Carr, QB, Raiders
Keyshawn Johnson stated publicly that he'd take Derek Carr over Russell Wilson. I wouldn't go that far, but it's time to commend Carr for his early-season success.
The Raiders were supposed to lose to Baltimore in week 1 – Carr torched the Ravens.
The Raiders were surely going to lose at Pittsburgh in week 2 – Carr shredded the Steelers.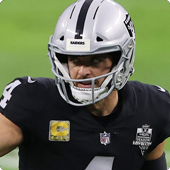 For crying out loud, the dude has thrown for 817 yards.
Where are those people that said Vegas should have traded Carr in the offseason? Where are the folks who were preaching for Marcus Mariota to be the starter?
The Raiders' passing attack is in great hands, and more importantly, their defense looks significantly better than it has in the past. LV ranks 6th in the NFL in third-down defense and has a budding star in Maxx Crosby.
Imagining the scene in Vegas if the Raiders win the Super Bowl – that right there is worth tossing this idea around.
Keenan Allen, WR, Chargers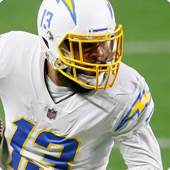 Despite dropping a home game to the Cowboys in week 2, I have no qualms about saying that the Chargers are going to make the playoffs. Talk of Justin Herbert regressing is laughable, and anybody who doesn't believe in this defense isn't watching closely enough.
LA held Dak Prescott to 237 yards and no touchdowns. The Bolts have limited both of their opponents to 20 or fewer points.
Could this be the year that Keenan Allen finally gets over the hump?
Allen has never even played in an AFC Championship game, let alone a Super Bowl, but the 29-year-old vet is the key cog that makes the wheel go-round on this offense.
I view the Chargers as one of the few AFC teams that have enough firepower to keep pace with the Chiefs.
Lamar Jackson, QB, Ravens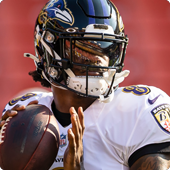 Speaking of being able to keep pace with Kansas City, we now know for a fact that Baltimore can do just that. The Ravens went toe-to-toe with KC on Sunday Night Football and quickly erased the bad taste that was left in week 1.
If you threw the towel in on Baltimore because they lost on the road in Vegas, it's time to take a step back and reassess the situation.
The Ravens are a legit squad with true Super Bowl aspirations. That's in large part due to the play of their dynamic QB.
Lamar Jackson has only thrown for 474 yards and two touchdowns thus far, but he's beating defenses with his feet at an incredible clip.
Lamar Jackson – Running Wild in 2021
Opponent
Attempts
Rushing Yards
Yards/Rush
Rushing TDs
Longest Rush
@ Raiders
12
86
7.2
0
28
vs. Chiefs
16
107
6.7
2
21
The 24-year-old slasher has a long career ahead of him and should have multiple chances to win a Super Bowl. Perhaps SB 56 at SoFi Stadium is when Jackson's lifelong dream comes to fruition.
Will Any of These Players Actually Win Super Bowl 56?
J.J. Watt comes to Arizona and proves to be the missing link.
Davante Adams wins a Super Bowl and convinces Aaron Rodgers to stay.
Matthew Stafford Wins a ring in His Home Stadium.
These would all be nice headlines. Lots of people would be celebrating. The problem is there's this 44-year-old guy in Tampa doing unimaginable things.
I vowed to my friends months ago that the Buccaneers would be even more dominant in Brady's second year on the job. Of course, I got laughed at and ridiculed.
A 2-0 start and nine touchdown passes later, who's laughing now?