New Station Casino Coming to the Southwest Valley of Las Vegas

Frank Fertitta is officially cornering the Las Vegas market. Clark County Commission recently gave the Station Casinos the thumbs up to enter the next phase of planning for the "Durango, a Station Casinos Resort."
Located just off the Durango/Sunset exit on the 215 beltway, construction of the Durango paves the way for Station Casinos to plant their foot in the southwest part of town.
How much the project will cost has not yet been disclosed, but we know construction will occur in two separate phases.
Phase 1: Early 2022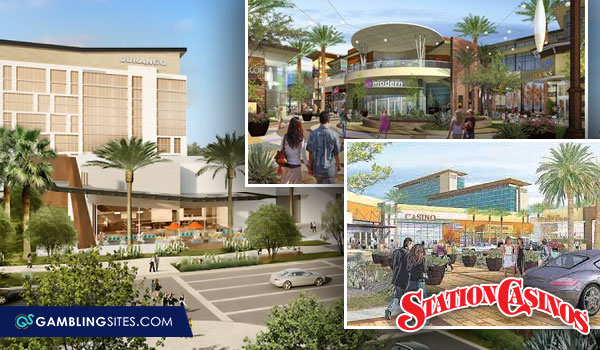 The plan is to break ground on Durango's initial tower early next year. This 216-foot-tall building will feature an expansive casino floor and a large race and sportsbook. It'll be equipped with a shade over 200 rooms.
Four restaurants and a modernized food hall are in the works, as is dedicated space for conventions and large meetings. The design of the parking garage will include around 40 charging stations for vehicles.
Helping oversee the project is Bob Finch, chief operating officer for Red Rock Resorts, the parent company of Station Casinos. Finch, who predicts that the Durango will open before Christmas in 2023, offered the following.
"Once again Stations, as a true locals casino, is coming to the rescue in the southwest, I'd say, by providing them with a place where they can dine, where they can go hang out. We're saving marriages one meal at a time."
Phase 2: TBA
We'll know more about when phase two will break ground once phase one is further along. According to Eli Segall of the Las Vegas Review-Journal, the goal is to have 452 rooms divvied across the two towers.
Along with arming the property with more than double its hotel rooms, building out a second tower will increase the casino floor to more than 92,000 square feet.
A movie theater, retail outlets, and more restaurants and bars will all be part of the second phase. If one thing is certain, it's that Finch wants locals to be optimistic about what's happening in their community.
"This is a statement to the local market that, you know what? We're rebounding, and it's going to be good. Las Vegas is going to continue to grow."
Where Did the Land Come From?
Station Casinos purchased the 71-acre piece of dirt from Jim Rhodes in 2000. Rhodes is the originator of Rhodes Ranch, a massive gated community with over 4,000 homes located just a stone's throw away from this plot of land.
After halting original plans that called for construction in 2004, Fertitta and his team revisited the idea in 2009. Talks slipped through the cracks until fizzling out altogether, only to be revived when the opportunity became clear.
As Fertitta states, understanding the demographic in the area helped spur the development of a casino property.
"Go do demographics around every local casino site in Las Vegas, and you'll see that Durango is an absolute no-brainer."
Segall and the LVRJ reached out to company spokesman Michael Britt to expand on this notion, specifically asking what makes thislocation better than other potential locations for a casino project. Britt responded with the following statement.
"Durango is clearly the most attractive development opportunity right now by almost every imaginable demographic."
In other words, the high density of Asians in the southwest valley made pursuing this idea an easy decision.