NCAA Basketball Programs That Could Finally Win a Championship in 2021-22

The 2021 NCAA Tournament was exhilarating as a rollercoaster towards the end of the postseason. We saw the Baylor Bears have a few speed bumps in early March before the tournament began, but they kept on trucking their way through April.
Reaching their first Final Four since 1950 was remarkable. The Bears took it a step further and won their first-ever national championship.
They had dynamic guards that were ferocious. Scott Drew deserved all the love, but there will soon be another team that captures all the glory. It could even be a team similar to Baylor that had never won the national championship.
Here are your top college basketball programs that could win their first title in the 2021-22 season.
Florida State Seminoles
Leonard Hamilton is one of my favorite coaches due to the depth of his squad. Florida State Seminoles can throw a dozen different bodies at you on any given night. That has its upside when foul trouble occurs throughout the season.
Getting over the hump and getting to the Final Four would be the goal for a program destined for more success in March. I am buying Hamilton and believe the Noles have the athleticism and size to post better numbers in the dance.
So far, Hamilton has at least put the Seminoles in position to succeed.
6-2 records in the round of 64
4 trips to the Sweet 16
All that's missing is a run to the Final Four. Oh, and a title.
FSU has run into three teams during the NCAA Tournament that some programs have never seen once. They have hung in there against the likes of Xavier, Michigan, and Gonzaga (2-4 record).
All three of those programs have made their mark, but the Seminoles are the one program that is craving postseason success more than nearly anybody.
The closest we have seen them get to the Final Four was in 2018. FSU lost to Michigan in the Elite 8 after losing to them again this past season.
Hamilton refused to foul at the end of the 2018 matchup, albeit they were losing by two possessions, but we have seen teams gag at the end with missed free throws and costly turnovers before.
FSU had revenge on their mind this past year against Michigan in the Sweet 16. Instead, they had a dreadful shooting performance from three-point territory (5-20, 25%). The opposition will often sag off their guards since they are explosive and athletic for their size. The lack of sharpshooters from the perimeter has been their downfall.
If Hamilton can get a few more buckets from the outside and keep teams from focusing less on the interior, this team will eventually get over the hump and challenge for a national title.
Purdue Boilermakers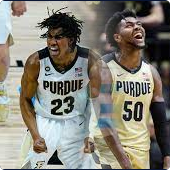 The Boilermakers have been a successful program under Matt Painter. There have been a few squads that were consistent Top 10 teams for much of the season.
Since taking over in 2005 for Gene Keady, Painter has cracked the Top 10 in five separate seasons while being ranked in ten of them. The success in the postseason has been a challenge for Purdue and the entire Big Ten.
Getting past the first weekend is one of the toughest challenges in the dance, and Purdue knows that more than anybody.
Here's how they've fared under painter since 2006.
5 trips to the Sweet 16
4 first round exits
It's been feast or famine, but that at least shows Painter's crew knows what it takes to take things up another notch.
Purdue brings a ton of experience back to the hardwood for the 2021-22 season.
Jaden Ivey and Trevion Williams are two all-conference performers that struggled in their round of 64 overtime loss to North Texas.
The role players such as Sasha Stefanovic, Eric Hunter Jr., and Zach Edey will need to improve their production.
Painter has hit all the right buttons during the regular season in the Big Ten. It has helped the team prepare for difficult matchups in the dance.
Getting over the hump should have happened against Virginia in 2019. It could have been them playing for a national championship instead of Virginia and Texas Tech.
West Lafayette should have another premier team in the country, and it is only a matter of time before they inch closer to winning it all.
Texas Longhorns
Rick Barnes was the last coach to take this program to the Final Four. It was back in 2003 when they lost to Carmelo Anthony and Syracuse.
The Orange would then win the national title, and Texas hasn't come close to playing for a national crown since.
They had opportunities in 2006 and 2008 but came up short against the likes of LSU and Memphis.
Take a look at their ugly postseason droughts.
Last 1-seed (2003)
Last Final Four (2003)
Last Sweet 16 (2008)
The postseason woes for Texas are comical and a house of horrors at the same time. They have not had any lady luck on their side, but Chris Beard is the perfect match.
Gonzaga Bulldogs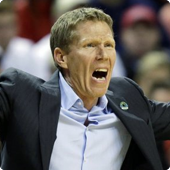 The top team in the country these past few seasons have been the Gonzaga Bulldogs.
Mark Few is a future Hall of Famer, and he has come close to winning Gonzaga their first national championship on a few occasions.
The amount of NBA stars they have developed over the years has been impressive, and they have dominated the recruiting trail among west coast squads.
They are a national brand and continue to dominate the regular season. All of their games in the NCAA Tournament have been bonkers. Many considered Gonzaga a Cinderella team to get past the opening weekend of the tournament.
Those days are long gone, and anything short of a Final Four, and now the national title is a disappointment. Making it twice to the national title game and coming up short has been a tough pill to swallow.
Gonzaga has had amazing success, but serious disappointment.
10 trips to the Sweet 16
4 trips to the Elite 8
2 trips to the Final Four
0 titles
This program has kept reloading its stockpile of talent season after season only to see continued disappointment.
College sports are not for the faint of heart. Few will win a national title before he leaves Spokane. Going through adversity as a program in college sports is a given and Few has taken it all with grace.
Gonzaga is going to have a top 5-10 roster for many years to come. Many will argue they have had the best roster the past few seasons and should for this upcoming season too.
They are my way too early pick to win it all for the 2021-22 season. This program will get back to several more Final Fours with chances to win multiple titles.
Other CBB Programs That Could Win Their First Title
Houston
Alabama
West Virginia
Illinois
There are a handful of others I could mention further on. These four should be Top 25 squads for the upcoming season with viable coaches that have seen plenty of success the past few seasons.
Bob Huggins and West Virginia stand out coming from the Big 12, but they have endured far too many shooting woes over the years to get over the hump.
Alabama seemed destined to have a deep run in the dance but came up short to UCLA. The amount of guards Nate Oats has hauled in and used is remarkable. He lost a bevy of offensive scorers, but this seems to be a program that will stay relevant in the SEC.
Houston just made their first Final Four under Kelvin Sampson and the first for the program since 1984. Sampson has brought in transfers and developed guards over the years. Their ability to play stifling defense has also made them an exceptional tournament team.
Illinois brought back Kofi Cockburn, which will allow Brad Underwood to avoid missing much of a beat. We nearly saw them win it all in 2005, but Illinois is returning dynamic guards that can create and score with the best of them.
All these programs will have hopes of cutting down the nets for the first time.
The pick that I love most is Gonzaga, due to their consistency, so lean with them as the first squad of the bunch to win it all.