Minnesota Vikings NFL Coaching Staff Assessment for 2021

Head Coach Mike Zimmer and the Minnesota Vikings are approaching a crossroads in their franchise. They have an aging quarterback who despite putting up big numbers, has not been able to help them get over the hump.
Minnesota has the pieces to make a playoff run, but they're coming off a 7-9 season. Another down season could mark the end for Zimmer.
Can Minnesota make it happen in 2021? Let's find out by inspecting the Vikings coaching staff going into the new year.
Mike Zimmer – Head Coach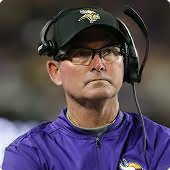 The whole youth movement at head coach in the NFL does not include Mike Zimmer. The Minnesota Vikings Head Coach has been coaching since 1979.
Zimmer coached on the defensive side of the ball in college from 1979-1993. He joined the Dallas Cowboys in 1994 as a Defensive Assistant. He became their Defensive Backs Coach in 1995, and then their Defensive Coordinator in 2000.
Following one season as Defensive Coordinator of the Atlanta Falcons, Zimmer assumed the same role with Cincinnati Bengals in 2008.
His success in Cincinnati led to him taking over as the Head Coach of the Vikings in 2014.
During his seven-year tenure, the Vikings have never been bad.
APPRECIATION: Is Mike Zimmer the most underrated head coach in the NFL? pic.twitter.com/Lc7NOzOb9Q

— SKOR North (@SKORNorth) August 25, 2021
They've won at least seven games in every season. In fact, they have the eighth-most wins in that span. However, they have just two playoff wins to show for it.
Coming from a defensive background, Zimmer runs the Vikings defense. He is the one who calls the plays, so their success or failure essentially falls on him.
Last season, the Vikings had one of the worst defenses in the league. However, that doesn't tell the whole story. Michael Pierce opted out while Danielle Hunter and Anthony Barr missed the majority of the season.
Minnesota upgraded their defense this offseason but will it be enough for Zimmer to keep his job?
Top Vikings Assistants
The Minnesota Vikings have a pair of second-generation coaches running their offense and defense.
Who are these coaches? Let's check them out.
Klint Kubiak – Offensive Coordinator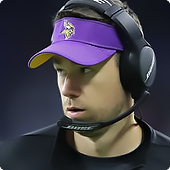 You may have guessed it but Offensive Coordinator Klint Kubiak is the son of Super Bowl winning coach Gary Kubiak. The 34-year-old will look to follow in his father's footsteps.
Kubiak spent the first three years of his coaching career on the Texas A&M staff. In 2013, he joined the Minnesota Vikings as their Offensive Quality Control Coach.
Following a season at Kansas, Kubiak joined the Denver Broncos staff as an Offensive Assistant. His father served as the head coach in Klint's first season in Denver.
In 2019, Kubiak reunited with his father on the Vikings coaching staff. Klint was the Quarterbacks Coach in 2019 and 2020. Now, he'll replace his father as Offensive Coordinator following his retirement.
I guarantee Gary taught his son a lot about coaching. With the talent on the Vikings offense, Kubiak's job will be a lot easier.
Check out some of their top players.
Kirk Cousins
Dalvin Cook
Justin Jefferson
Adam Thielen
Minnesota built their offense around Dalvin Cook. Over the last two seasons, the Vikings have the third-most team rushing yards. Among individual players, Cook is second in that span.
Rookie wide receiver Justin Jefferson went off last season with 88 receptions, 1,400 yards, and seven touchdowns.
The pieces are there for the Vikings offense to have another big year. We'll see if Kubiak has what it takes to replicate his father's success.
Adam Zimmer/Andre Patterson – Defensive Coordinator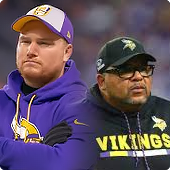 The Minnesota Vikings have not one, but two defensive coordinators. Adam Zimmer, son of Head Coach Mike Zimmer, and Andre Patterson.
Adam has been coaching since 2006, serving as an Assistant Linebackers Coach nearly his entire career. He also spent one season as an Assistant Defensive Backs Coach with the Cincinnati Bengals.
At 61 years old, Patterson has been around a little longer. He spent time coaching high school and college from 1982-1996. He was a Defensive Line Coach in the NFL from 1997-2006.
Following a few years in college, Patterson returned to the NFL in 2014 with the Vikings. He has served as their Defensive Line Coach ever since.
It's interesting to see the Vikings split the role between the two coaches but I think it presents an interesting dynamic.
Zimmer is more familiar with the linebackers, while Patterson specializes in the defensive line. Patterson also brings a lot more experience.
The Vikings have consistently had a great defense since both coaches joined the team in 2014. In 2017, they allowed the fewest yards and points.
Zimmer has stout linebackers, Eric Kendricks and Anthony Barr, to work with. Patterson has a talented defensive line with Michael Pierce, Danielle Hunter, and Dalvin Thompson.
Minnesota defense needs to bounce back after a poor 2020 season. The leadership of Zimmer and Patterson should help the Vikings playoff hopes.
Other Vikings Assistants for 2021
Rick Dennison: Senior Offensive Advisor
Andrew Janocko: Quarterbacks Coach
Keenan McCardell: Wide Receivers Coach
Brian Pariani: Tight Ends Coach
Kennedy Polamalu: Running Backs Coach
Phil Rauscher: Offensive Line Coach
Ben Steele: Assistant Offensive Line Coach
Christian Jones: Offensive Quality Control/Assistant Wide Receivers Coach
AC Patterson: Offensive Quality Control/Assistant Running Backs Coach
Paul Guenther: Senior Defensive Assistant
Karl Scott: Defensive Backs Coach
Roy Anderson: Assistant Defensive Backs/Safeties Coach
Sam Siefkes: Defensive Quality Control/Assistant Linebackers Coach
Ryan Ficken: Special Teams Coordinator
Robert Steeples: Assistant Special Teams Coach
John Hingst: Head Strength and Conditioning
Derik Keyes: Assistant Strength & Conditioning
Marquis Johnson: Assistant Strength and Conditioning
Joshua Woods: Assistant Strength and Conditioning/Sports Science
Imarjaye Albury: Assistant Defensive Line Coach
Phil Rauscher didn't take over as the Offensive Line Coach until late July. Despite having a top-rushing offense, the Vikings had one of the worst offensive lines last season.
Keenan McCardell played 17 seasons in the NFL as a wide receiver. He was a two-time Pro Bowler and won a pair of Super Bowls. He has been a Wide Receivers Coach since 2010.
Rick Dennison and Paul Guenther are two other iconic names that contribute to a pretty stellar Vikings coaching staff, as well.
Minnesota Vikings 2021 NFL Season Outlook
Head Coach Mike Zimmer has consistently produced solid teams, but it's getting to a point where average isn't good enough. Another so-so season could have him out of a job.
I do believe the Minnesota Vikings have what it takes to make the playoffs this season. They have a ton of talent on both sides of the ball.
They also have very good coaching on the sidelines.
There is an interesting trend, too. They haven't won less than 10 games in an odd year during Zimmer's tenure. In 2021, we'll see if that continues.
Hopefully this Minnesota Vikings 2021 coaching staff preview gives you an inside look at their decision-makers.
Here are a few more NFL coaching staff breakdowns going into the new season.