A Guide to the 2021 World Series of Poker – Schedule, Details, and More

The 52nd edition of the World Series of Poker is on the horizon. 88 bracelet events are deck, including the $10k Main Event and a handful of exciting new editions.
There are some noteworthy changes to the proceedings that could affect your decision to play – let's bring you up to speed on all the important details.
That's when you can start sifting through the 2021 WSOP schedule and plan out the events you want to enter.
Important 2021 WSOP Details
When: September 30th – November 23rd
Where: Rio All-Suite Hotel and Casino – Las Vegas, NV
Bracelet Events: 88
The Main Event: November 4-17
After last summer's festivities were relegated to the virtual felt, players will be eager to return to the Rio for the 2021 World Series of Poker.
I've yet to see confirmation regarding amenities such as food and masseuses, but I imagine it'll be plentiful on both fronts. Many will be pleased to know that All-American Dave is back in the picture.
If you're planning on a hectic schedule filled with lots of events, do yourself a favor and let Dave Swanson take care of your tummy. Information for his 2021 WSOP meal plans can be found here.
The biggest news ahead of the 2021 World Series of Poker is that players must be fully vaccinated against COVID-19 to participate.
That extends beyond tournament play, anyone playing cash games or satellites must show proof they've been vaccinated. This also means that masks will not be required for players while they are seated at a table. However, masks are required anytime a player gets up/walks around.
Fortunately, the authorities in charge have made the process of proving your vaccination status simple and transparent. Use CLEAR's Health Pass and you'll be ready to sign up for WSOP events in no time.
2021 WSOP Schedule
There are 88 bracelet events on the 2021 WSOP schedule. It starts with the $500 employee's NL Hold'em event on 9/30 and ends with the conclusion of a $5,000 8-handed NL tournament on 11/22.
That's nearly two full months of non-stop action in a variety of formats.
Rather than attempt to list and/or explain each event on the slate, the button below directs you to the official 2021 World Series of Poker schedule.
Clicking that link provides access to structure sheets for all 88 events.
Among the many highlights to this year's schedule, here are a few that caught my attention.
2021 Heads-up NL Championship – Buy-in increased to $25,000 and the field is capped at 64 players.
4 Starting Flights for the Main Event – Instead of the traditional three starting flights (A, B, C), the 2021 Main Event will feature four starting days (Nov. 4-7).
Poker HOF Event – Living members of the Poker Hall of Fame have been invited to compete in a free-roll event honoring the game's coveted club.
Also piquing my interest are several new events.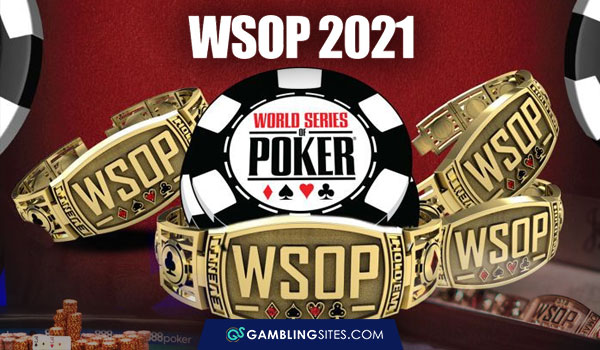 New Events at the 2021 World Series of Poker
The WSOP is constantly reinventing itself to keep up with the evolving culture of poker. Evidence of this is clear with the induction of the $1,000 Flip and Go Event. Check this out.
Event #20 – Flip and Go No Limit Hold'em ($1,000 Buy-in)
This two-day event begins in a unique way on Oct. 10. Every player is automatically all-in on the first hand of the tournament. Each player is dealt three cards initially; they get to select which two cards they want to play.
From then on, play resumes in a more traditional fashion. Talk about expediting the process of getting into the money, all it takes is one hand in event #20.
Event #4 – The Reunion No Limit Hold'em ($500 Buy-in)
Perhaps the most alluring event on the entire 2021 WSOP schedule, The Reunion is a $500 buy-in event armed with a $5,000,000 GTD prize pool. Quick math tells us they're expecting more than 10,000 entries.
Kicking off on the first Friday of the schedule, I wouldn't be surprised if this tournament smashes its guarantee. Players can re-enter once per flight and the payouts start on Day 1.
There is a bevy of $25k and $50k events, but the two six-figure buy-ins are the ones that stuck out.
Event #85 – $250k Super High Roller No Limit Hold'em
Dedicated for those who make a living in the nosebleed stakes, this quarter-million buy-in event is business.
To keep things formal and avoid any "Hollywooding," a shot clock has been induced (likely 30-60 seconds) for this particular event.
Those who bust out on day 1 will have the option to fire a second shell. So long as they got an extra $250k lying around.
Event #87 – $100k HIGH ROLLER No Limit Hold'em
This actually isn't a new event, but it's prestigious enough that I'd be remiss if I didn't point it out.
With that being said, the $100k HIGHER ROLLER is back in the fray after drawing 99 entrants in 2019.
Players start with 600,000 in chips in this eight-handed event; blinds start at 1k-2k and increase every 40 minutes.
Looking at the results in '19, an equities trader from Austin (Keith Tilston) took home the gold bracelet and $2.792 million. Daniel Negreanu took 2nd for a cool $1.725 million, while Nick Schulman finished 3rd pocketing $1.187 million for his efforts.
Speaking of Negreanu and Schulman, they're two of the familiar faces we can expect to see a lot of at the 2021 WSOP
The Stars Will Be Out at the 2021 WSOP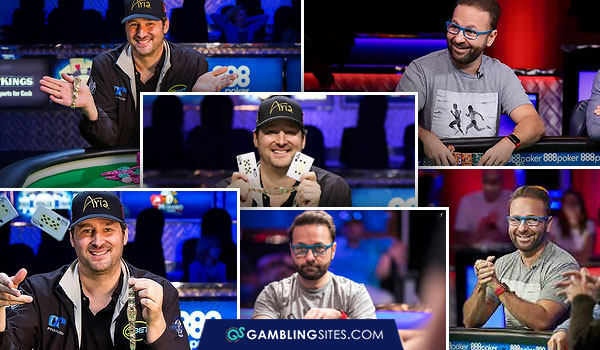 We're just a few more days until Jack Effel exclaims, "Shuffle up and deal!"
From the Poker Brat and Kid Poker to high-stakes regulars Bryn Kenney and David Peters, the "who's who" in poker will be out in full force at the 2021 WSOP.
Whether or not Phil Ivey makes an appearance remains to be seen but showing up for the high-roller events seems to have merit.
Ivey won and finished second in high-roller events in Cyprus as recently as late August.
As for another old-school legend who's still sharp as nails, Erik Seidel will be looking to pad his already illustrious resume.
If you still have questions regarding the 2021 World Series of Poker, refer to this page emphasizing FAQs. For a broader look at the WSOP, check out our extensive World Series of Poker guide.