Five Bold Predictions for the 2021 NBA Draft

With Thursday's NBA Draft fast approaching, GMs are scrambling with their fellow front office executives trying to get a plan in place. Detroit's on the clock and is all but certain to take Cade Cunningham first overall, but what's going to happen after that?
Rumors are floating around, teams are making calls, but it's all just hearsay for now. Between what could happen and what I'd love to see transpire, here's a five-pack of bold predictions for the 2021 NBA Draft.
Warriors Aggressively Trade Both of Their First-Round Picks
Despite falling short in the play-in series and missing out on postseason play for the second straight year, GSW has a lot to look forward to in 2021-22. Notably, Klay Thompson is set to return and James Wiseman will be healthy and another year "wiser."
It's unlikely that UFA Kelly Oubre Jr. sticks around after the lefty's been chirping that he wants $20 million annually, but Steph Curry, Andrew Wiggins, and Draymond Green are locked in through the upcoming year.
After two years of extended calamity led to this team's fall from grace, Bob Meyers owes it to his tenured triumvirate to be aggressive this offseason.
Golden State owns two picks inside the top 15, including the 7th selection (via Minnesota) that was part of the 2020 deal that swapped D'Angelo Russell for Andrew Wiggins. Rather than tack on two more young guns to integrate into the rotation, finding a trade partner willing to let go of an established veteran would suit the Dubs needs.
Targeting a frontcourt stud like Christian Wood or Brandon Ingram could be what Meyers and company have in mind.
Corey Kispert Goes in the Top 10
Perhaps this isn't the boldest of all NBA Draft predictions, but I've spotted reputable mocks such as nbadraft.net's that have Kispert falling to #17.
Whether it's the team's currently picking between 5-10 or others looking to trade up, what franchise isn't in the market for a two-way player who can spot-up from the outside?
In terms of pure shooters in the 2021 class, you won't find anyone more lethal than Kispert.
Corey Kispert – By the Numbers at Gonzaga
Year
Points/Game
3PT %
2017-18
6.7
35.1
2018-19
8.0
37.4
2019-20
13.9
43.8
2020-21
18.6
44.0
After playing rotational minutes for Mark Few as a freshman and sophomore, the 6'7" 220-pounder exploded during his final two seasons in Spokane.
Think of a young Kyle Korver, only more athletic and with more versatility.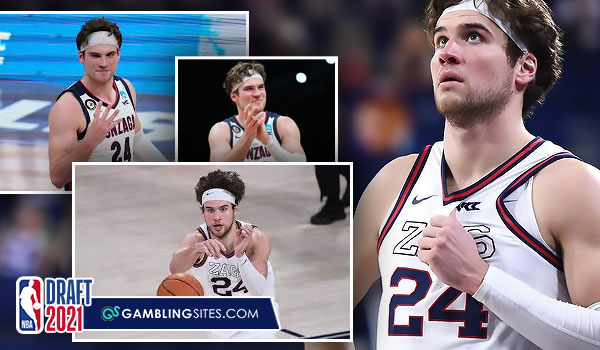 Knicks Trade Up For Jalen Suggs
Scott Perry has some ammunition heading into the July 29th festivities inside the Barclays Center. Coming off their first playoff berth since 2013, the Knicks are slated to make three picks in the 2021 NBA Draft.
19th selection
21st selection
32nd selection
Obi Toppin struggled through his injuries and has seen his value drop; the top-10 pick in 2020 will likely remain in the Big Apple next season in hopes of progressing his game. However, packaging R.J. Barrett, Kevin Knox, and two of the three aforementioned selections could be enough to lure the fifth pick from Orlando and snag the playmaking guard out of Gonzaga.
Remember, the Magic also own the 8th pick and could easily be enticed by New York's offer.
Matt Mitchell Gets Drafted
An unheralded name across the country and a player you won't find on many 2021 NBA mock drafts, Matt Mitchell has dreamt of hearing his name called on draft night. I think that lifelong dream comes to fruition on Thursday.
When the general public thinks of San Diego State basketball, they immediately think of Kawhi Leonard. That's fair, after all, Leonard has blossomed into a perennial All-NBA player after being chosen 15th overall back in 2011. Having said that, the program that Steve Fisher and Brian Dutcher built on Montezuma Mesa has produced four additional NBA draftees since Kawhi.
SDSU Players Drafted Since Kawhi Leonard
Player
Year
Pick #
Drafted By
Jamal Franklin
2013
41
Memphis Grizzlies
Xavier Thames
2014
59
Toronto Raptors
Jalen McDaniels
2019
52
Charlotte Hornets
Malachi Flynn
2020
29
Toronto Raptors
For those unfamiliar, Mitchell's a 6'6" robust swingman who completed his career at SDSU 5th on the school's all-time points list alongside some pretty heady company. Mitchell was honored as the 2020-21 Mountain West Conference Player of the Year; it all goes back to shedding weight and transforming his body after his sophomore campaign.
Matt can dribble, shoot, and pass at a high level, plus he's a tremendous defender (MWC All-Defensive Team in 2020-21). And the dude can definitely cock it back and lay down the hammer.
Cleveland Swaps the 3rd Pick for Ben Simmons
Saving my hottest take for last, we know Ben Simmons is likely to be on the move. We know the Cavs desperately want to get Kevin Love's ugly contract off their books, and according to Adrian Wojnarowski, we know Cleveland is looking to shop the third pick for an All-Star level player.
Could a deal be in the works involving Love and the third in exchange for Simmons?
Landing the left-handed Aussie could force Koby Altman's hand into eventually moving Darius Garland or Collin Sexton, but this group needs a prominent presence who can push this team into relevancy. Acquiring Simmons not only gives the Cavaliers that presence, but it would also help expedite the development of frontcourt players Isaac Okoro (20) and Jarrett Allen (23).
Looking to shake things up, the Sixers could choose between some seriously appetizing names at #3 to pair with Joel Embiid.
Summing Up These NBA Draft Predictions
On board with any of my bold NBA Draft predictions?
It seems inevitable that the 76ers will move on from Ben Simmons. The Cavs could surprise some folks with how aggressive they get, and I'm high on both of the Gonzaga guards going early. I also anticipate that Matt Mitchell winds up as a second-round pick.
As far as how many of these projections pan out – only time will tell.