Assessing the New Orleans Saints NFL Coaching Staff for 2021

The New Orleans Saints have been one of the best NFL franchises for the last decade. However, they will face challenges in 2021 following the retirement of Drew Brees.
Even so, their coaching staff is strong enough to bounce back from losing a future Hall of Famer.
Head Coach Sean Payton is the leader of the Saints franchise. Let's examine Payton and his impact on the Saints by looking at his entire coaching staff going into 2021.
Sean Payton – Head Coach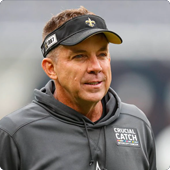 Everyone knows Sean Payton for his success with the New Orleans Saints, but he coached for nearly 20 years before joining the Saints.
He coached in college from 1988-1996. Payton was the Quarterbacks Coach for the Philadelphia Eagles and New York Giants from 1997-1999. In 2000, he transitioned to Offensive Coordinator with the Giants.
Payton was the Dallas Cowboys Assistant Head Coach from 2003-2005. The opportunity led to him taking a job as Head Coach of the Saints in 2006.
Teamed up with Drew Brees, the Saints went 10-6 in his first season. That marked a big improvement from their 3-13 record in 2005. Payton also won AP Coach of the Year.
In 2009, Payton led the Saints to their first Super Bowl in franchise history. They defeated the Indianapolis Colts 31-17.
Since then, New Orleans has been to the playoffs seven times but they've only made it to the NFC Championship Game once. Even with the playoff disappointment, the Saints have been at the top of the league in regular-season wins since 2017.
New Orleans Saints: 49-15
Kansas City Chiefs: 48-16
Baltimore Ravens: 44-20
Los Angeles Rams: 43-21
New England Patriots: 43-21
It'll be interesting to see how Payton guides the team after losing Brees. However, they have enough talent to make another playoff run.
Making the playoffs without Brees would just add to Payton's Hall of Fame resume.
Top New Orleans Saints Assistants
The New Orleans Saints have had very little turnover in their coaching staff lately. In fact, both their top assistants have been on the staff since 2015.
Who are the guys that lead a great Saints offense and defense? Let's check them out.
Pete Carmichael Jr. – Offensive Coordinator
Most offensive coordinators don't last more than a few seasons. That's why it's so impressive that Pete Carmichael Jr. has been in this position with the New Orleans Saints since 2009.
Carmichael's coaching career began in 1994 at New Hampshire. He stayed in college for six years before moving up to the NFL in 2000.
He coached for three different teams as an Offensive Assistant and Quality Control Coach. In 2006, he became the Saints Quarterbacks Coach. Three years later, he took over as their Offensive Coordinator.
Going back to 2009, the Saints have had an elite offense.
| | | |
| --- | --- | --- |
| Year | Yards Per Game | Points per Game |
| 2009 | 403.8 (1st) | 31.9 (1st) |
| 2010 | 372.5 (6th) | 24.0 (11th) |
| 2011 | 467.1 (1st) | 34.2 (2nd) |
| 2012 | 410.9 (2nd) | 28.8 (3rd) |
| 2013 | 399.4 (2nd) | 25.9 (10th) |
| 2014 | 411.4 (1st) | 25.1 (9th) |
| 2015 | 403.8 (2nd) | 25.5 (8th) |
| 2016 | 426.0 (1st) | 29.3 (2nd) |
| 2017 | 391.2 (2nd) | 28.0 (4th) |
| 2018 | 379.2 (8th) | 31.5 (3rd) |
| 2019 | 373.9 (9th) | 28.6 (3rd) |
| 2020 | 376.4 (12th) | 30.1 (5th) |
I know Sean Payton and Drew Brees get a lot of credit, and rightfully so. However, people need to start giving Carmichael some recognition. The offense has been elite for over 10 years.
Things probably aren't changing anytime soon with Alvin Kamara, Michael Thomas, and an elite offensive line in the fold.
There are question marks at quarterback, but Jameis Winston has looked good so far in the preseason.
Dennis Allen – Defensive Coordinator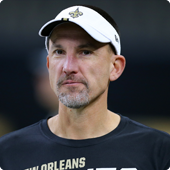 For years, the New Orleans Saints defense was holding them back. However, that all changed when they hired Defensive Coordinator Dennis Allen.
Allen coached in both college and the NFL before joining the Saints for the first time in 2006. He remained with the team until 2010. Allen was the Defensive Coordinator for the Denver Broncos for one season.
From 2012-2014, he served as the Head Coach of the Oakland Raiders. He had very little success, going just 8-28.
When he took over as Defensive Coordinator for the Saints, they were coming off a season where they ranked 31st in yards allowed. It took some time, but Allen has turned this defense into an elite unit.
Check out their numbers from last season.
| | |
| --- | --- |
| Stat | Production |
| Yards Per Game | 310.9 (4th) |
| Passing Yards Per Game | 217.0 (5th) |
| Rushing Yards Per Game | 93.9 (4th) |
| Points Per Game | 21.1 (5th) |
| Interceptions | 18 (1st) |
When you look at their talent on defense, it's not hard to tell why they're an elite unit.
Cameron Jordan and Marcus Davenport come off the edges while Kwon Alexander and Demario Davis man the linebacker position. Marshon Lattimore is the star of a secondary that led the NFL in interceptions last season.
New Orleans did lose a few key members to their defense this offseason, but Allen still has enough talent to keep this unit in the top 10.
Other Saints Assistants for 2021
Curtis Johnson: Senior Offensive Assistant/Wide Receivers
Michael Hodges: Linebackers
Ronald Curry: Quarterbacks
Ryan Nielsen: Assistant Head Coach/Defensive Line
Dan Roushar: Run Game Coordinator/Tight Ends
Kris Richard: Secondary
Brendan Nugent: Offensive Line
Cory Robinson: Assistant Secondary
Joel Thomas: Running Backs
Brian Young: Pass Rush Specialist
Jim Chaney: Offensive Analyst
Jordan Traylor: Defensive Assistant
Zach Strief: Offensive Line Assistant
Darren Rizzi: Special Team Coordinator
Kevin Petry: Assistant to the Head Coach/Offensive Assistant
Dan Dalrymple: Head Strength & Conditioning
Declan Doyle: Offensive Assistant
Charles Byrd: Assistant Strength & Conditioning
D.J. Williams: Offensive Assistant
Rob Wenning: Assistant Strength & Conditioning
Peter Giunta: Senior Defensive Assistant
Kris Richard played six seasons in the league as a cornerback before he turned to coaching. He was on the Seattle Seahawks coaching staff when the Legion of Doom led them to a Super Bowl.
Ronald Curry will look to turn Jameis Winston into a more efficient and elite quarterback.
Overall, the Saints' coaching staff is rather loaded, and it's fronted by one of the brightest minds in the league.
New Orleans Saints Season Outlook for 2021
This is really the first time in years that the New Orleans Saints enter the season facing adversity.
It'll be tough to repeat their success without Drew Brees, but I believe their coaching staff has what it takes to lead them to the playoffs.
Be sure to check out some more coaching breakdowns below.