Assessing the Los Angeles Rams NFL Coaching Staff for 2021

The Los Angeles Rams have been one of the most consistent teams over the last few seasons.
Before Head Coach Sean McVay took over in 2017, the Rams hadn't made the playoffs since 2004. They've made three playoff appearances in McVay's four seasons.
McVay may be the youngest head coach in the NFL but he is already establishing a coaching tree. Here is my breakdown of the 35-year-old head coach and his staff going into the 2021 NFL season.
Sean McVay – Head Coach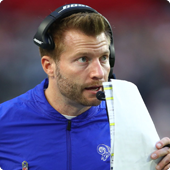 Head Coach Sean McVay has quickly established himself as one of the top head coaches in the NFL.
He served as an Offensive Assistant for the Tampa Bay Buccaneers in 2008 before spending one season in the United Football League.
From 2010-2016, McVay was a member of the Washington Football Team's coaching staff. He started as an Offensive Assistant, before spending three seasons each as their Tight Ends Coach, and Offensive Coordinator.
In 2017, McVay took over the Rams team that went 4-12 the season prior.
McVay led the Rams to an 11-5 record and won Coach of the Year. Todd Gurley won Offensive Player of the Year and Aaron Donald won Defensive Player of the Year.
Los Angeles made the Super Bowl in 2019, but they lost to the New England Patriots.
Since McVay took over in 2017, there haven't been many teams better than the Rams.
New Orleans Saints: 49-15
Kansas City Chiefs: 48-16
Baltimore Ravens: 44-20
Los Angeles Rams: 43-21
New England Patriots: 43-21
The Rams offense struggled last season because of poor quarterback play. Los Angeles made an upgrade, acquiring Matthew Stafford from the Detroit Lions. The move has put the Rams right back in the discussion as one of the Super Bowl favorites.
McVay certainly has a lot to work with this season. Los Angeles shouldn't have any trouble making the playoffs.
Top Los Angeles Rams Assistant Coaches
Because the Los Angeles Rams are such a successful franchise, they typically lose their top assistants to other teams.
Let's check out which coaches are in charge of the Rams' offense and defense.
Kevin O'Connell – Offensive Coordinator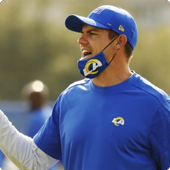 Kevin O'Connell spent five seasons in the NFL, but the quarterback only appeared in two games. Now, O'Connell is making a name for himself as an up-and-coming coach.
His coaching career didn't begin until 2015. He was the Quarterbacks Coach for the Cleveland Browns. Following a season with the San Francisco 49ers, O'Connell joined the Washington Football Team in 2017 as their Quarterbacks Coach.
He remained in that role in 2018, while also serving as their Passing Game Coordinator. O'Connell moved up to Offensive Coordinator in 2019, but he only lasted one season in that role.
In 2020, he joined the Los Angeles Rams as their Offensive Coordinator.
The Rams offense did struggle last season but there is hope that they can turn things around this season.
Replacing Jared Goff with Matthew Stafford was the Rams biggest move this offseason. Stafford joins a Rams offense that features one of the best NFL wide receiver duos in Cooper Kupp and Robert Woods.
Los Angeles did lose second-year running back Cam Akers to an Achilles injury, but Darrell Henderson Jr. and new newly added Rams running back Sony Michel are capable of handling the workload.
In 2018 and 2019, the Rams had one of the best offenses in the league. I expect them to return to that elite play as they make a run at the Super Bowl.
Raheem Morris – Defensive Coordinator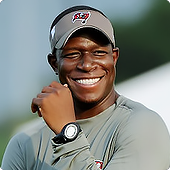 The Los Angeles Rams defense took a hit when defensive coordinator Brandon Staley took over as head coach of the Los Angeles Chargers.
However, new Defensive Coordinator Raheem Morris brings plenty of experience and has a lot of talent to work with.
Morris began his coaching career in 1998 with Hofstra but he achieved his most success with the Tampa Bay Buccaneers. He won the Super Bowl with the team in 2002 as their Defensive Quality Control Coach.
Following a one-year stint with Kansas State, Morris returned to Tampa Bay in 2007. He spent two seasons as their Defensive Backs Coach before taking over as Head Coach in 2009.
Since 2012, Morris spent three seasons with Washington and six with the Atlanta Falcons. Now, he takes over as Defensive Coordinator of the Los Angeles Rams. He inherits a defense that was one of the best last season.
Yards Per Game: 281.9 (1st)
Passing Yards Per Game: 190.7 (1st)
Rushing Yards Per Game: 91.3 (3rd)
Points Per Game: 18.5 (1st)
Sacks: 53 (2nd)
Everyone knows Aaron Donald is the leader of the Rams defense, but they have quite a few other stars.
Jalen Ramsey leads an elite secondary that includes Darious Williams, and Taylor Rapp. Leonard Floyd is their top linebacker.
I know fans are looking forward to the Rams new-look offense but the defense is still the star of the team.
Other Rams Assistants for 2021
Joe DeCamillis: Special Teams Coordinator
Chris O'Hara: Offensive Assistant
John Bonamego: Senior Coaching Assistant
Thad Bogardus: Assistant Linebackers Coach
Thomas Brown: Running Backs Coach/Assistant Head Coach
Jonathan Cooley: Assistant Secondary Coach
Kevin Carberry: Offensive Line Coach
Marcus Dixon: Assistant Defensive Line Coach
Zac Robinson: Assistant Quarterbacks
Ejiro Evero: Secondary Coach/Pass Game Coordinator
Wes Phillips: Tight Ends Coach/Pass Game Coordinator
Eric Henderson: Defensive Line/Run Game Coordinator
Eric Yarber: Wide Receivers Coach
Chris Shula: Linebackers Coach
Nick Jones: Offensive Assistant
Dwayne Stukes: Assistant Special Teams Coach
Zak Kromer: Offensive Assistant
The Los Angeles Rams have about 10 fewer assistants than most teams. I find it interesting that they combine coaching positions, especially with one coach coaching both offense and defense.
I don't believe most teams do this, but clearly, it works for the Rams.
Zac Robinson, Wes Phillips, and Chris Shula are a few names that stand out, giving L.A. a solid all-around crew.
It's hard to argue with their success, and the Rams appear to have a solid overall coaching staff going into 2021.
Los Angeles Rams 2021 NFL Season Outlook
The Los Angeles Rams are really in a good spot going into the 2021 season. They have one of the most talented rosters and their coaching staff is as good as it gets.
They'll have their competition in the NFC West but they stand out as the favorite. I expect this team to make a run at the Super Bowl.
We're under a week away from the start of the 2021 season. While you wait, be sure to check more coaching breakdowns.