Assessing the Jacksonville Jaguars NFL Coaching Staff for 2021

The Jacksonville Jaguars are coming off a miserable 1-15 season and Urban Meyer is the new sheriff in town. The franchise was in a ditch last season but selecting star quarterback Trevor Lawrence is a positive.
Despite some preseason struggles along the way, Jacksonville brings excitement with a new coach and quarterback.
The most of the offense is young, and there are a few pieces to build around. It is never enjoyable to post losing seasons, but the Jaguars have to make do until they build up their play at the lines of scrimmage.
The coaches bring a ton of mixture from both the college and professional ranks. Urban Meyer is addicted to winning and will hopefully turn things around in the next season or so.
Here is your Jacksonville Jaguars coaching staff analysis for the 2021 NFL season.
Urban Meyer – Head Coach
Any Jacksonville Jaguars coaching staff breakdown has to start with the new head coach.
That's none other than college legend Urban Meyer, who went 83-9 in seven seasons at Ohio State, where the talent level was among the best in the nation every season.
Jacksonville is on the opposite side of the spectrum, which makes for an entertaining season ahead. Bowling Green and Utah became relevant programs, with the Utes running the table and going undefeated after a 2005 Fiesta Bowl victory over Pittsburgh.
Meyer has won at every program he has coached.
Alex Smith became the top pick of the NFL Draft, and it was just the tip of the iceberg for Meyer. He dominated at Florida, capturing two national titles, and he added another with Ohio State.
The young pieces need time to develop, and depth is crucial in the NFL. The franchise lost Travis Etienne, one of their superstar talents for the year with a foot injury.
Meyer will find life difficult in year one, but he is hopeful to be competitive when Lawrence builds a rapport with his weapons.
Top Jaguars Assistants
Joe Cullen and Darrell Bevell have plenty of experience to help the Meyer tenure be a successful one.
The challenge for this team will be to keep Lawrence upright and find ways to give him positive plays.
Some of that will depend on the field position that the defense can provide them. The season ahead will have its challenges, but Meyer has comfort with the staff he hired.
Darrell Bevell – Offensive Coordinator
Bevell has been in the NFL since 2000. The Vikings, Seahawks, and Lions were the three teams he had experience with calling offensive plays. He helped lead Russell Wilson to stardom with two Super Bowl appearances under Pete Carroll.
We nearly saw him do the same with Brett Favre and the Vikings. He eventually became the interim head coach after the Lions fired Matt Patricia.
Now under Meyer, developing Lawrence with the bevy of weapons at his disposal will be entertaining to watch.
Laviska Shenault, DJ Chark, and Marvin Jones are all capable of exposing defensive backs.
Bevell will be without one more useful weapon now that Travis Etienne is out for the year, but the cupboard isn't exactly bare here.
None of the three has blazing speed, but Shenualt could be the perfect complement to Lawrence. Bevell has lofty goals this season, and Jacksonville could be one of the teams that start fast against Houston, Cincinnati, and Denver.
Joe Cullen – Defensive Coordinator
Cullen has been a defensive line coach in the NFL since 2006. Excluding one season with Idaho State in the FCS ranks, the Jacksonville coordinator has been a defensive line coach for five NFL teams before Jacksonville.
He even spent a few seasons with the Jaguars under a trio of head coaches (Jack Del Rio, Mel Tucker, Mike Mularkey). The young pieces such as Myles Jack, Josh Allen, and K'Lavon Chaisson are three that need to perform for this defense to improve.
Other Jaguars Assistants for 2021
Charlie Strong: Assistant Head Coach/Inside Linebackers
Brian Schottenheimer: Passing Game Coordinator
Tyler Bowen: Tight Ends
Quinton Ganther: Offensive Quality Control Coach
Will Harriger: Offensive Assistant Coach
George Warhop: Offensive Line
Sanjay Lal: Wide Receivers
Bernie Parmalee: Running Backs
Todd Washington: Assistant Offensive Line
Chris Ash: Defensive Backs/Safeties
Joe Danna: Defensive Backs/Nickel
Tosh Lupoi: Defensive Line
Zachary Orr: Outside Linebackers
Patrick Reilly: Defensive Quality Control
Tim Walton: Secondary/Corners
Bob Sutton: Senior Defensive Assistant
Tony Gilbert: Assistant Linebackers
Sterling Lucas: Assistant Defensive Line
Nick Sorensen: Special Teams Coordinator
Tyler Wolf: Director of Team Administration
Elizabeth Mayers: Assistant to the Head Football Coach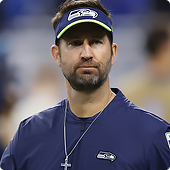 The top Jaguars assistants that aren't coordinators are Charlie Strong and Brian Schottenheimer.
Strong was a defensive coordinator under Meyer and has bounced around several other jobs. He was the head coach for Texas before struggles forced him out of Austin and back to the NFL.
Strong was a productive coach with Louisville before Texas, but he will oversee the inside linebackers and is the assistant head coach next to Meyer.
Schottenheimer was ousted from Seattle after Russell Wilson voiced his displeasure with their late-season struggles. He can turn this offense into relevancy.
The hope is Lawrence will build some confidence with a few early victories in September.
Looking Ahead to 2021 for the Jaguars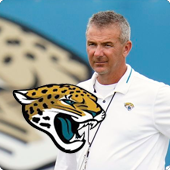 Jacksonville has not been the kindest of places to coach recently, but Meyer has enough pieces to turn this around rather quickly. The South is perhaps the easiest of the four AFC divisions, but this team must start well.
Drawing Houston, Cincinnati, and Denver are winnable games for a franchise that had one-win last season. They were able to pick up five and six wins the previous two seasons, and this team is capable of getting back to that level.
It surely will be a bumpy ride with Meyer due to the struggles last season, but this team has enough new talent to avoid being in the basement of the AFC South.
See how the other coaching staffs measure up to Jacksonville going into the 2021 NFL season via the posts below.