Assessing the Detroit Lions NFL Coaching Staff for 2021

I'm not sure if there was an NFL team with more turnover this offseason than the Detroit Lions.
They traded long-time quarterback Matthew Stafford and lost their top two wide receivers in free agency. They also cleaned house when it comes to their coaching staff, hiring a new head coach, offensive coordinator, and defensive coordinator.
Their new Head Coach, Dan Campbell, is certainly a character, but will it translate to success on the field? Let's look at Campbell and the Lions coaching staff for 2021 to find out.
Dan Campbell – Head Coach
Head Coach Dan Campbell has been receiving a lot of attention this offseason for his antics and quotes. His initial press conference with the team was the stuff of legends.
While Campbell borders on gimmicky, he comes into this position with a lot of experience.
He spent 11 seasons in the NFL as a tight end. He retired following the 2009 season and immediately joined the Miami Dolphins coaching staff. Campbell served as their Tight Ends Coach until 2015. I should also add that he was their interim head coach in 2015.
In 2016, Campbell became the Assistant Head Coach and Tight Ends Coach for the New Orleans Saints. His five seasons in New Orleans put him in position to earn his first head coaching job. However, it won't be an easy task.
The Lions offense went through a huge transformation that saw them trade Matthew Stafford for Jared Goff. While Goff isn't bad, he definitely represents a downgrade for the Lions.
Then, you have to factor in the fact that Detroit replaced wide receivers Kenny Golladay and Marvin Jones Jr. with Breshad Perriman (who was recently released) and Tyrell Williams.
I will say, Detroit does have some intriguing pieces on offense with D'Andre Swift and T.J. Hockenson. Being a former tight end, Campbell will love having the opportunity to coach Hockenson.
It'll likely be a tough season for the Lions. The hope is that Campbell can show some promise for the future.
Top Detroit Lions Assistants
As I mentioned in the introduction, the Detroit Lions completely revamped their coaching staff.
Let's check out Detroit's new offensive and defensive coordinator.
Anthony Lynn – Offensive Coordinator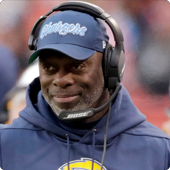 Following four years as head coach of the Los Angeles Chargers, Anthony Lynn takes over as Offensive Coordinator for the Detroit Lions.
Lynn had a brief playing career as a running back before he transitioned into coaching. He initially served as a Special Teams Assistant for three seasons before becoming a Running Backs Coach.
From 2003-2016, he was the Running Backs Coach for five different teams. He also served as an Assistant Head Coach from 2013-2016.
When the Chargers relocated from San Diego to Los Angeles in 2017, Lynn took over as their head coach. In his second season, he led Los Angeles to a 12-4 record and a playoff berth. They won in the wild-card before falling in the divisional round.
Unfortunately, they couldn't sustain that success. They went 12-20 over the next two seasons.
Now, Lynn gets the chance to run a Lions offense that will likely finish at the bottom of the league.
However, the offense does have some quality pieces.
In addition to D'Andre Swift and T.J. Hockenson, the Lions have a very underrated offensive line. First-round pick Penai Sewell joins a line that includes Taylor Decker and Frank Ragnow.
As a former running back, Lynn will definitely appreciate having a talented running back and top 10 offensive line.
Hopefully, Lynn can help develop some of their young talent.
Aaron Glenn – Defensive Coordinator
The Detroit Lions must love former players because Defensive Coordinator Aaron Glenn marks the third one on their coaching staff. Glenn made three Pro Bowls during his 15-year career as a cornerback.
Glenn didn't begin his coaching career until 2014 when he became the Assistant Defensive Backs Coach with the Cleveland Browns. He spent two seasons there before joining the New Orleans Saints in the same role.
In his final season with the Saints (2020), he helped their defense allow the fifth-fewest passing yards.
Head Coach Dan Campbell brought Glenn with him this offseason to serve as the Lions Defensive Coordinator. I know we talked about how the Lions offense has their weaknesses, but the defense is worse.
Check out their numbers from the last two seasons.
| | | |
| --- | --- | --- |
| Stat | 2019 | 2020 |
| Yards Per Game | 400.4 (31st) | 419.8 (32nd) |
| Passing Yards Per Game | 284.4 (32nd) | 284.9 (30th) |
| Rushing Yards Per Game | 115.9 (19th) | 134.9 (28th) |
| Points Per Game | 26.4 (24th) | 32.4 (32nd) |
| Interceptions | 7 (31st) | 7 (31st) |
Needless to say, Detroit's defense needs a lot of work. The problem is they really didn't make any upgrades this offseason. Michael Brockers is the only noteworthy player they added this offseason.
I'm curious to see how Glenn develops Jeff Okudah after the cornerback struggled in his rookie season. It's imperative that the 2020 number three overall pick shows some improvement.
I guess the good news for the whole defense is there's nowhere to go but up.
Other Detroit Lions Assistants for 2021
Duce Staley: Assistant Head Coach/Running Backs
Aubrey Pleasant: Defensive Backs/Pass Game Coordinator
Mark Brunell: Quarterbacks
Kelvin Sheppard: Outside Linebackers
Tanner Engstrand: Offensive Quality Control
Stephen Thomas: Defensive Quality Control
Hank Fraley: Offensive Line
Todd Walsh: Defensive Line
Ben Johnson: Tight Ends
David Fipp: Special Teams Coordinator
Steve Oliver: Offensive Quality Control
Jett Modkins: Assistant Special Teams
Deon'tae Pannell: WCF Minority Coaching Assistantship
Mike Clark: Director of Sports Performance
Antwaan Randel El: Wide Receivers
Jill Costanza: Director of Sports Science
Seth Ryan: Assistant Wide Receivers
Josh Schuler: Head Strength & Conditioning
Dom Capers: Senior Defensive Assistant
Morris Henry: Assistant Strength & Conditioning
Mark Deleone: Inside Linebackers
Kevin Anderson: Chief of Staff/Head Coach Administration
Brian Duker: Defensive Assistant
David Corrao: Director of Football Research
Three-time Pro Bowl quarterback, Mark Brunell has a big task ahead, as he tries to return Jared Goff to elite status.
Everyone knows Antwaan Randel El won a Super Bowl during his playing career, but he also won one last season as an Offensive Assistant with the Tampa Bay Buccaneers.
Detroit has several interesting coaches on their staff, with Dom Capers, Duce Staley, and Kelvin Sheppard also standing out.
Detroit Lions 2021 NFL Season Outlook
It'll likely be a rough season for the Detroit Lions. The biggest thing this season, is for both the players and coaches to develop and show that they can contribute moving forward.
Dan Campbell is a refreshing voice for a Lions team clearly in rebuilding mode, but it's tough to envision things going very well in year one.
While there could be a positive change in terms of culture in Detroit, the coaching staff won't be enough to translate into a lot of winning.
If you want to see how other coaching staffs compare to the Lions, check out the articles below.