Assessing the Dallas Cowboys NFL Coaching Staff for 2021

The Dallas Cowboys are one of the most successful franchises in NFL history. The issue is the majority of their success came over 20 years ago.
Dallas hasn't made it to the NFC Championship Game since 1995. They've had their great seasons here and there, but it didn't translate to much in the postseason.
Mike McCarthy is entering his second year in Dallas, but he may already be on the hot seat.
Let's dive deep into McCarthy and the Cowboys coaching staff for 2021 to gauge if this team can do anything of substance this year.
Mike McCarthy – Head Coach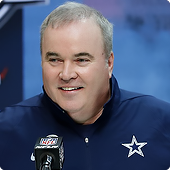 Mike McCarthy's coaching career began all the way back in 1987. He served as a Graduate Assistant for Fort Hays State.
In 1993, McCarthy got his first shot in the NFL as an Offensive Quality Control Coach with the Kansas City Chiefs. He spent a few more years with the team as their Quarterbacks Coach before joining the Green Bay Packers for a season.
He then served as Offensive Coordinator for the New Orleans Saints from 2000-2004. One season as the San Francisco 49ers Offensive Coordinator put McCarthy in position to take his first Head Coaching job.
The Green Bay Packers hired McCarthy as their Head Coach in 2006. McCarthy inherited a team that was transitioning from Brett Favre to Aaron Rodgers.
Green Bay won the Super Bowl in 2010. They made the playoffs as a wild card team and won all four of their playoff games on the road.
Super Bowl winner? Check.
A big downfall in McCarthy's Packers tenure was his disappointing postseasons. Following the 2010 Super Bowl, the Packers never made it past the NFC Championship Game.
Following a 4-7-1 start to the 2018 season, the Packers fired McCarthy. He took a season off before returning to the sidelines.
Ahead of the 2020 season, the Dallas Cowboys hired McCarthy as their Head Coach. Not everyone was thrilled.
His first season didn't go too well, as the Cowboys went 6-10 and missed the playoffs. All the blame can't fall on him though because the team dealt with a rash of injuries. None bigger than quarterback Dak Prescott suffering a compound fracture.
The good news is Dallas enters this season with one of the most talented teams. Dak Prescott, Ezekiel Elliott, and Amari Cooper make up one of the best QB-RB-WR trios in the league.
If they struggle, it's going to fall on McCarthy. People accused him of holding back the Packers offense. It'd be a shame to see the same thing happen in Dallas.
Top Dallas Cowboys Assistants
Over the years, the Dallas Cowboys' defense has been their real weakness. They tried Mike Nolan as their defensive coordinator last season, but that didn't work out.
Who did they hire and how is their offense looking? Let's check out the Cowboys offensive and defensive coordinators going into 2021.
Kellen Moore – Offensive Coordinator
Most NFL coaches were a player at some point in their career. Kellen Moore is no exception.
Moore was a legend in his four seasons at Boise State. He passed for nearly 15,000 yards in his career with 142 passing touchdowns. His 50 wins are the most by an FBS starting quarterback of all time.
He spent six seasons in the NFL, three with the Detroit Lions and three with the Cowboys.
In 2015, Moore played in three games. He passed for 779 yards, four touchdowns, and six interceptions. That was the only time he ever played in a regular-season game. Moore retired and joined the Cowboys coaching staff in 2018.
Dallas hired Moore as their Quarterback Coach for the 2018 season. They promoted him to Offensive Coordinator in 2019. Behind his leadership, the Cowboys offense took off.
Yards Per Game: 431.7 (1st)
Passing Yards Per Game: 296.9 (2nd)
Rushing Yards Per Game: 134.6 (5th)
Points Per Game: 27.1 (6th)
When you have the talent Dallas does on offense, the only thing that can hold you back is injuries and/or coaching. Moore made sure everyone knew his coaching wouldn't be an issue.
Last season, the Cowboys offense took a big step back because of injuries. In the five games Dak Prescott started, Dallas scored over 30 points in four of them.
Moore will have Prescott back at his disposal this season with a slimmed-down Ezekiel Elliott.
The offensive line should look much better as Tyron Smith, Zack Martin, and La'el Collins all return after missing the majority of the 2020 season.
Lastly, you have the wide receiver trio of Amari Cooper, CeeDee Lamb, and Michael Gallup. Those guys are going to make life a lot easier on Prescott.
Together, everyone will make Moore's job a lot easier. Moore should lead to another great season.
Dan Quinn – Defensive Coordinator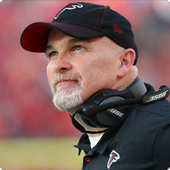 Following five and a half seasons as head coach of the Atlanta Falcons, Dan Quinn takes over as Defensive Coordinator of the Dallas Cowboys.
Like most coaches, Quinn began his career in the college ranks. He spent seven seasons at three different schools before joining the San Francisco 49ers staff in 2000. He started as the Defensive Quality Control Coach before transitioning to Defensive Line Coach.
From 2005-2010, Quinn served as the Defensive Line Coach for the Miami Dolphins, New York Jets, and Seattle Seahawks.
Quinn returned to college, serving as the Defensive Coordinator for Florida in 2011 and 2012.
He returned to the NFL in the same role for the Seahawks. Equipped with the Legion of Doom, Quinn led a Seahawks defense that took over the NFL. Check out their numbers from his two seasons in Seattle.
| | | |
| --- | --- | --- |
| Stat | 2013 | 2014 |
| Yards Per Game | 273.6 (1st) | 267.1 (1st) |
| Passing Yards Per Game | 172.0 (1st) | 185.6 (1st) |
| Rushing Yards Per Game | 101.6 (9th) | 81.5 (3rd) |
| Points Per Game | 14.4 (1st) | 15.9 (1st) |
Seattle won the Super Bowl in 2014 before just falling short in 2015.
The great season put Quinn in position to take his first head coaching job. He joined the Falcons ahead of the 2015 season.
Atlanta nearly won the 2017 Super Bowl before infamously blowing a 28-3 lead. They could never really overcome that loss and Atlanta fired Quinn following a 0-5 start to the 2020 season. He went 43-42 as head coach.
Now, Quinn has another chance to lead a defense as Defensive Coordinator of the Cowboys. They have struggled over the last few seasons, but they have quality pieces.
First-round pick, Micah Parsons joins a defense that includes Demarcus Lawrence, Leighton Vander Esch, Keanu Neal, and Trevon Diggs.
Everyone knows that Dallas doesn't have that much talent on defense. If they can just finish mid-pack, Quinn will have done his job.
Other Cowboys Assistants for 2021
Rob Davis: Assistant Head Coach
John Fassel: Special Teams Coordinator
Joe Philbin: Offensive Line Coach
Matt Daniels: Assistant Special Teams
Jeff Blasko: Assistant Offensive Line
Scott Tolzien: Coaching Assistant
Adam Henry: Wide Receivers
Kyle Valero: Quality Control/Analytics
Lunda Wells: Tight Ends
Ryan Feder: Quality Control/Analytics
Skip Peete: Running Backs
Eric Simonelli: Quality Control/Analytics
Doug Nussmeier: Quarterbacks
Justin Rudd: Video/Analytics
Joe Whitt Jr.: Defensive Passing Game Coordinator/Secondary
Cannon Matthews: Quality Control/Defense
Aden Durde: Defensive Line
Chase Haslett: Quality Control/Defense
Leon Lett: Assistant Defensive Line
Harold Nash Jr.: Strength & Conditioning
Scott McCurley: Linebackers
Kendall Smith: Assistant Strength & Conditioning
Al Harris: Defensive Backs
Cedric Smith: Assistant Strength & Conditioning
George Edwards: Sr. Defensive Assistant
There are a lot of recognizable names on this staff but none more so than Leon Lett.
Everyone knows him for his Super Bowl blunder but Lett was a two-time Pro Bowler. He has been on the Cowboys coaching staff since 2011.
Al Harris was a two-time Pro Bowler himself with the Green Bay Packers. He spent six seasons on the Kansas City Chiefs coaching staff before joining the Cowboys in 2020.
Dallas has a lot of unproven commodities on their coaching staff, but it's also full of bright minds. Overall, this looks like a strong roster of coaches headed into 2021.
Dallas Cowboys 2021 NFL Season Outlook
There are always high expectations for the Dallas Cowboys and this season is no different. The offense has all the talent to be a top-five, but you have to wonder if McCarthy's coaching will allow them to reach their ceiling.
McCarthy had loads of success in Green Bay, but that was admittedly with Aaron Rodgers. Does he have the staff and personal ability to elevate the Cowboys?
Offensively, it seems that could be the case. The defense is another story.
We'll see if Quinn can relive his Seahawks days or if he'll struggle without top-end talent. Either way, Dallas has a good chance to win another NFC East title, simply due to the state of the division.
Wondering about other NFL coaching staffs? Check out some more NFL coaching staff previews below.