Analyzing Whether Conor McGregor Should Join the WWE

Although long been considered a possibility, the idea of Conor McGregor joining the WWE has never held much weight.
With the former two-weight world champion struggling in the UFC, could it be time to look for ne pastures?
Pro wrestling superstar John Cena recently suggested that McGregor moving to the WWE would be great for fans. Given the Irishman's star power and ability to put butts on seats, there has always been a chance that he would link up with Vince McMahon in the wrestling arena.
But with the MMA career of "The Notorious" drawing to a certain close, could we see Conor McGregor in the WWE sooner than we think?
Why McGregor Joining the WWE Makes Sense
Let's be honest. Even the most ardent of McGregor's fans know the end is nigh for their man.
Having been the face of the UFC since knocking out former featherweight champion Jose Aldo in 2015, the Irishman's star power is on the wane. And if he is a true proponent of the "timing beats speed" theory, he will understand that the clock is ticking.
A devastating injury in a high-profile UFC fight forces McGregor to at least contemplate life outside the Octagon.
Conor McGregor and Anderson Silva share UFC championship accomplishments and, unfortunately, main event leg breaks (by @Shak_fu) https://t.co/bPlk5CtPOE

— MMA mania (@mmamania) September 2, 2021
Had McGregor not suffered a leg break against Dustin Poirier at UFC 264, there is every chance we wouldn't be having this conversation.
Although I have reservations in saying this, the Irishman could have beaten the Louisianan and gone on to fight Charles Oliveira for the UFC lightweight title.
The fact of the matter is, however, that he did not beat Poirier. He's also currently healing from an injury that doesn't augur well for his future in the fight game.
This is why McGregor could join the WWE sooner rather than later.
I mean, he has more money than he can spend, so why put himself at risk of further physical damage when he can enhance his brand tenfold in the pro wrestling game?
The man himself has insisted that he will be coming back to the UFC. But what is left for him to achieve as a mixed martial artist?
Could He Wait a Little Longer?
Will McGregor choose to stay in the UFC?
There is likely, at least, one fight left in him. Additionally, we don't know the details of his contractual obligations with Dana White and the team. If he considers it possible that he could land another title shot, it's doubtful that he will pass it up.
As much as the Dubliner has built his persona around being the cocky, big-mouth rich man of MMA, his performances inside the cage make this an unsustainable business model. You can't go around claiming to be the best in the business while getting knocked out and submitted by your peers.
The reasons why McGregor won't quit the UFC are fewer in number than those in favor of leaving the game.
With that said, it would be a little embarrassing if people stopped tuning in to watch him get beaten and instead were buying PPVs to watch him lose.
There is a difference.
Why McGregor is Done in the UFC
Conor McGregor is finished.
OK, that statement isn't as black and white as it might look in text. After all, the man cuts a complex figure in the world of mixed martial arts. I mean, with his mass appeal and a growing number of detractors, the guy could possibly carry on fighting for the next decade, if he wanted to.
When I say McGregor is finished, I'm referring to the end of the concept of the all-conquering, Irish knockout king. That guy left a long time ago.
Losing to arguably the greatest UFC fighter of all time in Khabib Nurmagomedov is no shame, nor is getting sparked by Dustin Poirier.
What makes these exceptional losses for McGregor is, of course, that he relies on his trash talk and cocky persona to drive PPV sales.
Top 5 Highest Selling McGregor PPVs
2.4 Million
Khabib Nurmagomedov
UFC 229
Oct 6, 2018
1.8 Million
Dustin Poirier
UFC 264
Jul 10, 2021
1.6 Million
Nate Diaz
UFC 202
Aug 20, 2016
1.35 Million
Donald Cerrone
UFC 246
Jan 18, 2020
1.32 Million
Nate Diaz
UFC 196
Mar 5, 2016
But what was once tongue lashing is no desperate vitriol.
The witty remarks bordering on the offensive have now turned into all-out personal attacks that have turned fans against him and left the man looking like a fool when he's simply getting battered by the same men he claims to be superior to.
Religion, wives, dead relatives, nationalities — nothing is out of bounds for McGregor.
He's certainly lost that spark, if his painful north-inner city Dublin gangster impression is anything to go by. If you didn't get to witness his pathetic attempts to rile Poirier up following his loss at UFC 264, take a look.
His trash talk has also become, well, just trash.
Like many others, I cringed listening to his pathetic attempts to get one over on Poirier. He sounded sad, desperate, and quite frankly, out of ideas.
Speaking of ideas, the one surrounding McGregor's upbringing being rough, tough, and riddled with adversity needs to end.
McGregor was raised in Crumlin, Dublin until 18. While it's hardly Shangri La, and has some people you would not want to mess with, it would make parts of Chicago, Detroit, Philadelphia, or Rio de Janeiro look like Disneyland.
Why is McGregor talking as though he's a hardened gangland member when his family settled in Lucan, Dublin as an 18-year-old? For those of you unaware of Lucan, it's a pretty nice area to live in. For instance, the cheapest house in Lucan in 2019 would set you back well over $200,000.
With all things considered, perhaps McGregor joining the WWE would allow him to spend more time cultivating his trash talk.
I mean, it's not as though his brand of psychological warfare is working in the UFC anymore.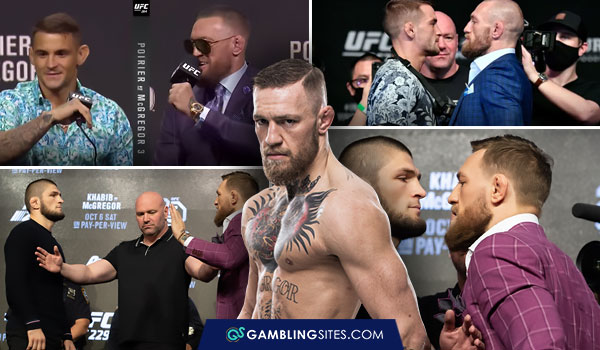 Should McGregor Hang Up His Gloves Now?
Although McGregor owns the role as the greatest all-around entertainer in MMA is history, he's not going to quit unless he has to.
There is one major fight left for him, which is the Nate Diaz trilogy. But if his leg doesn't heal satisfactorily, he'll walk away. Pun unintended.
But should McGregor join the WWE straight away, there will be a deluge of criticism waiting for him. The media will lambaste his lack of focus and love of money as key factors in depriving us of what could have been the greatest fighter of all time.
That's bull, of course. McGregor was never going to be among the best to ever do it. But it does make for good reading.
Unlike his record since beating Aldo, which sits at a disappointing 3-4.
Conor McGregor's Post-Featherweight Record
Dustin Poirier
UFC 264 – Jul 10, 2021
Loss by TKO
Dustin Poirier
UFC 257 – Jan 24, 2021
Loss by TKO
Donald Cerrone
UFC 246 – Jan 18, 2020
Win by TKO
Khabib Nurmagomedov
UFC 229 – Oct 6, 2018
Loss by Submission
Eddie Alvarez
UFC 205 – Nov 12, 2016
Win by TKO
Nate Diaz
UFC 202 – Aug 20, 2016
Win by Decision
Nate Diaz
UFC 196 – Mar 5, 2016
Loss by Submission
But when all is said and done, the bottom line is that McGregor's next fight in the UFC could very possibly be his last.
Whether that's a trilogy fight with Nate Diaz, the fourth bout with Poirier, or a farewell fight against someone he is likely to beat, remains to be seen.
If he keeps fighting (and losing), the McGregor brand will nosedive. So, why not do the sensible thing and give Vince McMahon a call?
When Will Conor McGregor Leave the UFC for the WWE?
It's not a case of if, but rather when McGregor will join the WWE.
But don't expect him to retire in 2021.
Having turned 33 in July, he's running out of time in the most competitive mixed martial arts promotion on the planet. There are only so many opportunities he will be afforded to fight for a title, and he's pretty much blown through them all.
The only way McGregor fights for a UFC title again is if Poirier beats the champ, Oliveira, in a fight targeted for UFC 269 later this year. That relies on Poirier taking the fight, which, in all fairness, he stands to benefit from.
Let's say McGregor's leg heals well and he's good to go in early 2022. Depending on how early the Oliveira-Poirier fight ends, we could expect the Irishman to be fit and ready to go by around May. This could be the final chapter of McGregor's story in the UFC.
Is it viable to suggest that McGregor could move to the WWE by the summer of 2022? I think so. But there is something else to consider, of course.
Pro wrestlers like Cena and McGregor's fellow Dubliner Sheamus have hinted at the former "Champ-Champ" making the move to WWE wrestling. But they have never suggested that it will be a permanent one.
McGregor could, in theory, appear at Wrestlemania in 2022.
The event is set to go down at the AT&T Stadium in Arlington, Texas, and could act as a taster of what's to come. That is, of course, if White allows his fighter to appear in any kind of cross-promotional material.
We have seen fighters like Ronda Rousey, CM Punk, and Brock Lesnar swap the UFC for WWE, and vice versa, in the past.
The relationship between the promotion's heads is pretty strong, by all accounts. So, don't write off The Notorious showing up at an event while still under contract.
It's not a bad way to appear active without risking any further leg damage.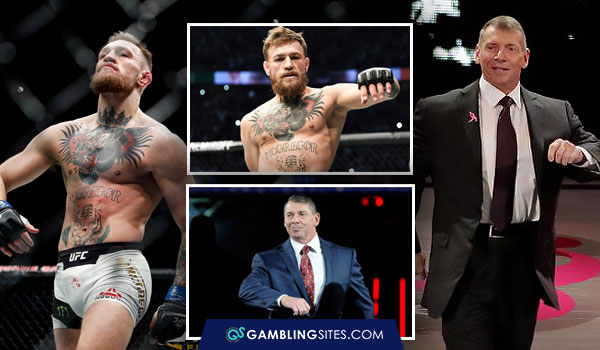 Conor McGregor's Options After the UFC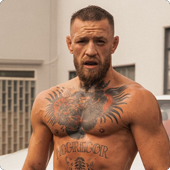 When will Conor McGregor leave the UFC?
A precise answer is difficult to pinpoint. But one thing we do know is that his time is running out in the promotion. He has clearly faded as a fighter and, well, was never going to enjoy sustained success in the promotion above the 145-pound threshold.
McGregor is no longer a threat to the elite at 155. His game is too predictable, and he lacks the physical advantages that he once held when fighting at featherweight.
At welterweight, he would be destroyed by most top-level guys. I mean, can you imagine what Kamaru Usman or even Colby Covington would do to the guy?
You could, at a push, consider whether McGregor might jump ship and join one of the other major MMA organizations on the planet. He would undoubtedly be among the best fighters in Bellator, ONE FC, or the PFL. But I highly doubt any of these promotions could afford him.
ONE FC would never have him anyway, based on the strong principles and ethics that the Singapore-based promotion adheres to.
It just seems like destiny for McGregor to join the WWE.
He has the personality and character to play the perfect heel, and emulate some of the guys he grew up admiring as a kid. I mean, he did take a lot of his style from Rick Flair, right?
When will Conor McGregor join the WWE? Let me know in the comments box, below.