Analyzing the 2021 NFL Coaching Staff for the Chicago Bears

The Chicago Bears are in an interesting position with their coaching staff.
Head Coach Matt Nagy took over in 2018 and actually has a winning record. However, most of his success came in his first season. Chicago hired a new Offensive Coordinator in 2020 and a new Defensive Coordinator in 2021.
Let's discuss their coaching staff.
Matt Nagy – Head Coach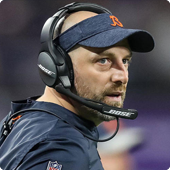 Matt Nagy is one of many head coaches in the NFL to come from the Andy Reid coaching tree.
Nagy was with the Philadelphia Eagles from 2008-2012, before going with Reid to the Kansas City Chiefs. He served as their Quarterbacks Coach for three seasons, and their Offensive Coordinator for two seasons.
His success in Kansas City led to him becoming the Head Coach of the Chicago Bears.
The hire initially looked like a slam dunk, with Nagy leading the Bears to a division title at 11-5. Despite a disappointing playoff defeat, Nagy won Coach of the Year. Quarterback Mitchell Trubisky also had the best season of his career.
Unfortunately, back-to-back, 8-8 seasons have Nagy on the hot seat. The hope he could help develop Trubisky into an elite quarterback faded quickly as well.
Take a look at the Bears points per game mark in each of Nagy's three seasons.
2018: 26.3 (9th)
2019: 17.5 (27th)
2020: 23.3 (20th)
That's certainly not ideal for an offensive guru like Nagy.
If the Bears get off to a slow start this season, there's a good chance Nagy finds himself without a job. He definitely has an interesting task ahead of him, as he tries to justify why rookie quarterback Justin Fields will start the season as the backup.
It's definitely a make-or-break season for Nagy.
Top Chicago Bears Assistants
In accordance with Head Coach Matt Nagy, the Chicago Bears have youth on their coaching staff.
Let's check out Chicago's Offensive and Defensive Coordinator.
Bill Lazor – Offensive Coordinator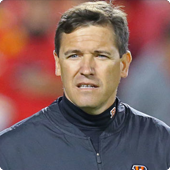 Bill Lazor is no doubt the most experienced head coach/coordinator on the Chicago Bears coaching staff.
His career started in 1994 as an Assistant Coach at Cornell. From 2001-2009, Lazor coached for multiple teams as an Offensive Coordinator, Offensive Assistant, and Quarterbacks Coach. His longest stop was four years with the Washington Football Team.
From 2010-2019, Lazor alternated as an Offensive Coordinator and Quarterbacks Coach. He coached at Virginia, the Philadelphia Eagles, the Miami Dolphins, and the Cincinnati Bengals.
Following a season at Penn State, Lazor joined the Bears staff as their Offensive Coordinator.
Initially, it was hard to evaluate Lazor's impact on the Bears offense because Head Coach Matt Nagy called the plays. However, he relinquished play-calling duties to Lazor for the final six games of 2020. In terms of scoring, Chicago's offense looked way better with him in charge.
Let's compare how Chicago's offense performed in their first 10 games vs their last six.
Weeks 1-10: 19.1 points per game
Weeks 12-17: 30.2 points per game
Lazor's experience as a Quarterback Coach is definitely going to come in handy this season. He'll be an instrumental coach in the development of rookie Justin Fields. On offense, he also has David Montgomery and Allen Robinson to work with.
If he has a bigger say in the offense this season, Chicago has a good chance to improve their record.
Sean Desai – Defensive Coordinator
Chicago Bears Defensive Coordinator Sean Desai has a big task ahead of him, as he tries to continue the legacy that is the Bears defense.
Desai held a few different roles in his time coaching college. He was a Special Teams Coach, Assistant Director of Football Operations, and Running Backs Coach.
He joined the Bears staff in 2013 as a Defensive Quality Control Coach. In 2019, he moved up to Safeties Coach and now he is the Defensive Coordinator.
The Bears success over the past few years has been their defense. Check out their numbers in the Matt Nagy era.
| | | | |
| --- | --- | --- | --- |
| Stat | 2018 | 2019 | 2020 |
| Yards Per Game | 299.7 (3rd) | 324.1 (8th) | 344.9 (11th) |
| Pass YDS Per Game | 219.7 (7th) | 222.1 (9th) | 231.6 (12th) |
| Rush YDS Per Game | 80.0 (1st) | 102.0 (9th) | 113.4 (15th) |
| Points Per Game | 17.7 (1st) | 18.6 (4th) | 23.1 (14th) |
Their numbers have slipped lately but they are still an elite unit.
The talent on the Bears defense includes Khalil Mack, Roquan Smith, Eddie Jackson, Akiem Hicks, and Eddie Goldman. Those guys will make Desai's job a lot easier this season.
Chicago's defense is the main reason they've made two playoff appearances in the last three seasons.
Desai definitely has a big reputation to live up to, as he succeeds a pair of great defensive coaches in Vic Fangio and Chuck Pagano. We'll see if he has what it takes to live up to those coaches.
Other Bears Assistants for 2021
Chris Tabor: Special Teams Coordinator
Bill McGovern: Inside Linebackers
Mike Adams: Assistant Defensive Backs
Mike Pettine: Senior Defensive Assistant
Clancy Barone: Tight Ends
Michael Pitre: Running Backs
Henry Burris: Offensive Quality Control
Donovan Raiola: Assistant Offensive Line
Juan Castillo: Offensive Line
Chris Rumph: Defensive Line
John DeFilippo: Pass Game Coordinator/Quarterbacks
Bill Shuey: Outside Linebackers
Mike Furrey: Wide Receivers
Mike Snyder: Offensive Quality Control/Assistant Quarterbacks
Brian Ginn: Assistant Special Teams
Shane Toub: Defensive Quality Control
Tom Herman: Offensive Analyst/Special Projects
Deshea Townsend: Secondary
Anthony Hibbert: Assistant Strength & Conditioning Coach
Ronell Williams: Defensive Quality Control
Chris Jackson: Assistant Wide Receivers
Kyle Childress: Coaching Assistant
Casey Kramer: Assistant Strength and Conditioning Coach
Mike Harris: Offensive Assistant
Jason Loscalzo: Head Strength and Conditioning Coach
Robyn Wilkey: Executive Assistant to the Head Coach
There are quite a few notable names on the Bears' 2021 NFL coaching staff.
John DiFilippo was the Quarterback Coach when the Philadelphia Eagles won the Super Bowl. He helped Carson Wentz become an MVP candidate and should help Justin Field adjust to the NFL.There are quite a few notable names on the Bears' 2021 NFL coaching staff.
Mike Pettine is a former head coach and defensive coordinator, and he most recently worked for Chicago's biggest rival, the Green Bay Packers.
Looking Ahead to 2021 for the Chicago Bears
This is a big season for Matt Nagy. If the Chicago Bears struggle out of the gates, I think they'll make a coaching change.
I'm curious to see what happens when they bring Justin Fields into the fold. That's going to tell a lot about their franchise moving forward.
On paper, the Bears have a good coaching staff. Of course, if they can't find a way to win in 2021, this Bears coaching staff preview could look drastically different next season.
Be sure to check out more of our coaching staff breakdowns.