7 NFL Single-Season Records at Risk of Being Broken in 2021

With an additional 17th game on the NFL schedule this season, no single season record is safe.
The offensive side of the ball had already been favored heavily, and we have seen some crazy stats in the past couple years. We also have a lot of players who have unlimited potential and could break several records this season.
The combination is deadly when looking at some longstanding NFL records. In other words, some NFL records are bound to fall this year.
Given the elite talent, the shape of the league, and the 17th game, let's look at the seven NFL records that will be broken in 2021.
Passing Yards (5,477)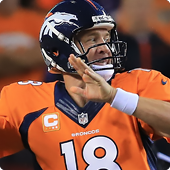 Peyton Manning's 2013 year was incredible. He holds the single season records for passing yards and passing touchdowns in that one season.
He threw for 5,477 yards with 55 passing touchdowns in 2013 and still holds the records today.
Manning's records could be in trouble with the additional game being added to the season. There have been a few players to come close in the past couple years including Jameis Winston, Patrick Mahomes, Matt Ryan, and Ben Roethlisberger.
There are so many young gunslingers in today's league.
Players like Patrick Mahomes, Justin Herbert, and Josh Allen are all the future of the league and could break the record this season. They have the talent and the help behind them to do it.
Peyton Manning's records are in trouble.
Passing Touchdowns (55)
Manning's 55 passing touchdowns were incredible and broke Brady's 50 mark from 2007.
Just last year, Aaron Rodgers threw 48 touchdowns, coming close to the record. Josh Allen and Patrick Mahomes also threw 37 and 38 passing touchdowns respectively, and if they keep improving, they could break this record too.
The NFL today is more pass happy, so these players (or some others) could realistically beat all the passing marks set by Peyton Manning.
Rushing Yards (2,105)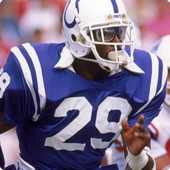 In 1984, Rams' running back Eric Dickerson broke the record for most rushing yards in a single season with 2,105 yards.
Adrian Peterson came the closest to breaking that in 2012 with 2,097.
Just last year, Derrick Henry rushed for 2,027 yards in his incredible season. If Henry could repeat his success, he could potentially break this record.
With the Titans having A.J Brown and Julio Jones, the passing game might open some huge holes for Henry this season.
The NFL today is not filled with as many workhorse running backs as before, so Henry is a true outlier here in being an old school running back.
Not a lot of offenses commit to the run like the Titans, but some other potential players who could break the record include Dalvin Cook, Nick Chubb, or maybe Ezekiel Elliott.
Rushing Touchdowns (28)
Unlike Peyton Manning, Eric Dickerson does not hold the record for touchdowns. That goes to LaDainian Tomlinson in 2006 with 28 rushing touchdowns.
It has become harder to score rushing touchdowns in recent years, as most of the top rushing touchdown seasons have come from the 90s or early 2000s.
Derrick Henry scored 17 last year, but LeGarrette Blount beat that with 18 in 2016 with New England.
With that being said, this record is not untouchable.
If a player has an incredibly efficient season, they could push for this milestone. This may be the hardest record to break on this list thanks to LaDainian Tomlinson's insane 2006 season.
Receptions (149)
The reception record is not a very old one. In 2019, Michael Thomas caught an incredible 149 passes, surpassing Marvin Harrison's 143 from 2002.
ALL 149 catches from @cantguardmike's record-breaking season! ?? pic.twitter.com/ev8bcYkZCd

— NFL (@NFL) March 3, 2020
Michael Thomas won't have Drew Brees to throw to him in 2021-22, and he also is missing time due to injury so we will have to look at some other players.
Stefon Diggs caught the sixth most passes ever in a single season last year with 127 and he could break the record this season. DeAndre Hopkins had 160 targets last season (Diggs had 166), and if he and Kyler Murray can get more on the same page, maybe he can break the record as well.
A true sight to see would be Christian McCaffrey in this category.
A healthy Christian McCaffrey registers tons of receptions out of the backfield. If he were to break the record from the running back position, that would be very special.
Receiving Yards (1,964)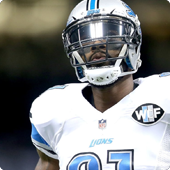 The receiving yardage total is older than the receptions one. Megatron (Calvin Johnson) has this award from his 2012 season. He registered 1,964 yards in the Lions offense and holds the record to this day.
Julio Jones and Antonio Brown had monster seasons in 2015, both getting second and fourth respectively for most receiving yards in a single season. They are in the latter parts of their career now and with different teams, but they still have a chance to get some serious yards.
Stefon Diggs also led the league last year with 1,535 yards and could have a chance at this record as well.
There are a couple of YAC monsters too, so players like Deebo Samuel (health permitting), A.J Brown, and Tyreek Hill could also have some huge seasons this year.
Receiving Touchdowns (23)
Randy Moss has had this record for 14 seasons now.
He caught an incredible 23 touchdowns in 2007, but Davante Adams came pretty close to that with 18 last season. Adams also only played 14 games that season.
If Adams can get a full 17 games in and repeat his success, he could realistically break Moss' record.
The NFL has tons of receiving touchdown threats outside of Adams, but Adams probably has the best chance to do it in a very high-scoring Packers' offense.
Other NFL Records That Could Fall in 2021
Passes Defended (Darrelle Revis, 31, 2009)
Fumbles Forced (3 tied, Mathis, Tillman, Umenyiora)
Passes Completed (Drew Brees, 471, 2016)
The additional week in the 2021 NFL schedule for this season opens opportunities for a lot of records to be broken.
A lot of NFL records require an incredible pace that will be the most challenging part in beating them. There has also been a change of play style from a couple decades ago so some records will remain.
The NFL records above are the most likely to be broken this year, and I think there's a good chance they all fall thanks to that 17th game. Of course, who breaks them – and if they're broken – remains to be seen.
Make sure to check out these NFL articles, as well.