Wynn Poker Room
The Wynn poker room is in its sister property, Encore. It moved from Wynn to Encore in May 2016. Encore hosts 28 tables and is found near the Wynn parking deck bridge entrance. Wynn and Encore are connected by a shopping corridor.
The Wynn/Encore poker room is one of the most luxurious in Las Vegas. It has all the modern amenities one expects in a high-class poker room. This includes phone chargers at the tables, automatic shufflers, tableside food and massages, ample televisions, and restrooms located within the poker room.
The poker room has a tournament series known as the Wynn Classic. It is spread several times a year. It also hosts daily tournaments and a variety of cash games.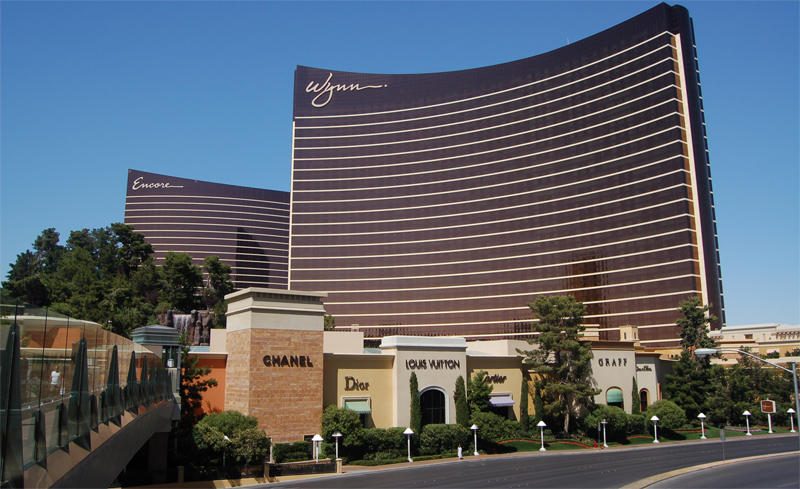 Best and Worst Features of Wynn Poker Room
The Wynn poker room at Encore has many great features. It is modern with a reasonable amount of space between tables. It has experienced dealers and floor people. It has easy access to the Wynn parking deck. The Encore poker room does not take a jackpot drop.
Having to pay to park takes away from the experience. However, players can earn free parking with 75 hours of cash game play or 20 tournament entries in a year. Players with 150 hours of cash game action can get free valet parking. Two hours of cash game action or a tournament entry gets parking validated for the day.
Wynn Cash Games
The main cash games at the Wynn poker room are 1/3 and 2/5 no-limit Hold'em. A 5/10 or higher game appears during busier times. The same can be said of a 1/2 pot-limit Omaha and fixed-limit mixed games.
The buy-in for 1/3 no-limit Hold'em is $100 to $500. The 2/5 game allows buy-ins of $200 to $1,500. The 5/10 no-limit game is uncapped with a $1,000 minimum. Higher-limit games require at least 100 big blinds to enter.
Pot-limit Omaha has a $200 to $500 buy-in. Fixed-limit game players must have at least 10 big blinds to enter the game.
Wynn Poker Rake and Hourly Rate
Wynn rakes 10% up to $5. There is no jackpot drop. Poker players earn $1.50 an hour in comps when clocked in with the Wynn Red Card. These may be used for dining and services anywhere on the Wynn and Encore properties.
Players that enter a tournament or give two hours of cash game action receive free parking. This is automatic when playing 75 cash game hours or entering 20 tournaments in a year when using Wynn's Red Card.
Wynn Poker Tournaments
The Wynn poker room at Encore spreads one daily tournament at noon. It has a $140 buy-in Monday through Thursday. Players start with 10,000 chips and receive 500 extra for buying in before 11 am and being seated by noon. Blinds go up every 30 minutes.
Fridays and Sundays offer a $200 buy-in with $100 re-buys. It has the same structure as the weekday tournaments. It has a $10,000 guarantee.
The Saturday tournament has a $225 buy-in and $25,000 guarantee. It has 10,000 starting chips with 500 bonuses for an 11 am buy-in and noon seating. Unlimited re-buys are available for $200. There's also a $100 add-on. Blinds go up every 40 minutes.
The Wynn Classic is a quarterly tournament series. Buy-ins usually range from $400 to $5,000. Most events are no-limit Texas Hold'em. There may be a pot-limit Omaha tournament or two each series, as well as some mixed games. There is always an event for seniors.
Wynn Poker Promotions
The Wynn poker room does not have much in the way of promotions because it does not take a jackpot drop. Players receive $1.50 an hour when clocked in with their Red Card. These comps may be used at any food outlet, retail store, or the Wynn and Encore spas.
Free parking is awarded to players that sit at a cash game for two hours or enter a tournament. Free self-parking is automatic when playing 75 hours in a year or entering 20 tournaments. Giving 150 hours of cash game action in a year gets free valet parking.
Things to Do at Wynn and Encore When Not Playing Poker
Wynn and Encore are luxurious resorts on the Las Vegas Strip. Each offers fine dining. Tableau, Andrea's, Mizumi, Wing Lei, Cipriani, Sinatra, Costa Di Mare, Lakeside, and SW Steakhouse are the upscale options. There is also a buffet, 24-hour café, and coffee shop, among other quick-serve establishments.
The Encore players lounge is located just outside the poker room. It has a lounge, bar games, and some casino tables in it.
Wynn is home to several entertainment options. Le Reve – The Dream is its nightly production. There are headline musical and comedy acts that visit Wynn. These include Diana Ross, Chris Tucker, and Smokey Robinson.
Wynn and Encore each have a sportsbook. Table games include blackjack, craps, roulette, Three Card Poker, Ultimate Texas Hold'em, baccarat, Pai Gow Poker, and Big 6. Blackjack players that give $25 in action can get a 3:2 payout with double down before and after splitting. The dealer hits soft 17. Craps offers 3-4-5 times odds.
Poker Rooms Near Wynn and Encore
No-limit Hold'em, pot-limit Omaha, and mixed game players should all find a game they like at the Wynn/Encore poker room. However, sometimes you just need a break. If that is the case, there are some options within a short walk.
The Venetian poker room is probably your best bet. It is across Sands Avenue from Wynn. You will find 1/2 and 2/5 no-limit Hold'em games there almost 24 hours a day. There may be a small fixed-limit Hold'em table during promotional afternoons. Venetian spreads two daily tournaments and has the quarterly DeepStack Extravaganza series.
Mirage is across Las Vegas Blvd from Venetian. It has a regular 3/6 fixed-limit Hold'em game and a 1/2 no-limit game. Mirage has four daily no-limit Hold'em tournaments.
Caesars Palace is another option. It spreads 1/2 no-limit Hold'em cash games 24 hours a day. There are five daily tournaments there. The big selling point for Caesars Palace is that its rake caps at $4, and it does not take a jackpot drop.
More Las Vegas Poker Room Reviews