Stratosphere Poker Room
The Stratosphere is on the far north end of the Las Vegas Strip. It is owned and operated by Golden Entertainment. The same company owns several tavern brands in the Las Vegas Valley. It also owns Arizona Charlie's Decatur and Boulder.
The Stratosphere has a small poker room near the front of the casino. There are ten tables spread. Most are reserved for tournaments.
There is little action at the Stratosphere poker room these days. It saw a small bump when Sahara closed in 2011. Unfortunately, that was not sustainable. The room often only has one 1/2 no-limit Hold'em game running, if it even has that.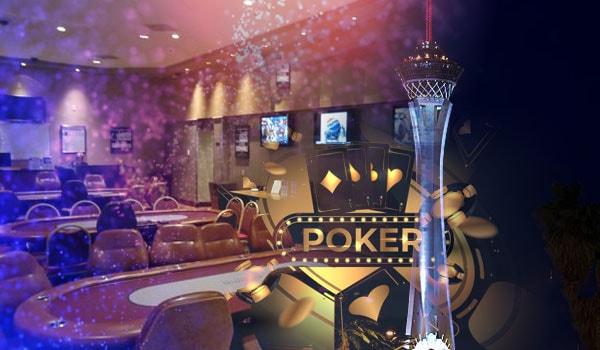 Best and Worst Features of the Stratosphere Poker Room
The Stratosphere poker room is friendly. There is a loyal group of players that makes the games inviting. The same can be said of the staff.
There is little action at Stratosphere. There may be one cash game running, or the room could be dark. It is rare for there to be two or more cash games at the same time.
The Stratosphere poker room is not in the Bravo Poker system. This means you must call to see if there is a game. Tournaments tend to only draw one or two tables.
Stratosphere Poker Cash Games
There is only one cash game at the Stratosphere poker room. It is a 1/2 no-limit Hold'em game. The buy-in range is $50 to $300.
The staff is happy to spread other games if there are enough players.
Stratosphere Poker Rake and Hourly Rate
Stratosphere rakes 10% up to $4. Poker players earn $1 an hour when clocked in with the Ace Play card. This is the loyalty club used by Stratosphere, Arizona Charlie's, and Aquarius in Laughlin, Nevada.
The comps may be used for dining at Stratosphere, tower admission, or comedy club tickets.
Stratosphere Poker Tournaments
Stratosphere offers one poker tournament every day at 7 pm. There is also one at 11 am on Fridays, Saturdays, and Sundays. The buy-in is $75, with $55 going to the prize pool for all these tournaments. The Wednesday night tournament adds a $20 bounty.
Evening tournaments receive free pizza at the break. This has been a tradition at Stratosphere since the poker room opened.
Players start with 10,000 chips. There is a 1,000-chip bonus for players that enter at least 15 minutes before the start of the tournament. Blinds go up every 20 minutes.
Stratosphere Poker Promotions
Stratosphere has several high hand promotions. Players that make four of a kind with a pocket pair win $50. A straight flush using both hole cards pays $100. A royal flush using both hole cards pays $250. High hands pay double when flopped between 11 am and 5 pm.
There is a football promotion for Sunday, Monday, and Thursday night football games. The player with the highest hand during a quarter receives $50. The player must use both hole cards to qualify.
Things to Do at Stratosphere Besides Poker
There are plenty of things to do at Stratosphere outside of the poker room. There is a sportsbook on the property. You will find six-deck $5 blackjack that pays 3:2 at several tables. Players may double down before and after splitting. The dealer hits soft 17.
The LA Comedy Club is the recreation of the Riviera Comedy Club. It includes all the same fixtures, and many of the regular comedians at Riviera perform here. The 6 pm show at LA Comedy Club is Redneck Comedy Magic. At 8 pm, the weekly headliner performs with two other comedians.
At 10 pm Friday through Tuesday, resident headliner Butch Bradley makes guests laugh along with a featured comedian and a host. At 10 pm on Wednesdays and Thursdays, Marsha Warfield of Night Court is the headliner. Steven Roberts hosts. Skillz Hudson is the feature act. Hotel guests and locals receive $20 tickets. There is a $25 all-you-can-drink special for every show. The regular price for tickets is $40.
MJ Live performs at 7 pm nightly. This is a Michael Jackson impersonator that dances to the King of Pop's greatest hits. Tickets start at $57. Hotel guests receive 25% off.
The main attraction of the Stratosphere is the tower. This is where you will find Lounge 107. It is on the 107th floor. There is a two-for-one happy hour daily from 5 pm to 7 pm. Top of the World Steakhouse is also up there. Guests at either of these establishments receive free entry to the tower.
Guests that would like to go to the tower without drinking or eating may pay $20 on weeknights and $25 on weekends for entry. Locals receive access for $14. Hotel guests only pay $5.
There are four thrill rides at the top of the Stratosphere. Sky Jump allows people to jump on a zip line that goes from the top of the tower to the bottom. Tickets are $120, with a surcharge for a wrist camera. Locals and hotel guests receive $20 off.
There are three amusement rides at the top of the Stratosphere. These would be kiddie rides if they were not on the top of the Stratosphere. Instead, they can be frightening.
The Big Shot is a needle on the top of the tower that sends you straight up in the air. Insanity is a claw that takes you over the edge of the tower. X-Scream is an eight-person ride where the car makes riders feel like they are being thrown off the building.
An unlimited ride package costs $40. Locals and hotel guests receive $10 off. This pass does not include Sky Jump.
Poker Rooms Near Stratosphere
There is not much poker action at Stratosphere. It is understandable if you want to check out the tables somewhere else.
There are no other poker rooms within walking distance of Stratosphere. The closest on the Strip is at Encore, Wynn's sister property. You will find no-limit games up to 5/10 blinds, as well as pot-limit Omaha and mixed games. There is a daily tournament at noon.
Golden Nugget is a wild poker room. It is on the Fremont Street Experience in Downtown Las Vegas. The main game is 1/2 no-limit Hold'em. The game has an unlimited buy-in. This makes the games play deep and loose. Golden Nugget has four poker tournaments daily.
Binion's is across the street from Golden Nugget. This is where the World Series of Poker originated. The Binion's poker room has fallen on hard times. At best, you may find a 1/2 no-limit Hold'em game during busy hours. Tournaments often do not get off the ground there.
More Las Vegas Poker Room Reviews