South Point Poker Room
South Point is a locals casino on Las Vegas Blvd just south of the Strip. It has 22 tables. Many of these tables are only for tournaments.
The poker room is located on the south end of the property. Poker players visiting South Point may want to check out the independent sportsbook. South Point is also known for having the best bar-top video poker in Las Vegas. It spreads "No-So-Ugly-Deuces" at the bar in quarter, half-dollar, dollar, and two-dollar denominations.
South Point has grown into a respectable option in the locals poker market. The two closest casinos – Silverton and M Resort – closed poker rooms in recent years. The gives South Point a monopoly in the southern end of the Las Vegas Valley.
South Point launched a licensed Nevada online poker site in February 2014. It was called Real Gaming. It may be the worst online poker platform to ever hit the market. The software failed to even make basic features available to players, such as the ability to sit out, among other glaring bugs.
Real Gaming folded in August 2016. The website still exists, and the interactive gaming license appears to still be valid. However, there are no tables to play games. South Point once advertised this site on its table felts. Those have since been replaced.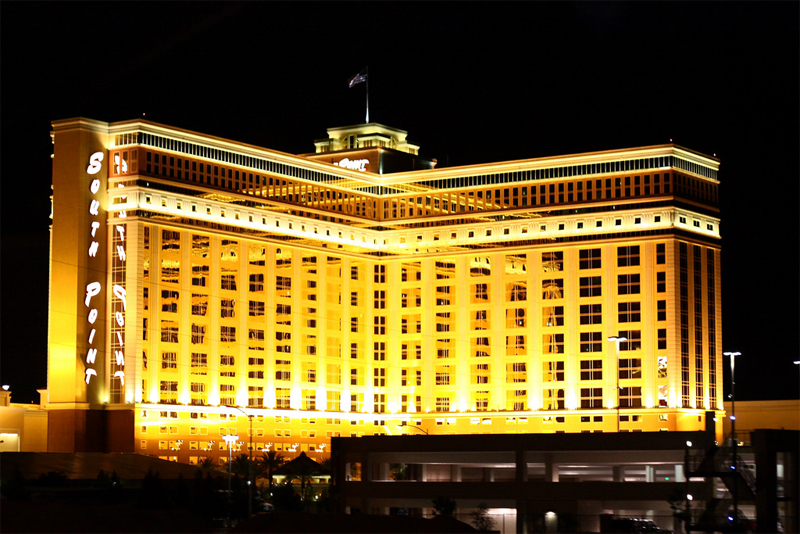 Best and Worst Features of the South Point Poker Room
The South Point poker room is spacious and comfortable. Its dealers are experienced, and there is action most or all hours of the day. The players tend to be friendly. Most are locals with a few tourists coming in now and then. Parking is always free at South Point.
The games can be full of nitty locals, especially during weekday mornings and afternoons. This can take some of the fun away. This is not an issue during busy weekends when California tourists tend to vacation at the property.
South Point Cash Games
The two main games at South Point are 1/2 no-limit Hold'em and 2/4 fixed-limit Hold'em. The no-limit game has a buy-in range of $100 to $300. South Point typically has an equal number of no-limit and fixed-limit games.
There may be a mixed game on certain weekends. This coincides with the poker room's new HORSE tournaments.
South Point Poker Room Rake and Hourly Rate
South Point rakes 10% up to $4 plus a $1 jackpot drop.
Players earn $1 an hour in comps when clocked into a cash game with a The Club players card. This may be used for anything on the property. That includes the hotel, dining, bowling, movies, and shows.
South Point Poker Tournaments
South Point offers a $60 no-limit Hold'em tournament at 10 am daily. The house takes $15 of this for an admin fee.
The daily 2 pm tournament offers something different. On Mondays and Wednesdays, the buy-in is $60 for a bounty tournament. The bounty is $40 with $5 going to the prize pool and $15 to the house. Tuesdays and Thursdays have a $45+$15 fixed-limit Omaha Hi/Lo tournament. The Friday tournament has a double starting stack for $45+$15.
The stakes are raised on the weekends. The Saturday 2 pm event is $100+$30. Players start with 20,000 in chips and get a slow structure. Sundays offer a $100+$20 bounty tournament. The bounty is $75 with $25 going to the prize pool.
The 6 pm tournament also mixes the games up. Monday offers a $100+$25 HORSE tournament. This is a mixed game with a fixed-limit structure. The games are Texas Hold'em, Omaha Hi/Lo, Razz, Seven Card Stud, and Seven Card Stud Hi/Lo. There is a $62+$18 no-limit Hold'em tournament on Tuesdays, Thursdays, Fridays, and Saturdays. These events have a $1,500 guaranteed prize pool.
Wednesdays and Sundays have a $100+$25 deep stack tournament. This is no-limit Hold'em. The guaranteed prize pool is $6,000 on Wednesdays and $9,000 on Sundays.
Part of the juice in the tournaments goes towards high hands. In Texas Hold'em tournaments, four of a kind with a pair in the hand wins $25 cash. A straight flush using both hole cards wins $50. A royal flush using both hole cards wins three times the tournament buy-in. These are all paid in cash.
In Omaha tournaments, a player that makes a straight flush wins $50. A steel wheel (which is a five-high straight flush) and a royal flush receive three times the buy-in.
South Point Poker Promotions
South Point offers high hand bonuses and a seasonal freeroll where players meet certain hourly thresholds to qualify.
There is usually a $200,000 freeroll for players that log in 120 hours during a two-month period. All players receive at least $120 in cash.
Things to Do at South Point Besides Playing Poker
South Point has a large independent sportsbook. Its race section is separate. Bettors receive drink tickets, so you can sit back and enjoy a game and a cocktail.
There are several dining options at South Point. There is a Steak 'n Shake steps away from the poker room. For a finer dining experience, we recommend Don Vito's. It has great Italian food and an upscale atmosphere. The café offers great graveyard specials. Comps earned in the poker room may be used at any South Point dining establishment.
South Point has typical amenities found at a locals casino. There is a movie theater and bowling alley on the property. There is a show almost every night. A free comedy show called the "Dirty at 12:30" is on Friday nights.
Poker Rooms Near South Point
South Point is the only poker room south of the Las Vegas Strip. The ones at Silverton and M Resort closed years ago. The closest poker rooms are at Mandalay Bay and Green Valley Ranch. Mandalay Bay is probably not worth driving to, as it has fewer games than South Point and charges for parking.
Green Valley Ranch may be a nice change of pace. It is also a locals poker room that is well managed. It spreads similar games as South Point. You may even find a 2/5 no-limit Texas Hold'em game there on weekends.
More Las Vegas Poker Room Reviews