Red Rock Resort Poker Room
Red Rock Resort is located in Summerlin. That is in the western rim of the Las Vegas Valley.
It is a high-end locals casino that gets a high number of tourists and convention business when compared to its competitors. This helps keep fresh players in the game along with the regulars that live nearby.
There are 20 poker tables at Red Rock Resort. It hosts the second most popular poker room in the locals market behind The Orleans.
Red Rock Resort is owned by Station Casinos. Other poker rooms operated by the company include Boulder Station, Green Valley Ranch, Palace Station, and Santa Fe Station.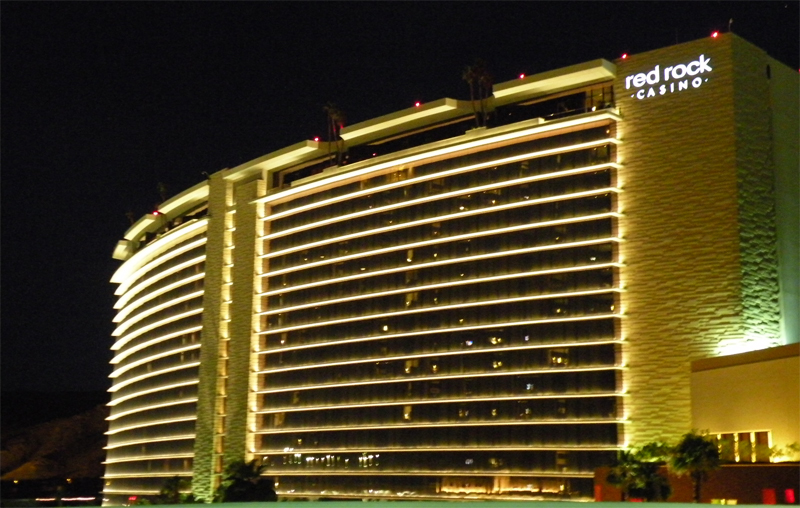 Best and Worst Features of Red Rock Resort Poker Room
Red Rock is a comfortable, modern poker room. It has automatic shufflers. The remodeled sportsbook with a deli is just steps away from the poker room. Bathrooms are located inside the poker room. This is a rare amenity.
Some nights feature tables full of local regulars. This may make the games tight and/or unwelcoming to new players.
Red Rock Resort Cash Games
Red Rock Resort spreads a large number of games, especially for a locals poker room. Players will find 2/4 and 4/8 limit hold'em nearly 24 hours a day.
The same can be said of 1/2 no-limit hold'em, which has a $100 to $300 buy-in range. Peak hours will generate a 2/5 no-limit hold'em game with a $300 to $1,000 buy-in. A 3/5/10 no-limit hold'em game runs on Friday nights. It has a $500 to $3,000 buy-in.
Fixed-limit Omaha Hi/Lo runs off and on at the 4/8 limit. The level of action generally seems to depend on the Omaha promotions at Red Rock Resort and the level of the bad beat jackpot at The Orleans.
A 1/2 pot limit Omaha game or a mixed game may be found from time to time. All these fixed-limit hold'em and Omaha games dealt at Red Rock Resort have a half-kill.
Seven Card Stud Hi/Lo is now spread at Red Rock Resort. The game moved there when Suncoast closed its poker room in 2018. The most popular limit for this game is 4/8.
There is a 2-10 spread limit Seven Card Stud Hi/Lo game on Friday afternoons that is called the "Hoggie." This game has a kill pot when a player scoops a $100 pot. This player must put up a $10 bet on the next hand.
The high card brings in the first bet of $2 in this game. That starts at the king of spades and works its way down by suit and rank until a player has it. This is like Razz in that respect. A high hand must have a pair of aces or better. The low must be at least eight or better.
Red Rock Resort Poker Rake and Comps
Red Rock Resort rakes 10% up to $4. It also has a $1 jackpot drop to fund promotions.
Players clocked into a cash game with the Station Casinos Boarding Pass card receive $1 an hour in comps. This may be used for food, sundries, massages, and other items on the resort property.
Red Rock Resort Poker Tournaments
Red Rock spreads two tournaments daily, except the late one does not run on Fridays. The start times are noon and 6:35 pm. Both are no-limit hold'em. Late registration and re-entry runs through the first four levels.
The noon tournament has a $48+$22 buy-in. Players start with 8,000 chips. Levels go up every 20 minutes. It has a $1,000 prize pool.
The 6:35 pm tournament is held Sunday through Friday. It has a buy-in of $83+$27. Some nights offer a bounty. Players start with 12,000 chips. Levels are 20 minutes. The guaranteed prize pool is $4,500.
The Sunday noon tournament is replaced with a $110+$25 tournament on the first Sunday of the month. Players start with 15,000 chips. Blinds go up every 30 minutes. The guaranteed prize pool is $2,500.
Red Rock Resort Poker Room Promotions
Players that flop quads win $500 on Tuesdays, Thursdays, and Saturdays. On other days, there is a $100 hourly high hand from 2 am to 10 am and $200 other hours on Sundays, Mondays, Tuesdays, and Thursdays.
Omaha promotions run from time to time that often include a progressive for a five-high straight flush, known as a steel wheel, or a royal flush.
A straight flush jackpot goes up $25 per day until it is hit. It does not need to be flopped to qualify. Players that make a royal flush win $250.
There are other hourly promotions for freerolls that change frequently. These are generally freerolls offered to regular players with a guaranteed prize pool or entry into other major events. Some high hand bonuses may include a free entry into a daily tournament.
During hockey season, there is a $100 hot seat every time the Vegas Golden Knights score a goal. All players seated in the room receive one ticket to a drawing. At the end of the month, one lucky ticket wins a pair of tickets to see a Vegas Golden Knights home game.
Things to Do at Red Rock Resort When Not Playing Poker
Red Rock Resort is a large locals casino. It offers many amenities. A state-of-the-art sportsbook is connected to the poker room. This includes a video poker bar with 8/5 Bonus Poker and a quarter progressive jackpot on a royal flush.
There is a movie theater and bowling alley near the poker room. A food court includes Starbucks, Tropical Smoothie Café, Villa Pizza, Rubio's Grill, Fatburger, Capriotti's, and Panda Express.
Players earn $1 an hour in comps when playing cash games in the Red Rock Resort poker room. These may be used at any of these food court restaurants, as well as any others on the property. The movie theater and bowling alley also accept these points.
Other Poker Rooms Near Red Rock Resort
Red Rock Resort is in Summerlin, miles away from any other casino with a poker room. The closest is The Orleans. This is the most popular locals poker room. It spreads 35 tables, 10 of which are in a separate tournament area.
The Orleans is the home to Omaha Hi/Lo in Las Vegas. Players will find 4/8 and 8/16 games regularly. A 15/30 one pops up during peak hours. It is also common to find 2/4 and 4/8 limit hold'em, 1/3 no-limit hold'em, and mixed games. There are two daily tournaments.
Santa Fe Station is another poker room a few miles from Red Rock Resort. The main game there is fixed-limit hold'em. Other common ones include 3/6 Omaha Hi/Lo and 1/2 no-limit hold'em. Santa Fe Station hosts two daily tournaments.
More Las Vegas Poker Room Reviews