Planet Hollywood Poker Room
Planet Hollywood has an 11-table poker room. It is known for loose games and Phamous Poker Series, sometimes referred to as Goliath. The Planet Hollywood poker room offers one of the most festive environments. Its poker tables are connected to the casino's party pit table games.
This poker room is not so much a room as it is an area. It is on the casino floor with little that sets it apart from the table game pits. This gives it high visibility and attracts recreational players. It can also make the room smokier and noisier than if it were walled off.
Planet Hollywood is the only Caesars property on the Las Vegas Strip that has free parking for all. The parking deck is behind the Miracle Mile shops. Access is available from Harmon Avenue.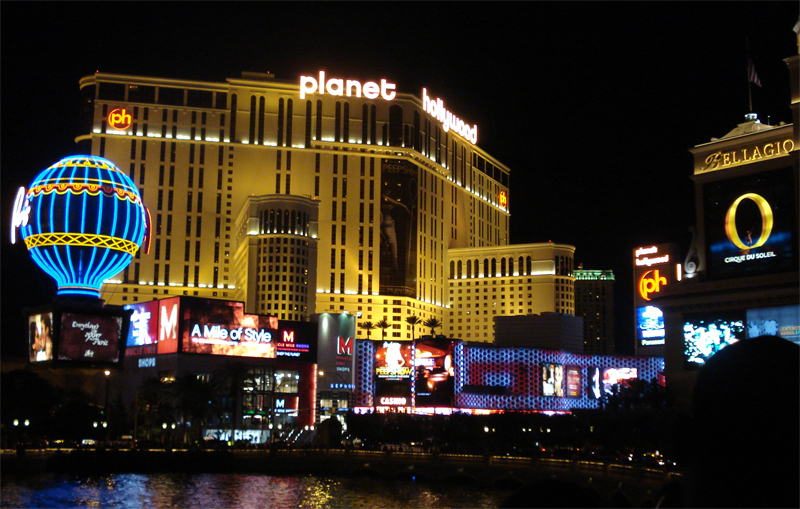 Best and Worst Features of Planet Hollywood Poker Room
The loose games are the best thing about Planet Hollywood. The dealers and floor people do a great job running the games. Planet Hollywood does not charge for self-parking. Its parking deck is owned by the Miracle Miles mall that is connected to the casino.
The open area of the poker room can be an annoyance. On the other hand, it is reasonable to consider the poker room being a part of the party atmosphere at Planet Hollywood as a positive. It is more alluring to passersby.
Planet Hollywood Poker Cash Games
The main game at Planet Hollywood is 1/2 no-limit Hold'em. The buy-in range is $100 to $300. A 2/5 no-limit Hold'em game pops up during some peak hours. The minimum buy-in is $200. It is uncapped.
Planet Hollywood does not typically spread any limit or non-Hold'em games except during its Phamous Poker Series.
Planet Hollywood Poker Rake and Hourly Rate
Planet Hollywood rakes 10% up to $5. It also takes a $1 jackpot drop. Cash game players earn $1 an hour while clocked in with a Total Rewards card.
Comps earned in the Planet Hollywood poker room may be used for food, hotel, or other services at any outlet owned by Caesars Entertainment. These points may also be spent at any other property that accepts the Total Rewards card.
Planet Hollywood Poker Tournaments
Planet Hollywood spreads five daily tournaments. All have a $58+$22 buy-in with a $1,500 guaranteed prize pool. The first-place prize is at least $850. Players start with 12,000 in chips. The levels last 20 minutes. The start times are 10 am, 4 pm, 7 pm, and 10 pm.
The 10 am tournament is replaced with a $102+$33 every Sunday. It is a deep stack with a $7,500 guarantee. The first-place prize is at least $2,000. Players that give 20 hours of live cash game action receive free entry into this event. The starting chip stack is 15,000. A $5 staff appreciation fee adds 5,000 to that. Blinds go up every 20 minutes.
Planet Hollywood is a stop on the World Series of Poker Circuit. It also holds its own Phamous Poker Series, sometimes referred to as Goliath. These tournament series are held on the Mezzanine Level by the "Crazy Girls" theater and Diamond Lounge. There are special cash games during the Phamous Poker Series that include pot-limit Omaha and mixed games.
Planet Hollywood Poker Promotions
Players that give three hours of cash game action between 5 am and 2 pm daily receive a free buffet coupon or a $20 comp at Ringer, the bar and restaurant at the Planet Hollywood sportsbook. A Total Rewards card is required for this promotion.
A player that makes four of a kind receives $50. A straight flush receives $100. A player that makes a royal flush receives $500. Players must use both hole cards to qualify for the high hand promotion. Four of a kind must be made with a pocket pair.
Players that clock in with their Total Rewards card may earn entry into the weekly $135 tournament. This requires 20 cash game hours in the preceding week.
Things to Do at Planet Hollywood Besides Poker
The Planet Hollywood poker room is in the Pleasure Pit. This is a table game area that is a party pit with great music and dealers.
Most of the blackjack games here pay 3:2. It usually takes $15 to get into action at the eight-deck tables. Double down before and after splitting is allowed. Surrender is also permitted. The dealer hits soft 17 at these tables. For $100, you can get this game with six decks where the dealer stands on all 17s.
The sportsbook at Planet Hollywood is small. It has a separate lounge and restaurant area with great views. Deposits and withdrawals for the Caesars Entertainment sports betting app are processed here.
The Miracle Mile Shops is a mall connected to Planet Hollywood. It offers a variety of shopping and dining options. Players that meet the Diamond tier in Total Rewards can access the Diamond Lounge. This is the best one in the Caesars Entertainment system. Higher-end liquor and buffet items are available here.
There are several shows to see at Planet Hollywood. These include Crazy Girls, Xavier Mortimer's Magical Dream, Ilusion Mental, and Criss Angel Mindfreak.
The Miracle Mile Shops has another entertainment center. Its shows include All Shook Up, Aussie Heat, Beatleshow, Hitzville The Show, Las Vegas Live Comedy Club with Edwin San Juan, Nathan Burton Comedy Magic, The Mentalist, Vegas! The Show, and Zombie Burlesque.
The Zappos Theater has revolving music headliners. These include Lionel Richie, the Backstreet Boys, and Gwen Stefani.
Poker Rooms Near Planet Hollywood
The only cash game that runs regularly at Planet Hollywood is 1/2 no-limit Hold'em. If you are looking for something different, you will find it without having to walk very far.
Aria is across the Las Vegas Strip from Planet Hollywood. Its poker room spreads no-limit Hold'em from 1/3 blinds up to 5/10 on a regular basis. It also hosts pot-limit Omaha and mixed games. Aria spreads two no-limit Hold'em tournaments daily.
Bellagio is directly across the street from Planet Hollywood. It has some of the highest-limit action in Las Vegas. No-limit Hold'em games can run up to 10/20 blinds. You will also find fixed-limit Hold'em from 4/8 up to 100/200 with many limits in between. There is also high-limit Omaha and Seven Card Stud Hi/Lo games. Bellagio has a daily no-limit Hold'em tournament at noon.
More Las Vegas Poker Room Reviews