Mirage Poker Room
The Mirage poker room is one of the oldest on the Las Vegas Strip. It was home to some of the highest-limit games in Las Vegas before larger, newer poker rooms took these players away.
Despite this, Mirage still offers a great poker experience in its newly remodeled 12-table poker room. This brought the size of the room in line with today's traffic.
Mirage is one of the last Las Vegas Strip poker rooms with a regular fixed-limit game. It also spreads no-limit, mixed games, and tournaments.
Most of its staff has been working there since the Mirage poker room's peak. This allows players to get professional treatment.
Mirage is creative with promotions that include a splash pot every time the Vegas Golden Knights score a goal. Amenities in the poker room include USB outlets at the table, automatic shufflers, wireless internet, and tableside massages.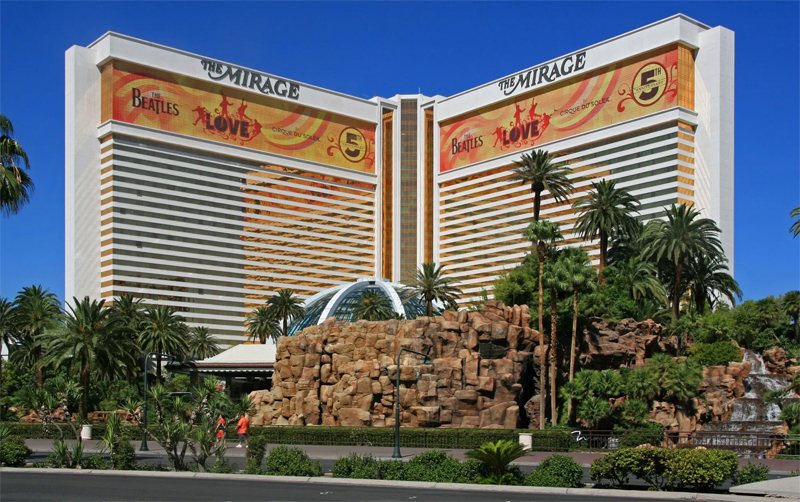 Best and Worst Mirage Poker Room Features
The experienced dealers and management at Mirage make for a great experience that is always efficient. The tournaments have a decent structure and tend to have loose players. The 3/6 fixed-limit Hold'em game almost always runs. Mirage dealers will spread any game if there is interest, including unusual draw and stud ones.
The $2 jackpot drop is excessive. Having to pay to park if you are not a regular is annoying.

Top Tip
Park at Treasure Island and walk or take the tram over if the parking fees are keeping you away from Mirage.
Mirage Poker Cash Games
The Mirage poker room spreads two regular games. One is 1/2 no-limit Hold'em. Players may buy in from $100 to $300. There is also a regular 3/6 limit Hold'em game. A 2/5 no-limit Hold'em table with a $200 to $1,000 buy-in may pop up on a weekend night. Mirage is also known to spread low-limit mixed games.
Mirage Poker Rake and Hourly Rate
Mirage rakes 10% up to $5 from its cash games. The poker room also takes up to $2 for a promotional drop.
Mirage gives cash game players $2 an hour when clocked in with an MLife card. The comps may be used for food and other services on the property. Mirage poker comps may not be transferred to other MGM Resorts casinos.
Mirage Poker Tournaments
Mirage offers four no-limit Hold'em tournaments daily. The start times are 11 am, 2 pm, 7 pm, and 10 pm.
The largest tournament of the week is held on Friday, Saturday, and Sunday. The buy-in is $92+$28. Players start with 25,000 chips. The starting level is 200/400. Blinds go up every 25 minutes. Players may re-enter and late register during the first four levels of the tournament.
The 2 pm tournament on Wednesday and Thursday, as well as the 7 pm on Wednesday, Friday, and Saturday, is a $75+$25 with a $25 bounty. Players start with 15,000 chips. The first level is 100/200. Blinds go up every 25 minutes.
The 11 am tournament Monday through Thursday, 2 pm tournament Friday through Tuesday, the 7 pm Sunday, Monday, Tuesday, and Thursday, and all 10 pm tournaments have a buy-in of $47+$18. Players start with 10,000 chips. The first level is 50/100. Blinds go up every 20 minutes.
Mirage Poker Promotions
Mirage offers several promotions for its $2 jackpot drop. Players earn $2 in comps when clocked into a cash game with an MLife card. There is a $50 splash pot every time the Vegas Golden Knights score a goal.
There is usually an aces cracked promotion at different times during the day, often during the morning and afternoon. A losing pair of pocket aces wins $75 if the colors do not match and $150 if the aces are the same color.
A player that loses four of a kind or better hits a bad beat jackpot. The winning and losing hand must use both hole cards.
High Hands
A player that makes four of a kind wins a cash bonus. This promotion runs 24 hours a day.
Four of a kind pays $100. A straight flush wins $200. A royal flush wins $500. A high hand must use both hole cards to qualify.
Things to Do at Mirage Besides Playing Poker
Mirage offers the amenities that are typical of a Las Vegas Strip resort. There are three resident shows at Mirage. Cirque du Soleil's The Beatles Love and Terry Fator perform most nights of the week. The Aces of Comedy has rotating headliners that include Daniel Tosh, Bill Maher, Tim Allen, David Spade, and Ray Romano.
There are many dining options on the property. Heritage Steak, LVB Burger Bar, California Pizza Kitchen, and Cravings Buffet are among the choices available.
Mirage offers good six-deck blackjack games for players willing to bet $25 or higher. Double down before and after splitting is permitted, as well as surrender and re-split aces. The dealer hits soft 17. For $100, players get a game where the dealer stands on all 17s. Another $100 option is double deck blackjack that allows double down before and after splitting. The dealer stands on all 17s.
Poker Rooms Near Mirage
If there is not enough action at the Mirage poker room for you, or you just need a break, there are several great poker rooms within walking distance. The Venetian poker room is directly across Las Vegas Blvd. You will find many 1/2 and 2/5 no-limit Hold'em games there. Venetian also spreads two daily tournaments.
The Wynn poker room at Encore has 1/3 to 5/10 no-limit Hold'em, as well as pot-limit Omaha and mixed games. It has a daily tournament at noon. Caesars Palace is next door to Mirage. It has 1/2 and 2/5 no-limit Hold'em. The best part about Caesars Palace is that it caps the rake at $4 and does not have a jackpot drop. There are five daily tournaments there.
Other small poker rooms around Mirage include Harrah's and Flamingo. Both offer 1/2 no-limit Hold'em and several daily tournaments. Flamingo also has a regular 2/4 fixed-limit Hold'em game.
More Las Vegas Poker Room Reviews