MGM Grand Poker Room
The MGM Grand poker room is located towards the front of the casino, near the exit to the Tropicana Avenue walkway. It hosts 13 tables.
The poker room at MGM Grand is not as popular as it once was. A forced move to the new location from an area with more foot traffic may have contributed to this.
Lower volume caused MGM Grand to introduce jackpot promotions and a drop for it that was unpopular among some regulars. It later raised the max rake to $5.
The new location, higher rake, and new jackpot drop further deteriorated MGM Grand's poker room traffic. It went from one of the busiest in the city to one that few cared about visiting on Las Vegas trips. It was never able to turn this around.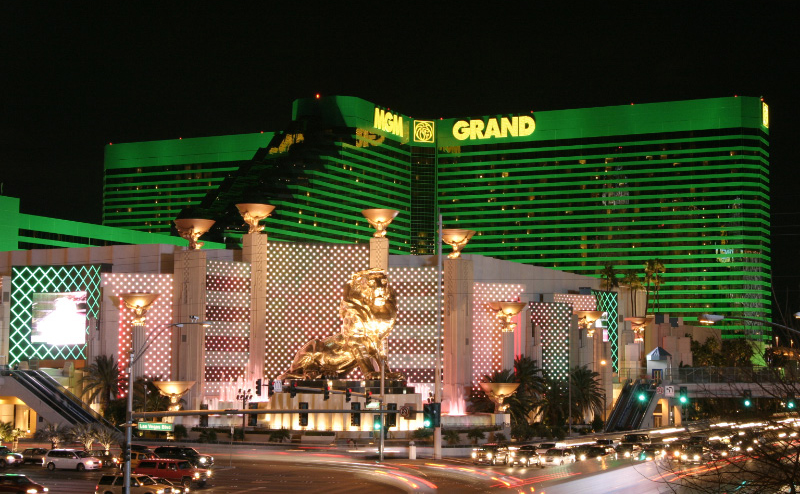 Best and Worst MGM Grand Poker Room Features
The MGM Grand poker room is comfortable in terms of size and space between tables and is managed professionally. It usually has a game 24 hours a day.
There are far fewer games than there were in the old room. Having to pay to park is another downside. The $5 rake plus $2 jackpot did not help retain poker players. This caused traffic to drop considerably from its peak years.
MGM Grand Poker Room Cash Games
Poker players will find 1/2 no-limit Hold'em games 24 hours a day. The buy-in range is $100 to $300. A 2/5 no-limit Hold'em game is often found during peak hours. Buy-ins from $200 to $1,000 are accepted.
The fixed-limit Hold'em games have virtually dried up at MGM Grand. There is an occasional low-limit mixed game.
MGM Grand Poker Rake and Hourly Rate
MGM Grand rakes 10% up to $5. The jackpot drop is $2. Players earn $1 per hour when clocked in with an MLife card at a cash game. This rate applies to fixed-limit and 1/2 no-limit games. Higher-limit cash games earn $2 an hour.
Comps may be used at food outlets on the property. They may not be transferred to other casinos owned by MGM Resorts.
MGM Grand Poker Tournaments
MGM Grand offers four daily tournaments. All are no-limit Hold'em.
The buy-in at 11 am and 7 pm is $71+$29. The 11 am tournament has a $2,000 guaranteed prize pool. The 7 pm one has a $1,000 guarantee. Players start with 10,000 chips. The first level is 25/50. Levels go up every 15 minutes for the first nine and every 20 minutes after that.
The 2 pm and 10 pm tournaments have a $44+$21 buy-in and $500 guarantee. Players start with 10,000 chips at the 25/50 level. Blinds go up every 10 minutes. This is a super turbo tournament when compared to the 11 am and 7 pm structures.
MGM Grand Poker Promotions
MGM Grand's poker room offers several promotions. Players that flop four of a kind with a pocket pair receive an instant cash prize. It is $599 for quad twos through nines. All other four of a kind hands win $299. This promotion runs Monday through Friday nights from 8 pm to 4 am.
Players that make any full house or better when using both cards from 4:30 to 6:30 in the morning or afternoon receive a ticket to a drawing. Each shift has a $200 winner.
The Grand Pyramid promotion picks three special pocket pairs each week. If you make a full house with it, you win anywhere from $100 to $3,000. Players at 2/5 no-limit tables win double the amount for most prizes.
The MGM Grand poker room offers hourly point payouts to players. Cash game players can earn up to $599 by placing in the top ten for a shift. The hours for each separate promotion are 10 am to 6 pm, 6 pm to 2 am, and 2 am to 10 am.
There are many sports promotions available, depending on the time of year. Football season has drawings for hot seats every time there is a score on a national game.
Things to Do at MGM Grand When Not Playing Poker
The MGM Grand sportsbook is across from the poker room. This sportsbook is on the smaller side for a Las Vegas Strip resort. It accepts deposits and withdrawals for the MGM Resorts sports betting app. You can hang out there and watch a game, enjoying food and drink service from your seat.
Other gaming options include table games and slots. Blackjack players will find $25 tables that pay 3:2 on a natural. Double down before and after splitting, as well as re-split aces and surrender, are offered at these tables. This game hits soft 17. For $50 or $100, depending on the time and day, you can get this game where the dealer stands on all 17s.
There are several shows at MGM Grand. Cirque du Soleil's Ka is performed here. Jabbawockeez and Brad Garrett's Comedy Club are also on the property. The Level Up Lounge has many arcade-style games and dozens of televisions.
There are many restaurants on the property. Upscale options include Craftsteak, Morimoto Las Vegas, Joel Robuchon, and Crush. There is also a food court and buffet at MGM Grand.
Poker Rooms Near MGM Grand
If you need a break from MGM Grand's poker room, there are several other options in the area. Excalibur is diagonally across the Las Vegas Strip from MGM Grand. It spreads 1/2 no-limit Hold'em and 2-6 spread-limit Hold'em. Mandalay Bay is accessible by the tram in front of Excalibur. It spreads 1/2 no-limit Hold'em. Excalibur and Mandalay Bay spread several daily no-limit Hold'em tournaments.
If you are looking for higher-limit action, Aria is about a 10-minute walk through Park MGM. That poker room offers 1/3, 2/5, and 5/10 no-limit Hold'em. It also spreads pot-limit Omaha and mixed games. There are two daily no-limit Hold'em tournaments at Aria.
Bellagio is home to high-limit poker action in Las Vegas. You will find no-limit games up to 10/20 on a regular basis there. Fixed-limit Hold'em runs from 4/8 up to nosebleed levels. There is also high-limit Seven Card Stud Hi/Lo and Omaha Hi/Lo. Bellagio spreads a daily no-limit Hold'em tournament and seasonal poker series.
More Las Vegas Poker Room Reviews