Mandalay Bay Poker Room
Mandalay Bay is on the south end of the Las Vegas Strip. The resort is known for its convention business.
The number of tables running and quality of the games can depend solely on the volume of conventioneers staying on the property. This was exacerbated when Mandalay Bay started charging locals to park there. Las Vegas residents tend to avoid properties that charge for parking.
The Mandalay Bay poker room spreads ten tables. It is located right next to the sportsbook. This is a nice feature for players that want to make a bet on a game or horse while at the poker tables.
Each seat has a USB port. Tables have automatic shufflers and Bravo Poker waitlists. Players may order food and have it delivered to their seat in the poker room.
Comps earned in cash games may be used for tableside service or at any other dining establishment on the property.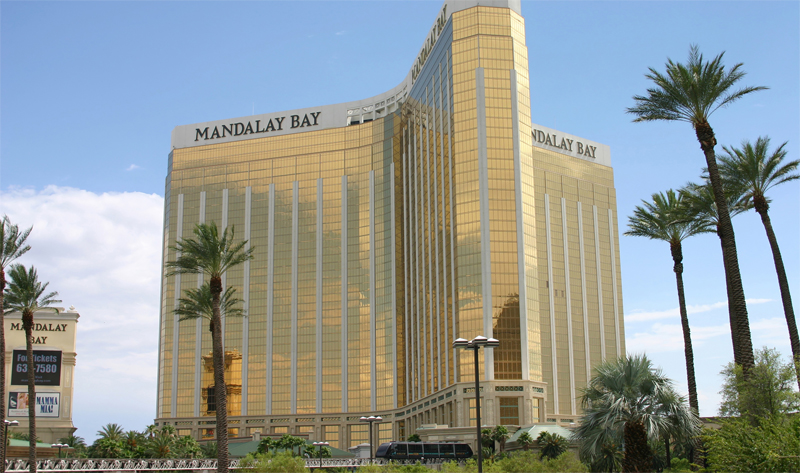 Best and Worst Features of Mandalay Bay Poker Room
The televisions from the sportsbook may be seen from many seats in the poker room. The ticket counters are convenient as well.
Mandalay Bay often takes a $2 jackpot drop. It is also unfortunate that parking must be paid for, and the parking deck and tram are a long walk from the poker room. There is usually only a 1/2 no-limit Hold'em game running.
Mandalay Bay Cash Games
The only regular cash game found at Mandalay Bay is 1/2 no-limit Hold'em. It has a buy-in range of $100 to $300.
A 2/5 game with buy-ins of $200 to $2,000 may run on weekends, though this is rare.
Mandalay Bay Poker Rake and Hourly Rate
Mandalay Bay rakes 10% up to $5. It also takes a $2 jackpot drop to fund promotions.
Cash game players clocked in with an MLife card receive $2 an hour in comps that may be used at many outlets on the property.
Some outlets will deliver directly to the poker table. Players that give 75 hours of cash game action in a year receive free parking.
Poker comps may not be transferred to other MGM Resorts casinos.
Mandalay Bay Poker Tournaments
Mandalay Bay offers three tournaments daily. The times are 11 am, 3 pm, and 10 pm. The buy-in is $45+$20.
All tournaments are no-limit Hold'em. Players start with 10,000 chips. Blinds start at 100/200. Blinds go up every 15 minutes. Late registration lasts through the first four levels. There are no guaranteed prize pools for these tournaments.
This structure is a turbo format. The starting level is much higher than most other tournaments with a similar chip stack. Levels go up every 15 minutes when competitors often have 20-minute blinds. Players should consider the format when paying $20 in juice to enter.
Mandalay Bay Poker Promotions
A high-hand bonus runs 24 hours a day. The player must use both hole cards to qualify. The payouts are as follows.
Full house jacks or better: $50
Four of a kind: $100
Straight flush: $300
Royal flush: $500
There is also a $150 high hand every hour.
Players receive one point for every hour of cash game action from midnight to 4 am Monday through Thursday and midnight to 10 am on Fridays, Saturdays, and Sundays.
The top three players receive a prize. First place is $550. Second place wins $350. The third-place finisher in graveyard points takes home $150.
Things to Do at Mandalay Bay Besides Playing Poker
Mandalay Bay is a luxurious resort. It offers many of the amenities other upscale properties have. This includes a spa and two pools.
The sportsbook is just steps away from the Mandalay Bay poker room. Deposits and withdrawals for the MGM Resorts sports betting app may be made here. You can also take in a game here and enjoy drink service at your seat.
Blackjack players will find tables with a 3:2 payout on bets of $25 or more. Double down before and after splitting is accepted. Players may surrender on any two cards after the dealer checks for blackjack. Aces may be split up to four times. The dealer hits soft 17 in this game.
For $100, players will find these rules where the dealer stands on all 17s. There is also a $200 double-deck blackjack game with double down before and after splitting. The dealer stands on all 17s at this table, too.
Mandalay Bay is full of fine dining options. Choices include Libertine Social, Rivea, Red Square, Aureole, Charlie Palmer Steak, Stripsteak, Lupo, Border Grill, Della's Kitchen, Foundation Room, and Fleur. There is also a buffet and food court.
Poker Rooms Near Mandalay Bay
The 1/2 no-limit Hold'em games may not be what you are looking for, or maybe you just need a break from them. There are a few poker rooms in the area to consider.
The Excalibur poker room is a short walk through the corridors. Go up the escalators from Mandalay Bay to the Luxor ones. Walk across the Luxor casino floor, and Excalibur is down that corridor.
Alternatively, you can take the tram from Mandalay Bay to Excalibur. Its station is outside. Enter the casino and walk across the casino floor. The Excalibur poker room spreads daily tournaments. Its cash games are 1/2 no-limit Hold'em and 2-6 spread-limit Hold'em.
MGM Grand is a bit farther than Excalibur in that direction. It requires crossing Las Vegas Blvd and Tropicana Avenue. Take the tram to Excalibur to save some walking. MGM Grand spreads 1/2 and 2/5 no-limit Hold'em. It hosts two no-limit Hold'em tournaments a day.
South Point is a locals poker room a few miles south of Mandalay Bay on Las Vegas Blvd. It hosts two daily tournaments. The cash games there are 1/2 no-limit Hold'em and 2/4 fixed-limit Hold'em.
More Las Vegas Poker Room Reviews