Harrah's Las Vegas Poker Room
Harrah's is located between the LINQ and Casino Royale on the Las Vegas Strip. Its poker room is at the front of the property beside the table games pit. There are seven poker tables at Harrah's Las Vegas.
The Harrah's poker room only spreads one game with any regularity. That is 1/2 no-limit Hold'em. It spreads five daily tournaments, each with the same format.
There is little special about the Harrah's poker room. It is a typical poker room in a value casino on the Strip. Tables have automatic shufflers, phone chargers, and free wireless internet.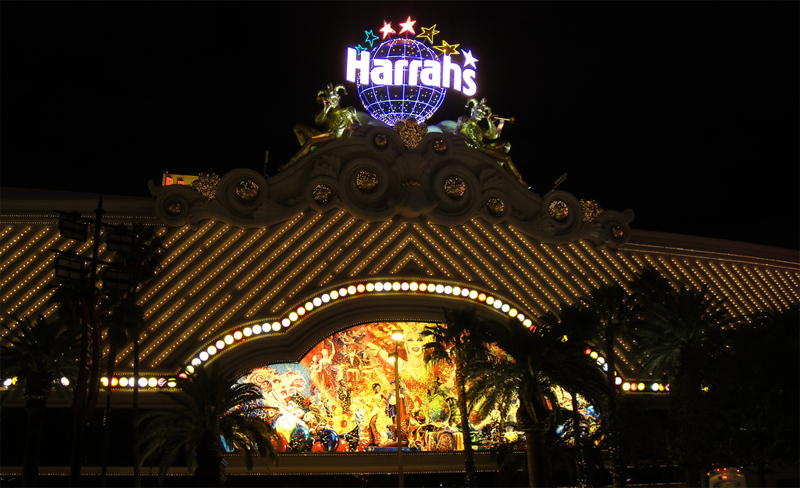 Best and Worst Features of Harrah's Poker Room
The games at Harrah's tend to be looser than average, especially later at night. Its staff is experienced. The poker room is well managed.
The cash game rake is too high. The rake on its tournaments is $24 on a $65 buy-in plus a $5 staff appreciation chip.
Locals will not like getting hit with parking fees. Platinum or higher in Total Rewards gets free parking. This requires 75 hours of cash game action in a year.
Harrah's Poker Room Cash Games
The main cash game at Harrah's is 1/2 no-limit Hold'em. Buy-ins from $100 to $300 are permitted. There may be a 2/3 no-limit Hold'em cash game during busier times. The buy-in for this game is $200 to $500.
Harrah's Poker Rake and Hourly Rate
Harrah's rakes 10% up to $5. It also takes a $1 jackpot drop.
Players earn $1 an hour in comps when clocked into a cash game with a Total Rewards card.
These comps may be used at any Caesars Entertainment property, even outside Las Vegas.
Players that give 75 hours of cash game action during a year achieve the Platinum tier in Total Rewards. This gives players free parking at all Caesars Entertainment properties.
Harrah's Poker Tournaments
Harrah's hosts five poker tournaments daily. The start times are 9 am, noon, 3 pm, 7 pm, and 10 pm. Each has a $41+$24 buy-in. This does not include the $5 staff appreciation fee that gives players 50% more chips.
The tournament rake is among the worst in Las Vegas on a percentage basis. There is a $500 guarantee for each tournament.
The standard 7 pm tournament is replaced on Friday and Saturday with a $70+$30 bounty tournament. There is a $25 bounty on each player. The guaranteed prize pool is $1,000. Players start with 10,000 in chips. Blinds go up every 20 minutes.
Tournament players start with 5,000 chips. The first level is 25/50. Blinds go up every 20 minutes.
Harrah's Poker Promotions
Harrah's offers several promotions related to poker tournaments spread in Las Vegas, including the Colossus and World Series of Poker. Seats are awarded in freerolls players enter by playing a set number of hours per week or month. The prize pool tends to be between $10,000 and $15,000.
There is a high-hand promotion. Four of a kind pays $50. A straight flush wins $150. A player that makes a royal flush receives $300, as well as half of the royal flush progressive promotion. There is a $25 splash pot after every high-hand payout. Promotions are funded through a jackpot drop.
Things to Do at Harrah's When Not Playing Poker
Harrah's has several lounges. These options include Harrah's Las Vegas Piano Bar, Numb Bar Frozen Cocktails, Carnaval Court, and Signature Beer Bar.
Dining options include Ruth's Chris Steak House, Toby Keith's I Love This Bar & Grill, an oyster bar, Flavors Buffet, and Fulton Street Food Hall. Diamond and Seven Stars players will find one of the better VIP lounges in the Caesars Entertainment family at Harrah's Las Vegas.
Harrah's has a small sportsbook. This is on the south end of the property. Table game players will find 3:2 blackjack for $15. This game allows double down before and after splitting, as well as surrender. The dealer hits soft 17. For $100, players can head to the high-limit salon and get this game that stands on all 17s.
Craps and roulette have $10 minimum bets. Craps odds are 3-4-5 times. The Field pays double on 12. Roulette is spread with two or three zeros. We recommend double zero, as the house edge is about 2.5% lower.
The video poker quality is about average for the Las Vegas Strip. The best game below the $25 denomination is 7/5 Bonus Poker. This has a return of 98% with perfect play and five coins. It is available in $1, $2, and $5 denominations.
Poker Rooms Near Harrah's Las Vegas
The Harrah's poker room usually only has a 1/2 no-limit Hold'em game. This may not be enough table selection for some players. The casino is located near the center of the Las Vegas Strip. Many poker rooms are a short walk away.
Venetian is the next major casino north of Harrah's on the Strip. It hosts 37 poker tables. You will find 1/2 and 2/5 no-limit Hold'em there 24 hours a day. You may even find a higher-limit one or pot-limit Omaha if it is busy enough. Promotional periods see a small fixed-limit game. There are two no-limit Hold'em tournaments daily at Venetian. The Deep Stack Extravaganza is a quarterly tournament series there.
Caesars Palace is across from Harrah's. Its main attraction is a $4 max rake with no jackpot drop. The main game there is 1/2 no-limit Hold'em. Caesars Palace hosts five daily tournaments.
Mirage is also across from Harrah's. It spreads 1/2 no-limit Hold'em and 3/6 fixed-limit Hold'em. There are four daily tournaments at Mirage.
Flamingo is a short walk south on the Strip. You will find six daily tournaments. The latest starts at midnight. The cash games at the Flamingo poker room are 1/2 no-limit Hold'em and 2/4 fixed-limit Hold'em.
If you are looking for high-limit games, Bellagio is your best bet. You will find no-limit games up to 10/20 blinds running about 24 hours a day. There are also high-limit Omaha, Seven Card Stud Hi/Lo, mixed, and fixed-limit Hold'em games.
More Las Vegas Poker Room Reviews