Golden Nugget Poker Room
Golden Nugget is the only major poker room left in Downtown Las Vegas.
This decade has seen the demise of poker rooms at El Cortez, The D, and Plaza. The Binion's poker room traffic collapsed to the point that the casino abandoned its poker room and tournament area and moved a few tables to its table game pit. This left Golden Nugget as the only relevant poker room on Fremont Street.
The Golden Nugget is best known for its no-cap no-limit Hold'em games. These can be wild tables, especially on weekends.
It spreads the Grand Poker Series every summer with a variety of games on the schedule. This is held in convention space, as the normal 13 poker tables hosted by Golden Nugget cannot handle the capacity of the Grand Poker Series.
Golden Nugget tables offer automatic shufflers, phone chargers, and free Wi-Fi. Golden Nugget validates parking for players.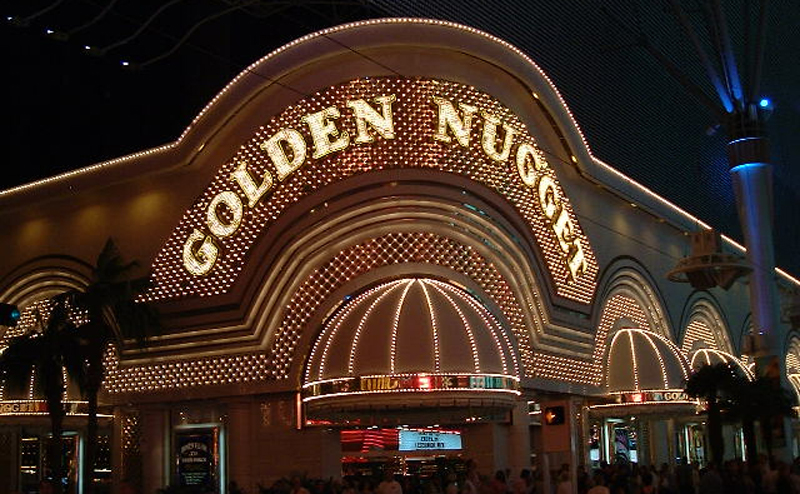 Best and Worst Features of Golden Nugget Poker Room
There is no cap on its cash game buy-ins. This includes no-limit tables. This makes the games play deep. The tables can be full of action because of this. The Golden Nugget poker room is well managed. The dealers are all experienced.
The room can feel a bit cramped when it is busy. The bathrooms and sportsbook are not convenient.
Golden Nugget Cash Games
There are only two cash games spread with any regularity at Golden Nugget's poker room. One is a 2/4 fixed-limit Hold'em game. The other is 1/2 no-limit Hold'em with a $100 minimum buy-in. There is no maximum.
Players sometimes buy into these games with $1,000 or more. Be prepared for that when considering whether to play and how many chips to buy. The deep tables explain why there are no regular games above the $1 and $2 blinds.
Golden Nugget Rake and Hourly Rate
Golden Nugget rakes 10% up to $4. There is also a $1 jackpot drop.
Golden Nugget gives cash game players $2 an hour in comps when clocked in with the casino's 24 Karat players club card. This may be used for hotel bills or any restaurant owned by Landry's in the world.
Golden Nugget Poker Tournaments
There are four poker tournaments held daily. There is a $51+$19 at 11 am (except Sunday) and 7 pm. It starts with 10,000 in chips and has 20-minute levels. There is a $33+$17 daily at 3 pm and 10 pm. This tournament starts with 5,000 in chips and has 20-minute levels.
The major weekly tournament is on Sunday at 11 am. It has a $100+$25 event with a $5,000 guaranteed prize pool. Players start with 15,000 in chips. Levels go up every 20 minutes for the first eight levels and every 30 minutes after that.
Golden Nugget hosts a tournament series every summer. It is called the Grand Series of Poker. Each day has at least two tournaments. One is always no-limit Texas Hold'em. The other may be as well. However, there is often a non-Hold'em game.
These include mixed games, Seven Card Stud, Seven Card Stud Hi/Lo, pot-limit Omaha, Omaha Hi/Lo, and draw games. The Grand Series of Poker buy-ins run from $150 up to $1,100. Most are one-day events.
The Golden Nugget poker room is not large enough to accommodate the Grand Poker Series. It is held in the Grand Ballroom by the Rush Tower.
Golden Nugget Poker Promotions
Golden Nugget offers progressive high hand promotions. There are separate prize pools for royal flushes and straight flushes by suit. Every four of a kind has its own progressive payout.
There is a bad beat jackpot that triggers when a player loses four of a kind or better. Both the winning and losing hand must use both hole cards. The progressive jackpot starts at $10,000.
Things to Do at Golden Nugget Besides Playing Poker
Golden Nugget offers a large casino. Many of the games have a $5 minimum bet. There are plenty of blackjack tables that pay 3 to 2. Make sure to avoid the 6 to 5 ones.
We recommend avoiding the video poker there, as it is well below average for Downtown Las Vegas.
Golden Nugget operates an independent sportsbook. For video poker, walk to Plaza, El Cortez, or Main Street Station. Each of these casinos spread games that return over 100%.
If you are looking for something to do besides gambling, Golden Nugget hosts several great restaurants. Chart House is our favorite. Vic & Anthony's Steakhouse is another good option. Grotto is a great casual Italian joint.
Golden Nugget has the best pool in Downtown Las Vegas. You can swim with the sharks there. It also has a waterslide and other amenities.
The Fremont Street Experience is just outside Golden Nugget. It has bars in the street. There are nightly musical acts. The Viva Vision screen has a light show at the top of every hour during the evening hours.
Poker Rooms Near Golden Nugget
Golden Nugget is the best poker option in Downtown Las Vegas. Its 13-table room is full of action 24 hours a day. If you need a break from it, you can check out the poker room at Binion's across Fremont Street.
Unfortunately, the Binion's poker room has seen better days. It got so slow over there that the poker tables were moved to the rear of the table game pit. There are six cash game tables, though they typically do not need more than one. The only game spread is 1/2 no-limit Texas Hold'em.
Most daily tournaments at Binion's only draw one or two tables, if they get off the ground at all. The summer poker tournament season gets more action. This is when you may find five to ten tables. This series, known as the Dog Days of Summer, spreads a variety of games.
About half of the tournaments are no-limit Hold'em. There is a variety of non-Hold'em games throughout the summer. Those include pot-limit Omaha, fixed-limit Omaha Hi/Lo, as well as some stud and draw games.
Golden Nugget and Binion's are the only two poker rooms still operating in Downtown Las Vegas. The next closest is at Stratosphere. It is about as slow as Binion's these days and probably not worth the trip.
More Las Vegas Poker Room Reviews