Flamingo Poker Room
The poker room at Flamingo on the Las Vegas Strip is one of the oldest in the city.
This classic poker room has a feel of being in Downtown Las Vegas. The same can be said of the entire property. Its owner, Caesars Entertainment, has kept the original pink theme alive to this day. There are even flamingos in the pool area.
Flamingo is great for low-limit action. This includes small fixed and no-limit games. Tournaments have small buy-ins that run late.
It is one of the few poker rooms left on the Las Vegas Strip that spreads 2/4 fixed-limit Texas Hold'em. Most poker rooms only offer no-limit games these days.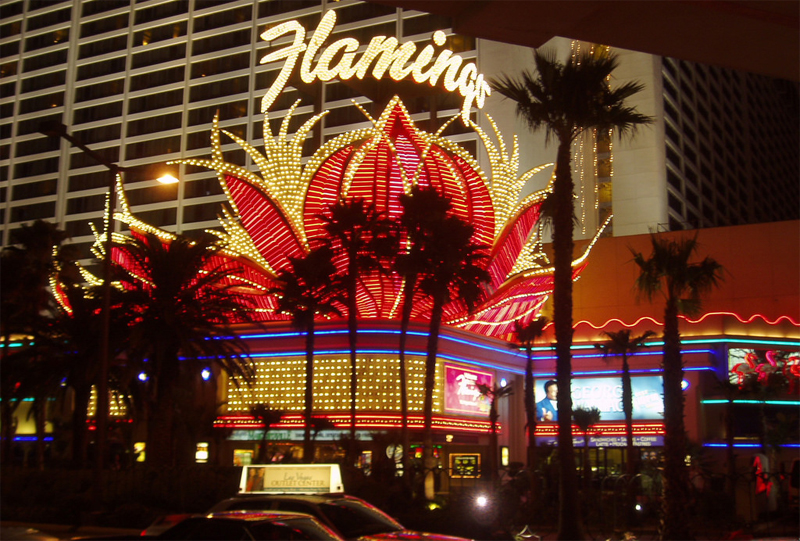 Best and Worst Features of Flamingo Poker Room
The best feature of Flamingo's poker room is its classic environment. It has some modern amenities as well. There are also loose games and tournaments. It spreads the latest tournament on Las Vegas Blvd. It starts at midnight daily.
Players looking for higher-limit games will not like the selection. It is mostly low stakes. Locals looking to park will need to be at least Platinum tier in Total Rewards to avoid parking fees.
It is difficult to think playing low-limit games is worth having to pay to park there. However, Flamingo offers perks to loyal players that help offset some of this.
Flamingo Cash Games
There are two cash games spread at Flamingo.
There is 2/4 fixed-limit Hold'em and 1/2 no-limit Hold'em. The 1/2 buy-in range is $100 to $300.
There are usually several of each running during busier hours of the day.
Flamingo Rake and Hourly Rate
Flamingo rakes 10% up to $5 plus a $1 jackpot drop.
Cash game players clocked in with a Total Rewards card earn $1 an hour in comps. This may be used at any Caesars Entertainment property.
Flamingo Poker Tournaments
Flamingo offers six daily tournaments. There is a $45+$20 tournament offered at 10 am, 1 pm, 9 pm, and midnight. The midnight tournament is the latest one in Las Vegas. These tournaments have an $800 guaranteed prize pool, except the 10 am, which has a $600 one.
There is a $39+$16 tournament at 4 pm. At 6 pm, there is a $60+$20.
Players start with 20,000 chips in all tournaments. Blinds start at 100/200 and go up every 10 minutes in the 4 pm turbo and 15 minutes in all other tournaments. Late registration is available until the start of level five.
Flamingo Poker Room Promotions
Flamingo offers several poker promotions. High hands run 24 hours a day. Four of a kind pays $50, $100 if flopped. A straight flush pays $200. A royal flush wins $500. Players must use both hole cards for all jackpot hands. A special hand is chosen daily and wins $300 when made. The best full house of the hour receives $50 from 9 am to 11 pm daily.
If a player loses four of a kind or better, a $5,000 bad beat jackpot is paid. The loser of the hand gets $3,000. The winner receives $1,000. There is a $1,000 table share. All players involved in the hand must use both hole cards to qualify.
Players that give at least 13 hours of cash game action in a week receive entry into a $10,000 freeroll. It is held every Friday at 10 am. The payouts are:
1st place to 20th place: $400 each
21st place to 40th place: $200 each
This tournament often chops. This may even happen before the first hand is dealt.
Monthly Player Appreciation Tournament
Cash game players that give at least 70 hours of action in a month enter a $40,000 freeroll. It is held at 10 am on the first Monday of the month. The payouts are as follows.
1st: $10,000
2nd: $5,000
3rd and 4th: $3,000 each
5th-7th: $1,500 each
8th-10th: $1,000 each
11th-20th: $600 each
21st-30th: $300 each
31st and higher: $150 each
All players are guaranteed to win at least $150. This tournament also tends to end in a chop among many players.
Things to Do at Flamingo When Not Playing Poker
Flamingo is in the heart of the Las Vegas Strip. There are numerous activities in the area. In addition to all the great shows and dining, every casino in the area has a large sportsbook.
The LINQ Promenade is next to Flamingo. This includes the High Roller observation wheel and a zip line. The famous O'Sheas Casino opens into that area. It hosts $5 table games, beer pong, and other bar activities. The Bellagio Fountain show is a short walk away. This is best viewed from the Eiffel Tower at Paris Las Vegas.
Poker Rooms Close to Flamingo
The level of action at Flamingo may not be what you want. If you are looking for higher stakes, we recommend Bellagio. It is diagonal from Flamingo on the Las Vegas Strip. Bellagio's poker room spreads some of the highest-limit games in town. It does not take a jackpot drop. Serious players find this to be a benefit.
You will find no-limit Hold'em games from 1/3 up to 10/20 running 24 hours a day. Games run even larger on weekends. Fixed-limit Texas Hold'em runs from 4/8 to 40/80. Omaha Hi/Lo is spread in higher fixed limits daily. The same can be said of Seven Card Stud Hi/Lo.
Bobby's Room is a special private high-limit area with nosebleed stakes and mixed games. It is named after Bobby Baldwin, a famous poker player and MGM Resorts executive. Bellagio's poker room spreads one daily tournament a day with a $130 buy-in.
Caesars Palace is another great option for players looking for something different than Flamingo has to offer. It has a bonus of only taking a rake of up to $4 and no jackpot drop. It spreads 1/2 and 2/5 no-limit Texas Hold'em most hours of the day. There are five daily no-limit Hold'em tournaments with buy-ins ranging from $100 to $150.
The poker room at Caesars Palace is embedded into the sportsbook, giving players easy access to betting and all the action on the big-screen televisions.
More Las Vegas Poker Room Reviews