Excalibur Poker Room
Excalibur is a casino located on the southwest corner of Tropicana Avenue and Las Vegas Blvd.
MGM Resorts owns it, and Excalibur has become one of its value properties. This means that it is not on the same level as the company's higher-tiered resorts.
The Excalibur poker room spreads lower-limit cash games and tournaments on its seven tables. The games are generally loose and full of tourists.
It is located near the sportsbook behind the table games pit and does not offer much in the way of amenities beyond automatic shufflers and televisions.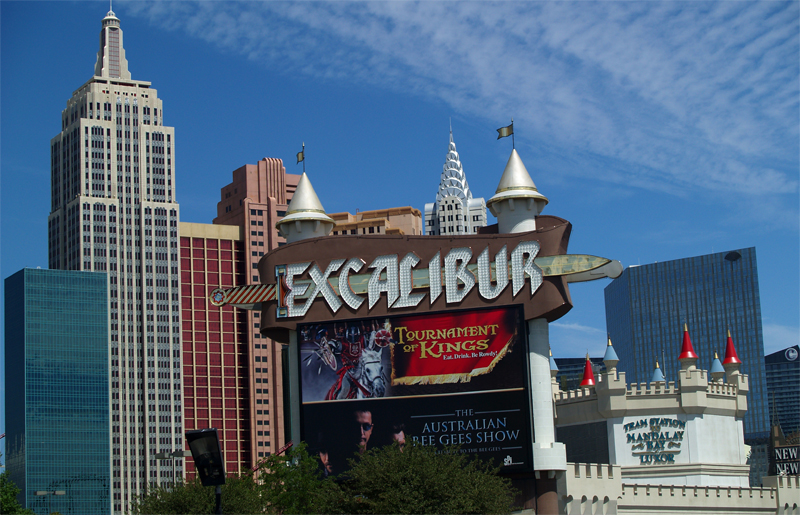 Excalibur Poker Room Option for Luxor Guests
The Luxor poker room closed in 2017. Poker players staying there may walk to Excalibur through an indoor corridor.
Mandalay Bay is accessible in a similar manner and typically spreads 1/2 no-limit Hold'em.
Excalibur Poker Room's Best and Worst Features
The best thing about the Excalibur is its loose games. The games tend to be friendly with tourists enjoying themselves.
Most of the staff has been there for years. This makes for a professional live poker experience.
Having to pay to park at Excalibur makes it not worth playing the low-limit games for locals. This can be a good and bad thing for players, as it keeps serious locals away.
The exception is if a player has at least Pearl status in MLife, which takes 75 hours of cash game action. That is the MGM Resorts players club. This earns free parking at all properties operated by the company.
Cash Games at Excalibur
There are two regular games at Excalibur. One is 1/2 no-limit Hold'em. The buy-in range is $60-$300. The other is a 2-6 Spread-Limit Hold'em game. This game has blinds of $1 and $2. Players may bet or raise anywhere from $2 to $6 at any time. It plays like a low-stakes limit game with small blinds.
Excalibur is the only poker room on the Las Vegas Strip that spreads this game. It is typically found in locals casinos in North Las Vegas and Henderson.
Excalibur Rake and Hourly Rate
Excalibur rakes 10% up to $5. There is also a $1 jackpot drop.
Cash game players earn $1 an hour in food comps when playing with an MLife card. These comps must be used on the Excalibur property. Ask the poker host for a paper comp to redeem.
Excalibur Poker Tournaments
Excalibur hosts four daily poker tournaments. There is a $29+$11 at 9 am and a $32+$13 at 1 pm, 5 pm, and 8 pm. Each tournament has the same structure. Players start with 5,000 chips. Blinds start at 25/50. Levels go up every 15 minutes.
Late registration and re-entry is available through the first five levels. At the end of late registration, players are offered an opportunity to forfeit their stacks and re-enter the tournament with a full 5,000 in chips.
Excalibur Poker Promotions
Cash game players clocked in with an MLife card receive $1 an hour for food comps. Aces cracked runs from 10 am to 3 pm daily. Players spin a wheel when losing with pocket aces. Players win an additional $25 plus the prize from the wheel.
A player that makes four of a kind or better also spins the wheel for a prize. The amounts range from $20 to $100. The player must use both hole cards for this promotion, too.
The wheel has two special slots on it. One is triple, which makes the next spin worth three times the amount shown. The other is a buddy bonus. This allows the player to pick another person in the room to also receive the bonus.
A royal flush wins $500. Both hole cards must be played to qualify.
Excalibur runs a football promotion. Cash games played on Monday night, Thursday night, and Sunday morning qualify.
A game is chosen by the room's management and shown on television. There is a random seat drawing with every score of the game. A field goal wins $50, touchdown $100, and a safety pays $200.
Promotions are paid for through a jackpot drop. It is taken out of cash game pots. Tournament players do not qualify for promotions.
Things to Do Besides Poker at Excalibur
Excalibur offers low limits for table games. Players will find $5 or $10 limits for games like craps and roulette. Blackjack has these limits, but those games will pay 6 to 5. For $15, you will find 3 to 2 blackjack games. The video poker at Excalibur does not have friendly pay tables.
The sportsbook is just a few steps away from the poker room. This is a comfortable betting shop with low limits and wide television screens.
Excalibur offers several restaurants. They range from middle-tier steakhouses to a food court. Poker players may use comps at any of these.
There is little to do at Excalibur besides gamble. You can walk through the corridor to Luxor to check out the pyramid and several exhibits. New York New York is across Tropicana Avenue from Excalibur. It has a roller coaster that is a great break from the casinos. It has a new virtual reality option.
Poker Rooms Near Excalibur
If the action at the Excalibur poker room is not what you hoped for, there are several options in the area. Mandalay Bay is about a 10-minute walk away. It is all indoors, as there is a shopping corridor that connects Mandalay Bay and Luxor. Another one connects Luxor with Excalibur. That requires walking across the casino floor and going up some escalators.
Mandalay Bay generally has a 1/2 no-limit Hold'em cash game running. It spreads three $65 tournaments every day. It also has a great view of one of the largest sportsbooks in Las Vegas.
MGM Grand is another option. It is across two Las Vegas Strip walkways. That poker room spreads 1/2 and 2/5 no-limit Hold'em. You will always find the 1/2 game. The 2/5 one is only available during peak hours. The poker room at MGM Grand offers four daily tournaments. Two have a $65 buy-in. The other two are $100.
More Las Vegas Poker Room Reviews