Caesars Palace Poker Room
Caesars Palace is the Caesars Entertainment flagship in the Las Vegas market. The same can be said of its 16-table poker room.
The Caesars Palace poker room is the largest and most popular in the company's Las Vegas portfolio. It includes two tables in a special VIP section in the rear of the room.
This room was remodeled and relocated in 2014. The old poker room area was too large for its current business, so the Omnia nightclub expanded into its former space.
The secluded poker room was moved to the other side of the sportsbook and slashed in size. At the same time, the company lowered rake to a $4 cap, as well as removed its promotional drop.
This helped make Caesars Palace's poker room competitive again. It instantly became popular with serious players once more, much like it was in its early days.
Caesars Palace offers all modern live poker amenities. These include chargers at the table, Wi-Fi, tableside food delivery, and automatic shufflers.
The poker room is just steps away from the newly remodeled Caesars Palace sportsbook and restrooms. Most of the televisions in the sportsbook are visible from the poker room. There are also several televisions within the table area.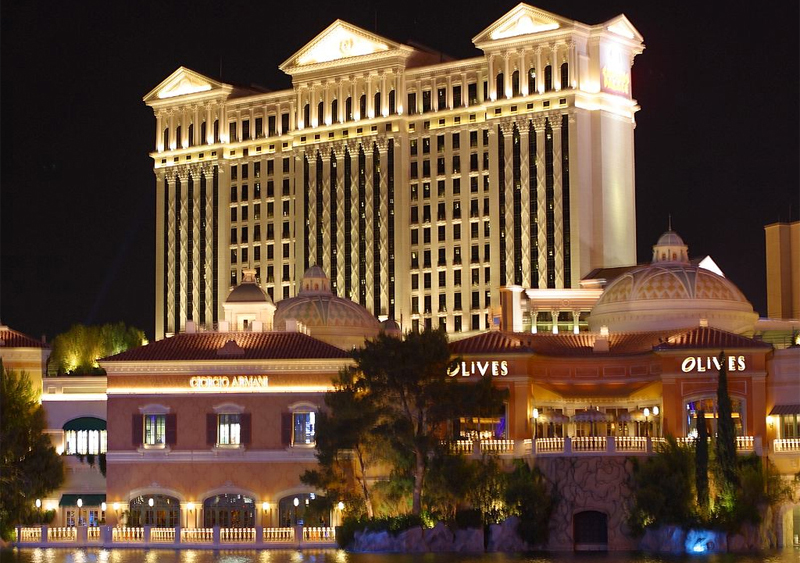 Best and Worst Caesars Palace Poker Room Features
The fact that the sportsbook is adjacent to the poker room adds energy during major events.
Caesars Palace is the last major poker room on the Las Vegas Strip that caps its rake at $4. There is no jackpot drop. This helps lower variance, something professional players prefer.
Players earn $2 an hour when clocked in with their Total Rewards card. This is the best rate for all Caesars Entertainment poker rooms.
Having to pay to park if not Platinum tier or higher in the Total Rewards players club is a negative of the Caesars Palace poker room. The low rake and high hourly rate draw professional players. This can hurt game quality, especially during afternoons and weeknights.
Caesars Palace Cash Games
Caesars Palace has a regular 1/2 no-limit Hold'em game with a $100-$300 buy-in. There are usually several tables of this game running.
Weekends and other peak times may see a 2/5 no-limit Hold'em game. Players may buy into this game with $200-$1,000. Caesars Palace spreads a mixed game from time to time.
Caesars Palace Rake and Hourly Rate
Caesars Palace rakes 10% up to $4.
Cash game players earn $2 per hour in comps when playing with a Total Rewards card. Comps may be used at all Caesars Entertainment properties throughout the country.
Caesars Palace Poker Tournaments
Caesars Palace spreads five daily tournaments. All are no-limit Texas Hold'em.
The 10 am and 6 pm tournaments have a $95+$30 buy-in. This tournament has a $2,000 guaranteed prize pool. The 2 pm and 9 pm tournaments have a $110+$40 buy-in. It has a $3,000 guaranteed prize pool.
A new midnight tournament was added to the schedule in 2018. This has a $74+$26 buy-in. It has a $1,000 guaranteed prize pool.
All Caesars Palace poker tournaments have the same level structure. They start at 25/50 blinds and go up every 20 minutes. Antes start on level seven. The $125 starts with 12,000 chips. The $150 starts with 15,000. The midnight tournament has a 10,000 stack.
Caesars Palace Promotions
Caesars Palace does not offer any promotions beyond its $2 per hour to the Total Rewards card.
As already mentioned, it does not take a jackpot drop.
Other Things to Do at Caesars Palace Apart from Play Poker
Caesars Palace is home to many great restaurants. Our favorite is Rao's. It is an Italian restaurant famous for its meatballs. Old Homestead Steakhouse is another great option. Try the ribeye for two there.
The buffet at Caesars Palace is among the best in Las Vegas. There is a food court for a quick meal that you can bring back to the poker room. Options there include Earl of Sandwich, Halal Guys, Fatburger, and a pizzeria.
The Caesars Palace sportsbook is connected to the poker room. It can be nice to take a break from poker by placing a few dollars on a sporting event and watching it in the adjacent lounge.
Omnia nightclub is located where the old poker room once was. This is one of the most upscale clubs in Las Vegas.
If you are looking to gamble, the best bet is blackjack.
Make sure to head to the table game pit under the dome. This is the only place that you will find blackjack games that pay 3:2 outside of the high-limit salon. The games use eight decks. Double down before and after splitting is permitted. Surrender is offered. The dealer hits soft 17.
Craps offers 3-4-5 times odds and usually has a $10 or $15 minimum bet. There are many other $10 table games in pits throughout Caesars Palace. The only video poker at Caesars Palace that returns more than 99% requires a $25 minimum bet per hand.
Poker Rooms Near Caesars Palace
If you grow tired of the Caesars Palace poker room, there are many options. This casino is located in the middle of the Las Vegas Strip. You can walk to the poker rooms at Mirage, Harrah's, Flamingo, Bally's, and Bellagio. Aria is accessible through the tram from Bellagio.
Mirage is a friendly poker room that spreads 1/2 no-limit Hold'em and 3/6 fixed-limit Hold'em. It also has an occasional mixed game and two daily no-limit Hold'em tournaments. Flamingo offers similar games. Harrah's and Bally's spread 1/2 no-limit Hold'em cash games and tournaments.
Aria and Bellagio are your best bets for higher-limit action. Each offers daily tournaments with a buy-in over $100. Bellagio regularly has no-limit tables up to 10/20. It also has high-limit Omaha Hi/Lo, Seven Card Stud Hi/Lo, and mixed games. Aria is home to pot-limit Omaha, as well as the standard no-limit and mixed games.
More Las Vegas Poker Room Reviews