Bally's Poker Room
Bally's spreads a 14-table poker room. It is located beyond the table game pit on the casino level.
The poker room at Bally's Las Vegas is not a destination one. However, it provides a good experience for casual players looking for a fun night of poker.
Regulars are attracted by its promotions, which includes a weekly freeroll into a $7,500 guaranteed tournament.
Let's take a look at everything it has to offer, starting with its best and worst features.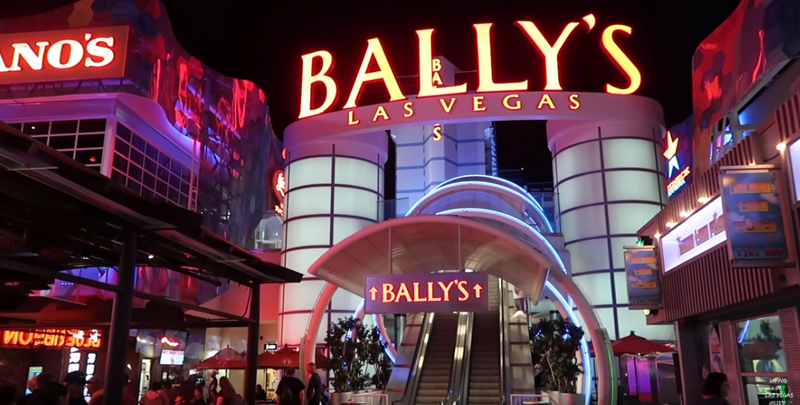 Best and Worst Features of Bally's Poker Room
The best part of the Bally's poker room is the quality of games, especially late at night. They are typically full of recreational players. These games are always fun. The same can be said of the tournaments that are always full of loose action.
Players that do not have Platinum status in Caesars Entertainment's Total Rewards program must pay to park. There is not a casino nearby that offers free parking. The tournament rake is too high. The levels go by too quickly.
Cash Games at Bally's
The main game at Bally's is 1/2 no-limit Texas Hold'em. Weekends and other peak times may create enough interest for a 2/3 no-limit Hold'em game.
Bally's once had a 3/6 fixed-limit Hold'em game. That table is a rarity these days, as most of the low-limit fixed-limit action on the Las Vegas Strip moved to Flamingo. However, it pops up more often when the casino has freerolls based on hours played in fixed-limit cash games.
Cash Game Rake and Hourly Rate at Bally's
Bally's rakes 10% up to $5 per hand. There is also a jackpot drop that funds promotions.
Bally's pays cash game players clocked in with a Total Rewards card $1 per hour in comps. This may be used at all Caesars Entertainment properties.
Players that give 75 hours of cash game action in a year receive Platinum status. This gives free parking to players at any Caesars Entertainment property.
Poker Tournaments at Bally's
Bally's spreads six daily poker tournaments. These tend to be small tournaments, especially early in the day. The structures are on the turbo side. That is typical for a poker room like Bally's that appeals to recreational players.
There is a $50+$25 tournament daily at 9 am, noon, 3 pm, 5 pm, and 11 pm. This tournament starts with 7,500 chips at the 100/100 level. Limits go up every 20 minutes. The prize pool always has a guarantee of $800 with $500 for first place.
There is a $100+$30 tournament nightly at 8 pm. This event has a starting stack of 15,000 chips. The first level is 100/100. Blinds go up every 20 minutes. The guaranteed prize pool is $2,000 with $1,000 for first place. Saturday has a special $7,500 prize pool with at least $2,000 for first place.
Promotions at Bally's Poker Room
Players that give four hours of cash game action receive a free buffet pass at Paris Las Vegas.
Those who sit at a cash game table for 10 hours during a two-week period receive entry into a $17,000 biweekly freeroll.
The top 80 players in the freeroll are paid. The top prize is $1,650 in cash, and the top ten players also receive $200 credits for the World Series of Poker. Players may exchange these credits for $150 in cash.
Bally's is using a $10,000 biweekly freeroll to create 3/6 fixed-limit Hold'em action. Players that give ten hours of action receive entry to it. The tournament ends when 40 players are left. Each receives $250. If fewer than 40 players qualify, each receives $250 without having to play.
There are two promotions for cash game players that are funded with a jackpot drop. The high hand bonus pays $50 for four of a kind, $100 for a straight flush, and $500 for a royal flush. The player must use both cards, and there must be $20 in the pot. However, a showdown is not required to win the high hand promotion.
Bally's offers $25 splash pots every hour during off-peak times during some promotional periods. This promotion runs from 3:15 am to 11:15 am daily.
Things to Do at Bally's Besides Playing Poker
Bally's has a massive sportsbook on the lower level. It offers Caesars Entertainment odds. Deposits and withdrawals are processed there for the company's sports betting app. That lower level also has a lounge and food court.
Paris Las Vegas has the Eiffel Tower. Locals receive half price for entry. This gives one of the best views of the Bellagio Fountain show. You can also see this from the Strip just outside of Bally's.
The LINQ hosts the High Roller. This is one of the highest observation wheels in the world. Locals also receive half price to this. There is a zip line at the LINQ Promenade.
If you are looking to gamble on something other than poker, Bally's offers some decent table games. It is the only casino in Las Vegas with Double Attack Blackjack. This is a blackjack variant that permits players to double their bet after seeing the dealer's hole card. This and other blackjack games with a good return are available for $10 at Bally's.
Bally's spreads a high-limit blackjack game for $50. This game stands on all 17s. Double down before and after splitting is allowed. Players may surrender.
Other Poker Rooms Near Bally's
The action at Bally's may not be enough for you.
If that is the case, Bellagio is directly across the street. It is a short walk across the pedestrian bridge over Las Vegas Blvd.
Bellagio offers no-limit games with blinds starting at 1/3 and up to 10/20 just about 24 hours a day. Peak hours will see bigger games. Bellagio also has high-limit Omaha Hi/Lo and Stud Hi/Lo games, as well as a large daily tournament.
Aria is also near Bally's. It has many no-limit tables from 1/3 up to 5/10. It also spreads pot-limit Omaha and mixed games.
Other poker rooms within walking distance include Planet Hollywood, Flamingo, Caesars Palace, and Harrah's. These poker rooms spread similar games as Bally's, including 1/2 no-limit Hold'em and several daily tournaments. Flamingo also has a decent number of fixed-limit Hold'em games.
More Las Vegas Poker Room Reviews