Aria Poker Room
Aria is one of the top poker rooms in Las Vegas. This is in terms of quality of fixtures, level of action, limits, comps, employees, and number of tables.
There are 24 tables at the Aria poker room. This number increases during peak tournament times. Some special events are so popular that Aria may cancel its evening tournaments to make room for cash games and larger events.
Aria has several features in its poker room. This includes tableside food delivery, massages, phone chargers, automatic shufflers, Wi-Fi, and a cashier cage located within the poker room.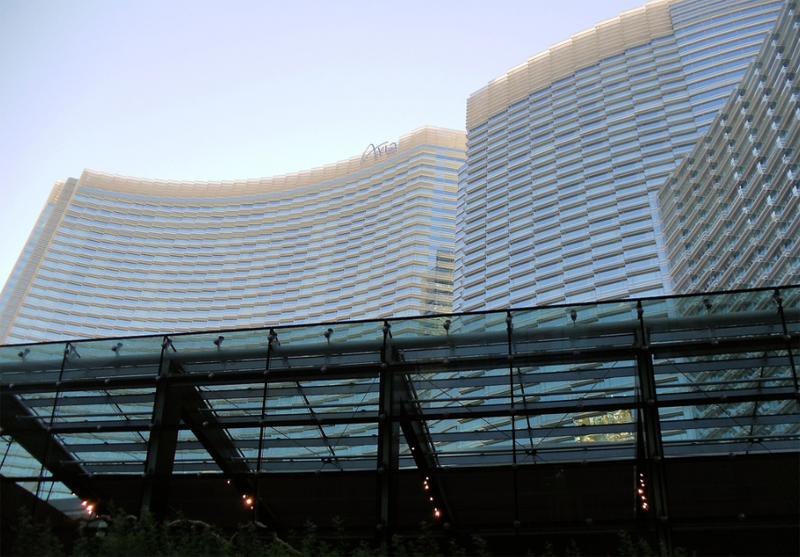 Best and Worst Features of Aria Poker Room
Many tables run 24 hours a day at the Aria poker room. It is spacious and comfortable. The dealers and floor people are experienced. It is difficult to find a more professional poker room anywhere. Meals are served right at the table, and comps may be used on this.
Having to pay to park if not in the higher tiers of MLife, which is the loyalty program for MGM Resorts, is a problem for many players. There are not any casinos with free parking within walking distance.
And while the comps seem generous, the pricing of food is exceptionally high, even by Las Vegas Strip standards. This devalues the comps and may make $1 an hour at other poker rooms a better deal.
Aria Cash Games
Aria spreads a variety of cash games. No-limit Hold'em players will always find 1/3 and 2/5 tables running. 5/10 no-limit tables run many hours of the day. Busy periods may bring out a 10/20 table. Peak hours may see tables with even larger blinds and buy-ins.
Pot-limit Omaha is the second most popular game found at Aria. It is usually spread with 1/2 and 2/5 blinds. Peak demand may generate a higher-limit version of the game.
Mixed games are dealt at Aria. The most common limits are 4/8, 9/18, and 12/24. The high-limit area may spread much higher limits when the right players are in town. Mixed games involve a variety of Omaha, Stud, and draw games.
Aria Cash Game Rake and Hourly Rates
Aria rakes 10% up to $5. There is no jackpot drop, as the poker room offers no special promotions beyond the hourly rate.
Players earn $2 an hour in comps when playing cash games with the MLife card. Comps may be used to order food from the tableside menu or at a variety of outlets on the Aria resort property.
Poker room comps must remain on the property. Ask the poker room manager for a paper comp when you are ready to redeem them.
Aria Poker Tournaments
Aria spreads two tournaments each day. This is in addition to special events held at the poker room. Entry into tournaments requires an MLife card.
The daily tournaments start at 11 am and 7 pm daily. The ones on Monday through Thursday at 11 pm and daily at 7 pm have a $110+$30 buy-in. Players start with 10,000 chips. Blinds start at 25/50. Levels run 30 minutes. Antes enter the tournament on level four.
The 11 am tournament on Friday, Saturday, and Sunday has a different structure. The buy-in is $195+$45. Blinds start at 100/100 with antes. Limits increase every 30 minutes.
Poker Promotions at Aria
The only promotion offered by Aria is the hourly rate paid to the MLife card which may be used for comps on the property.
Aria does not take a jackpot drop and offers no high hand or bad beat promotions.
Players that give at least 75 hours of cash game action in a year receive free parking at all MGM Resorts properties through the MLife loyalty program.
Things to Do at Aria When Not Playing Poker
Aria hosts a luxurious hotel. We recommend staying here if you are going to play at the Aria poker room. Players that average five hours a day of cash game action receive a weeknight room for $175 and weekend night for $225. This includes the resort fee.
There are more than a dozen restaurants at Aria. Most are considered fine dining.
The sportsbook is steps away from the Aria poker room. It is operated by MGM Resorts. Players can deposit for the company's sports betting app there. This makes it possible to bet on games anywhere in Nevada without having to wait in line to make bets or pick up winnings. The Aria sportsbook offers food and beverage service.
Aria is home to several nightclubs and lounges for celebrations after a big win. The Shops at Crystals has several dining options, as well as upscale shopping. Aria connects to Park MGM for even more options. There is a tram that goes to Bellagio from it.
The gaming at Aria is high quality if you are willing to bet $100 a hand. Blackjack games stand on all 17s at that limit and pay 3 to 2. The craps tables usually have a $10 or $15 minimum and offer 3-4-5 times odds.
A short walk from Aria's front door is the Strip. From there, you can easily check out the action at Cosmopolitan, Planet Hollywood, New York New York, and MGM Grand.
Poker Rooms Near Aria
Aria is in the heart of the Las Vegas Strip. This gives it access to several other quality poker rooms.
If for some reason you need a break from Aria, you can take the tram to Bellagio. The poker room there spreads many low-, mid-, and high-limit games. It has a daily tournament as well. It is just as luxurious a poker room as Aria.
Caesars Palace is another good option. Its benefit is that players only pay a rake of up to $4. The poker room is right next to the sportsbook. It typically spreads 1/2 and 2/5 no-limit Hold'em.
If you are looking for something smaller, the Bally's poker room is across from Bellagio. It spreads a 1/2 no-limit Hold'em game daily and several tournaments.
Planet Hollywood is another good option with the same games. MGM Grand is a short walk from Aria. Players will find two daily tournaments there. The cash games are 1/2 and 2/5 no-limit Hold'em.
More Las Vegas Poker Room Reviews