All About the Binion Family
For decades, the Binion name has been linked to Las Vegas gambling.
The players have all changed, but the story of the Binion family carries on in the folklore of the history of the gambling Mecca.
Every family has a bit of drama within it, but none have it as bad or as public as the Binions have over the last 20 years.
Our story begins with Benny Binion, who is known almost as much for his background as a mob boss as he is for his gambling empire.
Benny was born in Texas in 1909; he was very ill as a child, and as a result, his horse-trading parents decided to keep him out of school.
Even though his health improved, he never ended up going to school; his education was far less formal living on the ranch, and this is where his affinity towards gambling began as well.
The other horse traders would often gamble at the family property; Benny would watch and learn from some of the best.
A Life of Texas-sized Crime
Binion moved to El Paso when he was 18 and started a moonshining business. Very quickly, he grew out of that town and moved on to Dallas, where the moonshine operation was quickly followed by several other illegal activities.
This included the start of his foray into gambling with a very lucrative numbers game.
No stranger to the wrong side of the law, Binion was convicted of killing a man in 1931 and receiving only a two year suspended sentence for the crime; clearly, he was paying the right people.
His numbers and dice game empire was growing, being run out of hotels in the Dallas area and quickly growing to be the largest operation in the state.
Taking an unorthodox measure to improve his business, Binion and his men killed a couple of rival dice operators, with Binion's connections ensuring he never saw the inside of a jail cell.
After rising to the stature of Mob Boss of Dallas, Binion set his sights on Fort Worth. What he could not handle was the mob coming from Chicago to take a piece of the action. Binion lost control of his Sherriff and as a result was run out of town, ending up in Las Vegas.
New City, Same Problems
Upon arriving in Las Vegas, Binion got involved in the gambling world, acquiring a casino license. He still had feuds with rivals in Dallas, which became bloody in the end.
Finally, Binion's license was suspended, and he ended up spending 5 years in prison for tax evasion.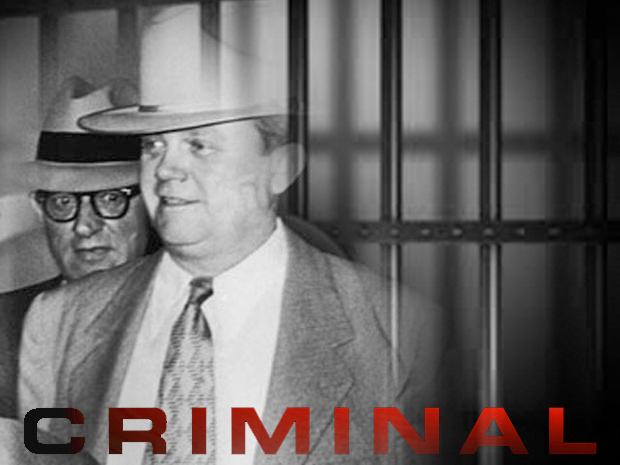 By the time he lost his license in 1951, Binion had already amassed a collection of hotels and casinos. These included the Eldorado Club and the Apache Hotel, renovating them and renaming them Binion's Horseshoe.
One feature of the casino was that their limits were significantly higher than its competitors; high-rollers flocked to the Horseshoe to make their bets.
Changing the Game
Benny was a real pioneer in the gaming industry; he is responsible for many of the parts of the industry that we know today. Starting with remodeling casinos to add carpeting and nicer fixtures, Binion would always put the player first.
The Horseshoe was renowned for their excellent dinner specials, and Binion also extended the comp program to all players, not just high rollers.
Can you even picture a casino without a loyalty program for everyone today?
Unfortunately, when Benny went to jail, he had to sell his interest to a partner. While he was able to reacquire those shares, he was never again allowed to hold a gaming license.
By the time he had regained control of the Horseshoe, the gaming license was being held by his son Jack.
The Binion Family
Now seems like a good time to give you an overview of the family. Benny Binion married Teddy Jane, and they had five children: two sons, Jack and Ted, and three daughters, Barbara, Brenda, and Becky.
The kids started to get involved in the family business when Benny's legal troubles caught up with him. Jack and Ted took over the day-to-day operation of the Horseshoe, while Benny's wife managed the casino cage until her passing in 1994.
Benny himself died in 1989, starting a series of arguments within the family to determine ownership of the casino and other businesses.
In 1998, Benny's daughter Becky fought a legal battle with her brother to gain control of a failing Horseshoe casino. She won that battle, taking control of the company.
However, the bigger news story in 1998 was the murder of Ted Binion.
His partner and her lover were eventually tried and convicted of his murder, in a love triangle gone horribly wrong.
Becky was no help to the Binion's organization; the company's financials were getting worse, plus they were getting into hot water with the union representing the majority of their employees.
In the end, Binion's Horseshoe was sold to Harrah's in 2004. The casino, however, wasn't the jewel in the crown at that point… one of its events was.
The WSOP Legacy
Back in the beginning days of his gambling empire, Benny Binion convinced two professional poker players to play a ridiculously long heads-up poker session. While this was more of a publicity stunt than anything, Binion knew he was on to something.
Fast forward to 1970, when Binion invited six of the best players in the world to his hotel to play a tournament to determine a world's champion. With that, the World Series of Poker was born.
The event grew year after year, giving away a gold bracelet along with the cash prize. If it were not for Benny Binion's vision, poker as we know it may look completely different.
The 2004 World Series of Poker was the last one to be played at the Horseshoe, although it will always be known as the jumping off point for land-based poker tournaments.
In that light, the Binion family will also be tied to that piece of history, along with a tumultuous relationship with the city of Las Vegas.