A Complete Guide to Las Vegas
Las Vegas is the Entertainment Capital of the World with more than 75 casinos, bright lights, sumptuous restaurants, an amazing Fremont Experience in the downtown area, and many family-oriented tours and museums. One hundred years ago, Las Vegas was little more than a dusty whistle-stop on the railroad line to Los Angeles, but the city got a boost from the decision to build a dam on the Colorado River just 30-miles from town.
Banking heavily on the prospects of workers, massive payrolls, and visitors to the desert town, Nevada passed an open gaming bill in 1931; one month after work began on Boulder Dam. The official name of the dam changed in 1947, about the time Mob boss "Bugsy" Siegel was being rubbed out by his financial backers for making a mess of the Flamingo Hotel.
Since that time, Las Vegas has added more than a dozen mega resorts like the Bellagio and MGM (with 5,000 hotel rooms) to the Las Vegas Strip. Today, the gaming mecca offers penny slots up to $100 a spin slot machines, $25,000 per hand blackjack, and special gaming rooms where the world's biggest gamblers can wager as much as $1million on a single hand of baccarat.
Las Vegas also offers nightly shows with big name entertainers like Elton John, Garth Brooks, and Celine Dion, clubs with dancing and bars larger than any other place in the US, and gaudy, expensive shopping. For families, many hotels have arcades, bowling, movie theaters, and there are museums and tours right in town as well as inside some hotels. Who could ever want more?
Las Vegas Table Game Survey from John Mehaffey
Finding the best conditions for blackjack and other table games in Las Vegas can be challenging. It's hard enough for locals to keep track of things, never mind tourists. There's an incredible number of blackjack tables in Vegas casinos, and over twenty other table games with varying rules and limits at different venues.
That's why GamblingSites.com commissions the annual Las Vegas Table Game Survey. Carried out by renowned Vegas expert John Mehaffey, it's a comprehensive survey of Las Vegas casinos and the table games they offer.

John Mehaffey and his team visit every Las Vegas casino at least once every year. They record all the table games available in each property, along with details such as the rules, minimum and maximum bets, and the number of tables.
These records are then carefully logged into spreadsheets, and John produces a thorough report for us to publish here on GamblingSites.com.
You can find details of the 2022 Las Vegas Table Game Survey on the following page.
Blackjack forms a very large part of our Las Vegas table games survey. That is because there are so many rules variants. So, we publish details of all Vegas blackjack games separately.
The blackjack survey is split into two further sections. The first is geographical. We list the blackjack games available in different parts of the city, broken down as follows.
The second part breaks down blackjack games by type.
Las Vegas Table Games Survey Blog Posts
Here the blog posts written by John Mehaffey in relation to the 2020 Las Vegas Table Game Survey.
History of Las Vegas
Native Americans lived in the Las Vegas Valley more than 10,000 years ago, and Paiutes migrated between the cooler, upper mountains in the summer and the valley floor during the winter. In the 1850s, William Bringhurst brought a group of 29 Mormon missionaries from Utah to the Las Vegas Valley where they built a small adobe fort along a creek and tried to raise crops. What they found was stupefying summer heat often reaching 115 degrees, and within two years later they abandoned their fort and returned to Utah.
Las Vegas was officially founded in 1905 when the San Pedro, Los Angeles & Salt Lake Railroad was completed. The rail spur, built at the end of Fremont Street, anchored the town and gave it daily life as visitors, food, and mail arrived each afternoon. Visitors didn't find much. The town's population consisted of just 500 hearty souls.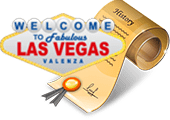 While the US Government demanded that the nation abstains from drinking liquor, Las Vegas built several small hotels along Fremont Street, and by the 1920s, two even had forced-air, to combat the blistering heat of summer. In the lobbies, doors led to places where visitors could not only drink real Canadian whiskey, but they could play poker and even roulette. Upstairs, women of the evening beckoned.
After open gaming had been legalized in 1931, more than a dozen small clubs were quickly licensed. Gamblers could drop nickels in slot machines and play hands of blackjack for 10-cents while ceiling fans swished through clouds of cigar smoke, or play old-time craps on tiny one-dealer tables called tubs.
As time passed, Vegas casinos grew, offered more amenities, great entertainment, and things like the World Series of Poker. Today, there are more things to do the in Las Vegas Valley than just gamble, and that's why nearly a million people call Las Vegas their home.
Birth of Las Vegas from the 1850s*
Growth of Las Vegas through the 1930s*
The Las Vegas Strip and the 1940s*
The Entertainment Capital of the World 1950s*
Modern Day Las Vegas*
The Casinos
From the first tiny legalized club downtown in 1931 (the Northern Club) to the Bellagio on The Strip, Las Vegas is known for its casinos. With more than 75 currently open and many more imploded and reduced to dust, the city has moved from dusty, sawdust-floor grind joints to places even millionaires find pricey. It's been quite a ride.
Early casinos like the Boulder Club offered no restaurants or bars. Patrons had to move through an alley to get a drink or a bite to eat. That changed considerably when the El Rancho Vegas opened in 1941 along the highway to Los Angeles on what became the Las Vegas Strip. The casino had a showroom, restaurant, casino, and 63 rooms.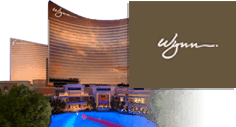 Today, Mega Resorts like the Wynn and Encore rise 47-stories high and offer more than 4,700 rooms combined. The cost of building the resort complex was over $5 billion dollars. The builders of the El Rancho kept their costs under $500,000.
Visitors can find casinos with hotels Downtown, The Strip, and along major streets like Flamingo, where the Rio and Orleans sit. No matter your budget or gaming desire, you'll have plenty of choices at today's casinos in Las Vegas.
Early Casinos*
Most Famous Casinos*
Downtown Casinos*
Strip Casinos*
Outlying Area Casinos*
Today's Casinos*
The Mob and Las Vegas
For decades, Las Vegas was synonymous with two things, gambling, and gangsters. The two went together like butter and bread. The town was tiny in the 1930s, and gaming stakes were small, but as the decade ended, Las Vegas was attracting enough attention that Charles "Lucky" Luciano sent Meyer Lansky to investigate several times. Moe Sedway was already in town by then, having muscled his way into part-ownership of two casinos.
Sedway, working with Benjamin "Bugsy" Siegel, acquired a controlling interest in several casinos in the downtown area including the Las Vegas Club and the El Cortez. With profits from those clubs and plenty of investments from allies in Chicago and New York, Siegel grabbed an already started resort complex from William Wilkerson and ended up with the first fancy casino in town, the Flamingo.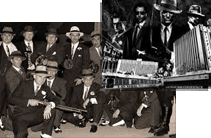 As with other casinos, the Mob skimmed away pre-tax dollars from their count rooms, shipping millions of dollars away to Meyer Lansky who funneled the cash into accounts across the US for his bosses. Even clubs built years later like the Stardust, Tropicana, and Caesars Palace would eventually have to answer to the IRS for irregularities in cash handling.
The overall effect in Las Vegas was substantial. Hotels grew, the Teamsters Union loaned funds for construction, and the city continued to grow through the 1960s. A lull in growth happened in the 1970s due to skimming scandals, hidden ownership and a lack of money invested into refurbishing older hotels. By the 1980s, skimming and the Mob had been eradicated from Las Vegas, and a new era of mega-casinos under corporate ownership took place.
The Mob Infiltrates Las Vegas*
Opening the Flamingo*
The Mob's Casinos*
How the Mob Stole Las Vegas Blind*
Big Las Vegas Mob Characters*
Las Vegas Pioneers and Industry Leaders
Like any town, Las Vegas had its share of early pioneers who believed in the town and set it on a course for greatness. Charles P. "Pop" Squires was one of the original landowners along Fremont Street, and his business group started a newspaper, a water company and even a power and telephone company. They all helped make daily living more tolerable in the stark desert.
In the gaming industry, other individuals had a lasting impact on the resort town, including Mob names like "Bugsy" Siegel and Moe Dalitz, tough guys with dangerous past lives like Guy McAfee and Benny Binion, and rising stars like Jackie Gaughan and Steve Wynn. Their foresight and determination brought new clubs, new limits, and a new look to Las Vegas.
More elusive figures like Howard Hughes and Kirk Kerkorian helped usher-in a new era of corporate ownership in Las Vegas, pushing out the Mob and giving birth to new groups like Boyd Gaming, Station Casinos, Harrah's, Caesars, and MGM.
Las Vegas Casino Gambling
The oldest casino in Las Vegas, located at One Fremont Street, started life as Hotel Nevada. Then it morphed to Sal Sagev (yeah, that's Las Vegas backwards) in 1931 and became the Golden Gate in 1955. When it opened, the club offered poker, usually in the form of 5-card draw and 5-card stud. By 1931 the club had nickel slot machines and five-cent wagers on roulette and Chuck-a-luck. Cigars were also a nickel.
Few players did much gambling at the time, but when open gaming was legalized in 1931, new tables, slot machines and chips arrived in town each week to be carted into the small casinos. The house always held a steady edge in those games, and the casinos grew.
That edge never turned to the players favor until Edward O. Thorp introduced blackjack card counting to the nation in the 1960's with his book "Beat the Dealer." The influx of newcomers to the game enhanced the casino's income, but managers still worried about the small group of players who were winning by counting cards.
As Las Vegas players became more educated in life and gaming, games like craps were improved to draw more players, and baccarat, with a tiny house edge, also became as popular as the club's old standby, roulette.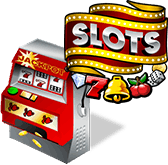 In the 1960s, slot machines evolved from mechanical to electro-mechanical, making larger payoffs automatically from a hopper filled with coins. The change helped slot machines become more popular and increased the overall income generated by the one-armed bandits. By the 1980s, slot machine income was as much as all other sources including table games, bingo, and keno. And, the introduction of computer-run machines and video poker pushed that revenue even higher.
Today, slot machines dominate casino revenue, but new table games like Three-Card-Poker and Pai Gow Poker have been very well received. Also, a resurgence in the popularity of live poker, specifically the game of Texas Hold'em, has convinced many casinos to open poker rooms. In June of each year, the town fills with the world's best and worst players, all taking a shot at the World Series of poker.
Early Slot Machines*
Edward O. Thorp and Card Counting*
Other Vegas Table Games*