Famous American Thoroughbred Racehorses
Over the years there have been many successful American Thoroughbred racehorses. A number of these became particularly popular, for various reasons.
It wasn't necessarily only due to their success; it has always been the case that some horses just become real favorites with racing fans.
On this page we have provided details of some of the most famous American Thoroughbreds of all time.
This is by no means an exhaustive list and is not a judgment on which horses were the best.
It's just our personal selection of those that have an interesting story.
Man o'War
1917 – 1947
Sire: Fair Play
Dam: Mahubah
Widely regarded as one of the greatest Thoroughbreds of all time, Man o'War won 20 of his 21 races. His only loss came when he was facing the wrong way at the start and never fully recovered, although he still only lost by half a length.
Man o'War was originally owned by August Belmont Jr, a hugely influential man in American racing. He was the first president of the Jockey Club, was one of the founding members of the National Steeplechase Association and served as chairman of the New York State Racing Commission.
He also built Belmont Park, still a major racetrack in the US today and home to the Belmont Stakes.
It was Belmont's wife who named Man o'War, in recognition of the fact that her husband was serving in the US Army when the foal was born. He was sold as a yearling though, to Samuel Riddle.
He appeared in his first race in 1919, at Belmont Park, and won by six lengths.
Man o'War won several high profile races, including the Preakness Stakes and the Belmont Stakes. He was not entered in the Kentucky Derby, otherwise he may well have won the Triple Crown (although that achievement had not been named as such at the time). His final race, and win, was the Kenilworth Park Gold Cup.
Secretariat
1970-1989
Sire: Bold Ruler
Dam: Something Royal
Secretariat is arguably the most famous of all US Thoroughbreds, thanks in part to a film made about his life in 2010. He was also the highest placed non-human in ESPN's list of the greatest North American athletes of the 20th century.
In Blood-Horse magazine's list of the top 100 US racehorses of the 20th century he was placed second, behind the previously mentioned Man o'War.
In his first race, at Aqueduct Racetrack in 1972, Secretariat finished in fourth place. He then went on to win his next five races, including some important stakes races for two-year-olds. In his next race he finished first, but was placed in second following a stewards' inquiry.
Following further successes in his debut season, he was named American Horse of the Year. Only one other horse has won that award as a two-year-old since.
As a three-year-old Secretariat became the first horse to win the Kentucky Derby in under two minutes, something that was not achieved again until 2001. He went on to win the Preakness Stakes and the Belmont Stakes, becoming the ninth Triple Crown winner and the first for 25 years.
Along with other awards, he again won the Horse of the Year.
Secretariat did not race beyond the age of three, following a deal for his breeding rights, and retired from racing having won 16 of his 21 races and total earnings in excess of $1,000,000.
Seabiscuit
1933-1947
Sire: Hard Tack
Dam: Swing On
Seabiscuit is another horse owing at least some of his modern-day fame to a film. In fact, there were two films made about Seabiscuit (one in 1949 and one in 2003) and a book was also written.
This is not really surprising, as this horse's story is certainly an interesting one – and one that helped to bring hope to many Americans during the Great Depression.
In his early years, Seabiscuit did not show many signs of being a future champion. He was a small horse and appeared to be lazy, spending much of his time sleeping and eating. He was raced in several low profile races, failing to secure a win in 17 events and usually finishing towards the back of the field.
Some signs of improvement were to follow and he did win some races. As a two-year-old he raced a total of 35 times – which is a lot – and landed five wins. He took part in some claiming races, where he was available for sale at $2,500, but there were no buyers.
After 12 races as a three-year-old, including four wins, he was sold to a new owner – Charles Howard.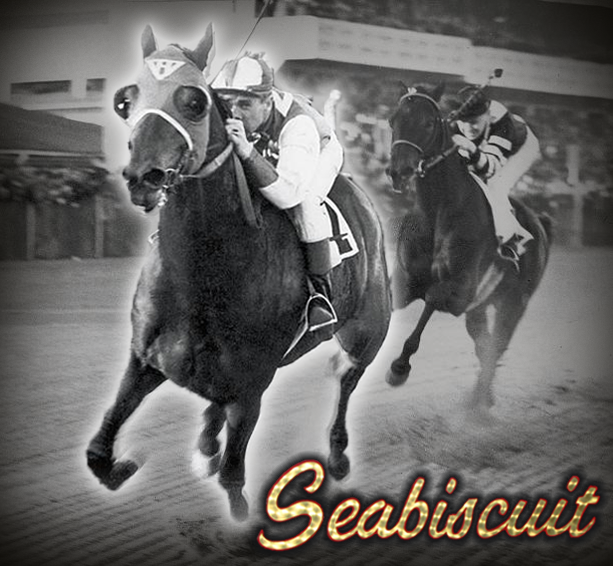 Seabiscuit was placed in training with Tom Smith, who used unorthodox methods. They seemed to work though, and Seabiscuit started winning higher quality races. He soon became a favorite with racing fans.
In 1937 he raced a total of 15 times, securing 11 wins. In the process he became the leading money winner of that year, something that had previously seemed inconceivable.
In 1938, after a number of failed attempts, a match race was set up between Seabiscuit and War Admiral (winner of the Triple Crown the previous year). War Admiral was the favorite, and Seabiscuit was without his usual jockey – Red Pollard – who had shattered his leg and seemingly had his career ended.
Nonetheless, Seabiscuit duly won the race. This performance contributed to him being named American Horse of the Year.
In February of 1939, Seabiscuit was injured and it looked like he would never race again.
What followed was what makes the story of this horse so amazing.
Seabiscuit and his injured jockey Pollard went through the recovery process together; both effectively having to learn to walk again. Pollard began to ride Seabiscuit once more and by 1940 the horse was ready to return to racing.
Smith was worried about Pollard and planned to use an alternative jockey, but Pollard insisted he was able to race. The two made their comeback in February, and finished third in a race at Santa Anita.
The simple fact that either of them had been able to compete again was remarkable; the fact that they returned to winning ways two races later even more so.
The last race of the winter racing season was the Santa Anita Handicap, one of the most important races for older horses. Seabiscuit had never won it, having twice lost in photo finishes, and his connections were desperate for him to do so.
He duly delivered to complete his, and Pollard's, fabulous comeback. Rarely has a horse been such a popular winner.
That proved to be Seabiscuit's last race, as he was officially retired on April 10, 1940.
Native Dancer
1950-1967
Sire: Polynesian
Dam: Geisha
Native Dancer had the nickname Grey Ghost, and was one of the first Thoroughbreds to be made famous through televised racing. In his first season of racing, as a two-year-old, he won each of his nine races. This resulted in winnings of over $230,000, which was a record for a two-year-old at the time.
There was a great deal of expectation on Native Dancer in his season as a three-year-old.
He placed second in the Kentucky Derby though
– the only loss in his career –
which meant he was unable to win the Triple Crown.
He duly won the next two legs though, and was named Champion Three Year Old Colt.
In 1954 Native Dancer was due to run in the glamorous Prix de l'Arc de Triomphe. However, a recurring foot injury resulted in his early retirement. His career record was 21 wins from 22 races.
Affirmed
1975-2001
Sire: Exclusive Native
Dam: Won't Tell You
Affirmed was best known for winning the Kentucky Derby, the Preakness Stakes and the Belmont Stakes in 1978, to become the 11th horse to win the US Triple Crown. At the time of writing, he remains the last horse to have done so.
He was also well known for his famous rivalry with Alydar, whom he raced against a total of 10 times.
With career winnings of well over $2 million, Affirmed is one of the most successful Thoroughbreds from recent years.
When he was syndicated for stud, it was for a then-record $14.4 million. He recorded a total of 22 wins during his career, from 29 races.
Alydar
1975-1990
Sire: Raise a Native
Dam: Sweet Tooth
Alydar is perhaps most famous for what he did not achieve, although this does not really do him justice. He was somewhat unfortunate to have been racing at the same time as Affirmed, behind whom he finished second in each of the three legs of the US Triple Crown.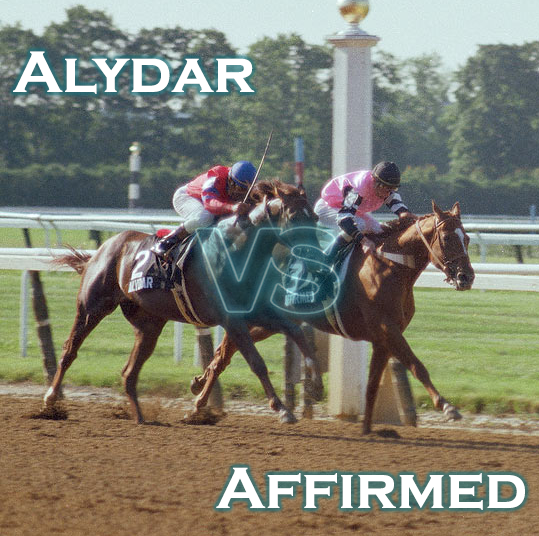 He was the first horse to finish second in each one; a feat which has not been achieved since.
His career winnings totaled nearly $1 million, so he was successful in his own right, but he may well have fared much better had he not had to face Affirmed in ten of his 26 races. He did win three of those though, and a total of 14. He also went on to be a successful stallion, producing some notable offspring.
Sadly Alydar will also be well known for the manner of his death, which occurred in suspicious circumstances. He was euthanized in 1990 following a broken leg that was supposedly accidental.
However, subsequent investigations suggested that his leg had been broken deliberately.
American Pharoah
2012 – Present
Sire: Pioneer of the Nile
Dam: Little Princess Emma
American Pharoah will go down in horse racing history as the colt to end the Triple Crown drought. In 2015, the Triple Crown drought was finally snapped after 37 long years, with American Pharoah being the first horse since Affirmed in 1978 to take home first place in the Kentucky Derby, Preakness Stakes and Belmont Stakes.
While best known for snapping an ugly losing streak for the Triple Crown, American Pharoah owns more prestigious horse racing history as the first and only "grand slam" winner of horse racing.
To earn that title, in addition to sweeping the Triple Crown, American Pharoah won the Breeder's Classic in 2015.
It wasn't always roses for American Pharoah starting out, as he initially didn't run well as a two-year old. He was able to find his footing shortly after, however, finding a way to nab big wins in the Del Mar Futurity and the FrontRunner Stakes in 2014.
American Pharoah graduated to a whole new level the following year, however, starting with huge first place runs in the Rebel Stakes, Arkansas Derby and later the Haskell Invitational after sweeping the Triple Crown.
Prior to retirement in 2015, American Pharoah ran 11 horse racing events, finishing worse than second in just one race and worse than first just twice (Travers Stakes).
The 2015 Breeder's Classic would end up being his last run, a triumphant run that helped him rebound from a second place finish in the Travers Stakes and gave him horse racing's first ever Grand Slam run.
Owned by Zayat Stables and trained by the legendary Bob Baffert, American Pharoah was arguably bred for greatness from the very beginning. American Pharoah even benefited from an elite jockey, with Victor Espinoza riding him in 10 of his 11 career races and the two combining for nine first-place runs and 10 top-two finishes.
In addition to elite pedigree, high-class training and American Pharoah's mighty triumph's, the horse gained major notoriety, as well. The the three-year-old colt was named the 2015 Eclipse Horse of the Year, as well as the Champion Three-Year-Old Male Horse in 2015.
American Pharoah also won the Secretariat Vox Populi Award and also won the NTRA Moment of the Year Award.
Easily one of the best thoroughbreds in horse racing history, American Pharoah not only as an elite horse on his own, but also bucked years of negative horse racing history by pulling off the coveted Triple Crown sweep.
He will forever have a place in horse racing history based on his accomplishments, while he also could have a future hand in the horse racing world due immediate breeding as recently as 2016.
Big Brown, I'll Have Another & California Chrome
Big Brown, I'll Have Another and California Chrome are both Thoroughbreds who have won the first two legs of the US Triple Crown in recent years (2008, 2012 and 2014 respectively).
They have both failed to win the third leg, the Belmont Stakes though, leaving Affirmed as the last horse to win the Triple Crown in 1978.
May
Sportsbook of the Month

Sign up Bonus
60% Up To $1,000
READ REVIEW
Visit Site
X