A Detailed Guide to Windsor Racecourse
Horse racing fans in the United Kingdom are more than aware that there is a plethora of fantastic venues across the region. What everyone does not know is that there aren't many racecourses that are as distinct as the one in Windsor. What makes it so special? Why is it different from all the other tracks you have read about?
Grab a drink and get comfortable, because that is exactly what this page is all about. We are going to discuss specific features of the property and describe what being at Windsor Racecourse feels like. This is after we tell you how and when the horse racing facility just a mile or so from the Windsor Castle was opened.
We'll have a dedicated section on the biggest races that take place at Windsor so that you know exactly what events are taking place and when. Of course, with so much to do and see around the area, we'll make sure we leave you with some detailed instructions on getting there.
The most efficient ways to travel to Windsor and what other attractions await your arrival will all be covered by the time you finish reading this page.
To kick this off, take a peek at this overview of key points. Then we'll dive head first into the "meat and potatoes" of the guide.
Overview of Windsor Racecourse
Year Opened

1866

Location

Windsor, Berkshire, England

Owners

Arena Leisure PLC

Course Type

Flat

Notable Races

Royal Windsor Stakes, August Stakes, Winter Hill Stakes

Official Website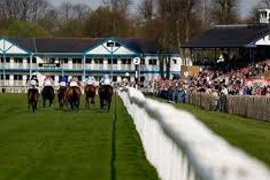 Windsor Racecourse – The Backdrop
To gain a full understanding of the history of the racecourse at Windsor, you have to realize what was taking place on the grounds beforehand. You may know that River Thames is in the background, but you may not have known that well before any Thoroughbreds were galloping around the track at Windsor, the site was home to a royal hunting ground.
Records indicate that flat racing didn't officially begin until 1866, although sometime in the 1700s races were occasionally held at Windsor. We know this because spectators who would attend the Royal Ascot during the summer would frequently stop by Windsor on the way and watch horse races.
The "official" beginning of flat racing at Windsor Racecourse was brought on by John Frail.
Frail used hard work and determination to move up the ranks. An unassuming barber at a young age, Frail's resolve and intelligence led him to become a successful owner of multiple horse racing facilities by the time he matured into an adult.
Windsor wasn't known as the premier racecourse in Britain, nor was it the most popular venue in England. It did, however, remain open during both world wars, while the majority of racecourses in the UK shut down. A flying bomb even landed on the property in the midst of one of the races, but fortunately, nobody lost their life.
Despite only being used for flat racing events today, it wasn't always like that at Windsor. In fact, up until 1998, jump racing was a big part of the racing calendar, as many National Hunt events were hosted here. The reason that steeplechase and hurdle races were halted was to uphold and maintain the integrity of the track's surface. Less damage to the racecourse by fences and obstacles meant it would stay in better condition for when the more prominent flat races were run.
We are going to transition towards those significant races, but first, let us tell you a bit about the layout. We want those of you who have never been to Windsor to be able to picture what it feels like when you get there.
Racecourse Layout and Facility Details
We want to get into some specifics about what you'll find at Windsor Racecourse, but you should understand how breathtakingly gorgeous this place is first. Set in more than 160 acres of lush countryside, the views from the racecourse are striking. Essentially on its own island on River Thames, this course is truly a one-of-a-kind place.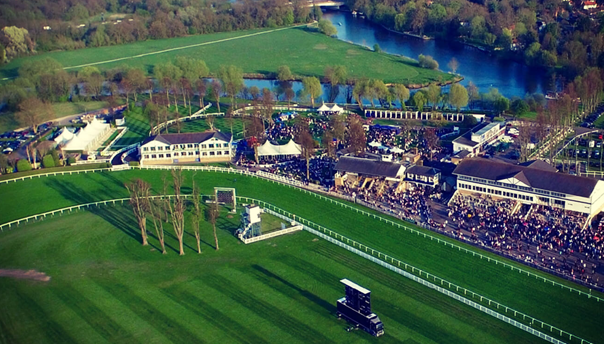 When you approach the area where the events are held, you will notice something right off the bat about the shape of the racecourse that sticks out like a sore thumb.
The turf racecourse at Windsor is a figure eight, or in other words, it resembles the number "8." It is one of only two courses in all of Britain that were created this way, along with Fontwell Park Racecourse in West Sussex. Events can start in different sections of the course depending on the length of the race being run.
Where you watch the race from depends on where you are sitting, or in many cases, standing. The Royal Windsor Grandstand is just 75 yards from the winning post and offers amazing views of the finish line. The Castle Restaurant is on the ground floor of the grandstand building and gives patrons a memorable experience combined with delicious food and wine.
You can also find places to grab a quick drink, such as the Jamstick Bar, located in the original Victorian Grandstand. If you decide you want to bring your own food, feel free to set up a family picnic in the Silver Ring Enclosure. You won't be able to barbeque or light any fires, but you can have a "sip or two." Believe it or not, guests are permitted to bring their own alcohol, so long as it does not exceed the limit of one bottle of wine or four bottles/cans of beer per person.
As you can see, you won't have any problems managing to have a good time at Windsor.
The Most Notable Races at Windsor Racecourse
When you look at the racing schedule at Windsor Racecourse, a few things stand out. One is "Monday Night Racing," which are races held on special Monday evenings during the spring and summer months. Tons of entertainment options are also provided, making Monday nights at the racecourse a heck of a time for anyone involved.
When it comes to the most acclaimed events at Windsor, the ones that the owners of Thoroughbreds in England have their eyes set on, there are three that we thought warranted their own segments. Without any further ado, allow us to elaborate.
Royal Windsor Stakes
The sample size isn't huge at the Royal Windsor Stakes, as it wasn't "born" until 2000. "Lady horses" will have to sit this one out, as its only open to geldings and colts who have reached their third birthdays. The race is 1,638 meters (just 31 yards more than a full mile).
The event occurs in May, and we have yet to see a horse older than six capture the title. We have seen a pair of horses win this event twice, both coming in back-to-back years. The first to accomplish the feat was Swallow Flight, who won the inaugural Royal Windsor Stakes as a four-year-old in 2000 before repeating as champion the following year.
Ordnance Row won consecutive Royal Windsor Stakes in 2008 and 2009. The first came with Ryan Moore on the saddle, while Richard Hughes was the victorious jockey aboard Ordnance Row the second time around.
Hughes went on to win his third Royal Windsor Stakes as a jockey in 2015 riding Shifting Power. This tied him with Irish jockey Kieren Fallon for the most wins at this event (3).
In 2005, Fort Dignity set a new record for the fastest time with a mark of 1:40.78. Ironically, Home Affairs narrowly missed the mark by just 0.03 seconds the next year. Unfortunately, both the 2016 and 2017 editions were canceled because of slippery and unsafe conditions.
August Stakes
Also started in 2000, the August Stakes has some similarities to the Royal Windsor Stakes. The two main differences have to do with when the race is run and who is allowed to participate. Always on a Saturday in August, this race is open to both male and female racers, as long as they are three years old or more. This time around, the girls get to compete with the boys.
It is a bit longer than the aforementioned race – 2,303 meters to be exact. That's 1 mile 3 furlongs 99 yards for those of you who need a reference. The August Stakes was changed to a Listed race in 2004 and offered a purse of £37,000 in 2016. This included a handsome payout of £20,982 to Berkshire, the winning horse.
We have had seen some amazing performances here in the past, perhaps none more impressive than in 2002 when 8-year-old gelding Arctic Owl was victorious. No horse more than 5 years old has won this race other than when 6-year-old Second Step won in 2017.
Cameron Highland is the only Thoroughbred to win this event multiple times, winning the August Stakes in both 2012 and 2013. Glorious Protector set the record for the quickest time ever recorded here in 2014, doing so by more than 2 full seconds!
If you like an event where unexpected things happen, tune into the August Stakes.
Winter Hill Stakes
Hosted on that same Saturday in August as the race above, the Winter Hill Stakes is the most recognizable of the group. Perhaps this is because is a Group 3 event that sports a £60,000 prize pool. It is the only group race annually hosted at Windsor, so don't expect there to be a lot of empty seats in the house.
Like the August Stakes, both genders of horses are eligible to compete once they have passed their third birthdays. The race lasts 2,012 meters, which is exactly 10 furlongs, or 1 ¼ miles. The Winter Hill Stakes started out as a Listed event but was upped to a Group 3 status race in 1995. Consider this the culmination of the summer racing season at Windsor Racecourse. After all, this is the final event on the schedule in August.
Six-year-old stallion Al Kazeem broke the record for the speediest time in 2014 with a mark of 2:01.62. With nearly a full-second buffer between him and the next-best time, look for the pace set by Al Kazeem to stand for the near future.
Another record that may not fall for a long time is for the most victories at the Winter Hill Stakes. Annus Mirabilis won three in a row from 1996-1998, with Frankie Dettori riding during the first two. The Italian jockey added three more wins to his resume for a grand total of 5 wins at the Winter Hill Stakes, more than any other jockey in history.
Take a Trip to Windsor
Now for the fun part of this article. We are not going to try and convince you to go to Windsor; that is going to be up to you. We are simply going to illustrate what there is to do if you schedule a trip. On top of that, we'll even give you some tips and advice on the most logical ways of getting there.
Don't think that if you can't make it to the big summer races at Windsor that you have to wait until the following August to catch the Thoroughbreds in action. We alluded to Monday Night Racing, a series of events taking place on Monday evenings from April-August.
Plenty of fun to be had there. If you want to enjoy activities aside from horse races, Windsor is a great place to check out and explore.
What surrounds the racecourse?
This almost goes without saying, but there is a fairly significant building situated in Windsor that we ought to bring up. In fact, it isn't the racecourse in Windsor that receives most of the attention from tourists. That honor goes to Windsor Castle.
Why is this place important? How about the fact that it's the home of the British Royal Family. Other than that, it's no big deal.
We will save most of the history for your tour guide when you arrive, but it's worth knowing the Windsor Castle is the oldest and largest continually inhabited castle found anywhere in the world.
It's big enough that around 150 people live there full-time, with even more hired to be on staff to keep the place looking immaculate. Make sure when you decide to finally head to Windsor that you allow enough time to gander around the massive property. Changing of the guard happens between 11 and 11:30 am, so plan accordingly.
There is an abundance of restaurants and hotel rooms just outside the racecourse, so don't panic about making arrangements well in advance. Just pack a nice, spiffy outfit and head on down to the course.
Extremely straightforward, folks. Chances are you have heard of Heathrow Airport. You know, the second-busiest airport in the world according to international passenger traffic? Yeah, that place. The great news for racegoers at Windsor is that the gigantic airport is only about 15 km, or just under 10 miles, east of where the races unfold.
Being that this is obviously the closest major airport and the number of departures and arrivals into Heathrow seems endless, we suggest starting and ending your trip to Windsor at Heathrow. Should you be in the mood to take a detour into downtown London for a glimpse of the famous buildings, more power to you.
Summarizing It All
If you haven't been lucky enough to check out Windsor Racecourse, we're not really sure what you are waiting for. We told you how and why it was opened, and we gave you a quick look at what the racecourse and facilities are like.
You are going to want to eat and drink while you are watching and betting on horses, so make sure you take full advantage of the restaurants and bars on site. Of course, you'll want to know when the major races are taking place, so we included a link to the official schedule of events at Windsor.
We picked out the three most renowned events that are hosted at Windsor each and every year and filled you in on some facts about each one. We all love records and can appreciate when Thoroughbreds put on incredible performances.
Finally, going to Windsor isn't all about horse races. The Windsor Castle, home of the British Royal Family, sits just a stone's throw away from the racing facility. It's almost impossible to hang out at the track and not at least stop by the castle and snap a few photos. Talking about it can't really do it the proper justice, so you'll have to see it for yourself one day.
Speaking of taking a trip to Windsor, we informed you that "easy-to-book" Heathrow Airport is just a few minutes' drive from the racecourse. If you don't end up making it to Windsor Racecourse, it won't be because you couldn't find a moderately priced ticket.
So there you have it. There are no excuses for putting off a trip to Windsor Racecourse any longer. You've got a major airport and the most famous castle in England right there.
Quit procrastinating and start making plans now!
May
Sportsbook of the Month

Sign up Bonus
60% Up To $1,000
READ REVIEW
Visit Site
X