Santa Anita Park – Los Angeles' Historic Racetrack
You probably won't run out of things to do and places to see when visiting the Los Angeles area. If you are looking to have a great day at the horse track and perhaps make some money while you are there, you ought to check out Santa Anita Park.
Here's an organized guide diving into one of the most well-known horse racing facilities in all the United States. It was created by our horse racing fanatics, so pretty much anything you would want to know about Santa Anita Park can be found on this page.
Whether you just want to know when the park opened or what big races are held there annually, we got you covered. If you want to know specific details about the racetrack and what the betting platform will be like when you get there, just keep on reading.
Here is a brief overview of some important facts about Santa Anita Park. Then we'll jump right into how it got started.
Overview of Santa Anita Park
Year Opened

1934

Location

Acardia, California

Owners

MI Developments Inc.

Course Type

Flat

Notable Races

Santa Anita Handicap, Santa Anita Derby, Santa Anita Oaks

Official Website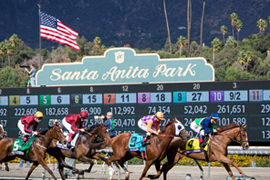 Santa Anita Park Opens
There was a whole lot of money to be made in California once they legalized parimutuel betting in 1933. This meant the floodgates were about to open as investors from all around were scrambling to raise enough money to open up a horse track. Movie producer Hal Roach joined up with some men from San Francisco, and they combined funds to form a more formidable team.
It worked out because the result was the opening of Santa Anita Park in Arcadia on Christmas Day in 1934. This was the first legitimate horse racing facility in the entire state, and they hit the ground running. Just a few weeks later, the inaugural Santa Anita Handicap was held with a whopping prize pool of $100,000.
This was actually the first Thoroughbred race in the entire country that boasted a six-figure purse.
Not only was Santa Anita Park the site of competitive horse races, but it was also a social gathering for the "who's who" in Hollywood. All the bigtime actors and actresses, not to mention the directors and executives, were frequenters of the racetrack just outside Los Angeles.
Business was booming, and Santa Anita Park was a hit. Unfortunately, in 1942, racing was put on hold as the property was used to house Japanese Americans during World War II. More than 18,000 lived in the horses' stables. In fact, it wasn't until 1945 that the racecourse fully reopened. The good news is it didn't take long for the park to get "back on its feet."
When races weren't being run on the track, the grounds were commonly used as the backdrop for television shows and movies. Santa Anita Park was even used in the 1984 Summer Olympic Games to host the equestrian events. The park has been the home to the Breeders' Cup Classic on numerous occasions, most recently in 2016.
As you can tell, many major events have taken place at Santa Anita Park. Once Hollywood Park Racetrack closed at the end of 2013, Santa Anita started taking over as the location of many of their races. Add in Arcadia High School's graduation festivities that are hosted on-site every June and their class reunions every October, and you start to realize there isn't much "empty time" at the park.
Track Details
At Santa Anita Park, you will find an outside main track that is one mile long. The dirt oval encircles a turf course that is a little more than seven furlongs, or about 9/10 of a mile. To clarify, a furlong represents 1/8 of a mile.
At many racetracks, that would be all, but not at Santa Anita. A unique, downhill turf course was added in 1953 that is about 1400 yards long, which is 6.5 furlongs in horse racing terms. You won't come across many turf courses like this in North America, as this type of track is more common in European designs.
The natural dirt that had been the surface of the main track since it opened was swapped for "Cushion Track" in 2007. A mixture of elastic and synthetic fibers are combined with sand to form a blend of materials that offer a soft landing spot for the hooves of the horses. Tarmac, or crushed-up rocks mixed with tar, is used to then coat the surface.
With the closure of Hollywood Park, Santa Anita became the only racetrack in the United States that uses a cushion track.
Santa Anita Park sits on 320 acres of lush ground and can fit more than 80,000 people in all. There are 61 barns in the stabling area, meaning north of 2,000 horses can be accommodated. When you take everything into account about the structure and design of the racetrack, it's no wonder this place is so renowned.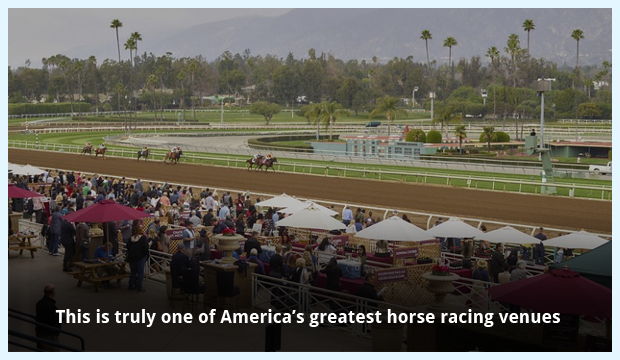 Main Events at Santa Anita Park
The park is located in a spot with great weather year-round, and it's within shouting distance of the major city of Los Angeles. It is no wonder there is no shortage of horse races on the calendar at Santa Anita Park. We don't want to discount any of the events that take place at Santa Anita Park; we just don't have time to talk about every single one.
We decided to focus on what we considered the three biggest races annually held at the park in Arcadia. We of course will conclude by talking about the prestigious Breeders' Cup Classic that has been held at Santa Anita nine times.
It makes sense to start with the race that got it all started.
Santa Anita Handicap
It might not count towards the Triple Crown in Thoroughbred racing, but the Grade-I Santa Anita Handicap is pretty high on the list in terms of "most acclaimed races in the USA." When the first edition of the race was run in 1935, it was the first time the horse racing community had seen a $100,000 purse. Fast forward to today, and it's now 10 times that number.
No wonder they don't still call it the "Hundred-Grander" like they used to!
The $1,000,000 event held at the beginning of March every year at Santa Anita Park is not open to every single horse. Thoroughbreds must have celebrated their fourth birthdays prior to entering this event. As far as races in the country for horses four and up go, they don't get much bigger than the Santa Anita Handicap.
The race takes place on the outer dirt track. The 1 ¼-mile competition is a long race for an older horse, but we have seen some figure it out. We have even seen a few horses win this race twice.
However, Game On Dude has firmly planted himself in the history books with his record three titles. The only horse to capture the Santa Anita Handicap three times left his mark in style when he won for the third time in 2014. His blazing time of 1:58.17 that year is still the fastest time ever recorded in this event.
Hall of Fame jockey Billy Shoemaker won this race 11 times, while Charlie Whittingham was responsible for training the victorious horse on 9 separate occasions.
Santa Anita Derby
If the Santa Anita Handicap and its one-million-dollar purse in March wasn't enough excitement for you, just head back to the track the following month. Every April at the park comes another $1,000,000 event – the Santa Anita Derby.
This Grade-I race, open to Thoroughbreds three years old and up, is one of the last attempts to qualify and prep for the Kentucky Derby. Win this event, and your spot at Churchill Downs the first Saturday in May is locked up. For this reason, there is a significant amount of attention placed on the Santa Anita Derby. It has been taking place every year since 1935, save for a few years in the early 1940s due to the war.
This event has been altered over the years, and we can't promise there aren't any more changes on the horizon. The race lasts 9 furlongs, and the horses carry 122 pounds of weight, mostly from their jockey.
The 1 1/8-mile competition is rich in history. Ironically enough, there is a three-way tie for the fastest time recorded. Lucky Debonair was the first horse to cross the finish line in 1:47 flat at the 1965 Santa Anita Derby. Sham tied the mark in 1973, as did Indian Charlie in 1998.
If you follow horse racing, then surely the name Bob Baffert sounds familiar. The legendary trainer has nine Santa Anita Derbies to his credit, more than any other trainer in history.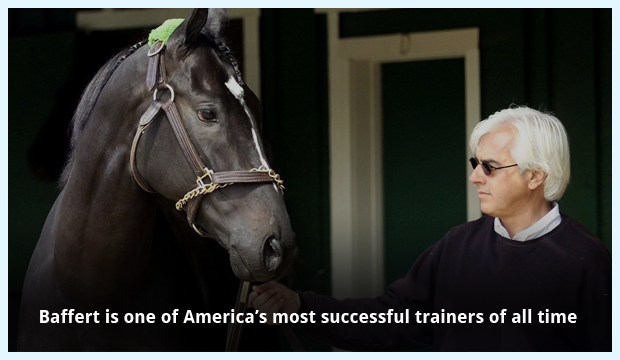 It is also worth noting that there has been one female trainer who led her horse to victory here. That was Jenine Sahadi in 2000 when The Deputy's time of 1:49.08 was enough to get it done.
Santa Anita Oaks
There isn't just one major event at the racetrack in Arcadia on that special Saturday in April. Every year on the same day as the Santa Anita Derby, the Santa Anita Oaks is held. The first major difference is that the "Oaks" is for ladies only. That's right, the only horses in this race will be three-year-old fillies (female horses).
Also a Grade-I event, the length of the Santa Anita Oaks wasn't always what it is today. It actually started as more of a sprint back in 1935 when the race was only 3/8 of a mile. It was slowly increased until 1957, when it was changed to 8.5 furlongs, or a little more than one mile.
There is $400,000 up for grabs at the race formerly known as the "Santa Susana Stakes." It was changed to the Santa Susana Handicap in 1952 for six years, and then back to the Santa Susana Stakes. It wasn't until 1986 that the name "Santa Anita Oaks" was officially adopted.
Bill Shoemaker, who won the Santa Anita Handicap 11 times, managed to be riding the winning horse 10 times at the Santa Anita Oaks. No other jockey has more than 5 wins at this event. To say that Shoemaker, the Texas native, found success at this particular racetrack would be quite the understatement.
Multiple Breeders' Cups
The Breeders' Cup is a two-day series of events that are held every year at different racetracks. Currently, the series features 14 events that all carry million-plus dollar purses. The culminating event, the Breeders' Cup Classic, is the "granddaddy" of the cup.
We are talking about a monstrous $6 million prize pool.
The reason we brought this event up is because it has taken place at Santa Anita Park a record nine times. The Breeders' Cup Classic is a 10-furlong, dirt-track race. Thoroughbreds who are at least three years old have an opportunity to qualify for the admired event.
As far as the most memorable moments from the Breeders' Cups hosted at Santa Anita go, there have been several. When five-year-old Zenyatta won the Classic in 2009, she became the first and only mare (female horse more than three years old) to win the Breeders' Cup Classic. The most recent Cup Classic at Santa Anita in 2016 also brought tons of excitement to the record 118,484 patrons that were on hand. The heavy betting favorite, California Chrome, was upset by Arrogate in a race for the ages.
Given the history and success, we won't be surprised to see the Breeders' Cup return to Arcadia in the near future.
Santa Anita Park – Plan a Trip Now!
Arcadia is a just east of Pasadena, or for those of you not familiar, only about 18 miles northeast of downtown Los Angeles. We don't have to tell you how much there is to do in LA, as you can probably already imagine. Not only do you have the Pacific Ocean and great weather, but there are professional sports teams playing and major theme parks open all year long.
If you want to get away from the hoopla and the traffic, just make your way up to the park at Santa Anita. The breathtaking backdrop of the San Gabriel Mountains paints the picture of what you will see in the background when at the racetrack. Just head north from LA and take the 210-East and hang a right on N. Baldwin Ave. You'll run right into the park.
If you are flying in, you basically have two options that make the most sense. It's about 34 miles from the major LA airport LAX and about 22 miles from the smaller airport in Burbank.
If you aren't aware of the traffic in Los Angeles, well, you will know about it when you get there.
Plan accordingly, as it can sometimes take upwards of an hour to travel 10-15 miles on the highway on a busy afternoon. If you want to really spice up your vacation, you can make the drive from the Las Vegas Strip to Santa Anita Park in less than four hours. Maybe even three and a half, if you're like the Thoroughbreds and are "racing" down the highway.
Making Money at Santa Anita Park
Now that you know all about Santa Anita Park, it's time to dive into the part that most of you are probably most interested in – betting the races. Don't worry; you don't have to travel all the way to the park in Arcadia to get in on the action. The top sites in the online sports betting industry have you taken care of.
BEST HORSE RACING BETTING SITESAs recommended by GamblingSites.com
If you are one of the fortunate ones to be heading to one of the bigtime races at Santa Anita, here's what you should know.
There have never been more ways to bet on a race than what you will encounter at Santa Anita. If you like talking to a clerk in person, that's understandable. Some folks like handing them cash and being handed a ticket in return. There are countless "live windows" at the park that are fully staffed with the people that can assist you.
Don't want to wait in a line? Want to do everything at the touch of your fingertips on your mobile device? Great news – that's available, too. Feel free to use this detailed page to help you get acquainted with all your options so that when you do show up to the park, you are ready to make some money!
Final Thoughts
After reading through this guide, we hope you feel like somewhat of an expert on Santa Anita Racetrack. We started off with some history on how it got started and covered all the specifics of the racetrack itself. We transitioned into discussing the biggest races held at the park, including some of the records that have been set.
The Breeders' Cup Classic is an event that is right up there with the Triple Crown races in terms of significance. As far as the largest prize pools in the world of horse racing go, it's in the top four. We brought that up because the nine times it has been hosted at Santa Anita Park are more than any other location on the planet. They come back to Santa Anita because, well – it's just that awesome of a horse racing facility.
We had a goal of explaining to our readers how they would get to the property if they decided to check out an event. Of course, we had a dedicated segment on what to expect and how to go about betting the races.
The plan was to give you an abundance of information about Santa Anita Park. Hopefully, we got that accomplished.
May
Sportsbook of the Month

Sign up Bonus
60% Up To $1,000
READ REVIEW
Visit Site
X