Sandown Park Racecourse – National Hunt and Flat Racing
If you live in between London and Surrey, boy are you lucky! Because when it comes to British horse racing, there might not be a better place to call home. You have some of the most prominent racecourses in all of the United Kingdom right in your backyard, or at least within a reasonable drive.
The one we are going to tackle in this article is Sandown Park Racecourse. We felt obligated to create a planned-out page for a horse racing venue of this magnitude.
If you are a fan of the sport, some of this information may jog your memory. If you haven't the faintest idea of where Sandown Park is or what kind of horse races take place there, that's not a problem!
You landed on this page looking for interesting facts about the home of the Eclipse Stakes, so that's what we intend on delivering. We'll start by giving you a rundown on when and why the racecourse was opened before we tell you all about the track's layout and the on-site facilities.
We won't leave you hanging when it comes to the major races at Sandown Park. Not only will we direct you to an in-depth guide on the Coral Eclipse Stakes, but we'll unveil some of the other featured races that are held at Sandown Park annually.
We'll conclude with some valuable information for any prospective visitors that are contemplating making a trip. The property is easy to get to, and the options for what to do and see around the area are endless.
Start by taking a quick peek at the table of some basic facts. It will help set the foundation for what's to come.
Overview of Sandown Park Racecourse
Year Opened

1875

Location

Esher, Surrey, England

Owners

Jockey Club Racecourses

Course Type

Flat, National Hunt

Notable Races

The Eclipse Stakes, Tingle Creek Chase, Bet365 Gold Cup, Celebration Chase, Henry VIII Novices' Chase

Official Website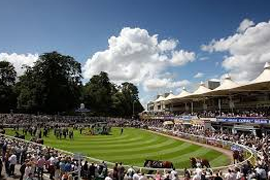 Another Racecourse Opens in Surrey
Epsom Downs had been thriving for years, and it was time for another racecourse to be opened in Surrey. When Sandown Park opened in 1875, it would be different from any racecourse that had come before.
When you read about racecourses opening well over 100 years ago in England, the story usually starts out with a member of the Royal family being at the forefront. However, this was not the case at Sandown Park.
Instead, the racecourse was specifically built as a leisure destination, essentially as a place for racing fans to go and have a great time while enjoying some Thoroughbred racing.
For the first time in England, all spectators had to pay a price to enter. It may have been just half a crown to get in, but it was still significant because it meant this was a legitimate business. From the words of a contemporary diarist, it meant that "a man could take his ladies without any fear of hearing coarse language or witnessing uncouth behavior."
Being the first enclosed racecourse in the UK is certainly a claim to fame for Sandown Park, but it is by no means the only attribute that makes it worthy of being discussed.
From the time the very first race was held at Sandown Park, the racecourse was destined for greatness.
The inaugural race at Sandown Park in 1875 was run during a torrential downpour. It didn't stop legendary rider Fred "The Tin Man" Archer from winning the event in dramatic fashion. This was just the beginning of jockeys and Thoroughbreds making a name for themselves at the track at Sandown Park.
We want to elaborate on the highlights and most memorable moments from the biggest races, and we will. But we first need to explain the characteristics of the racecourse.
A Course Fit for Flat and National Hunt Racing
Sandown Park Racecourse has about as versatile of a setup as you will find. We say this because the course is not only home to some of Britain's biggest national hunt races, but it also features some fantastic flat racing, including the revered Eclipse Stakes. Staging both flat and jump races on the same race card may have been common in the past, but not anymore. Today, Sandown Park is one of two racecourses (Haydock Park is the other) in all of the United Kingdom that seamlessly holds both.
Simply put, Sandown Park has a bit of everything. To understand how it's all possible, you have to take a long look at the design of the track.
The flat races are run on the outer right-handed turf course, which resembles a stretched-out oval. Its circumference is 1 mile 5 furlongs and includes a finishing stretch up a moderate incline that measures 4 furlongs. Running right down the middle of the track is a 5-furlong uphill stretch of turf that is used for the shorter sprint races.
Now for the steeplechase course. Slightly longer by about a half-furlong, Thoroughbreds must contend with a downhill portion of the course before turning back uphill for the home straight. There are 11 obstacles on the course that range in description, all of which must be cleared.
After jumping the first three fences, they must brace for the first open ditch. Most have no problem with the start, but it gets more difficult as they progress through the race. After jumping over six more standard fences, they are faced with another ditch that is twice as wide as the first one.
Expect to see the horses with the best endurance succeeding at this steeplechase course, as there really is no let-up the entire way around.
As for the hurdle course, that isn't nearly as difficult. All they do is place 6 hurdles on the flat course. Two lie in the home straight, while the first four are on the back straight.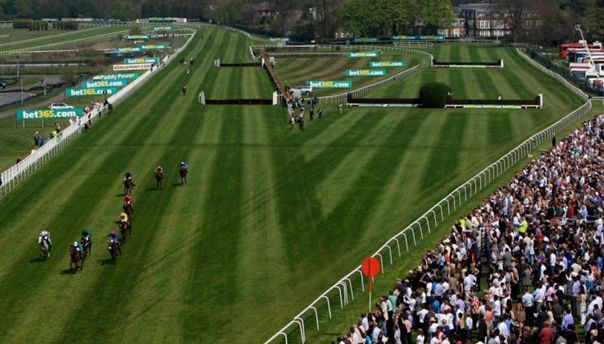 The fact that Sandown Park can accommodate all three forms of Thoroughbred racing says a lot about the performance of the track. As for the enclosures?
You know, the locations where all the patrons eat, drink, and watch the races? That's next up in our discussion!
The Enclosures at Sandown Park
Unless you are a member, you are looking at two options when you arrive at Sandown Park.
Grandstand Enclosure
The most basic ticket you can purchase is for the grandstand enclosure. Inside, you will find the Grandstand View Bar, a great spot to grab your first beverage or snack. There is a giant food hall that serves a variety of food, so no racegoers should be heading home hungry.
Ember Bar and Diamond Edge Bar are also places to hang out, grab a drink, and catch the Thoroughbreds in full gallop as they approach the winning post.
Premier Enclosure
If you obtain a badge to the Premier Enclosure, we can start by saying that you have full access to everything mentioned above in the Grandstand Enclosure. It's everything else that comes with it that makes this such a "hot ticket."
We are talking about unobscured views of the entire racecourse, right in front of the finish line. There is a balcony in the back that stares straight down at the Parade Ring.
You'll have the option of eating at establishments such as the Equus restaurant or the Loch Fyne Seafood Grill and The Brasserie. Just make sure to make a reservation if you choose to dine at Equus, while the latter two restaurants don't require any planning ahead.
Last but not least, don't forget to at least check out the Champagne Bar, which can be found on the ground floor in Surrey Hall. You won't be disappointed!
The Most Significant Events at Sandown Park
Now that we have given you a description of what race days are like at Sandown Park, it's time to dive into the most important races on the racing calendar. By now you know that this place isn't a "one-trick pony."
Steeplechase races happen to be the highlight for many that come to the park to attend competitions, but it is actually a flat race that is the most acclaimed of them all.
The Eclipse Stakes
There may be Thoroughbred racing taking place year-round at Sandown Park, but it's the flat race on a Saturday in July every year that garners the most attention. The event is called the Eclipse Stakes, and it's meant for horses aged three and up.
The race is 2,002 meters and has a £500,000 prize pool. It was first run all the way back in 1886, so you can imagine how much history and tradition is steeped in the race. It's actually the reason we're not going to unveil everything right here and right now.
However, if you are interested in learning more about the Eclipse Stakes, which has been sponsored by the British-based gambling company Coral (now the Ladbrokes Coral Group) since 1976, all you have to do is click the tab below.
The next two races on our list take place on an action-packed Saturday in December at Sandown Park. There is a two-day racing festival every December that culminates in the Tingle Creek Christmas Festival Chase Day. It's the perfect balance between hardcore racing events and men and women having a blast socializing.
Tingle Creek Chase
Inaugurated in 1979, the Tingle Creek Chase is a Grade 1 event with a 150,000-pound purse. It received its name in honor of Tingle Creek, a renowned jumping racehorse in the 1970s. The winning horses at this event have certainly earned it because there is no faking it here.
It's essentially 2 full miles in which the Thoroughbreds must jump 13 fences. If the horses don't possess skill and stamina, they'll be left in the dust.
Speaking of Thoroughbreds, they aren't even allowed to compete unless they have celebrated their fourth birthdays. Multiple horses have won this race twice; however, only one has achieved first place at the Tingle Creek Chase three times.
That horse was Flagship Uberalles, a gelding who won as a 5-, 6-, and 7-year-old in 1999, 2000, and 2001.
During his first triumph in 1999, he was trained by Paul Nicholls, giving the Lydney-Gloucestershire native his first win as a trainer in this event. Lo and behold, Nicholls would go on to train another 9 winners here, including every year from 2005-2010. He was responsible for training 2017 winner Politologue, so who knows how many more wins Nicholls has in store?
Henry VIII Novices' Chase
That very same December Saturday that the Tingle Creek Chase takes place is also when the Henry VIII Novices' Chase is held. At 3,126 meters, this nearly two-mile race is also for four-year-old and up Thoroughbreds. The difference comes in the title, with the key word being "novice."
"Novice" in steeplechase racing simply means that the horse has not won a race prior to the start of that season. But this doesn't mean we haven't witnessed some impressive performances down the stretch in the last 30-plus years.
We have seen horses dominate from the get-go, and we have seen others stage late comebacks. Watch Altior blitz past his competition after clearing the 13th and final fence in the 2016 edition of the Henry VIII Novices' Chase, and you'll see exactly what we mean. With £50,000 on the line, it's no wonder that jockey man Noel Fehily pushed his gelding so hard towards the finish line.
Bet365 Gold Cup
Let's transition into a different part of the year and a different set of races. The Gold Cup at Sandown Park is a long, long race. To be exact, it is 5,934 meters, which is 3 miles 5 furlongs.
For this reason, the three- and four-year-old Thoroughbreds are forced to sit this one out and wait until they are five years old to have a crack at winning the Gold Cup. Truth be told, a five-year-old has actually never won this race, and only twice in its history has it been won by a six-year-old (Taxidermist 1958, Bounce Back 2002).
When it started in 1957, it was called the Whitbread Gold Cup, thanks to its sponsor, Whitbread Brewers. This relationship was a long and successful one, running through 2001.
After temporarily exploring with At the Races and Betfred, the Gold Cup has been sponsored by Bet365 since 2008. This partnership has worked out famously so far, as the 2017 purse was all the way up at £150,000.
Not too shabby for a Grade 3 National Hunt event!
In its existence, four horses have won this race twice, most recently Ad Hoc in 2001 and 2003. In both instances, Ad Hoc was trained by none other than Paul Nicholls, a man who clearly has an affinity for the steeplechase course at Sandown Park.
Celebration Chase
Here is another race intended for horses aged five and older, but this time they don't have to go on a more than 3-and-a-half-mile trek. The Celebration Chase, initially run in 2001, lasts 3,126 meters, which is a shade under 2 miles. It is by no means a short race, but it seems that way compared to the Gold Cup.
With more than £71,000 of the £125,000 being awarded to the victorious Thoroughbred and his or her team, it's not surprising that the top steeplechase jockeys want to get in on the fun. Just ask Tony McCoy. The man from Northern Ireland won the very first Celebration Chase in 2001, along with the 2003 and 2011 versions.
As for our routine "Paul Nicholls sighting," the man has been responsible for training 5 winning horses at the Celebration Chase. This is more than any other trainer, although 2016 and 2017 winning trainer Nicky Henderson is hot on his tail.
Setting Up a Trip to Sandown Park
We have spent a few sections trying to explain what goes on at Sandown Park Racecourse. Having a foundation of its history and how the race track is set up allows you to paint the picture when imagining the races taking place.
If you thought horse racing was the only thing going on at Sandown Park, then you are sorely mistaken. We apologize for not briefing you earlier, but we may as well tell you about "the rest of the best" at Sandown Park now!
All you have to do is think of large-scale entertainment, and chances are it has or is taking place at Sandown Park. From weddings and private events to massive trade shows, Sandown Park is home to it all.
Property auctions and toy fairs – check. Car shows and musical concerts – check. As we learned from exhibitionworld.co.uk, Sandown Park was even the site of the Contemporary Art Fairs' new show in February of 2018.
The bottom line is that the action doesn't stop, even after the races are completed for the day. Finding out what's going on during the evenings at Sandown Park is a big part of planning your trip to Esher.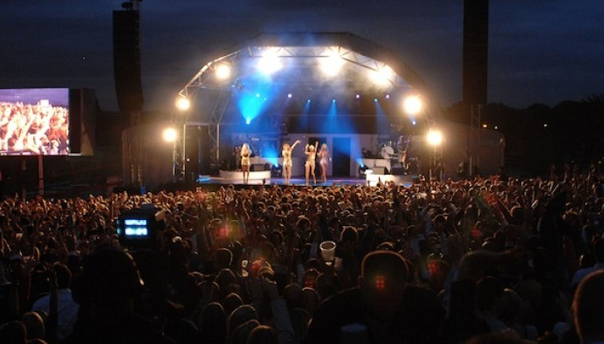 In terms of actually getting to the racecourse, well, that depends on where you are coming from and what your aspirations are.
If you are a local and are just driving in for the day, you probably already know that the "More Lane" entrance offers free parking. The main parking area is off of Portsmouth Road, straight across from the entrance to the park. However, plan on spending £5 if you want to leave your car here for the afternoon.
Now, for our non-residents of Surrey that will be flying or taking the railway, here's what you should know.
The two main airports in London are both fairly close to Sandown Park, especially Heathrow. Located less than 20 km (about 12 miles) from the racecourse, getting to and from won't be an issue. If you have trouble finding any reasonably-priced flights, try Gatwick. It is a little further away, but it should only take around 40 minutes to get to Sandown Park.
The key is going to be getting yourself to the Esher railway station. Fortunately, trains will be leaving from London Waterloo and Clapham Junction every 20-30 minutes.
Once you get off at Esher, you are looking at a 10-minute or so stroll to the park's entrance. There are always taxis and ride-sharing platforms you can use, but why not take advantage of the public transportation when it's this easy?
We don't have to spend time telling you all about what there is to see and do while you are in London; we'll let the travel-advisor sites do that. What we can tell you and what the average person won't is that the Hampton Court Palace is just a couple miles away. The royal palace and grounds of Henry VIII is right on River Thames and is a must-see for tourists in the area.
If you want to see some free-roaming deer while in Esher, head to Bushy Park, just a few minutes north of the racecourse.
Of course, Kempton Park and Epsom Downs are within shouting distance as well, so seeing a horse race live and in person won't be an issue. If you call yourself a racing fan and you haven't scheduled your trip to Surrey yet, what are you waiting for?
The Rundown
Sandown Park Racecourse has it all, and that's why it is such an esteemed horse racing venue. There are plenty of places to watch Thoroughbreds race across the UK, but none of them are quite as unique as Sandown Park.
The fact that it hosts jump and flat races on the same race card illustrates how adaptable the property is. We explained the setup of the tracks, just like we uncovered what the enclosures entail.
Going to a race is a lot more fun when you have a great view and an assortment of food and beverage selections at your beck and call.
We started out by telling you that Sandown Park opened specifically with the intention of amusing and entertaining spectators, so it should come to no surprise that the property has been used for all sorts of festivities.
From concerts and trade shows to weddings and auctions, the venue is fully-equipped to handle anything thrown at them. You know about the Eclipse Stakes in July and you know about the jump races in April and December.
We briefed you with some tips and advice for how to efficiently travel to the racecourse in Esher, so there really aren't any more excuses to make. Get some time off and book a trip to Sandown Park. All the fun is awaiting your arrival!
September
Sportsbook of the Month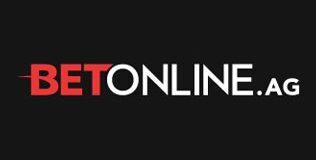 Welcome Bonus
50% up to $1,000