Our Detailed Guide to Doncaster Racecourse
If racecourses are judged like fine red wines, then it doesn't get any better or purer than Doncaster. The racecourse in South Yorkshire, England, has been home to horse racing since before 1600! As you can imagine, the history and tradition run deep at Doncaster. There have been a whole bunch of memorable moments, and we want to tell you about as many of them as we can track down.
You'll want to crack open a cold beverage for this one. After starting with the earliest times of the racecourse, we'll transition into some facts and tidbits about the track. Understanding what the actual racecourse and facilities are like will give you a much better grasp on envisioning the most significant events. Don't worry; we are going to cover the marquee horse races at Doncaster Racecourse and tell you when they fall on the calendar.
That'll help you decide if and when you can take some time to head to Doncaster and check it out for yourself. Our team wants you to be well aware of which attractions around the area are worth seeing and what the best methods of transportation are, so you can get there hassle-free.
Start with this short table of key points, and then proceed right into some organized sections. It's all about Doncaster Racecourse today, ladies and gentlemen!
Overview of Doncaster Racecourse
Year Opened

1614

Location

Doncaster, South Yorkshire, England

Owners

Arena Leisure Plc

Course Type

Flat, National Hunt

Notable Races

St Leger Stakes, Doncaster Cup, Lincoln Handicap, Racing Post Trophy

Official Website
One of the Oldest Racecourses in the United Kingdom Opens
Here is what we know. By the year 1600, the Doncaster corporation had already started to shut down horse racing, as it wasn't bringing in the "types of people" that the area wished for. The type that enjoyed violence and getting belligerent were not the ones that the Doncaster corporation had in mind, hence the efforts in trying to put a stop to the events.
Although their attempt at shutting it down failed, their efforts ended up being a huge blessing in disguise. Rather than cease horse racing, why not regulate it and make it better? The result came to fruition in 1614, when the official racecourse at Doncaster was designed.
Instead of frowning upon the patrons and the sport, they embraced horse racing at Doncaster to the fullest. The Doncaster Cup came in 1766, and it's still run each and every year today. That makes it the oldest standing horse race on the entire planet, but more on that later.
By 1776, Doncaster had to move from Cantley Common over to Town Moore to help accommodate larger crowds. Fast forward to today, and it's the same racecourse, save for some big changes that have taken place.
We are talking about some MAJOR renovations to the property and the facilities.
What kind of changes were made to the racecourse? You'll just have to keep reading to find out!
Illustrating the Racecourse at Doncaster
We want to try and explain the features of the racecourse the best we can so that you can visualize what being there is like. It is not your standard, oval-shaped track like many horse racing venues have.
Doncaster is home to both flat AND National Hunt races, so the course is flexible and able to be transformed.
The main course is pear-shaped and measures a shade under 2 miles in circumference. The course is also designed with a one-mile straight that is pretty flat, offering a great place for the shorter races to be held. Hurdling and steeplechase fans can get a lot of excitement from watching one of the National Hunt races at Doncaster.
There are 11 obstacles the steeplechasing Thoroughbreds must clear. After opening over a water jump, they must jump over a series of fences and open ditches. The hurdlers don't have it much easier, as they have to jump over 7 hurdles, including 3 during the final stretch.
In order to further advance the capabilities and performance of the course, Doncaster temporarily closed in during 2006 and 2007 to make some improvements. If you are curious as to just how big of improvements are we talking here, how's £34 million sound? Is that enough to get you excited?
To help explain what that money was used for, you have to look at the facilities on site.
Great Hospitality
The five-story grandstand that was part of the £34 million facelift is a structure you almost have to step foot inside to truly appreciate. It's called the Urban I Grandstand, and there is no shortage of fun to be had.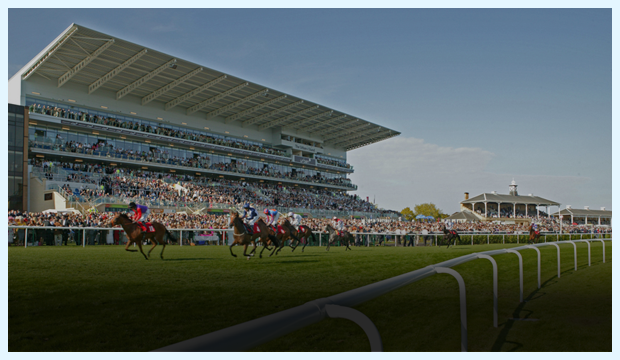 On the third floor is the Lincoln Restaurant, with a great menu and remarkable views of all the action. Make sure you plan ahead by booking your reservation well in advance, and you'll also want to wear a nice outfit. A strict dress code is enforced that requires men to wear a jacket, and jeans are forbidden.
Beneath the Lincoln Restaurant, you can find the Halmahera and Double Trigger bars, great places to grab a drink before the race starts. The County Restaurant is another option to sit down and have a meal, but again, you will need to plan in advance. Tickets to the County Enclosure also sell out when the big events come to town.
If you have the means, the Lazarus suite is a private area to host a party for you and your friends. You'll get full, 360-degree views of the track, not to mention a private terrace that's directly above the parade ring. If you want to be close to the action and have the exclusive experience, this is the place to aim for.
There is even a family enclosure that is meant for the more casual racegoers. This is a place to take the family and have a picnic while you enjoy the racing competitions. You can't bring your own booze, but you can certainly purchase from the bars and bring it to the picnic area.
There is plenty of great food, alcoholic beverages, and awesome views of the races to be had. The hospitality is more than sufficient, especially after the huge makeover in 2007.
The Most Notable Races
Now that we have given you some information about what Doncaster Racecourse looks and feels like, let's start diving into the events that make this place so revered. While there are some steeplechase and hurdling events on the National Hunt schedule, it's the flat races that make Doncaster so special.
The St Leger Festival is a four-day extravaganza of horse events held every September at Doncaster. This is the site of two of the oldest races in all of England, and they are more than worthy of being discussed. We will also take a look at a couple other events that horse racing fans in the UK surely have circled on their calendars.
Without any further ado, it is time to introduce the first race ever held at Doncaster.
Doncaster Cup
Although this is "only" a Group 2 race, don't be fooled into thinking it isn't a big deal. It originated in 1766 as the Doncaster Gold Cup, and no race anywhere in the world has been going on as long as this one.
Considering how many horse racing competitions there are around the globe, that is quite the claim.
Not all Thoroughbreds are cut out for the Doncaster Cup, as the event is not a short race by any means. At 3,600 meters (nearly 2 ¼ miles), this is the final leg of the Stayers Triple Crown in British racing, following the Ascot Gold Cup and the Goodwood Cup. It is intended for only Thoroughbreds who have at least reached their third birthdays, regardless of their gender.
Being that the Doncaster Cup has been going on since 1766, you can imagine how much history and how many exciting moments have been part of this event. Well before any of us were ever thought of, Beeswing had already captured four Doncaster Cups. Don't worry about missing out; you would have had to be around between 1837-1842 to witness the feats.
However, we have seen multiple horses win the event in consecutive years, most recently Times Up in 2012 and 2013. The times have not always been recorded, but the fastest one on file is the time of 3:48.41. This was run by Septimus en route to winning the 2007 Doncaster Cup.
There will be much more history tacked on here. The long-distance race that's been going on for more than 250 years isn't going anywhere anytime soon.
St Leger Stakes
Now, for the part of the article that many of you have been waiting for. We made a brief reference to the St Leger Festival, a four-day series of horse races in September at Doncaster Racecourse. We told you that the oldest event in the world takes place on the third day, but what else?
The most significant race by a fair margin occurs on a Saturday in September, on the fourth and final day of the festival. It's called the St Leger Stakes, and it came just 10 years after the Doncaster Cup.
The thing is, it's not really possible to hit on all the notable facts and important information about the St Leger Stakes in just a couple short paragraphs. With £700,000 up for grabs and a bunch of unforgettable moments to get to, the event is too substantial to not have its own individual page that covers everything. So, that's what we decided to create just for you!
Feel free to check out our guide to the St Leger Stakes. Whether you just want to browse through some of the most impressive records or you want to read about the race from start to finish, you'll find something up your alley by clicking the button above!
Once you finish learning about the St Leger Stakes, it's on to the next one!
Lincoln Handicap
After reading about a couple esteemed events in September, you may be wondering if any other time of year plays host to a major competition. The answer is yes; that time is a Saturday in March, and it's called the Lincoln Handicap.
If you have heard of the Grand National at Aintree, you should know it represents the second leg of the "Spring Double." The FIRST leg is the Lincoln Handicap at Doncaster. Three-year-old Thoroughbreds have to sit this one out, as horses must have celebrated their fourth birthdays in order to enter this race. There is a pretty £100,000 purse, with more than £62,000 going to the victorious horse.
The very first Lincoln Handicap in 1853 was 1 ½ miles, but that only lasted for the first two years. Ever since 1855, this event has been a 1-mile, straight shot to the finish line. It was held at Lincoln Racecourse up until 1964 when the track shut down. It moved to Doncaster the following year and has been held there ever since. In fact, the name of the event was really the Lincolnshire Handicap up until the move to Doncaster in 1965.
In the years since the move, seven-year-old Star of a Gunner in 1987 and eight-year-old Hunters of Brora are the only two horses above the age of six to seek out a victory at the Lincoln Handicap. Ob became the first horse to win this event twice in 1907, and it has only happened one other time since. That came when Babur captured the Lincoln Handicap back to back in 1957 and 1958.
As far as the quickest finishes go, they didn't start keeping official times until 1986, so we don't know exactly how fast some of the early winners were. The fastest time on record came in 2009 when Expresso Star blitzed the field with a time of 1:36.51.
Racing Post Trophy
The final event on our list is not to glance over; this a serious flat race. It's so serious that out of all of the prestigious races at Doncaster, only two are of the Group 1 Status. The first one is the St Leger Stakes, and the second one? It's called the Racing Post Trophy, and it takes place on a Saturday towards the end of October.
The history of the Racing Post Trophy is a bit complicated, so please allow us to untie the knots and clear the air. After all, the prize pool is a hefty £215,500, so you might as well learn a little about it!
The first edition of this competition came in 1961 and was dubbed the Timeform Gold Cup. That only lasted until 1964 when British newspaper the Observer took over as title sponsor, which lasted 11 years. Then, bookmaking conglomerate William Hill got involved and changed the name to the Futurity Stakes.
The carousel ends, for now, with Racing Post, who threw their hat in the ring in 1989. The British online and printed newspaper revolving around racing changed the name to the Racing Post Trophy, and it has subsequently been a huge success.
The one-mile sprint is designated for two-year-old colts and fillies only. That's right; this one is for the "young-uns." No stallions, geldings, or mares will be seen here. Casamento's time of 1:37.03 in 2010 holds as the speediest time ever in the Racing Post Trophy. However, Rivet narrowly missed out in 2016 when he came up just five-hundredths of a second short.
Setting up a Trip to Doncaster
Enough about the races; let's talk about the surrounding area and getting to Doncaster. If you want to experience any of the competitions we mentioned, there are a few items you'll want to be aware of as you are scheduling your trip.
Doncaster Hilton Hotel opens during the summer of 2018 and will offer 154 luxurious rooms. The Crown Hotel and the Mercure Doncaster Centre Danum Hotel are also terrific options and are within shouting distance from the racecourse. The truth is, as much as there is going on at Doncaster, you'll really only need your hotel room at night for a place to get a few hours of "shut-eye."
As far as getting to the racecourse goes, Doncaster Central railway station is within walking distance of the course. You can access the centre railway station in Doncaster from many of the major cities in the United Kingdom, including London. If you end up on the local bus, it will drop you off directly outside the entrance.
If you are from outside the UK and will be purchasing airfare, try and find a route that lands at the Doncaster Sheffield Airport. It's only about 6 miles away from where the races take place. Unfortunately, this is not a gigantic airport, and you may not have a lot of luck finding reasonable options of getting there.
What you can do is book a flight to Leeds Bradford Airport. It will take you about an hour to travel from Leeds Bradford to Doncaster Racecourse, but at least the airport is bigger, so you'll have an easier time booking a flight.
If you are traveling from afar, we recommend giving yourself plenty of time to explore. It takes less than two hours by train to get from London to Doncaster. This means flying into Heathrow or Gatwick could be an alternative way to start the trip. Perhaps you want to sightsee and check out Hyde Park or Trafalgar Square while visiting the area.
You don't HAVE to stop by London to take in some cool attractions and ancient buildings, though.
The Yorkshire Wildlife Park and the Conisbrough Castle are two can't-miss locales, as is the Cusworth Hall Museum and Park. Just don't get too carried away while perusing through Doncaster, or you might miss the races!
Summing It All Up
We only dig this deep into the racecourses that are praised and respected at the highest level. Being that Doncaster is one of the most acclaimed in all of the world, let alone England, we felt that organizing some details and information about Doncaster was something that many would be interested in.
After all, racing started before 1600, and it's the host of the Doncaster Cup, the longest-standing horse race anywhere on Earth. We led you to a dedicated page on the St Leger Stakes, as it is one of the more valued and well-regarded flat races in all of Britain.
We told you about the racecourse and its facilities, specifically how the £34 million renovations added another element to the already successful property. Understanding what the track looks like and what kind of food and drinks are available helps you picture Doncaster. We explained some of the seating arrangements and even gave you some tips and advice on traveling to the area.
Getting to Doncaster and having loads to see and do isn't going to be a problem. We hope that this guide proved that Doncaster is everything it's hyped up to be!
May
Sportsbook of the Month

Sign up Bonus
60% Up To $1,000
READ REVIEW
Visit Site
X