History of William Hill
William Hill is a one of the biggest names in gambling. The company has a chain of bookmaking shops throughout the United Kingdom, where it's based, and is also a major online gaming enterprise.
Created by William Hill in 1934, today the organization offers online betting along with casino, poker, and bingo games. It's listed on the London Stock Exchange and currently has a value of over £4 billion.
On this page we have detailed the history of William Hill, from how it all started to its position today as one of the most significant organizations in the industry.
How It All Started
As a fully licensed gambling operation known for its reliability, security, and transparent financial transactions, it's perhaps surprising that William Hill started out as a small illegal operation behind closed doors in 1934.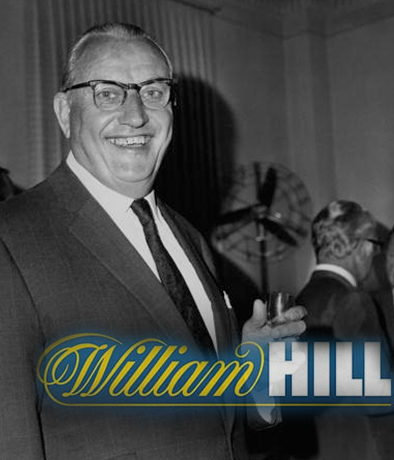 Its founder, William Hill, established the company to offer a postal and telephone betting service. Customers would send checks and place their wagers well in advance of the events they were betting on.
At the time, the gambling industry was neither legal nor regulated in the United Kingdom. With no governing body and no legal requirement for bookmakers to even pay out winning bets, there was a great opportunity for an honest operator.
William Hill began to establish its reputation of reliability, and its system stayed in place for many years, until betting shops were declared legal.
William Hill Goes Legal
Betting shops became legal in the UK in 1961, but it took five years for William Hill to enter the retail bookmaking market. It was still a fairly small sized operation and betting shops in general didn't have a particularly great reputation.
The arrival of television had a significant impact and betting became a much more acceptable pastime as people began to spend time in betting shops watching racing and football games.
In 1970, William Hill retired. He died the following year, and the company was taken over by Sears Holdings in 1971. The name was retained and the company was operated successfully for many years until being sold to Grand Metropolitan in 1988.
Grand Metropolitan also owned Mecca Bookmakers and merged the two companies into one, using the William Hill name.
Just a year later the company was sold again, this time to Brent Walker for £685 million.
Fraud Scandal
As William Hill kept changing hands it was noted that funds were also disappearing, and the company was put under investigation by the Serious Fraud Office.
Grand Metropolitan was found to have been embellishing the company's profits during its year of sale to Brent Walker.
The investigation was conducted at the time of Brent Walker's ownership, and two of William Hill's directors were incarcerated.
Brent Walker recovered over £100 million of the price it paid to Grand Metropolitan, but collapsed in 1997 with debts of over £1 billion. The Japanese investment bank Nomura then bought William Hill for around £700 million.
The company stabilized, due to the increase in betting interest from the earlier launch of the National Lottery in the UK.
Nomura planned to float William Hill on the stock market, but eventually abandoned the idea due to a lack of interest. In 1999, William Hill was sold once again. Reputable venture capitalist firms Cinven and CVC Capital Partners became the new owners, paying £825 million.
William Hill Goes Online
In the year prior to its sale to Cinven and CVC Capital Partners, William Hill made history by going online with it sportsbook. The internet was changing the gambling industry and William Hill was not going to be left behind. In 2000, it launched its online casino and the company enjoyed great success.
In 2002, it did go ahead with flotation on the stock market, listing on the London Stock Exchange. Two years later, when its Chief Executive David Harding decided to sell a significant batch of his shares, a price crash wiped £75 million of its value.
The following year William Hill purchased 624 betting shops from Stanley Leisure, and it became the biggest betting company in the UK in terms of number of shops.
However, the company was forced to sell 78 of its newly acquired shops by the Office of Fair Trading due to concerns about anti-competitive practices. There were also fears that the company had overpaid for the shops and its share price dropped again. Towards the end of 2005 it was relegated from the FTSE 100 Index.
More Developments
2008 was a significant year for William Hill. Its online operations weren't performing as well as hoped, and they entered two new partnerships.
They made an agreement with Orbis to use the software company's technology for its new sportsbook, which was launched in November of that year. In an agreement with another software company, Playtech, they formed a new company William Hill Online. Playtech was to have a 29% stake in this new organization.
In 2009, William Hill announced it was moving some of its operations to Gibraltar. The following year it established a new telephone betting service also based in the region.
Over the next few years it began to explore potential acquisitions of three land-based betting businesses in the United States, with a view to obtaining a US gaming license. In 2012, these acquisitions were completed and William Hill was awarded a gaming license in Nevada by the Nevada Gaming Commission.
William Hill acquired the Australian operations of gambling site Sportingbet in 2013, and also purchased an option on their Spanish operations. In the same year, it purchased Playtech's stake in William Hill Online to gain complete ownership of that organization.
Today, William Hill is a well-known and trusted brand in online gambling with a sizable customer base.