How Chris Moneymaker Won the 2003 WSOP and Caused the Moneymaker Effect
If you are not a poker player, and someone tells you about something called the Moneymaker Effect, you might assume it's some kind of get rich quick scheme.
But nearly everyone who knows anything about poker knows about the Moneymaker Effect. The Moneymaker Effect refers to the explosion of online poker players who went on to compete in massive poker tournaments against professionals.
Thousands of online poker players have joined professional tournaments since 2003. Several of them have gone on to incredible wins, while others have just enjoyed the opportunity to compete against some of the best names in poker.
They were all inspired by one man: Chris Moneymaker. Here is his story of how he won the 2003 World Series of Poker, and how it changed the poker world forever.
An Introduction to Chris Moneymaker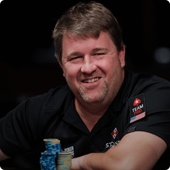 Christopher Bryan Moneymaker was born in Atlanta, Georgia, on November 21, 1975, but he grew up in Knoxville, Tennessee.
He was the middle child, with one older brother and one younger sister. His father worked for a travel agency, and his mother's family owned a liquor store.
The family enjoyed free vacations from his father's job, and Chris spent many of his childhood afternoons helping around the liquor store. When he wasn't helping out at the liquor store, he played games like pool, blackjack, bridge, and a modified version of craps.
One of the free vacations he enjoyed as a kid was a cruise where he and his brother snuck into the ship's casino. They got inside, found a slot machine, entered a coin, and pulled the lever before security caught them and escorted them out.
Despite his early shenanigans, Chris worked hard and graduated at the top of his class. He attended the University of Tennessee on scholarship and graduated six years later with bachelor's and master's degrees in accounting.
Moneymaker got a job as an accountant for a group of restaurants that his friend owned. He married his long-time girlfriend Kelly and had their first child, a daughter named Ashley.
Everything about Moneymaker's life seemed to follow the typical trajectory for an average suburban American family.
Is Moneymaker His Real Name?
When you hear about a person who goes by Moneymaker making millions of dollars through poker tournaments, you assume it's a nickname. But, the truth is that Moneymaker is Chris's real last name.
His ancestors lived in Germany, and their last name was "Nurmacher." They were coin-makers who made silver and gold coins. When they moved to the United States, they modified their last name to sound more American and chose the name Moneymaker.
Chris was used to showing people his ID to prove his last name. During the WSOP event in 2003, one of the event's managers saw his last name on the list and thought it was a mistake or a nickname. As soon as the manager approached Chris, he pulled out his wallet to prove that Moneymaker was his real name.
How Moneymaker Qualified for the WSOP
Despite having a last name like Moneymaker, Chris was more similar to the average American than he liked.
When his daughter was born in early 2003, Chris struggled to pay off a mountain of credit card debt with an accountant salary of only $40,000 per year.
Poker was not a significant part of Chris's life at that point. He enjoyed friendly poker games with friends once a week, and he sometimes played online poker through PokerStars. But the stress of credit card debt prevented him from playing more than that.
The Initial Buy-in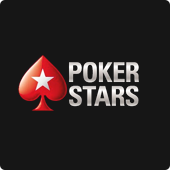 The first event that started Chris Moneymaker on the path that led to his eventual fame was a simple game on PokerStars. He thought it was a sit-and-go game with a cash prize, but instead, he won a ticket to a World Series of Poker satellite tournament. That ticket covered his $650 buy-in.
For years, the media and Moneymaker himself reported that he spent $39 to enter that first tournament. In this image, he shows off his initial buy-in compared to his final winnings.
PokerStars offered several tournaments for $39, and Chris often participated in two-table games for $39 each. Because that was his usual game, he assumed that was how he had earned a spot in the satellite event.
The title of his autobiography was "Moneymaker: How an Amateur Poker Player Turned $40 Into $2.5 Million at the World Series of Poker."
However, PokerStars eventually verified Moneymaker's path to victory. He actually entered a single tournament for $86 instead of the $39 two-table games that he typically played.
The title of his autobiography was incorrect. But, that initial buy-in was still insignificant compared to the amount he eventually won.
The Satellite Event
Chris went on to play in the WSOP satellite event with the $650 ticket he won from the initial game. He got down to the last four players and intentionally started losing because he wanted to win a cash prize.
The first three players would win seats at the World Series of Poker main event in Las Vegas, but the 4th place winner would win $8,000.
Moneymaker wanted that $8,000 to pay off the credit card bill that he often stressed about.
His accountant's mind told him to go for the guaranteed cash that could drastically change his current financial situation. That sounded a lot wiser than the risky possibility of participating in the tournament and potentially losing it all.
Fortunately, a friend called to encourage him to keep playing his best. His friend told him that participating in the World Series of Poker would be a once-in-a-lifetime opportunity.
The friend even offered to give him $5,000 in exchange for half of his action. So, Chris decided to change his strategy and focus on winning.
He won first place in the satellite event and earned a $10,000 seat at the WSOP main event. His friend who had offered him $5,000 backed out because he lost the money through his own gambling ventures.
Moneymaker started to panic and regretted his decision to keep playing instead of opting for the guaranteed cash. His father and another friend offered $2,000 each in exchange for 20% of his winnings to convince him not to sell his seat.
So, he asked for time off work and headed to Las Vegas.
The 2003 WSOP Main Event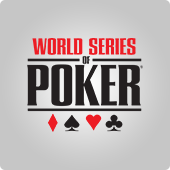 The World Series of Poker Main Event started at the Binion's Horseshoe Casino on May 19, 2003. Organizers of the event were not hopeful of a big turnout because their qualifying events had 25% less participation than those of the previous year.
In 2002, the main event hosted 631 players, and the organizers were hoping they could reach the same number the following year, but they didn't think they would get much more than that. They only planned enough tables for 600 players.
One hour before the tournament started, they already had more players than they could accommodate, so they rushed to borrow more tables, chairs, and dealers from other casinos.
The event started with 839 players, some of whom played on old folding chairs and poker tables in the hallway. It was the largest tournament the WSOP had ever held.
Days 1 and 2
That was Chris Moneymaker's first introduction to live poker tournaments. Up until that point, he had played online or in small cash games with friends, and he was only 27 years old. He was an amateur in every sense of the word.
But, he remained calm and played the game as if it were any other. Online poker players do not have the advantage of seeing their opponents' faces, so they cannot rely on traditional "tells" to see if a player is bluffing. His experience with online poker helped him make the right calls in the live tournament.
By the end of the first day, Chris Moneymaker had $60,000 worth of chips, six times the amount that every player started with. He was in 11th place.
Lou Diamond, a professional sports handicapper, working for ESPN, noticed Moneymaker on the first day, and called him a "dark horse" to win the event.
The second day of the tournament did not start well. Moneymaker overslept, presumably after too much partying the night before. His chips were blinded off, and he had to jump in when he finally arrived.
Once he got back in the game, he made several mistakes. He was still an amateur player and was not used to playing in a live tournament format. So, he folded when he shouldn't have, called when he should have folded, and even got in trouble for betting out of turn on a few occasions.
He was competing against some of poker's most notable professionals, including Dan Harrington and Johnny Chan. Moneymaker named Johnny Chan as one of his idols after seeing him play poker in the movie Rounders. He also admitted that Chan was one of only three poker players he had ever heard of!
Everyone knew he was an amateur, so when Moneymaker took too long to decide his next move, Chan snidely reminded him that it was his turn. Chan beat him on day two but did not eliminate him from the tournament.
Chris Moneymaker managed to come back from behind. He ended the second day of the tournament with $100,000 in chips, and he was in 26th place with 111 players left in the tournament.
Significant WSOP Hands for Moneymaker
Day Three of the event is when Moneymaker really started to get some attention.
He got a chance to have a rematch with Johnny Chan, and the table was down to the two of them. It just so happened that their rematch was on the main table that was being televised by ESPN.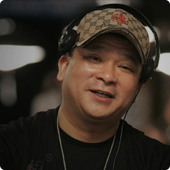 Moneymaker got an ace and eight of hearts before the flop, while Chan had a King and five of hearts.
The flop revealed an ace of diamonds, a three of hearts, and a four of hearts. Both players were one card away from a flush, but Moneymaker had the higher hand with his pair of aces.
Chan checked the flop and Moneymaker bet. The next exchange was quite a power play between the two players. Johnny Chan check-raised Moneymaker.
Chris Moneymaker took his sunglasses off and asked how much Chan had. ESPN's commentator called it an irritant because he was "puffed himself up to be on the same level as the great Johnny Chan," who had previously won seven WSOP bracelets, including two championships.
After some deliberation, Moneymaker went all in. Chan assumed that he was bluffing and matched the all-in challenge.
As soon as Chan said all in, Moneymaker showed his cards and exclaimed, "I need a heart dealer!" But, then Chan revealed that he didn't have much of a chance. His only chance of winning was if the next card was a two.
The dealer turned the next card, which was a nine of hearts. Both players had a flush with five hearts, but Moneymaker's ace made his hand the winning hand.
If the next card had not been a heart, he still would have won because he also had a pair of aces.
Up until that point, Moneymaker thought he was just going to have fun and do the best he could. He hoped to come home with a small prize from one of the mini-cash tournaments, but he did not think he had any chance of making it far in the tournament.
When he defeated Johnny Chan, he realized that he had a chance. According to this interview, he didn't think he would win the whole thing, but after beating Johnny Chan, Moneymaker realized that he could "make some money… and do something with this time."
Moneymaker ended day three of the tournament in sixth place, with 357,000 chips and 45 players still in the tournament.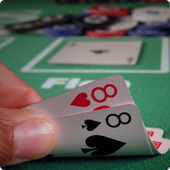 On day four, Moneymaker was more confident, but he was still relying on his online poker strategies.
He and Humberto Brenes were the last two players at the table. Moneymaker had pocket eights, and he and Brenes had some intense pre-flop betting rounds. ESPN started following the action right after the flop was dealt.
The flop showed a nine, a king, and a two, which did not help either player. Both players had a pocket pair, but Brenes was favored to win because his pair was aces. Moneymaker checked after the flop, but Brenes raised $30,000.
After seeing how close Brenes was to being all-in, Moneymaker raised him $120,000.
Brenes saw the challenge and went all-in. Moneymaker admitted that he was in trouble, but the next card dealt was an eight. His miraculous three-of-a-kind beat Brene's pair of aces, and Humberto Brenes was eliminated from the tournament.
It was a surprisingly lucky hand, and if it weren't for that turn eight, Moneymaker would not have continued in the tournament.
3

The River Card That Took Down Phil Ivey
Later on that same day, Moneymaker was playing his last hand of the day against Phil Ivey and Jason Lester. He had a decent hand with an ace and a queen, but it was not spectacular.
Both of his opponents had better hands, but he didn't know that. Ivey got pocket nines, and Lester ended up with pocket tens.
The situation started to look up for Chris Moneymaker during the flop, which revealed two queens and a six.
Moneymaker now had the best hand with three of a kind.
Lester checked so Moneymaker raised $70,000. Ivey called, but Lester folded because the next player to lose would get eliminated, and he wanted to stay in the competition.
In a crazy turn of events, the turn card was a nine, which gave Phil Ivey a full house. Of course, Moneymaker had no way of knowing that Ivey had such a strong hand. He was confident in his three-of-a-kind, so he raised $200,000.
Phil Ivey went all-in, and Moneymaker called it almost immediately. Both players were confident that they had the best hand. As soon as he saw the nines that Ivey had, Moneymaker knew he was in trouble.
Yet, the hand was not over.
In one of the most prominent bad beats in the whole tournament, Moneymaker got an ace on the river. His final hand was a full house with two aces and three queens, which beat Ivey's full house with nines.
Phil Ivey was eliminated from the competition by the amateur Chris Moneymaker.
Final Day of the 2003 WSOP Main Event
The final day of the tournament started with Chris Moneymaker as the chip lead, with 2.344 million in chips.
That final game lasted more than eleven hours, and it eventually dwindled down to just two players: Chris Moneymaker and Sam Farha.
The Beginning of the End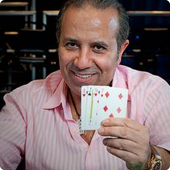 Farha and Moneymaker played 28 heads-up hands that were just the two of them.
Chris wanted the game to end sooner rather than later, so he suggested splitting the pot with Farha. The professional refused the offer because he believed an experienced player should get more money than the amateur.
Moneymaker felt disrespected by Fahra's refusal, so he played more seriously after that. At 1:30 a.m., he got dealt a seven and a king. Farha had a nine and a queen.
As Moneymaker went to make his pre-flop bet, Farha told him, "don't do it." Despite that advice, Moneymaker bet $100,000.
Farha called, and the flop got dealt. It was a nine, a two, and a six, giving Farha the better hand with a pair of nines. Both players checked, and the turn card was an eight. At that point, Farha raised $300,000.
He had nothing in his hand, but Moneymaker was in it to win it. After eleven hours of playing, he knew Farha's playing style and knew he would not take unnecessary risks.
Moneymaker knew that his best chance of beating Farha was to back him into a corner.
The dealer thought he was going to call, but Moneymaker corrected him and said, "No, I raise.," as he added $500,000 in chips. Farha called, and the river card, a three of hearts, got dealt.
If the river card had been a spade, Moneymaker could have won with a flush. But the three of hearts did nothing for him. Farha checked immediately after the three came out. Just a few seconds later, Moneymaker went all in!
Sam Farha was now in an impossible position. He had the better hand, but he had no way of knowing that. If Farha called and lost, he would lose the championship. But, he also knew that Moneymaker was probably bluffing. So, he spent the next several minutes contemplating his decision.
One of Farha's tactics was to make several comments about the possible hands that Moneymaker could have to see if Moneymaker would react to his statement and give something away.
He said, "you must have missed your flush," and "might make a crazy call on you to be the best hand." Chris Moneymaker was perfectly still so that he gave nothing away.
Farha finally folded, and the game continued. The ESPN commentator called it the bluff of the century.
The Winning Hand
From that point on, Sam Farha was visibly agitated. The tension in the room had been building all night, and at this point, it was palpable. This 27-year-old amateur was giving the professional with nearly twenty years of experience a run for his money.
As the last hand started, Moneymaker had 5,690,000 chips, while Farha had only 2,700,000. Moneymaker got a five and a four, and Farha got a jack and a ten. Farha bet $100,000, and Moneymaker called it immediately.
The flop, with a jack, five, four, significantly changed the odds in Moneymaker's favor. He had two pairs to Farha's pair of jacks. Moneymaker checked, and Farha raised $175,000. After taking a few moments to think about it, Moneymaker raised $300,000.
Farha had had enough, so he went all in, and Moneymaker called immediately.
The next few minutes showed a stark contrast between Farha and Moneymaker that highlighted their opposite experience levels.
Even though he had a significantly better hand, Moneymaker nervously paced around. He had beat Phil Ivey and Humberto Brenes with miraculous river cards, so he knew that could happen against Farha.
On the other hand, Farha calmly sat and watched the next two cards get dealt with his unlit cigarette in his mouth. Farha needed a second pair to win, so he was hoping the next two cards would be a jack or a ten.
The turn card revealed an eight, which didn't change the rankings. Excitement built around the room as an announcer claimed that Moneymaker was one card away from being the new world champion.
Chris Moneymaker won with a full house after the river dealt him another five. He was the first online poker player to win the World Series of Poker.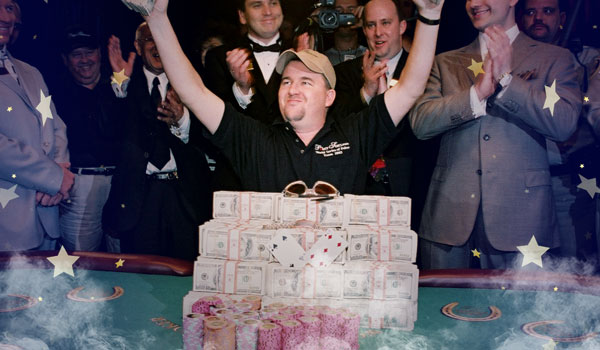 What Happened After Moneymaker's Win?
The first-place prize was $2.5 million and the signature WSOP gold bracelet. Sammy Farha won the second-place prize of $1.3 million, and Dan Harrington won $650,000 for coming in third.
That night, Chris Moneymaker celebrated his win by inviting his friends, some poker dealers, and anyone else who wanted to join him to visit one of the Las Vegas night clubs. He spent $25,000, buying everyone drinks that night.
The next day, Moneymaker flew back to Knoxville, Tennessee, and had a party at the restaurant where he worked.
Moneymaker went back to work as an accountant on Monday, less than 48 hours after his miraculous win.
You would think that $2.5 million in prizes would last a while, but that is not quite what happened for Moneymaker. He had to pay taxes on his winnings, and he owed $500,000 to his father and friend, who initially invested $2,000 each.
Chris Moneymaker was an accountant by trade, so he was wise enough to make some good decisions with his winnings. He paid off his credit card bill, which was around $8,000, and paid off his house. Then, he created a college-savings plan for his newborn daughter.
He was generous enough to donate $25,000 to cancer research and give some more to some of his family. The rest of his money went into savings.
At the time, Moneymaker planned to continue his life as an accountant. However, PokerStars offered him a sponsorship deal, and the possibility of traveling the world to play poker sounded a lot more fun than being an accountant. He took the job and has worked for PokerStars ever since.
Unfortunately, his wife Kelly did not like his new lifestyle of playing poker all day and partying all night. His new job took a toll on their marriage, and they divorced just one year after he won the tournament. She took $800,000 in the divorce settlement, which was all that Chris had left from his big win.
He did not let the divorce get him down. In 2005, he married Christina Wren in a Las Vegas chapel off the Strip. They have three children together, including one daughter on the autism spectrum.
Autism Speaks is one of the several charitable organizations that Moneymaker regularly supports with his winnings, as well as the Humane Society.
Moneymaker has continued his job as a celebrity spokesman for PokerStars, and he published his autobiography in 2005. He continues to participate in the World Series of Poker every year and the European Poker Tour. However, he also enjoys continuing to play small-stakes games and supporting other beginner gamblers.
Here are some notable live poker tournament results for Moneymaker.
| | | |
| --- | --- | --- |
| Event | Ranking | Prize |
| 2004 World Poker Tour Shooting Stars Event | 2nd | $200,00 |
| 2008 World Championship of Online Poker | 6th | $139,000 |
| 2009 World Poker Open Deep Stack Pot-Limit Omaha | 1st | $15,889 |
| 2011 PokerStars Caribbean Adventure | 11th | $130,000 |
| 2011 National Heads Up Poker Tournament | 2nd | $300,000 |
What is The Moneymaker Effect?
Winning the World Series of Poker certainly changed Chris Moneymaker's life, but not as much as it changed the poker industry. He gained international media attention and even went on the Tonight Show with Jay Leno.
The story of an amateur poker player who beat the pros, despite all the odds, was incredibly inspiring.
Thousands of small-stakes gamblers began considering the possibility of entering the WSOP and other poker tournaments. They believed that if it could happen to Moneymaker, it could happen to anyone.
Between 2003 and 2006, the online poker industry boomed. Moneymaker's story was a significant factor, but televised poker with hole-card cameras and the availability of online poker were also important factors.
Here are some figures that will show just how much poker exploded in the years after Moneymaker won the WSOP tournament.
| | | | | |
| --- | --- | --- | --- | --- |
| Year | PokerStars Qualifiers | Total Players | 1st Place Prize | Winner |
| 2002 | Unknown | 631 | $2 Million | Robert Varkonyi |
| 2003 | 30 | 839 | $2.5 Million | Chris Moneymaker |
| 2004 | 316 | 2,576 | $5 Million | Greg Raymer |
| 2005 | 1,116 | 5,619 | $7.5 Million | Joe Hachem |
| 2006 | 1,593 | 8,773 | $12 Million | Jamie Gold |
Thousands of poker hopefuls worked to get a seat at the World Series of Poker. They hoped to realize their dream of making more money playing online poker than they did at their day jobs.
The Unlawful Internet Gambling Enforcement Act got passed in 2006, which slowed down the online poker boom in the United States. But the Moneymaker Effect had already revolutionized the game.
Chris Moneymaker didn't just inspire American poker players, though. The European poker scene exploded, too, followed by Asia and South America. Moneymaker traveled the world to participate in tournaments and share his experiences, inspiring thousands of more players to pursue poker.
Other poker players wanted to capitalize on the attention that Moneymaker was getting. In 2004, Chris Ferguson, a previous WSOP champion, and several other professional poker players, launched Full Tilt.
It quickly became one of the most popular online poker sites available.
Summary
The Moneymaker Effect was the perfect storm of everything happening all at once.
Online poker was just beginning to take off, hole-card cameras made televised poker tournaments much more exciting, and a 27-year-old amateur beat hundreds of professionals to win the World Series of Poker.
All of those factors led to a poker explosion that changed the world. As more players joined online poker games, the poker operators began offering more massive prizes. Those prizes attracted even more players, so it created a ripple effect.
Poker and Texas Hold 'em, in particular, has become the most popular casino game in the world. Professional poker players had to learn how to compete with a new generation of players who mostly played online, and they had to adjust their strategies accordingly.
Chris Moneymaker lived up to his name in a way that the 27-year-old account could never have imagined. He became the poster child for amateur poker players and inspired an entire generation of new poker players.
The Moneymaker Effect continues to impact the poker world after all these years.